Are you a fan of the beloved character Luigi who has captured the hearts of millions. Do you want to generate Luigi AI voice for text to speech, further elevating your content?
In this blog post, we will delve into the best Luigi AI voice generator and voice changer, with which you can easily replicate Luigi voice for text to voice conversion, best for your content creation, fan project making and more.
Let's dive right in!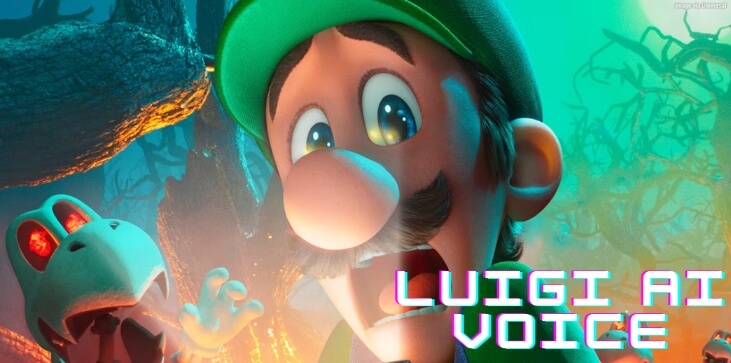 Listen to the Luigi AI voice generated by VoxBox.

Part 1: Basic Info about Luigi
Luigi, a fictional character from Nintendo's universe, is the younger fraternal twin brother of Mario, created by Shigeru Miyamoto. Defined by kindness and occasional cowardice, Luigi often accompanies Mario in various video games.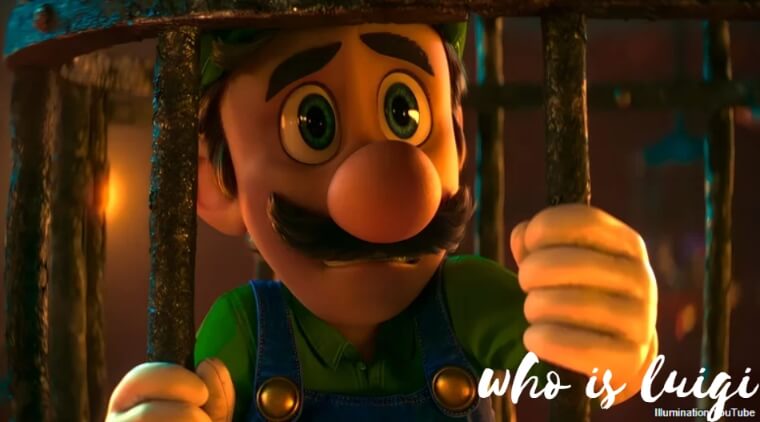 Starting as player two in 1983's Mario Bros., Luigi has evolved, appearing in titles like Super Mario Bros. series, Luigi's Mansion games, and spinoffs like Mario Kart. Initially a color swap of Mario, Luigi gained a distinct personality, becoming taller and thinner. Notably, 2013 was the "Year of Luigi," marking his thirtieth anniversary.
Part 2: Luigi Voice Actor 2023
Behind the voice of Luigi lies the talented Charles Peckham Day. An accomplished American actor, comedian, and voice artist, Day's portrayal of Luigi adds depth and charm to the character. Known for his roles in It's Always Sunny in Philadelphia and Pacific Rim, Day's contribution to the Super Mario Bros. Movie (2023) solidifies him as the voice behind the iconic Luigi.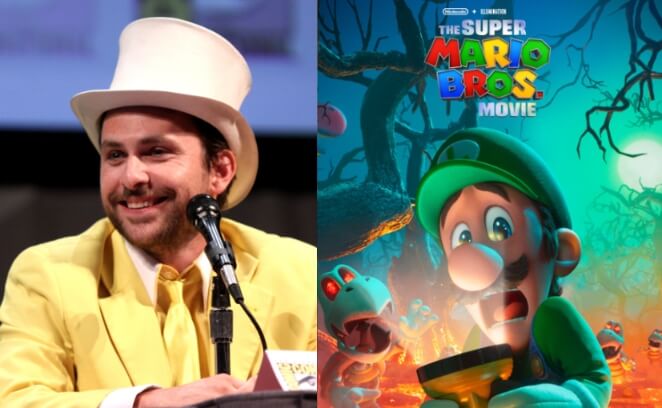 While before 2023, Charles Andre Martinet is the voice actor of Luigi in the Super Mario video game series since 1991. He also voices other characters like Wario and Waluigi. Martinet's versatile voice talent extends beyond Mario, including roles like Paarthurnax in "The Elder Scrolls V: Skyrim" and Magenta in "Dragon Ball Super: Super Hero." He is multilingual, speaking fluent French, Spanish, and some Italian. Currently residing in the Netherlands, he has made a lasting mark on gaming with his portrayals of beloved characters.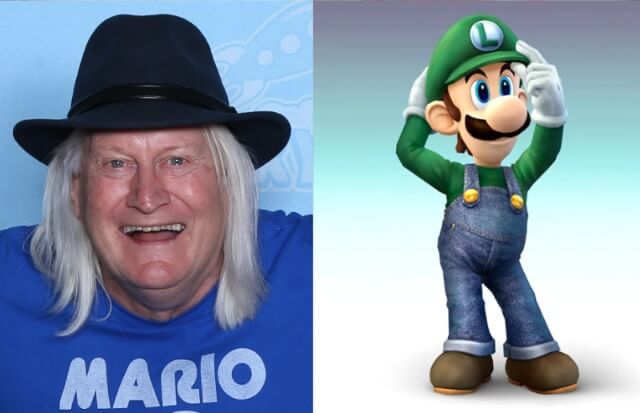 Part 3: Get Luigi AI Voice with Voice Generator for Text to Speech
With VoxBox Luigi AI voice generator, you can transform written text into Luigi's familiar and beloved voice. This technology not only generates authentic voices but also offers customization options that allow you to tailor the voice to your unique requirements.
Except for Luigi voice, it also provides you with over 3200 ultrs-realistic voices and 77+ language options to use in content creation.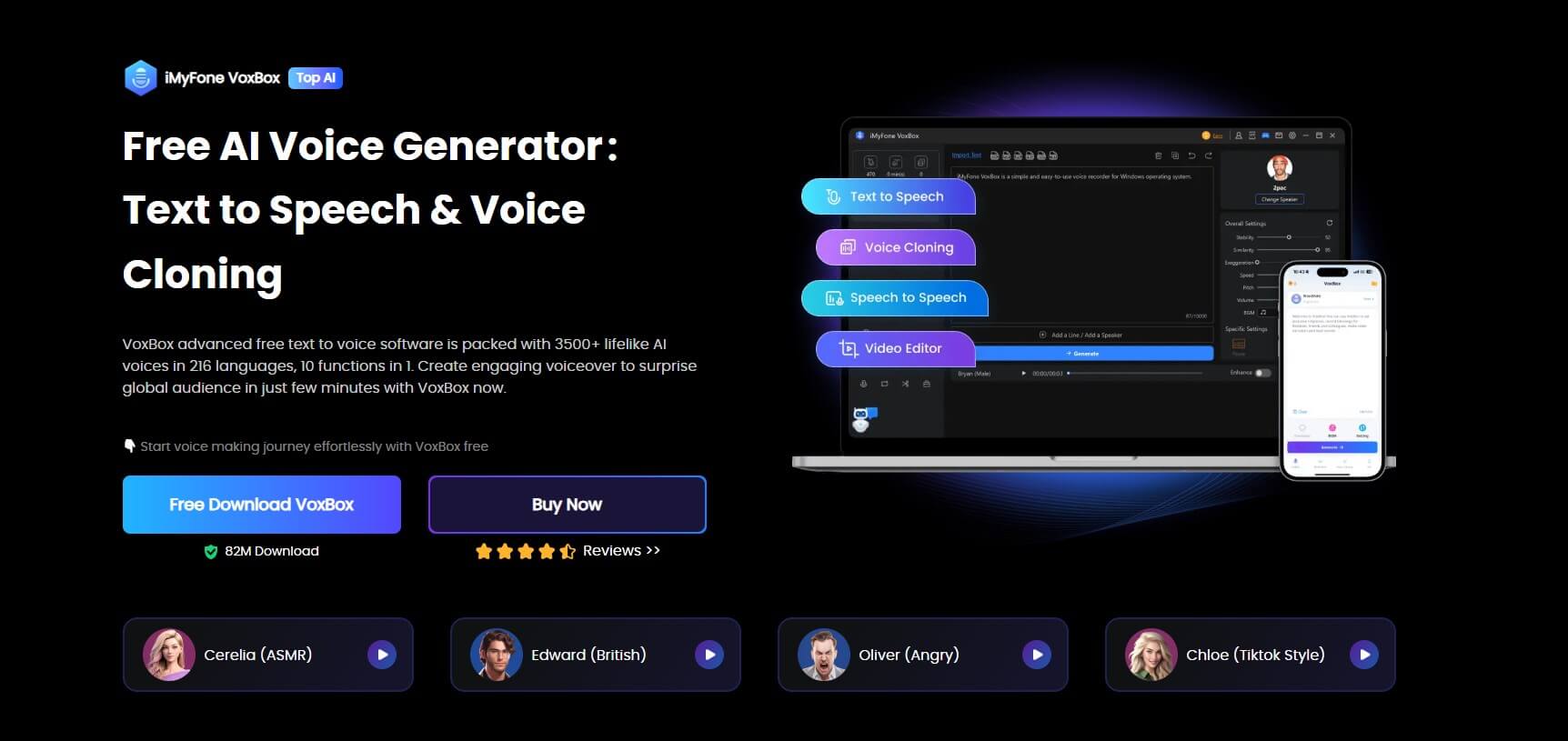 Free Get Luigi AI Voice:
Step 1: Download and install VoxBox.
Step 2: Navigate to the Text to Speech feature.
Step 3: Click on "Change Voice" to choose Luigi AI voice from the voice options.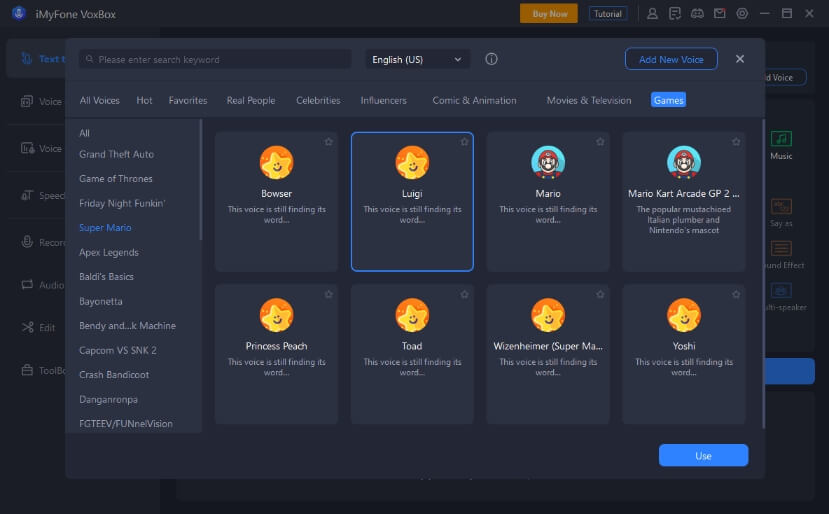 Step 4: Enter your text, and tap on "click" to get the Luigi voiceovers.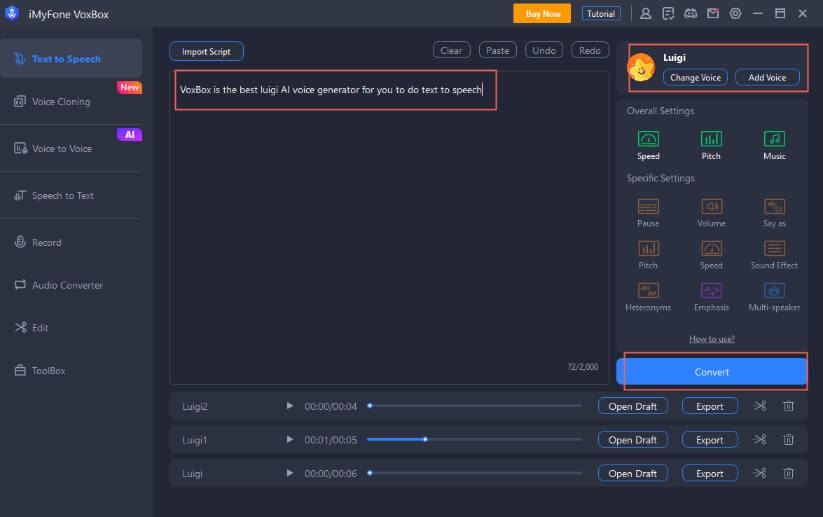 Step 5: Download the voiceover to go viral on social media platform.
Watch the video below to know more about Luigi AI Voice Generator
Key Features:
Allows you to convert text to Luigi voice speech in 77 + languages.

Powerful voice clone enables you to generate AI voices that capture the essence of various characters, from famous personalities to fictional characters.

You can adjust parameters like speed, pitch, and even emotional undertones to get the most natural Luigi AI voiceovers.

Text-to-speech, speech-to-text, voice cloning, recording, and audio editing, all in one solution.

Export the speech in various formats like MP3, WAV, and more.
Part 4: Best Luigi Voice Changer to Sound Like Him in Real-Time
For those seeking Luigi voice changer for real-time voice transformation into Luigi, MagicMic emerges as the ultimate solution. Boasting over 225 voice effects, 600 sound enhancements, and 200 voice memes, MagicMic empowers you to immerse yourself in Luigi's persona. This advanced tool seamlessly integrates with platforms like Discord and Twitch, offering a versatile experience for both leisure and professional use.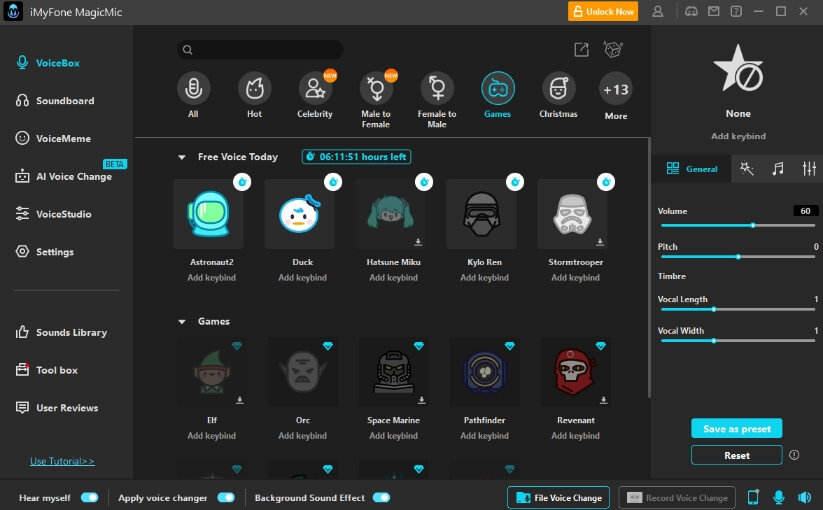 Key Features:
Offers 225+ voice effects, 600+ sound enhancements, and 200+ voice memes, including Luigi AI voice.

Includes a built-in soundboard for interactive audio clip interactions.

Allows customization of hotkeys for quick access to preferred voice effects.

Seamlessly integrates with popular platforms like Discord and Twitch for you to become luigi while playing game.
Part 5: Hot FAQS About Luigi AI Voice
1. What is Luigi AI voice?
Luigi AI Voice refers to the use of advanced artificial intelligence technology to generate voice that sounds like Luigi, the iconic character from the Super Mario franchise.
2. How is Luigi AI Voice Generated?
You can effortlessly get Luigi AI voice using voice generator, like Voxbox, with which you only need to enter your text, choose the Luigi voice, and click "convert" to get the Luigi voice text to speech voiceovers.
3. Where Can I Use Luigi AI Voice?
Luigi AI Voice can be used in various applications, including content creation, video game streaming, dubbing, voiceovers, and more.
4. Can I get Luigi AI voice in real time?
Yes, you can transform your voice into Luigi voice in real time with Luigi voice changer, MagicMic.
Conclusion
In conclusion, using Luigi AI voice generator, you can do Luigi voice text to speech with ease. Whether you're a content creator, a dedicated fan of the Super Mario franchise, or an entertainment enthusiast, VoxBox and MagicMic open the doors to a world where Luigi's voice becomes your creative instrument.
Take the first step and download VoxBox today, and create content to make yourself go viral on social media platform!