Hey guys! Want to try something wild? Imagine talking like pig-headed fashionista John Pork. Whether you are joking with your friends or just want to have some fun, you can use John Pork AI voice to achieve your entertainment purpose, it will be very interesting, isn't it?
In this article, you'll learn more about John Pork's success on TikTok, and find the best John Pork text to speech voice generator to capture his voice. So keep reading!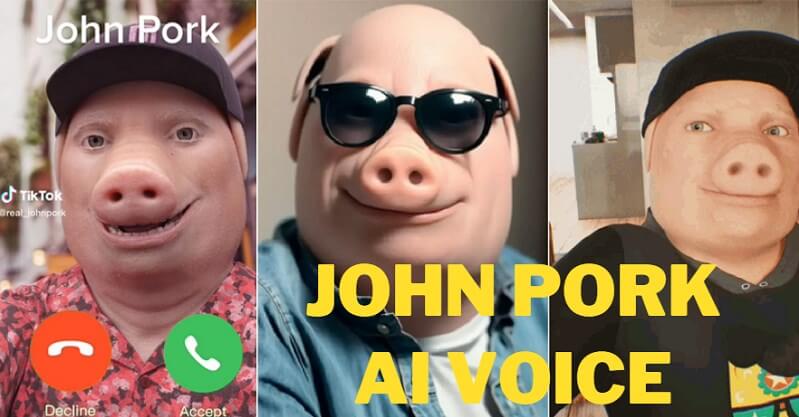 Part 1: Who Is John Pork?
John Pork is a digitally rendered character blending human and pig features. Emerging on Instagram under the username @john.pork, the creator showcased images of this hybrid entity in various contexts, even capturing selfies at popular landmarks. Later, on TikTok in late March, clips featuring John Pork's visage gained traction, sparking user innovation. Some cleverly integrated John Pork's likeness onto an iPhone screen, creating the illusion of a call from the distinctive character.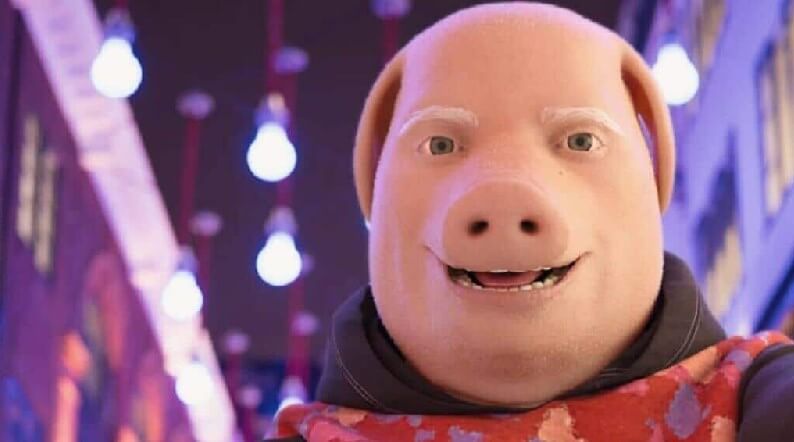 Part 2: How To Get John Pork AI Voice Through Best Voice Generator?
John Pork is a digital influencer characterized by a human body and a pig's head, yet he proudly identifies as a fashion model. Despite existing for several years, John Pork recently experienced a resurgence in fame on TikTok. Videos depicting him engaged in a phone call garnered significant attention. If you're intrigued by his amusing phone conversations and wish to replicate his voice, VoxBox is your solution.
1. iMyFone VoxBox – Top John Pork TTS Voice Generator
Curious about giving your voice a quirky twist? VoxBox is a voice generator to enable you get John Pork AI voice via its cloning feature. Also, if you wanna use the dubbing with John Pork to go funny, you can also use the tts of this software Convert typed text into clear voiceovers to mimic his funny style.
With a touch of professionalism, this advanced voice generator encompasses over 3200 unique tones and supports 77 languages. You'll be amazed by its ability to personalize an array of sounds, including your very own voice. This feature-packed tool is suitable for video making, just like how it helps you streamline the dubbing process for videos like those featuring John Pork, saving you time and effort in voice editing.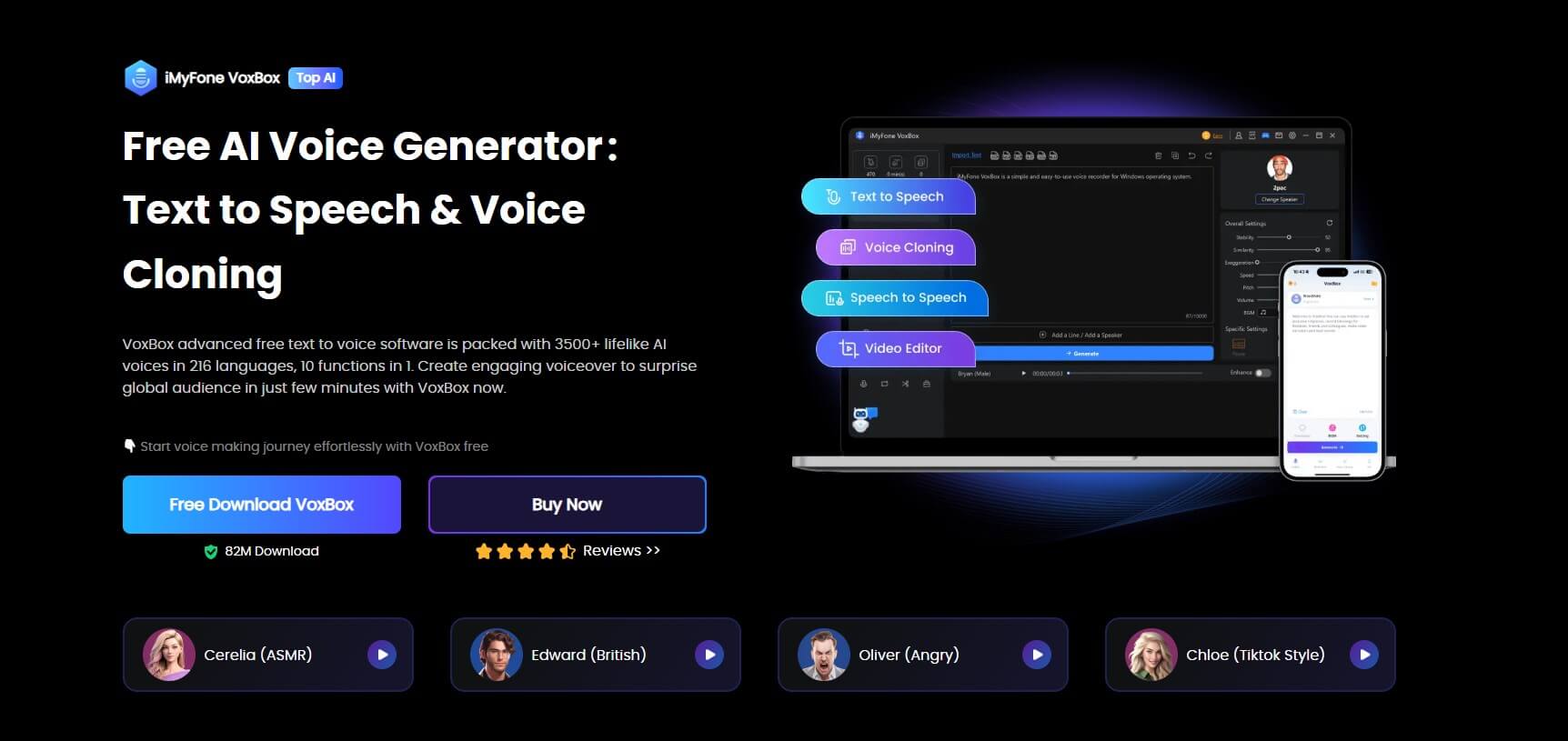 How To Generate John Pork AI Voice:
#Step 1: Begin by downloading and installing VoxBox.
#Step 2: Open VoxBox and head to the "Voice Cloning" section. Upload an audio file of John Pork's voice that you want to clone. Then initiate the cloning process and experience its lifelike voice.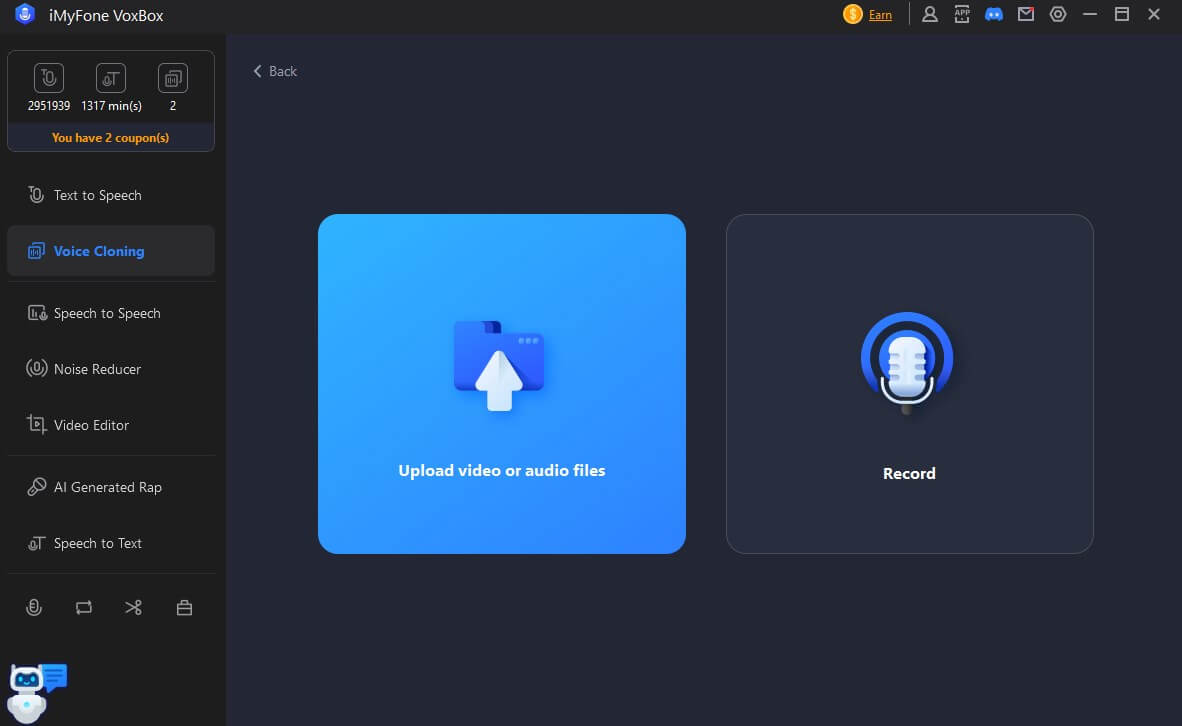 #Step 3: Select the newly cloned voice and input text for the text-to-speech conversion to have a voiceover.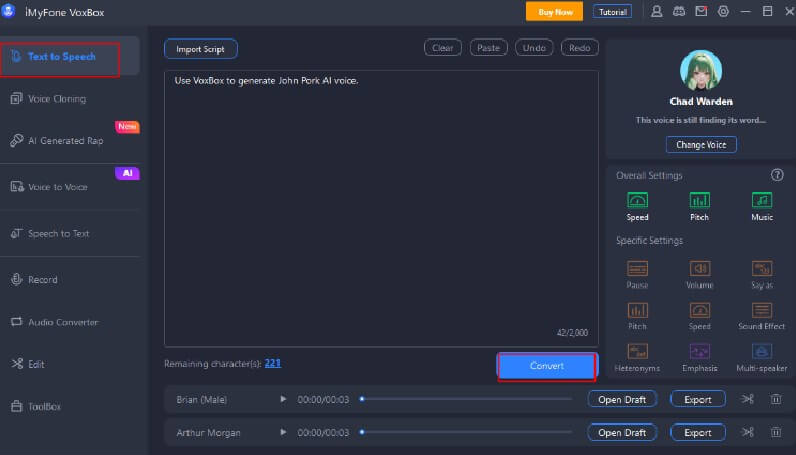 Key Features:
All kinds of virtual character voices like cartoon, game roles included from social medium.

The best alternative to replace TikTok robotic voices.

Users can also access a variety of captivating meme voices.

2000 free characters are suitable for your text-to-speech requirement.

The AI-generated John Pork voice is highly similar to its own voice.

Custiomizable options and flexible formats for your dubbing.
Reviews:
4.9/5 star user rating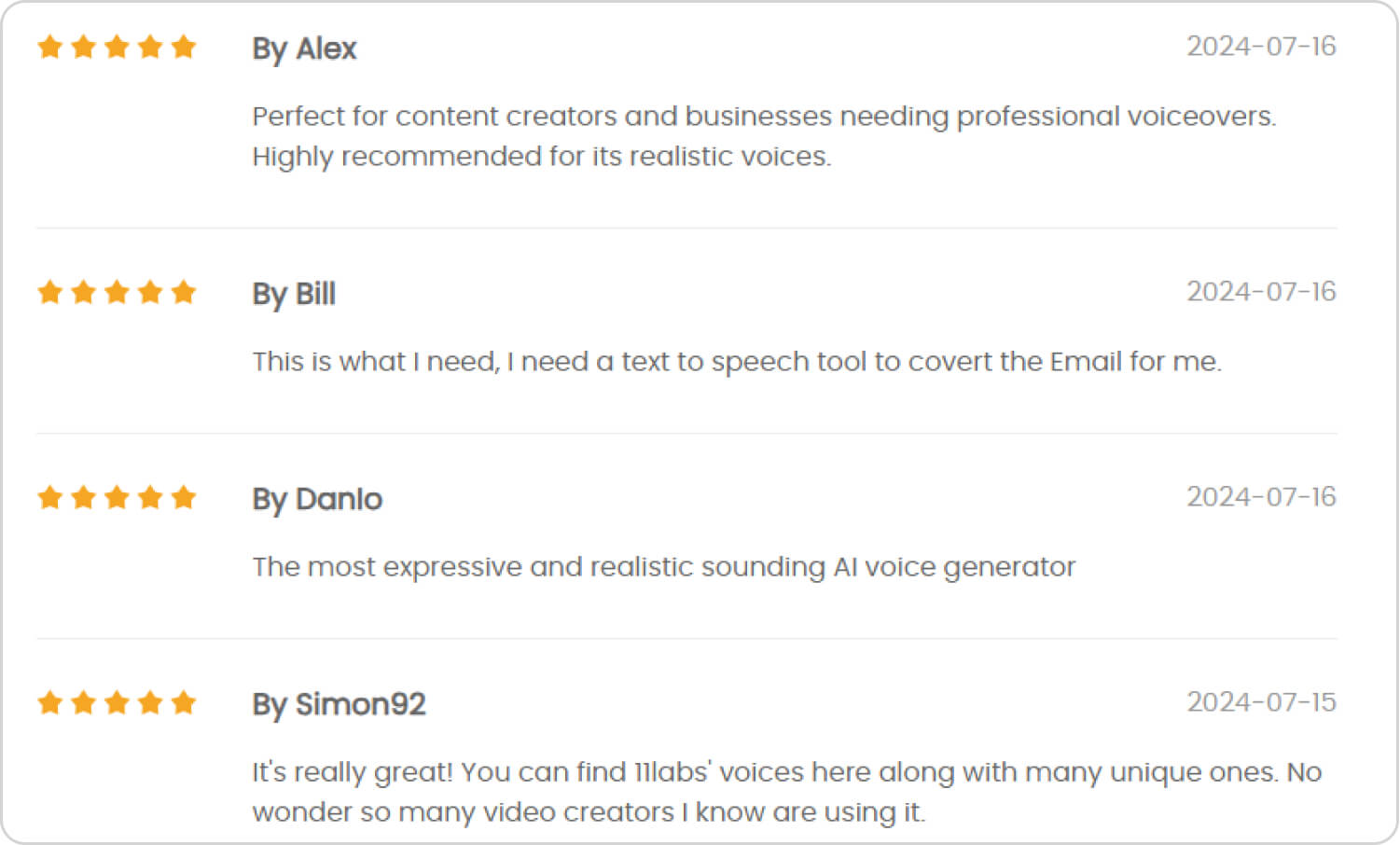 Part 3: John Pork Voice Changer to Change Your Voice
MagicMic is a cutting-edge real-time John Pork AI voice changer that effortlessly transforms your voice across various platforms. Boasting over 250 AI voices, 600 soundboards, and 200 voice memes, this technology injects entertainment into your conversations, making them distinct and enjoyable.
This voice changer connect with online interactions and streaming for streamers on TikTok and YouTube. Whether engaging in banter while gaming with friends or interacting with your audience, MagicMic amplifies your creative possibilities.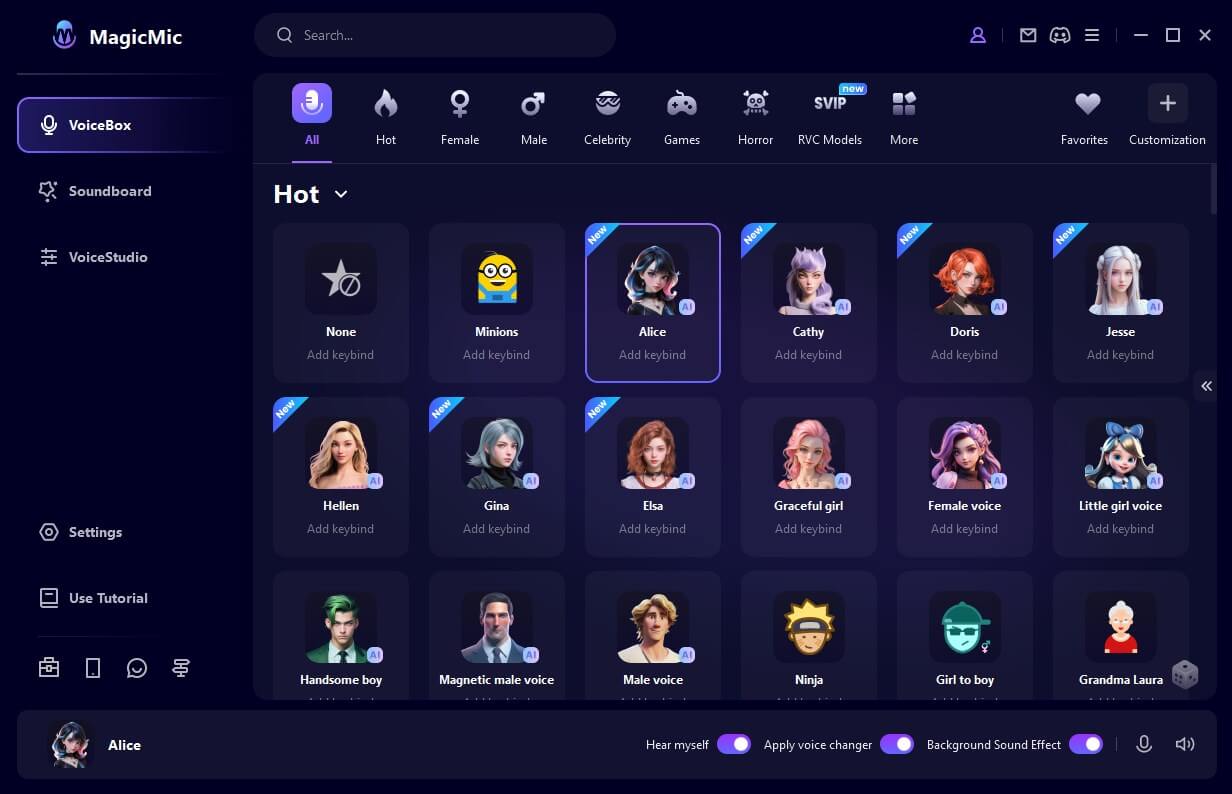 Key Features:
250+ voice effects & 600+ soundboards & 200+ voice memes

Diverse AI voices, from cartoon characters to celebrities and singers.

Ensure crystal-clear communication with advanced noise reduction features.

User-friendly and secure software.

Take charge of your interactions using intuitive keybind controls.
Bonus: John Pork Meme - John Pork Is Calling
A prevailing meme trend on TikTok showcases John Pork making surprise calls to individuals. These videos often feature pig-related humor or quirky dances, but the central humor lies in the unexpectedness of John Pork's calls. These TikTok posts have amassed hundreds of thousands, and even millions, of views and likes.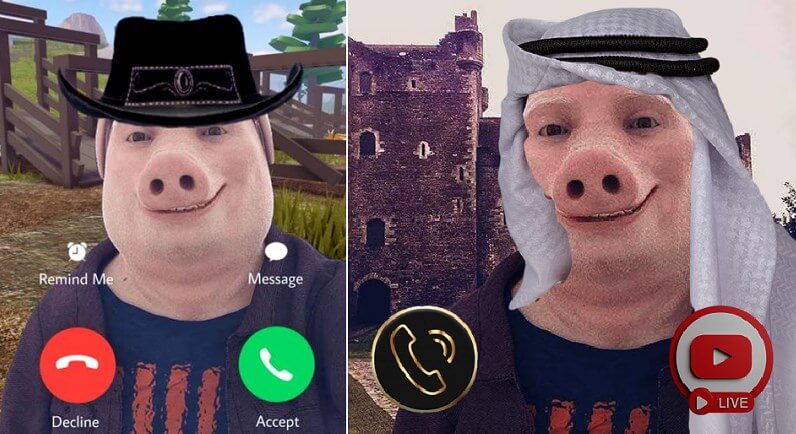 With TikTok's immense popularity, old memes can be given a new life, while new ones can become viral sensations overnight. John Pork just proved how the internet and social media continue to evolve and entertain us. So, when your phone rings, keep an eye out – it might just be John Pork on the line!
Part 4: FAQs about John Pork AI Voice
1. Can I use John Pork AI voice for creating videos?
Yes, absolutely! John Pork AI voice can be applied to your videos to add his humorous and quirky voice. Whether you're making funny skits or dubbing your content, you can make your videos more entertaining with John Pork's voice.
2. Is VoxBox recommended for generating John Pork AI voice?
Yes, VoxBox is a highly recommended tool for generating John Pork AI voice. Its user-friendly interface and advanced text-to-speech technology make it an excellent choice for effortlessly recreating John Pork's unique voice and using it in various creative ways.
3. Can I use John Pork AI voice for social media?
Yes, you can definitely use John Pork AI Voice on social media platforms. Whether you're posting on TikTok, Instagram, YouTube, or other platforms, adding John Pork's voice can make your content stand out and engage your audience in a fun way.
Conclusion
TikTok is known for some really weird and rather inexplicable memes, like the latest one about a pigman named John Polk. With the ability to clone John Pork AI voice, you can easily create engaging videos, funny voiceovers, and entertainment that stand out on social media platforms.
For those looking for a reliable and user-friendly tool to take advantage of John Pork AI Voice features, VoxBox is the perfect solution. VoxBox's advanced text-to-speech and voice cloning technologies ensure accurate, authentic voice reproduction. By using VoxBox, you not only ensure the high quality of AI-generated speech, but also provide individuals with a versatile platform to entertain audiences in novel ways.