A decade or so ago, anyone imitating Micky Mouse or Donald Duck would be able to sprout laughter from the viewers because they were so infectious. The imitation was challenging as it took a lot of practice to perfect the art. With modern technology, people can easily imitate any voice using tools like Disney text to speech generators.
This is excellent news for content creators who love to make fun videos with Disney voices using Disney text to speech TikTok for short clips. So, enhance your views and followers using Disney characters text to speech.
Listen to Mickey Mouse AI Voice for free using iMyFone Voxbox down below!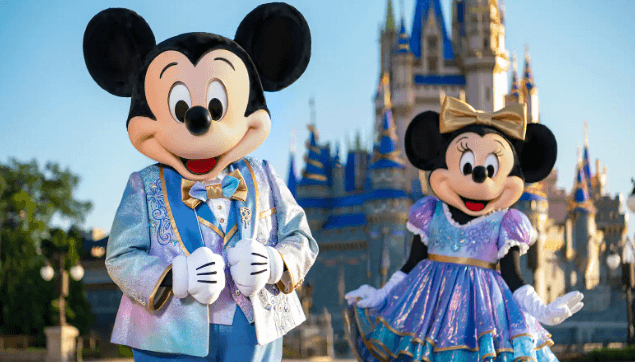 Part 1: How to Get the TikTok Disney TEXT-TO-SPEECH Feature!
Now you can promote C3PO voice on your TikTok streams and clips using the Disney text to speech feature in TikTok as part of the Disney Plus Day celebrations. Disney is teaming up with TikTok and adding many Disney character voices in TikTok to use in your clips for free with many famous voices.
The most prominent voices are C-3PO, Chewbacca, Lilo and Stitch, Storm Troopers, Rocket Raccoon, etc.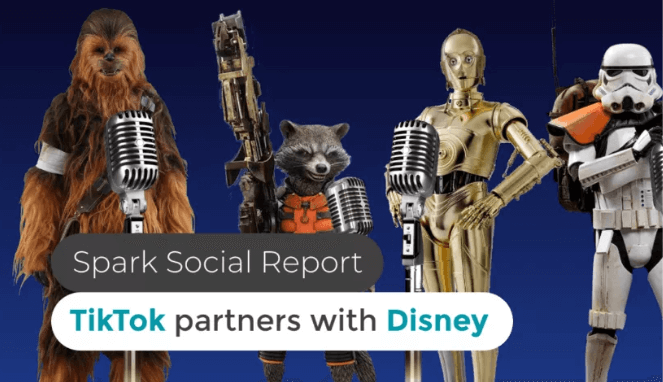 Follow these steps to use Disney text to speech voices with your videos for fun and entertain the world and your followers:
Step #1: Record your video and after recording, tap the TTS text button and enter your required text.
Step #2: Next, tap the Disney text to speech TikTok button and select any of the new voices that TikTok added from Disney.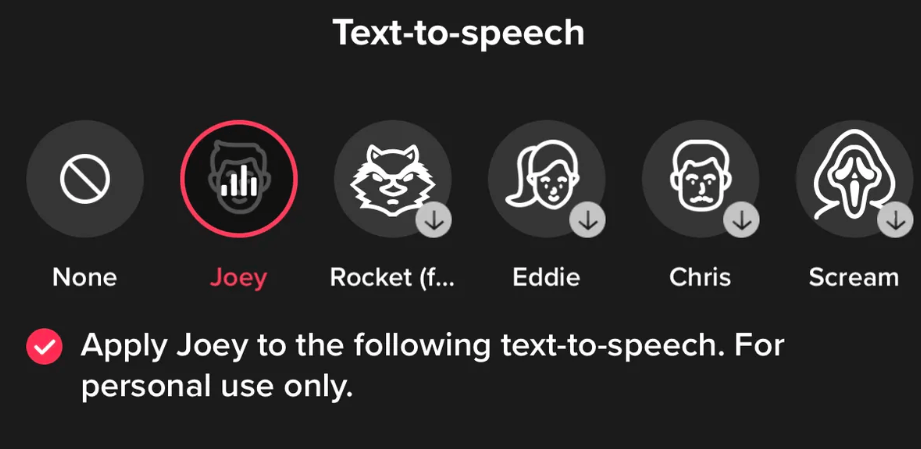 Step #3: Now you have the Disney voices layered over your video.
Previously TikTok was approached by Scream movie producers and added their proprietary Scream voice, which went viral in a couple of hours. This is probably one of the straightforward ways to promote your product as now Disney characters text to speech gave us so many great options.
Our favorite is Rocket Raccoon from the Guardians of the Galaxy, which will also serve as a marketing tool with the latest volume coming soon.
Part 2: Other Options of Disney Text to Speech for Entertainment
Disney officially supports TikTok Disney characters text to speech voiceover options, but that may not be the best option in terms of professional features, so we have two great options as their alternative.
One of the best tools for your Disney text to speech fun TikTok videos or other social media streams, iMyFone VoxBox gives you the best features in their desktop app. Following are some of their unique Disney text to speech features: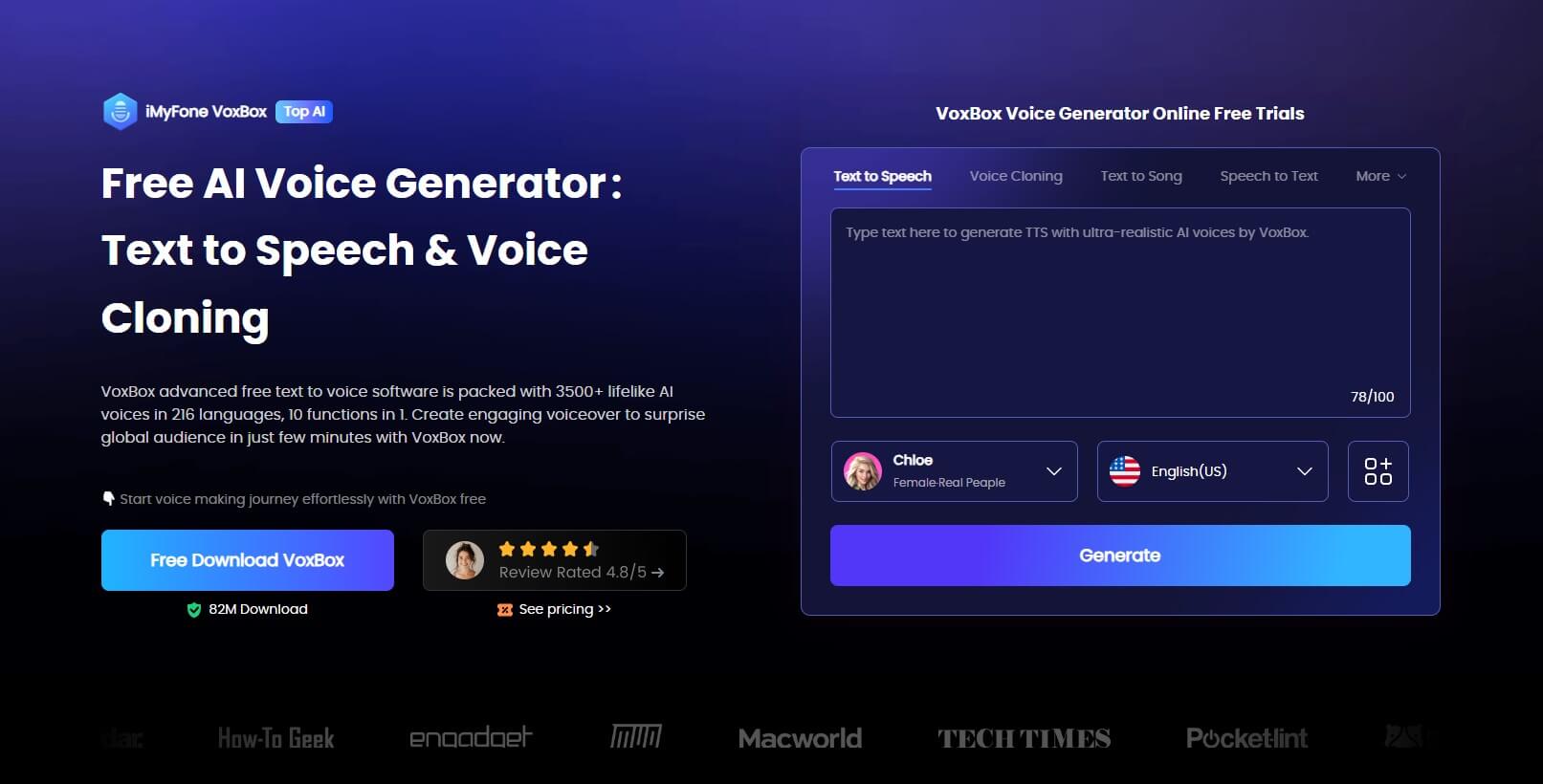 Tips
No voice artists are needed, and no recording equipment is needed. You can easily convert your text to speech and voice using
iMyFone VoxBox
! Download it and try it out for free now!
Try it Free
Key Features:
Some of the best Disney text to speech voiceovers from their massive library of 3,200 options.

These 3,200 are not only Disney text to speech audio voices but Obama, Ben Shapiro, Optimus Prime, and many others like natural native speakers.

Save your Disney text to speech TikTok voiceovers in popular audio formats.
How to Disney Character Text to Speech Tool:
Step #1. Download and install VoxBox from their official website.
Step #2. Select microphone and speakers default devices.
Step #3. The software will tell you now that your device is configured.
Step #4. Select any of the voiceover options and enter text to generate the audio.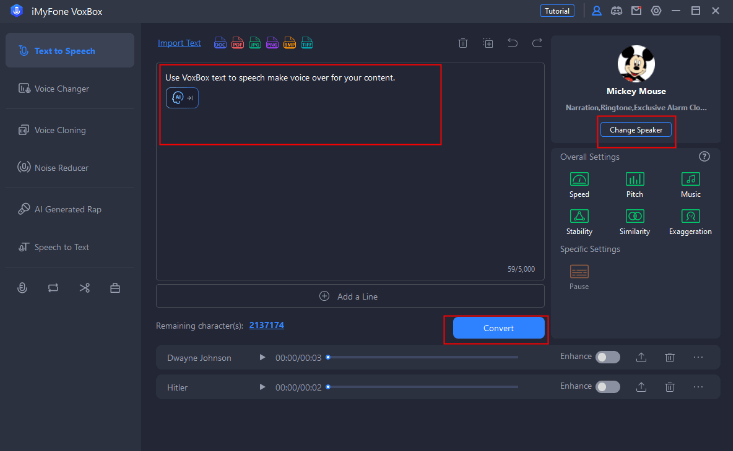 Step #5. You can always check any voiceover options and see how they sound and which one is more fun.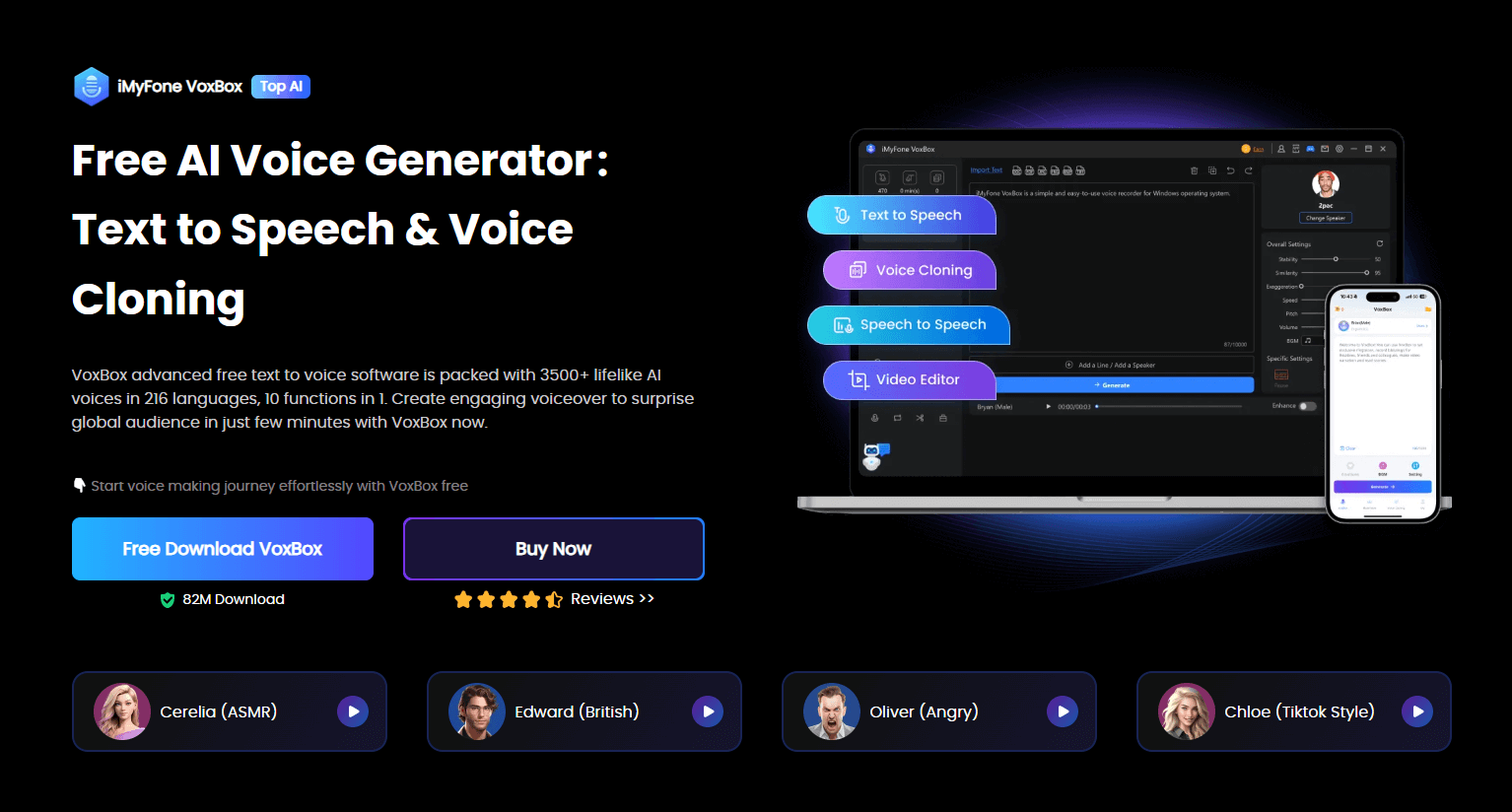 Pros:

Massive library of voices and many languages.

Simple and easy-to-use UI.

Real-time voice conversion.
Cons:

Only PC app.
User Experiences:
Mic Live – "Amazing software used to prank friends."

MPerry1996 – "Helps me write songs."

K. Farnham – "Can read stories to my kid in different voices."
Watch this video to learn more about the Best Text to Speech Voice Generator for Disney iMyFone VoxBox:
Try it Free
The next option in our list isFakeYou, a web-based AI voice tool for your Disney text to speech uses that can generate one of the best voiceovers and is free. You can use Disney text to speech from FakeYou to prank friends, make them laugh out loud, and more.
Key Features:
With the most straightforward UI, you can generate the best Disney text to speech TikTok clips.

Listen and edit as much as you want with many editing options before you download.

Enjoy all your favorite characters and add more spice to your content.

Use their API documentation to add features to your apps for more polishing.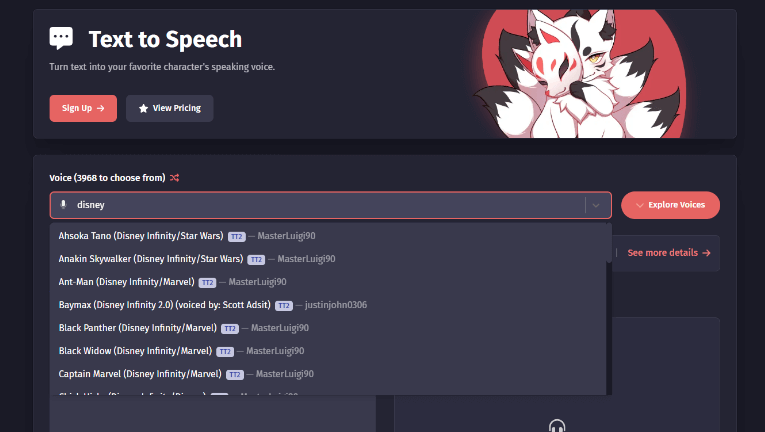 Pros:

Web-based, so there is no need for apps.

Has clone option to clone your voice for future uses.

Free because of the community's support.

The community loves their API documentation and easily shares and supports other apps and developers with it.

As it is community-driven, the better the quality of your clone, the more people will like it and become a permanent part of the list.
Cons:

The processing of TTS may take more time than usual if your internet is slow.
User Experiences:
No user comments or experiences are available now.
Part 3: Best Disney Voice Generator Recommended
Look at two recommended Disney text to speech tools for your choice.
You can use voicechanger.io to completely change your voice in real-time to any of the voiceover options it provides. Be it Disney text to speech, a native British girl, Darth Vader, robots, and many more, all you need is to enter text, and the tool will work its magic. Let's look at some of the features of the web-based tool.
Key Features:
owerful AI-powered Disney text to speech tool that started as a hobby project now supports a vast library of fun voices.

Create custom voices by cloning your voice.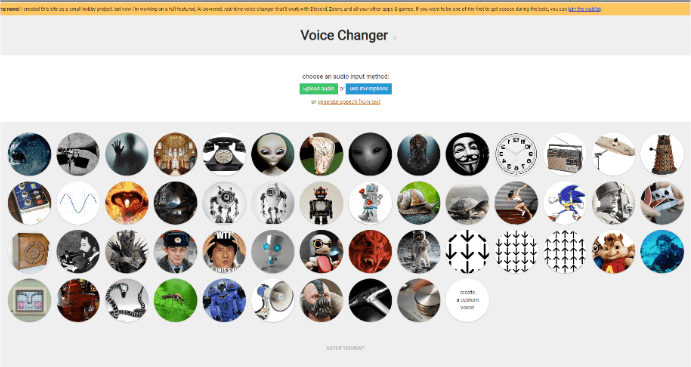 Pros:

Audio recording supported to convert to text and then TTS.

Famous pop culture voices are readily available.

A completely online web-based tool you can use on any device with internet access and a web browser.
Cons:

Some users reported a few voices too robotic.
User Experiences:
I liked it quite a lot as the output audio was brilliant.

The best aspect is you don't need to do anything, and it does everything for you.

It can't find my mic, which is frustrating.
The 2nd recommendation app/tool for Disney text to speech TikTok clips is MagicMic , also from iMyFone, and is available for download on your PC devices. They have a great list of voiceovers you can use to create the best TTS audio files. Let's investigate some of their outstanding features.
Key Features:
Work with the best Disney characters text to speech in real-time while you stream, talk to friends, or give a presentation.

More than 100 filters to choose from while talking or using the TTS function.

Support all formats and can record videos and save them on any device.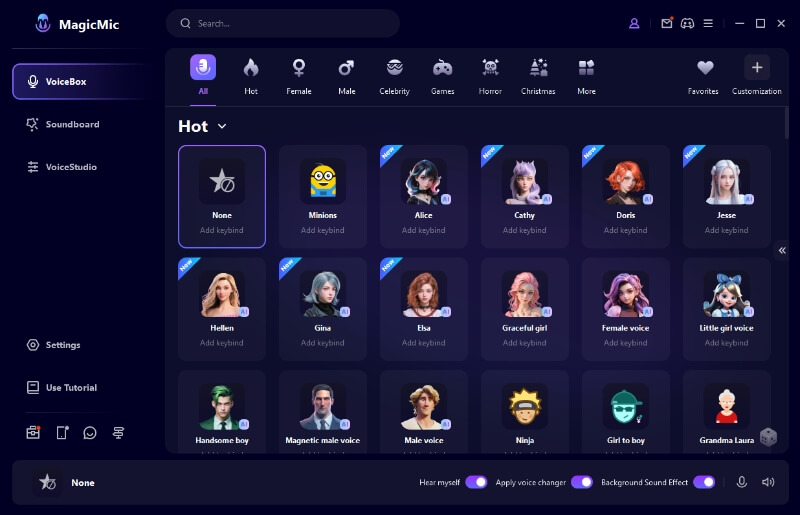 Pros:

You have many features to make the best output quality possible.

Regular updates make the app a lot better each day, and new voices are added regularly.

It gives many editing options like pitch and speed plus others which you can use to convert TTS to the best output.
Cons:

No app now for Mac systems.

Some filters sound unnatural.
User Experiences:
Anonymous – I love that it has so many options and features.

Sedboi – large selection of voice options, and I want to see more.
Part 4: FAQs about Disney Text to Speech
1. How do you get Disney text-to-speech?
You no longer need to practice hours and hours to perfect your Mickey or Donald's voice, as now you can use simple apps and tools to do that with the help of text-to-speech features.
There are many options online for Disney text to speech purposes, from which we have mentioned the best 4 in this article. You simply write text in these tools, and the generator will generate the desired voice.
2. How to Use the Disney Halloween Text-to-Speech Voices?
Every October during the Halloween season, all TTS apps and tools add remarkable Halloween voices, and this season is not different. Check the incredible list we mentioned in this article; all of them have unique Halloween-themed Disney text to speech options for you to try and use.
3. What voices are provided in Disney TikTok Text to Speech?
In their latest collaboration with TikTok, Disney has released the following Disney voices:
· Stitch from Lilo and Stitch cartoons
· C-3PO
· Chewbacca
· Star Wars Stormtrooper
· Guardians of the Galaxy's Rocket Raccoon
Conclusion
Now you have fantastic options in this article for your Disney text to speech TikTok uses and fun to get more likes and subscribers on TikTok or any other social media platforms.
Suppose you want to use a more professional option for other purposes rather than just Disney characters text to speech. In that case, VoxBox is the best option as it has a dedicated PC app that can generate voices in real-time using PC resources to generate the best quality audio with no hiccups.
Try it Free