As a beloved character among kids, the Chuck E. Cheese AI voice adds an element of fun and engagement to the content. It can be widely used in games, videos, animations, etc. to create interactive and enjoyable experiences for users and evoke feelings of nostalgia and excitement.
In this article, we will introduce best voice generators for you to create Chuck E. Cheese voice using text to speech and voice change.
Here Free Listen to Chuck E. Cheese AI Voice(John Widelock) Generated by VoxBox: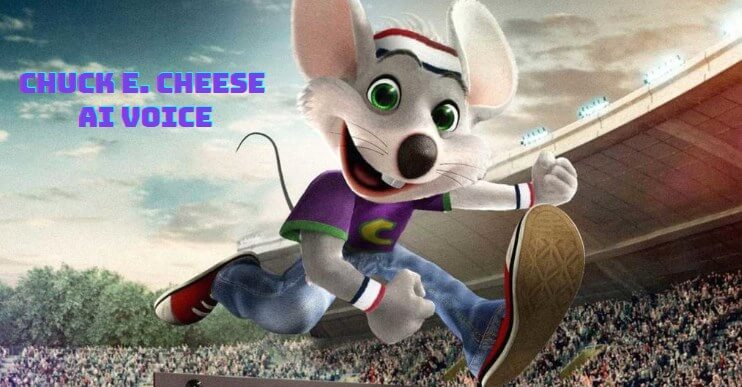 Part 1: Chuck E. Cheese: A Mouse Mascot Delighting
Chuck E. Cheese is a popular family entertainment center and restaurant chain in the United States and several other countries. It was established in 1977 and is known for its combination of arcade games, amusement rides, themed shows, and pizza.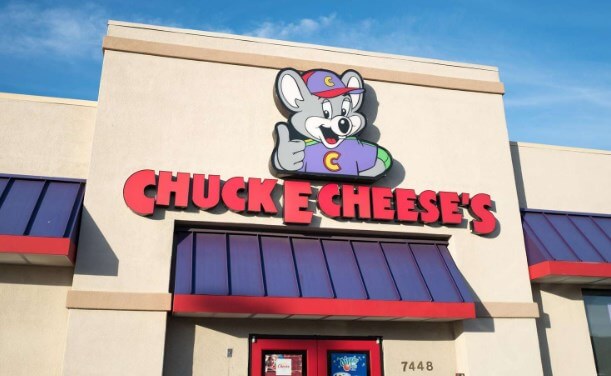 The central character and mascot of the Chuck E. Cheese's entertainment and restaurant chain is also called Chuck E. Cheese. He is depicted as a friendly, anthropomorphic, animated mouse who is known for entertaining and engaging with visitors at Chuck E. Cheese's establishments.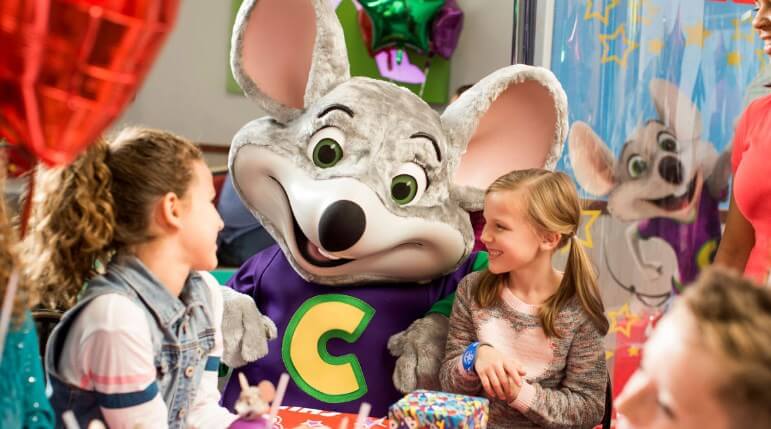 The character is often seen singing, dancing, and interacting with guests during live shows, creating an entertaining and enjoyable atmosphere for children and families visiting the venue.
Part 2: All Chuck E. Cheese Voice Actors Brief Info

John Widelock(1977–1984): John Widelock was an American actor and voice artist recognized for voicing Chuck E. Cheese from 1977 to 1984. Moreover, he lent his voice for the initial demo portrayals of Jasper T. Jowls and Pasqually.

Scott Wilson(1984-1993):Scott Wilson joined CEC in 1978 as the voice of Mr. Munch. In 1984, he took over from Joe Spano as Pasqually. In 1983, during the production of the unreleased holiday special "Almost Christmas," Wilson also assumed the role of Chuck E. Cheese from John Widlock due to Widlock's inability to sing.

Duncan Brannan(1993-2012): Duncan Ray Brannan, a versatile American voice actor, author, pastor, and more, has lent his voice to numerous children's characters and dubbed Japanese anime into English. He was notably chosen to voice Chuck E. Cheese.

Jaret Reddick(2012-Present): Jaret Ray Reddick, born on March 6, 1972, is a multi-talented American artist known for singing, songwriting, acting, and more. He gained recognition through Disney Channel's Phineas and Ferb. Notably, Chuck E. Cheese selected Jaret in 2012 to be the voice behind its character, succeeding Duncan Brannan.
Part 3: How To Make Chuck E. Cheese AI Voice with Voice Generators?
Chuck E. Cheese's voice is friendly and playful to match the lively and fun-filled atmosphere of the Chuck E. Cheese's establishments. When you need the same voice, then you can read below to know how to do!
iMyFone Voxbox is a versatile tool that allows you to enter text and instantly convert it to your beloved voice. It provides 100% accurate Chuck E. Cheese AI voice for text-to-speech, allowing you to restore the character's timbre and intonation. Moreover, VoxBox offers a convenient sound cloning feature, allowing you to effortlessly replicate a multitude of sounds within this series.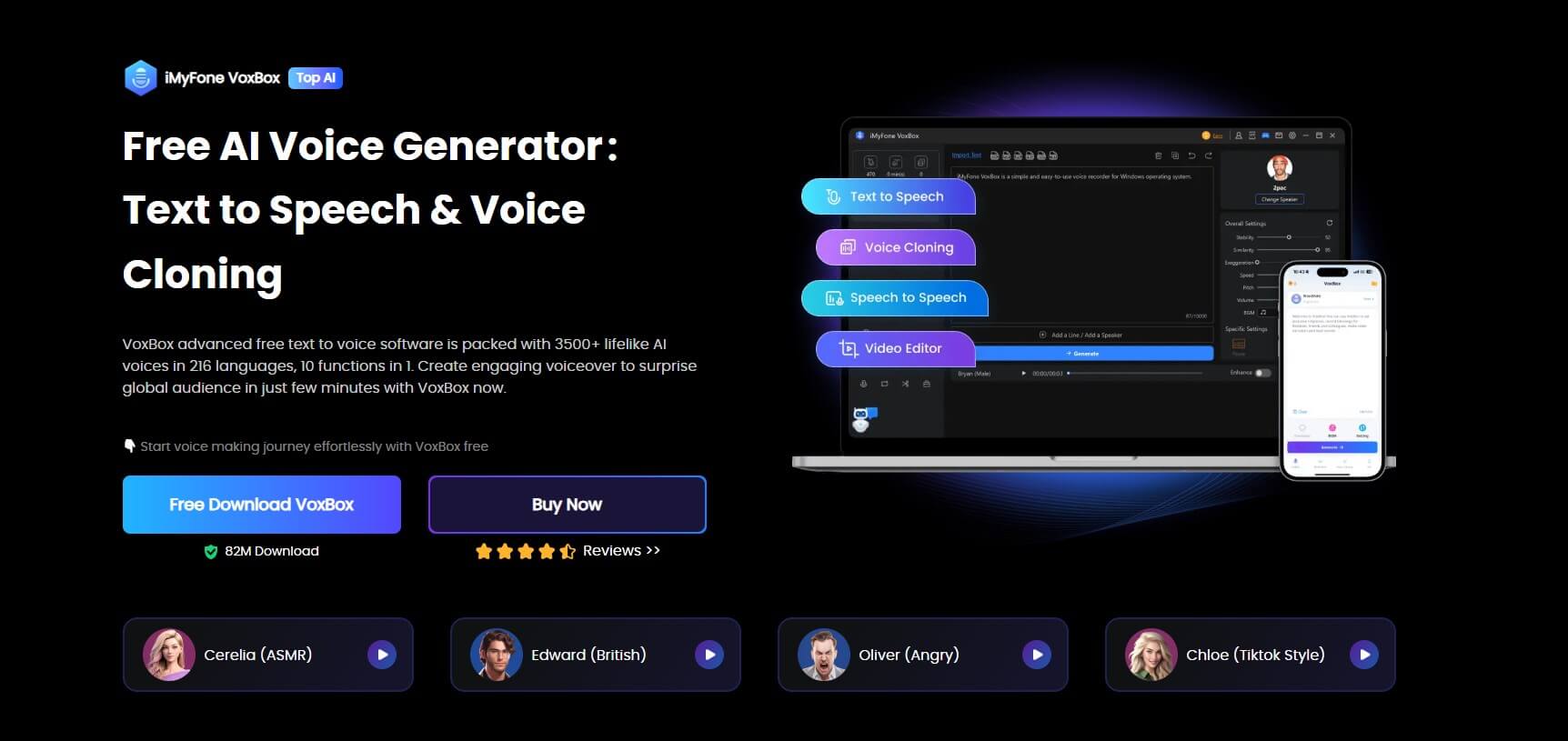 How to Get Chuck E. Cheese AI Voice For TTS:
#Step 1: First, download and install VoxBox, then open it on your device.
#Step 2: Navigate to the "Text to Speech" section, click on "Change Speaker", enter Chuck E. Cheese in the search bar, and select it.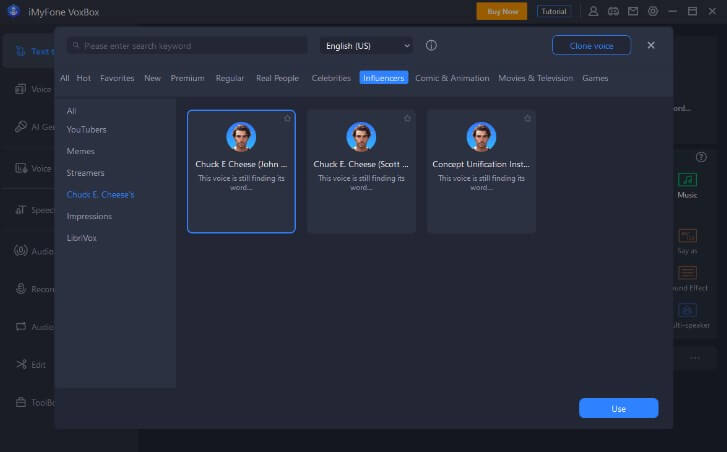 #Step 3: Input or import the text, press "Convert" to initiate the transformation. Additionally, you can reduce noise by selecting "Enhance".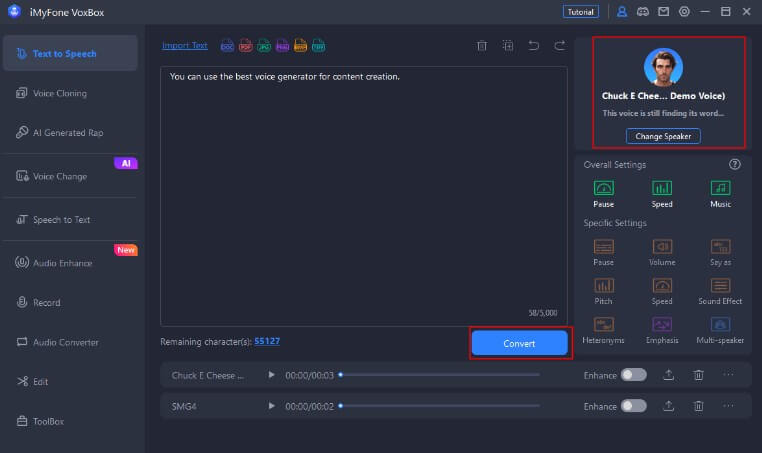 Special Offer: Get Official VoxBox with A Discount
35% off Coupon Code: VOXBOXYT
Key Features:
Plenty of virtual character voices offered for fun.

Gain 2000 free character counts without cost for Chuck E. Cheese text-to-speech.

Natural and realistic Chuck E. Cheese voiceover applying to dubbing, storytelling, podcasting, etc.

3200+ voices and 77+ languages to select from.

Remove noise and improve audio quaility with one click.

Customize unique Chuck E. Cheese voice through voice cloning, editing, and more.
MagicMic is a potent Chuck E. Cheese AI voice changer, perfect for streaming, gaming, and real-time interaction. With 225+ AI voice filters, 600+ voice effects, and 200+ voice memes, you can transform your voice creatively. Enhance your online gaming, streaming, and communication experiences on platforms like Discord, Zoom, and Twitch using MagicMic's captivating features.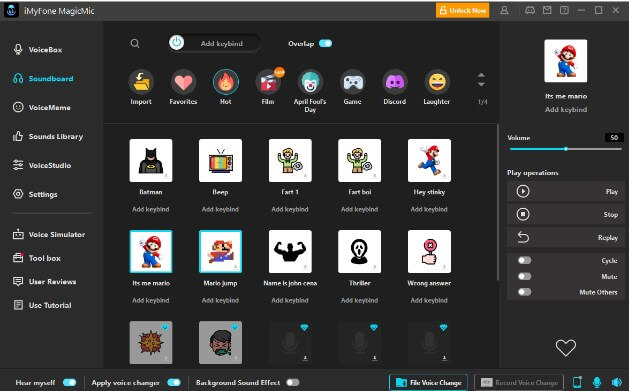 Key Features:
Effortlessly shift between 225+ AI voices for real-time conversations, streams, and gaming.

Accurately clone any voices by simply uploading audio files.

Famous funny character voices like Mario, Mickey Mouse, etc.

Tailor your voice with customizable parameters for playful pranks.

Enhance your content creation using 600+ voice effects and 200+ voice memes.

Seamlessly integrate with popular programs and platforms such as Discord, Twitch, and more.
Part 4: FAQs about Chuck E. Cheese AI Voice
1. How is the Chuck E. Cheese AI Voice created?
Chuck E. Cheese AI Voice is generated using advanced AI algorithms that analyze and process Chuck E. Cheese's voice data. You can achieve that via text to speech and voice cloning.
2. Is Chuck E. Cheese AI Voice accessible for personal use?
Chuck E. Cheese AI Voice may be accessible for personal use through specific AI voice generation platforms. Users can typically access and use the AI voice for personal projects, entertainment, or creative endeavors.
3. Are there any voice modulation options with Chuck E. Cheese AI Voice?
Some Chuck E. Cheese AI Voice platforms like VoxBox may offer voice modulation features, allowing users to adjust parameters like pitch, tone, and speed to achieve a desired effect or mimic different expressions.
Conclusion
In summary, the interesting Chuck E. Cheese AI voice will inject amusement into a range of projects. VoxBox's text-to-speech and voice cloning functionalities allows for this enhancement. In addition, this flexible voice generator offers 3,200 voices in 77+ languages, From real people to virtual characters, you can easily realize your creativity and ideas..