Here's a complete guide on how to fix YouTube Shorts not showing on your iPhone or if they are not appearing in your feed correctly. Stick to reading
YouTube Shorts is an ambitious venture of Google to challenge Tik Tok which can be accessed by anyone using a smartphone and the Shorts camera in the YouTube app.
Since the project is still in the Beta version, many users are facing unexpected issues such YouTube Shorts option is not showing up on their apps or they can't see uploaded videos in the feed. If you're experiencing the same issues, you're on the right platform.
Tips
If want a comprehensive video editor to create YouTube Shorts, we recommend
iMyFone Filme
. It is an ideal choice for both newbies and professionals because of simple and intuitive interface. You can try it out first!
YouTube Shorts Not Showing on iPhone
Many users have claimed that YouTube shorts are not showing on their iPhones. If you're one of them then worry not as we are listing the best methods you can fall back on to fix this issue. Read on.
Solution 1. Update YouTube App
Firstly, update the YouTube app on your iPhone to the latest version as the older versions aren't compatible with YouTube Shorts. The latest version has a dedicated section for YouTube shorts at the bottom of the screen.
So, go to the App Store and check if you have installed the latest version or not.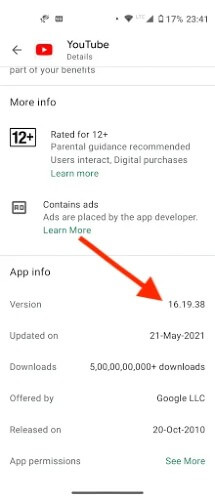 olution 2. Clear Youtube Cache and Data
Many a time, the YouTube app's cache and data are the culprits of why YouTube Shorts aren't showing on your smartphone. So, delete the cache and check if the issue persists.
To do that:
On your iPhone's Home screen, launch the YouTube app, go to its Settings > History and privacy.
Now, tap on Clear the watch history and Clear search history.
Now, restart the app and sign in with your account.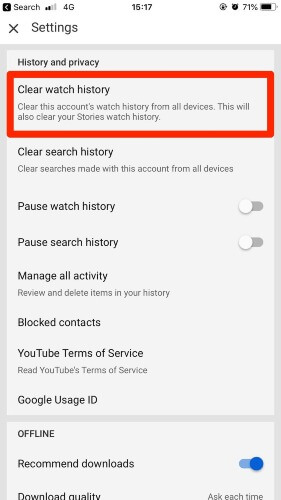 Solution 3. Ensure a Stable Internet Connection
YouTube Shorts require a healthy internet connection to function. So, make sure your iPhone is connected to a stable Wi-Fi connection or mobile data is turned on.
Simply launch your mobile browser and refresh it to check if your internet is working or not.
Solution 4. Restart Your iPhone
Sometimes, a minor bug in your iPhone's system is hindering the working of the YouTube app. The easiest way to get rid of it is by restarting your phone and launching the YouTube app again.
Solution 5. Confirm if YouTube Shorts Work in India - Use VPN
As of now, YouTube Shorts work in only specific countries, mainly the US and India. You can bypass this restriction by installing a free VPN from the App Store.
Hopefully, you'll be able to see and run the YouTube Shorts.
Also Read:
Full Guide of YouTube Shorts 2021: How to Use YouTube Shorts>
Get More Views on Youtube Shorts >
YouTube Shorts Vs. Instagram Reels: Whic is Better
Video is Not Showing on YouTube Shorts
Even though YouTube Shorts is a mobile-only feature and doesn't support YouTube web, you can still upload short videos - less than a minute - from your PC.
Now, if you're uploading videos but they aren't showing under the Shorts tab in YouTube mobile app, here's what you should do to fix the issue once and for all.
Solution 1. Use #Shorts in Title
First of all, make sure you're using #shorts in both title and description to tag it as a Short video. YouTube's algorithms use this hashtag to determine which videos are made for Shorts and otherwise.
Users having a Shorts camera, can directly make the YouTube Shorts video while others need to make "vertical videos" from a standard camera that should be less than 60 seconds.
Solution 2. Less than 60 Seconds
YouTube Shorts videos are of 60 seconds at max. Note that YouTube often adds extra 1-2 seconds to your videos for some videos, extending their length beyond the permissible 60 seconds. It can be one of the reasons why your videos aren't showing on YouTube shorts.
To play on the safer side, make sure you make videos that are 58 seconds or less in length.
Solution 3. Don't Rush
YouTube Shorts is relatively a new feature and Google stills have to do a lot of research to make it better. Currently, the YouTube system takes sufficient time to assess and index your Short videos and recommend them to the users, which can take from several days to a couple of weeks.
So, if your videos aren't getting enough likes as you expected, don't get worried. Just be patient and work on improving your content.
YouTube Shorts Videos Are Not Showing up Correctly
YouTube displays your Short videos in a vertical thumbnail together with other regular YouTube videos on your channel. But if for some reason, Youtube shorts is not appearing correctly on your channel, you need to tweak your channel's settings to view the videos properly.
Try the below solutions:
Solution 1. Customize Settings
Open the YouTube app and go to your channel.

From the Featured sections, hit on Add section.

Here, you'll see view Short videos under the videos section. Hit on it and all the videos having #short in the title and description will appear here.
Now, manage them as you want.
Solution 2. Create New Account
You can create a dedicated channel to make and organize the YouTube Shorts. Doing so will make it easy for you to view the Short videos in one place.
FAQs
Here are the most common question pertaining to why YouTube videos not showing. Read on to improve your understanding of the topic.
1. How to Enable YouTube Shorts?
YouTube Shorts is available for every Android and iPhone user as long as they're using the latest version of the YouTube mobile app. This feature is present by default at the bottom of your YouTube app's screen. Simply tap on it and start creating funny and exciting Short videos.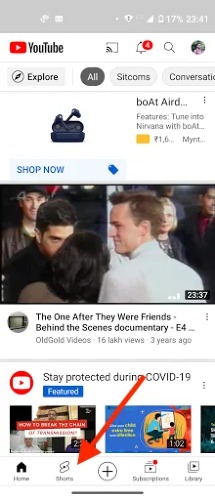 2. Where to Find and Watch YouTube Shorts?
YouTube Shorts are featured on your feed by default. Depending on your preferences and watch history, YouTube recommends Short videos along with regular videos.
There's no dedicated app or search filter, as of writing these lines, to watch Short videos only.
3. YouTube Shorts Available Countries?
As of writing these lines, YouTube Shorts is available in only India and the US. However, you can rely on any free VPN to access and use this feature - regardless of your geographical location.
Best Video Editor for YouTube Shorts - iMyFone Filme
Creating compelling short videos is one of the easiest ways to extend your reach and keep your followers engaged. For that, you need an expansive, professional-level video editor like iMyFone Filme.
It has got all the stellar video editing features that users expect from a top-notch premium software. Being the leading player in the industry, iMyFone makes it ridiculously easy for users to edit YouTube Shorts like a pro - no matter the skill level. It is equipped with unlimited templates, animations, graphics, stickers, themes, and voice effects that you can apply with just one click.
Thanks to its blazing-fast speed, simple and intuitive interface, and easy learning curve, Filme is an ideal choice for both newbies and professionals to create super-cool and amazing YouTube Shorts.
Watch this video to learn how to edit video using iMyFone Filme:
Noteworthy Features
Here are the most exciting built-in features of this powerful product:
Multiple editing modes

Picture in picture effects

Adjust the speed of your videos

Advanced fast video mode

Tons of superior effects, transitions, templates, and animations.

Slideshow creation

Perform multi-layering of videos

Adds cinematic tiles and text to YouTube Shorts
Pros:

Easy to use even for newbies

Intuitive interface

Offers the most advanced editing effects

Instant preview of effects while editing

Allows you to play 8 audio tracks simultaneously
With the stellar features, iMyFone Filme offers at such a low price, it's your best bet to create amazing video content and captivate your audience.
Final Words
To wrap it up, this article was about fixing why YouTube Shorts are not showing on your smartphone. Hopefully, you'll be able to fix this issue by yourself after reading this guide. So, next time if your Short videos aren't uploading or showing up correctly, give this tutorial a read and address this issue permanently.
If you're an ambitious content creator and want to impress your audience, then use iMyFone Filme to edit your YouTube Shorts and earn a big name - the one you dream of.