Twilight Sparkle, a character adored for her intellect, curiosity, and unwavering commitment to friendship. Her voice mirrors her intelligent and compassionate nature. Now, envision the delight of employing the Twilight Sparkle text to speech to narrate stories or give voice to animated characters in your creative projects. Wouldn't that be fun?
In this article, we will recommend best 2 voice generators for you to obtain Twilight Sparkle AI voice for your content creation.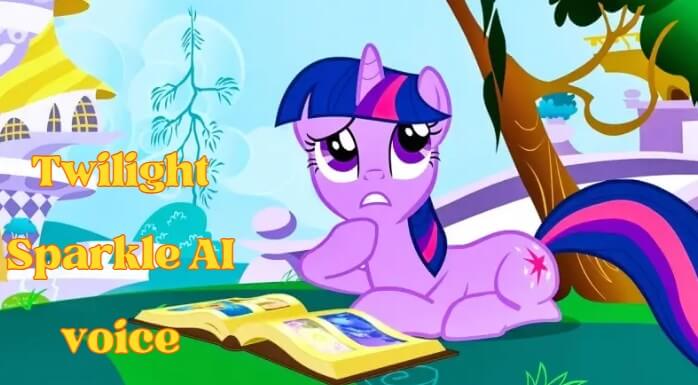 Here free listen to Twilight Sparkle AI voice generated by VoxBox.

Part 1: Twilight Sparkle: The Enchanting Unicorn of Equestria
Twilight Sparkle is a prominent character in the animated series "My Little Pony: Friendship Is Magic." With a lavender coat, a dark purple mane and tail, and a cutie mark featuring a stylized star, she is known for her intelligence, studious nature, and magical abilities as a unicorn.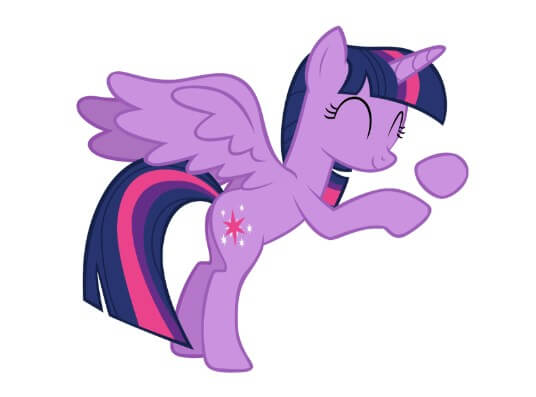 Initially sent to Ponyville to learn about friendship, Twilight becomes the Princess of Friendship, embarking on adventures with her close friends, the Mane Six, to understand the magic of friendship and solve various challenges.
Part 2: Twilight Sparkle Voice Actor Reveal
Tara Strong is a highly acclaimed voice actress known for her exceptional vocal talents. Among her notable roles, she is particularly recognized for her portrayal of Twilight Sparkle in "My Little Pony: Friendship Is Magic." Tara Strong's voice brings depth of character and vividness to Twilight Sparkle. Her outstanding performance has endeared Twilight Sparkle to fans worldwide, establishing her as a significant figure in the realm of animated entertainment. Tara Strong's skillful voice work has added magic to this character, contributed to the show's success, and left a lasting impression on audiences of all ages.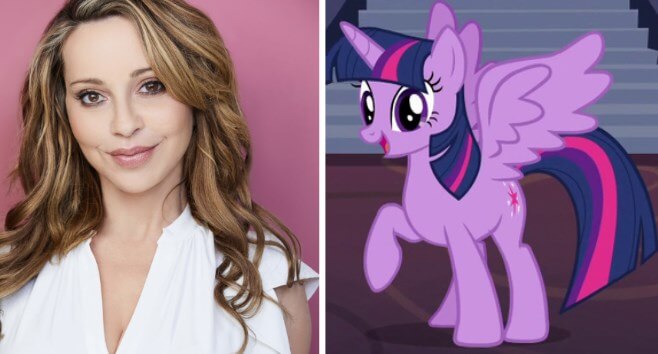 Part 3: How Voice Generators Create Twilight Sparkle AI Voice?
Twilight Sparkle, the central character in the My Little Pony: Friendship is Magic series, has a warm and charming voice, often imparting valuable life lessons and wisdom to her friends. If you like the sound of it, then you'll learn how to get the Twilight Sparkle AI voice with text-to-speech and voice changer.
iMyFone VoxBox is a comprehensive speech generator tool that converts Twilight Sparkle text to speech. Within its extensive voice library, you'll discover a wide range of voice options, spanning real individuals and virtual characters. This software offers a wealth of voice choices and comes equipped with robust features to accommodate diverse requirements. Moreover, it offers numerous language options, enabling you to generate text-to-speech output in various local languages.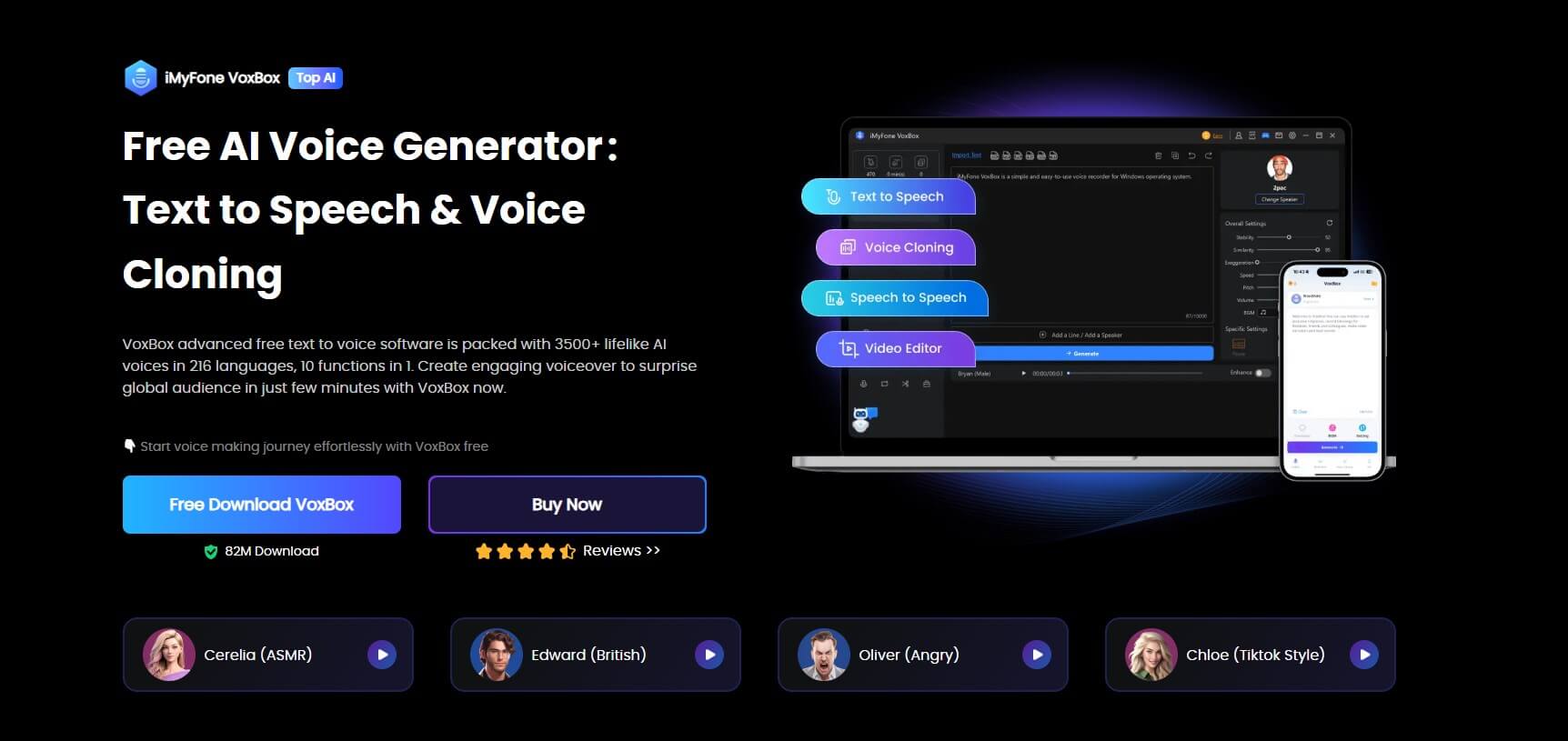 Steps To Get Twilight Sparkle AI Voice with TTS:
#Step 1: Download and install VoxBox.
#Step 2: Enter "Text to Speech", hit "change voice" in the upper right corner, search for "Twilight Sparkle" snd use it.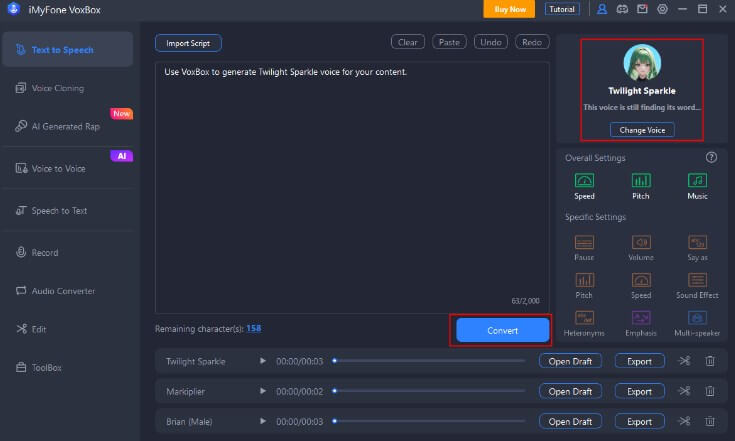 #Step 3: Type text and convert the text you input, then preview the voiceover.
Key Features:
Lifelike cartoon and anime voice choices to choose from.

Dub in more than 3200 voices and 77 languages.

Access most cute role AI voices of My Little Pony.

2000 available characters for Twilight Sparkle tts generation without any cost.

Make storytelling, audiobooks, voice assistant using Twilight Sparkle AI voice.

Functions like TTS, voice cloning, voice editing and more to custom unique Twilight Sparkle voice.
MagicMic stands out as an excellent voice changer, boasting an extensive repertoire of 225+ filters, 600+ voice effects, and 200+ voice memes. Its seamless integration with diverse applications allows for tailored customization, whether you're seeking amusement or professional applications. It also facilitates voice recording and audio file voice transformations, delivering dynamic audio experiences for a multitude of occasions.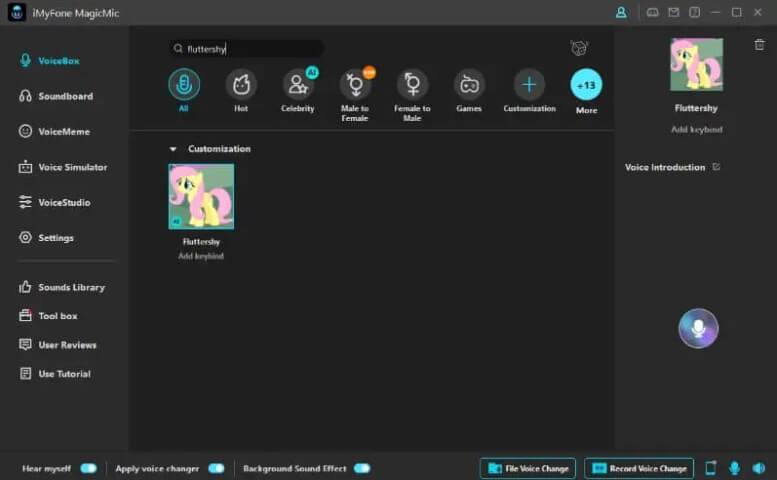 Key Features:
Instant voice conversion and real-time AI effects

Interact with humorous audio clips using the built-in soundboard.

Except Twilight Sparkle AI voice, the software also change your voice into Fluttershy, Minne Mouse, SpongeBob and others.

Seamlessly integrates with popular platforms like Discord, Twitch and more.

The voice studio feature enables you to create any voice you desire.
Bonus: Something about Twilight Sparkles Home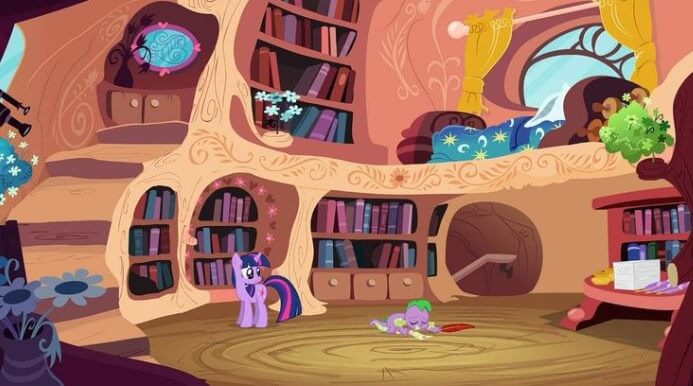 Twilight Sparkle's home, known as the Golden Oak Library, is a central location in the animated series "My Little Pony: Friendship is Magic." This iconic treehouse serves as Twilight Sparkle's residence and personal library. Located in the town of Ponyville, the Golden Oak Library features a towering oak tree with a cozy interior, filled with books and magical artifacts. It's not only Twilight's home but also a hub where her friends frequently gather to learn, study, and embark on adventures. The library holds significant sentimental value throughout the series, as it symbolizes the magic of friendship and learning, making it a cherished place for fans of the show.
Part 4: FAQs about Twilight Sparkles Text to Speech
1. How can I use Twilight Sparkle's text-to-speech voice for my projects?
To use Twilight Sparkle's TTS voice, you typically need access to a TTS tool or platform that offers this specific voice. Once you have access, you can input your text, and the tool will generate spoken words using Twilight Sparkle's voice.
2. Are there tutorials or guides available for using Twilight Sparkle's TTS voice?
Yes, you may find tutorials or guides in this article to generate Twilight Sparkle AI voice. These guides can help you get started with using the voice generator effectively.
3. How old is Twilight Sparkles?
Per a Twitter post by Lauren Faust, the creator of My Little Pony: Friendship Is Magic, it has been stated that Princess Twilight Sparkle is currently three years old.
Conclusion
All in all, Twilight Sparkle's AI voice will make your content richer and more interesting. With iMyFone VoxBox, you can easily generate realistic Twilight Sparkle sounds via text-to-speech. So why wait? Start your voiceover journey with VoxBox today and let the magic of Twilight Sparkle shine in your content.