A very frequent problem that the premiere Pro users often face is that they do not know how they can duplicate audio, video or text. It is particularly important to know these methods, especially when the users create their own videos, audio clips or text templates and want to use them multiple times. Sometimes, they only copy and paste the title file but this does not work, especially when the source of the copied text is also changed. In today's article, we will clearly describe how you can duplicate a clip (copy and paste) in premiere Pro using simple and easy techniques. Moreover, we will also discuss alternative software (iMyFone Filme) that you can use to instantly duplicate the clips in just a click.
Part 1. How to Duplicate a Clip(Video or Audio) in Premiere Pro
Remember that if you can invest some time in learning the keyboard shortcuts in Adobe Premiere Pro video editing software, you can easily enjoy a smooth workflow and can duplicate or copy and paste video or audio clips in no time. So today, we are going to show you how can make the best use of keyboard keys for duplicating anything from videos, audio, text, graphics, and GIFs. Let's see how to quickly duplicate a clip in Premiere Pro CC!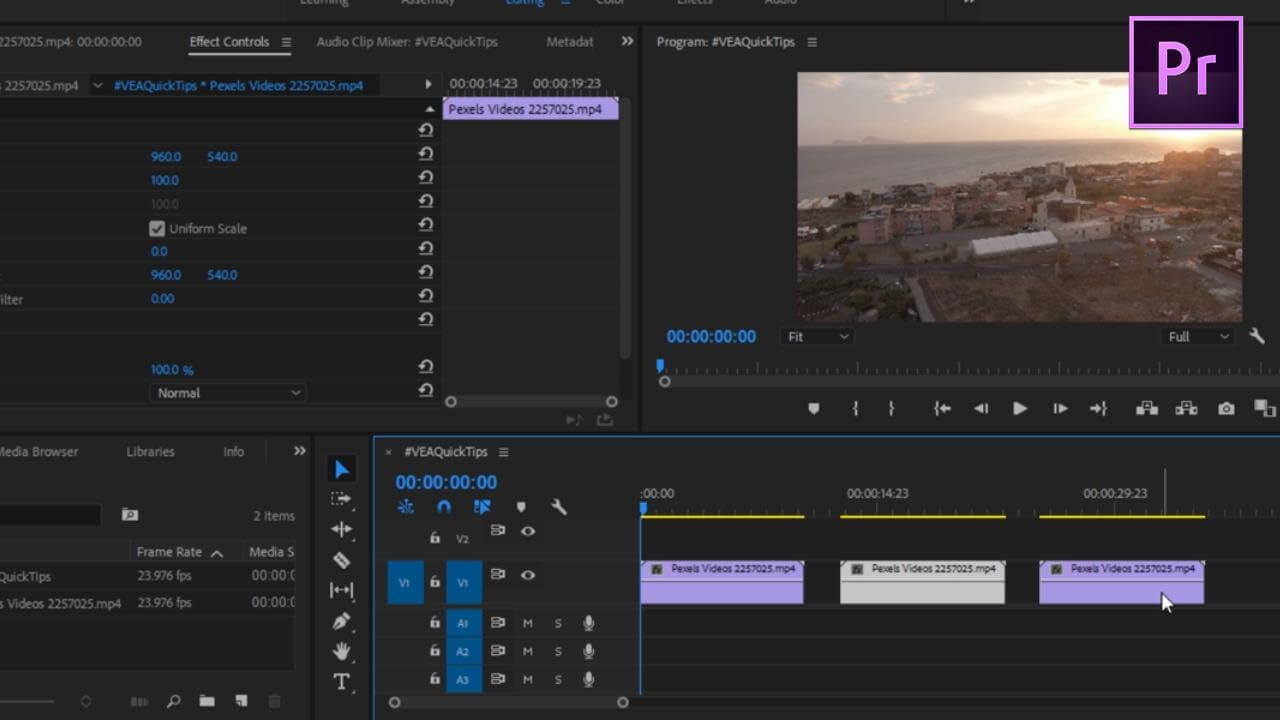 Step 1: Press ALT Key
Press the "alt" key. Keep on pressing for a few seconds.
Step 2: Click and Drag
Bring (click and drag) your clip to a new position on your timeline.
After proceeding with these two easy and simple steps, you will notice that your clip is immediately duplicated Remember that you can drag the clip either in the horizontal direction or in the vertical direction. Moreover, you can also duplicate the portion of the video depending on your personal preferences regarding the duplication.
Duplicate the Part of the Clip
Pressing the alt key is not the only method to duplicate the audio or video clip but you can also keep alt key pressing for longer in order to duplicate the part of the clip.
Step 1: For this purpose, keep holding the alt key and then select just the portion of the audio clip, video clip or the particular part of the text.
In most cases, there is the synchronisation of the video and audio and when you move one person the other portion will also be automatically moved.
Step 2: Now as you are holding the alt button, you have to bring this desired selected portion of the clip to the new location in order to get it duplicated right away.

You've now separated the required and desired portion of the clip without having to remove the link of the clip from the beginning.
Part 2. How to Duplicate Text in Premiere Pro
Duplication of the text clip or graphic layer is also similar to video clip duplication in the premiere Pro.
Step 1:
First of all, you have to click on the alt button and then choose the desired clip that you want to duplicate and then immediately drag this clip to the desired duplication location.
Note: Remember that all the duplicated clips will be similar to each other in terms of effects, colour treatments and other features.
Step 2:
After you have successfully duplicated the clip, now double click the new duplicated sleep and edit it by changing all the parameters that you want to change and proceed with its customization according to your personal preferences.
Part 3. Best Alternative Video Editor to Duplicate a Clip - iMyFone Filme
iMyFone Filme is a great video editing tool that allows you to duplicate audio, video or text in just a few clicks. Remember that this alternative software is getting immense popularity among the users due to its high quality features that are not only easy and simple, but also a highly advanced and modern. Moreover, this is 100% free and you will never face problems, such as the ones related to file input errors and other issues that you face in the Adobe Premiere Pro.
iMyFone Filme is perfectly suitable both for beginners as well as professionals because it has very smooth video editing options that people can use for getting high quality results. Some of the most important options of this software include trimming, rotating, video or audio duplicating, effect creations, slideshow creation and background removal.
Let's look at some of the most common video duplication features of iMyFone Filme that make it the superb and number one choice of the professionals and beginners.
Video Editing Features of iMyFone Filme
iMyFone Filme allows the user to enjoy various video editing features including video duplication, audio replication, text duplication, voice changing effects, transition effects, slideshow creation, PIP effects, background change, photo frame addition and much more.

Another most important feature of this amazing alternative software is that it is better than Adobe Premiere Pro because it allows the users to access all the advanced and Premium features without paying even a single penny. So you definitely would have paid for the Adobe Premiere Pro but you will no longer need to pay anything for using high-quality professional video editing features in iMyFone Filme.
Pros:

100% free.

Beginner-friendly.

Allows advanced video editing.

24/7 customer support.

Compatible with Windows 10, 8.1, 8, 7.

Available for offline use once downloaded.

Simple and easy interface.

The perfect tool for professionals.

Allows you to adjust the speed of the videos.
Here are practical steps if you want to use iMyFone Filme for video, audio and text duplication purposes. Remember that while using this role you will never face the problem of "file import error".
Step 1: Download
If you want to get maximum benefit and utilize the video, audio and text duplication feature, you should immediately Download and install iMyFone Filme to your computer. It will take a few minutes and you will readily get the software in your system.
Step 2: Import Video
After downloading the software, its icon will appear on your main desktop screen. Click on the iMyFone icon and go to the new project option. Here you will see the option to import the video, audio or text that you want to duplicate. Remember that you can also access various video editing features of iMyFone Filme.
Step 3: Split Video
Now drag your desired important video, audio or text file to the timeline where you will see various editing options, including rotating, trimming and duplicating options.
Figure out the duplication option from all the video editing features, click on the duplicate and your file whether it is audio file, video clip or text file, will be readily duplicated.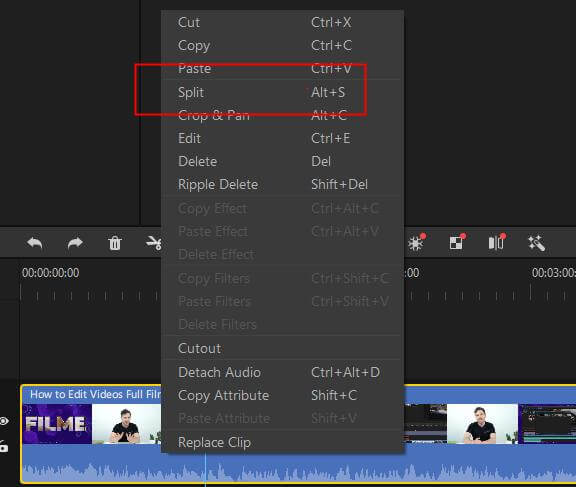 Step 4: Duplicate Clip By Copy & Paste
Once you have got the duplicated audio, video or text file, you can easily proceed with further editing.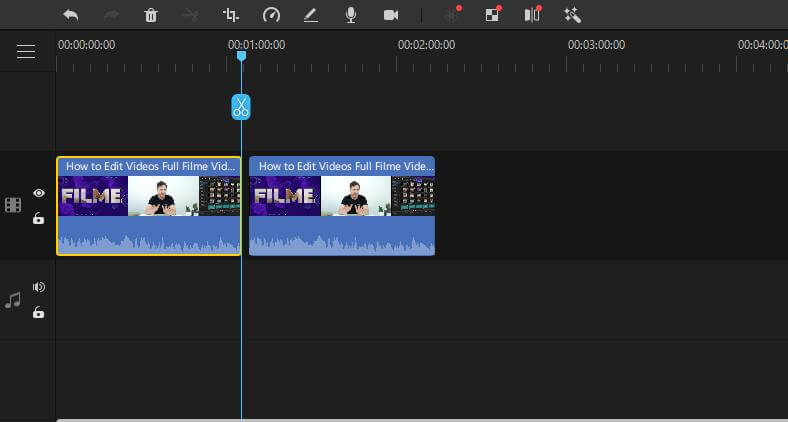 After completing all the edits, you can get the desired file that you can Export for downloading to your computer or sharing it to social media platforms or video sharing websites.
Part 4. FAQ about How to Duplicate a Clip
1. Is there a way to copy and paste in Premiere Pro?
Yes, you can easily copy and paste in the traditional way in Premiere Pro by using the (command c and command-v) keyboard shortcuts. It is the only quickest way to duplicate clips including audio and video clips in the Premiere Pro timeline; it cannot be easier.
2. Is copying and pasting the video clips in the Premiere Pro is similar to duplicating the video audio text?
Yes, as we use ALT keys and other keyboard shortcuts for both copying and pasting the video clips and duplicating the video audio & text, so we can say that copying and pasting as well as duplicating in the premiere pro are the same things.
3. What is the quickest way to duplicate clips in Premiere Pro?
The fastest way to duplicate clips in Premiere Pro is to proceed with keyboard shortcuts and using command/slashed Control + C to copy and then clicking and dragging the clip to the timeline for duplicating. However, if you want to duplicate clips more quickly, you should proceed with the alternative software iMyFone Filme where you can see a proper option to duplicate that will immediately duplicate your clip in just a single click.
Conclusion
From the above discussion and our detailed research, we have come to know that the easiest and the simplest way to duplicate the clips in the Adobe Premiere Pro is using the keyboard shortcuts. However, some people are not well aware of how to make the best use of keyboard shortcuts. So they often face problems in copying and pasting the clips in the timeline. Moreover, the problem gets worse when it comes to copying and pasting the particular regions or portions of the clips.
To make everything simplest, we recommend you to download iMyFone Filme and enjoy all the video editing and duplicating features right away.