Disney World is among the dream places for most people. Anyone who watched Disney cartoons growing up knows how wonderful and nostalgic this place is. No one will ever forget to take pictures in Disney World. However, there is a photography service available in Disney World that one can enjoy. Some people enjoy the watermark while some don't. So, for those who don't, let's see how to remove the Disney watermark.
Part 1. Remove Non-Purchased Disney PhotoPass Watermark from Pictures Free [Best Choice]
For those who don't know about Disney PhotoPass, it is a paid photographic service that takes your pictures in the Disney World and then uploads them to a specific link from where you can download them without the watermark. But if you don't want to pay for this service, you can get your hands on non-purchased Disney photos, but it comes with a watermark along with it. In this part of the article, we will discuss a tool, iMyFone MarkGo, that will help the user to remove the Disney watermark without any trouble.
Tips
Hunting for a tool to get rid of Disney Photopass watermark efficiently? Why not try
iMyFone MarkGo
, a professional watermark remover that helps you remove watermark 100% clearly with AI-powered Technology within 5 secs in 1 click.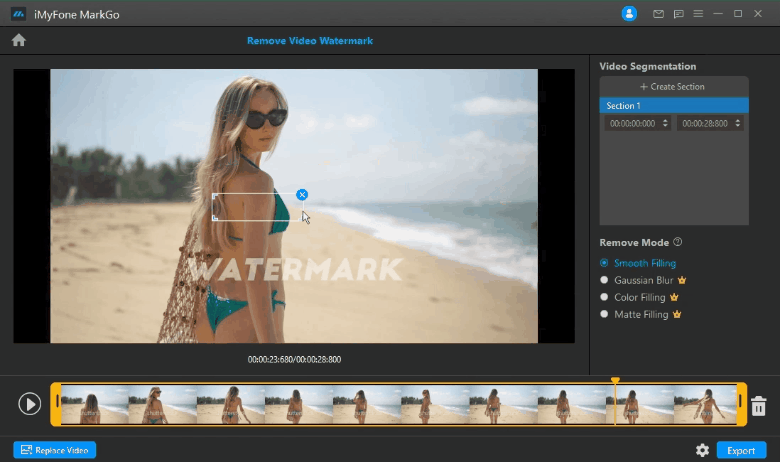 Watch the video tutorial to learn more about MarkGo.
Step 1: iMyFone MarkGo is a watermark solution for anyone that owns a PC. It works with both Windows and macOS. Go to the website and download the trial version for free. Install it on your PC and open it. It will show you different options but as we want to remove the Disney watermark, click on "Remove Image Watermark".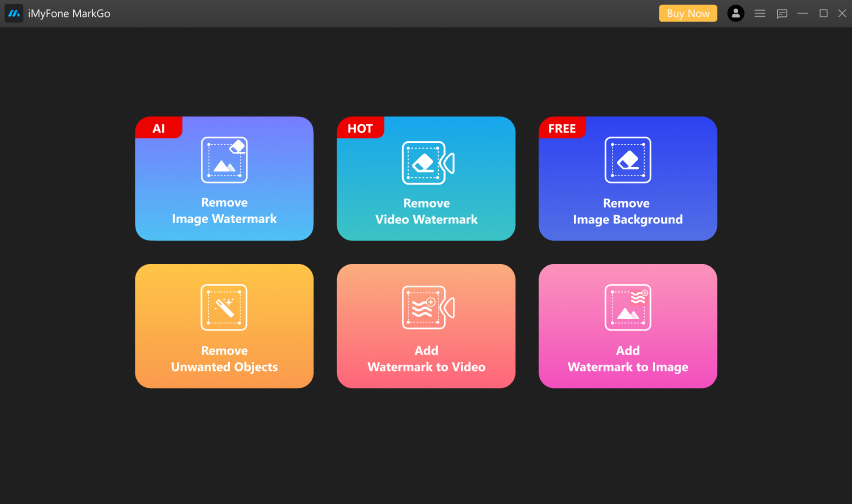 In the tool, you can remove watermarks, logos, objects, background, fill the selected areas, replace them with another background, etc.,in the tool. It is available for photo editing, video, and document editing. In short, it is an all-in-one tool for removing objects and watermarks from your files.
Step 2: Here, you will see an option of "Add Photo" in the center of the screen. Click on it and import the Disney watermark photo.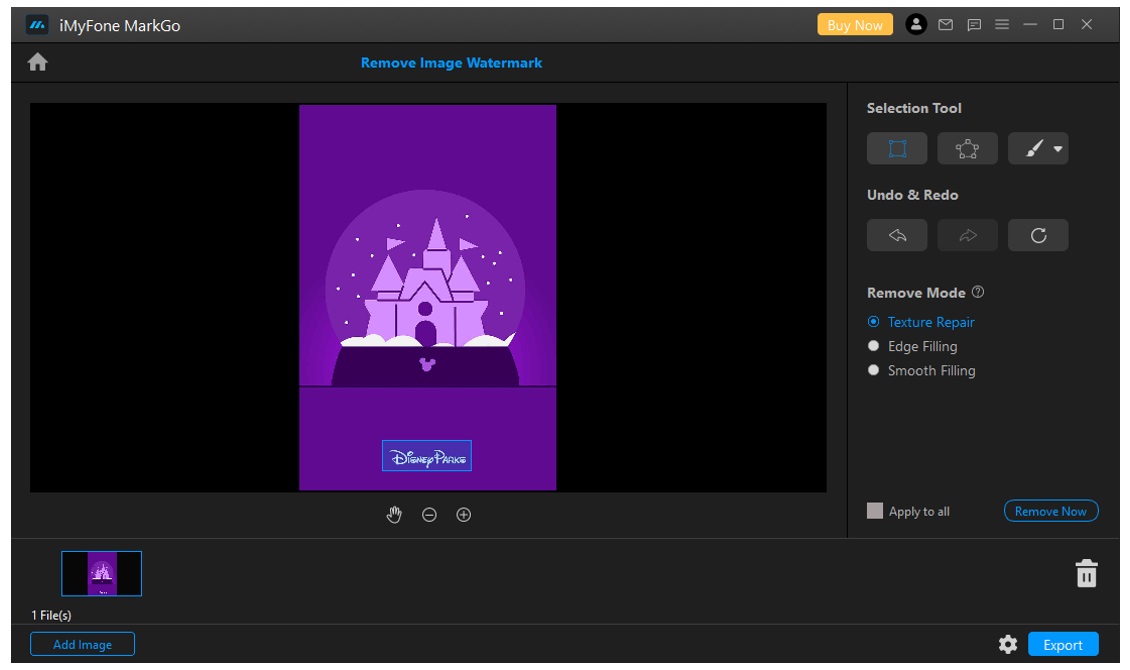 Step 3: On the right-hand side, you will see an option for a selection tool. Choose any selection tool and mark the watermark. After selecting the watermark, click on "Remove Now" on the bottom right side of the screen.
Step 4: The watermark is now removed. You can now download the image by clicking on "Export". Choose the settings in which you want to download or export the picture.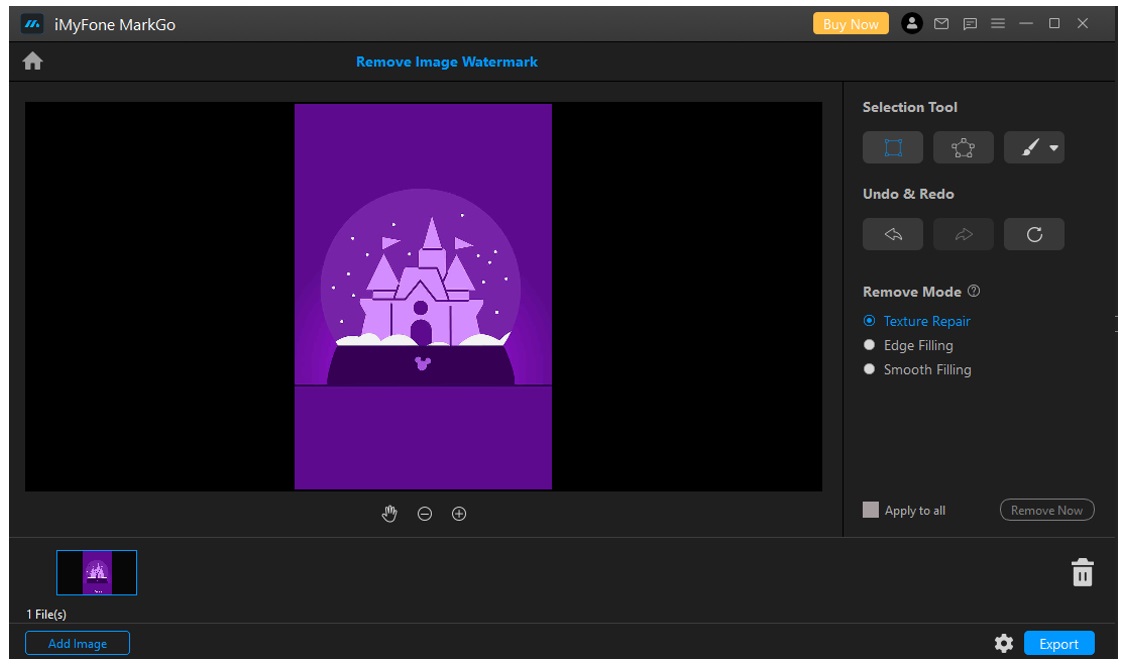 Part 2. Get Rid of Disney PhotoPass Watermark by Purchasing the Photography
Besides iMyFone MarkGo, there is another solution to remove the Disney PhotoPass watermark from the photo. You can purchase the photography plan from Disney's website. Different plans range from the lowest possible prices to the highest. It all depends on the requirements and desires of the person. With this PhotoPass, there will be no Disney PhotoPass watermark on the photo.
Plan 1: Memory Maker
This is the most premium plan that a person can buy. It features the PhotoPass photos and videos of up to 25 people in your family. These people can be your friends or family. This plan costs about $199.00. With this PhotoPass, you can enjoy pictures and videos of various places in Disney World. Moreover, you can access your Memory Maker immediately from the website. There is a deadline of 45 days in which you can download all of the Disney PhotoPass photos and videos. Once they expire, you cannot access them and download them.
Plan 2: Memory Maker One Day
This is the second premium plan that one can buy. It also features PhotoPass photos and videos of up to 25 people. You have 45 days to download and access your PhotoPass photos and videos from your account; otherwise, it will expire. It costs you about $69.00. The only difference with this plan is that you have to choose a 'single day'. This plan is only applicable to one day only. You can choose one day and take full advantage of unlimited PhotoPass photos and videos.
Plan 3: Photo Extension
This is just the extension plan for people who are too busy and cannot download their PhotoPass photos and videos within the given 45 days. The extension costs about $19.95 and will give the user an additional 15 days to download photos and videos from the account.
Part 3. FAQs – How to Erase Disney PhotoPass Watermark with Disney Watermark Remover
1) MemoryMaker/PhotoPass, is there no way to download all photos without a watermark?
No, Disney has a strict policy when it comes to PhotoPass. You can download the picture with a watermark and then use iMyFone MarkGo to remove it with just a click.
2) How can I remove the Disney watermark? Is there any trick?
iMyFone MarkGo is a watermark solution that anyone can take advantage of. It is compatible with Windows and macOS. You just need to select the watermark, and with just a click, it will be removed.
3) Does anyone know how to get PhotoPass pictures for free without a watermark?
If anyone does know how to access PhotoPass pictures for free without a watermark, then they are doing it illegally. Because Disney does not allow it, buying it will give you the copyright of the image to use anywhere.
4) Can you screenshot Disney PhotoPass?
You could screenshot Disney PhotoPass before, but now you cannot. Disney has come with a solution and cracked down on this illegal access of pictures from people around the world. Disney has now added a watermark to photos that aren't purchased.
5) Is it legit to download Disney PhotoPass Pictures for free?
No, it is not. You can take a screenshot, but it will come with a watermark. However, you can then remove the watermark by using any tools like iMyFone MarkGo. You can purchase it, and there will be no watermark on the picture.
Conclusion
iMyFone MarkGo is a tool that helps people to remove watermarks from photos and videos. Everybody knows about Disney PhotoPass photos and videos. People love to create their memories in Disney World. For that, they buy PhotoPass. But unfortunately, if you don't buy the PhotoPass, you cannot download the photos and videos without the watermark. Here, MarkGo comes to help. With MarkGo, you can easily remove the watermark with one click.