The best thing about presentation videos is that you can include your voice narration so that you can share them widely without the need of presenting the information in person.
We have a list of other top video presentation makers you can use to create the best video presentations and tips for making them.
Part 1: The Top 8 Video Presentation Software
Good video presentations will capture the attention of your audience immediately. When it comes to selecting a tool to make the videos, the internet offers many options. However, not every tool you encounter will offer the results you need. Here are the top 8 video presentation software tools you should try.
This is the first tool in our list of top eight video presentation software. iMyFone Filme is a video presentation software tool and animated photo slideshow maker which allows you to create and edit a wide range of videos. It is compatible with both Windows and Mac devices and it offers many features to refine the process of making slideshows. Its simple interface allows non-technical people to use it easily. Here are the key features.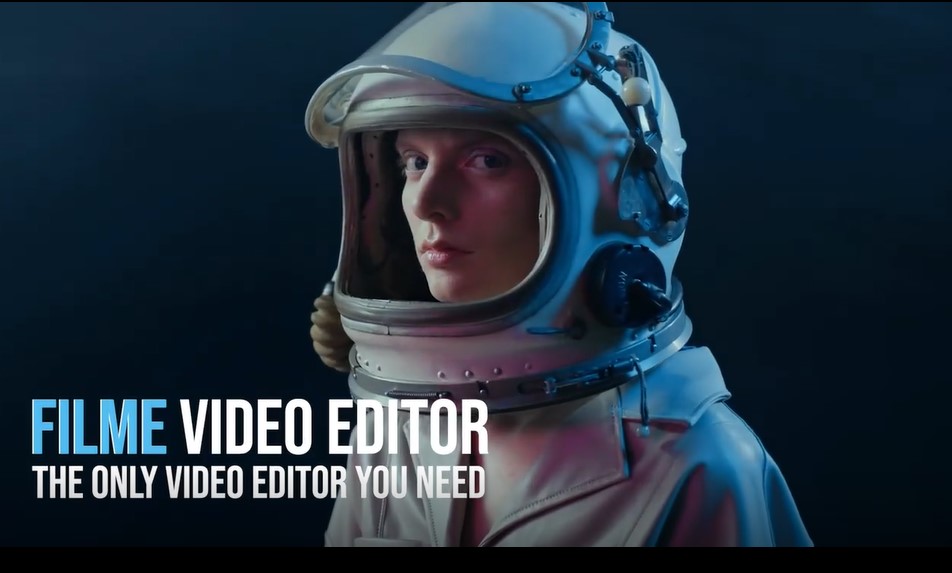 Bonus Tips:
Make Video presentation in one click-iMyFone Filme.
Special offer that can free try the resoureces for paid. Download it for trying it out!
Key Features of iMyFone Filme
Offers customized templates to allow personalization of video presentations

Auto-create option that makes the presentation video creation process easier for beginners

Basic editing option to remove all the flaws

Voice change features to help change and insert the voice in video presentations

Transition effects to embed live movement of elements and engage viewers
Pros:

User-friendly interface to allow easier usage

Supports sharing on many social media platforms

Offers many video editing and customization tools

Supports many file formats
Cons:

Offers a few templates
Pricing
You can download iMyFone Filme from the official iMyFone site and enjoy a 30-day free trial. You can also pay the $19.99 monthly subscription to access all the features.
Powtoon is another great tool that you can use to create your video presentation at no cost. It offers many ready-made templates so that users can create professional-looking videos in less than 20 minutes. Whether you are a teacher or a marketer, you will find this tool easy to use and you will make intuitive video presentations to draw wide attention and build up effective communication.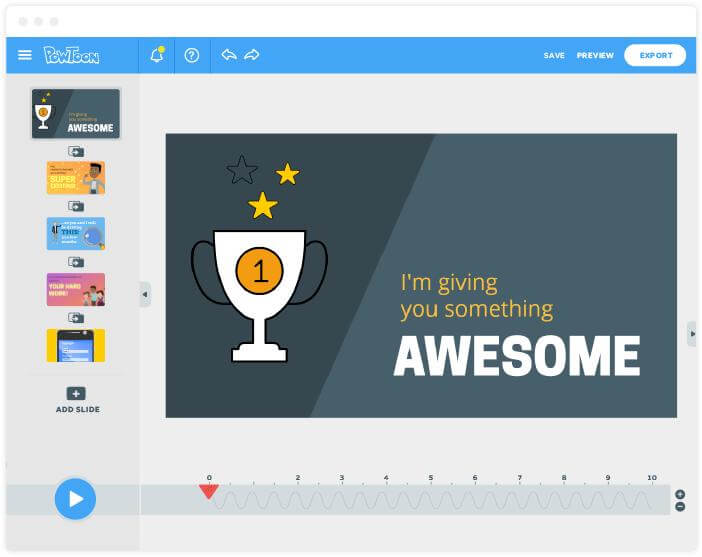 Pros:

It is easy to master

Makes professional-looking presentations

Allows customization of presentation videos
Cons:

The free plan comes in limited styles

The video linking feature is only available for the slideshows
Pricing
PowToon offers a free version and paid plan that starts at $89 per month. The free plan allows you to test the tool.
Biteable has always aimed to be the simplest video presentation maker in the world. This tool allows users to make animated video presentations online in minutes with help of predesigned templates. All you have to do is choose a template and edit the actions and scenes with your content. Furthermore, the offered simple drag-and-drop timeline makes this tool to use. After making a slideshow video, you can press the share button to post your video on Twitter, Facebook, or YouTube.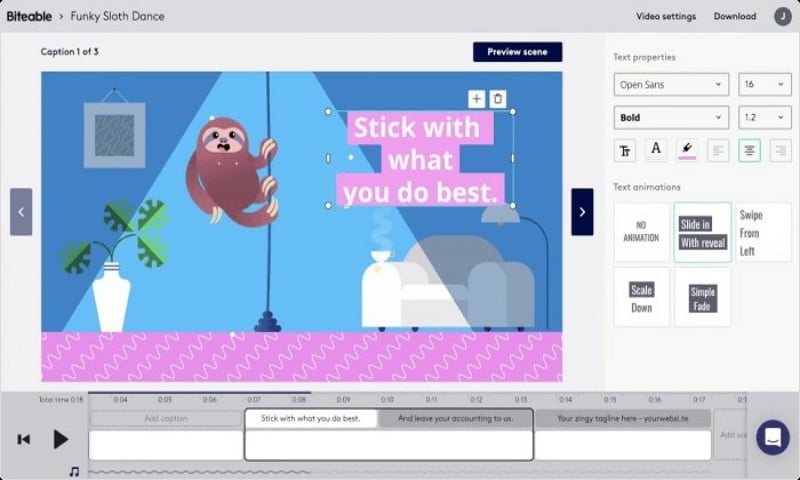 Pros:

Makes professional-looking videos and animations

Easy to use

Helpful tutorials

Predesigned templates
Cons:

It does not allow change of the fonts

Some video content is licensed and therefore it is hard to change the scenes

Biteable sends the presentation videos you create to your email
Pricing
The pricing Biteable starts at $29 per feature every month. However, you can still benefit from the free version.
Veed.io is a Chrome extension that allows you to record your screen, microphones, and webcams and create slideshow videos at no cost. Its helpful features include sticky notes, on-screen writing, and a magic button. You can trim and refine all your slideshow videos after creating them. The tool is ideal for content creators and educators who would want to create slideshow videos frequently.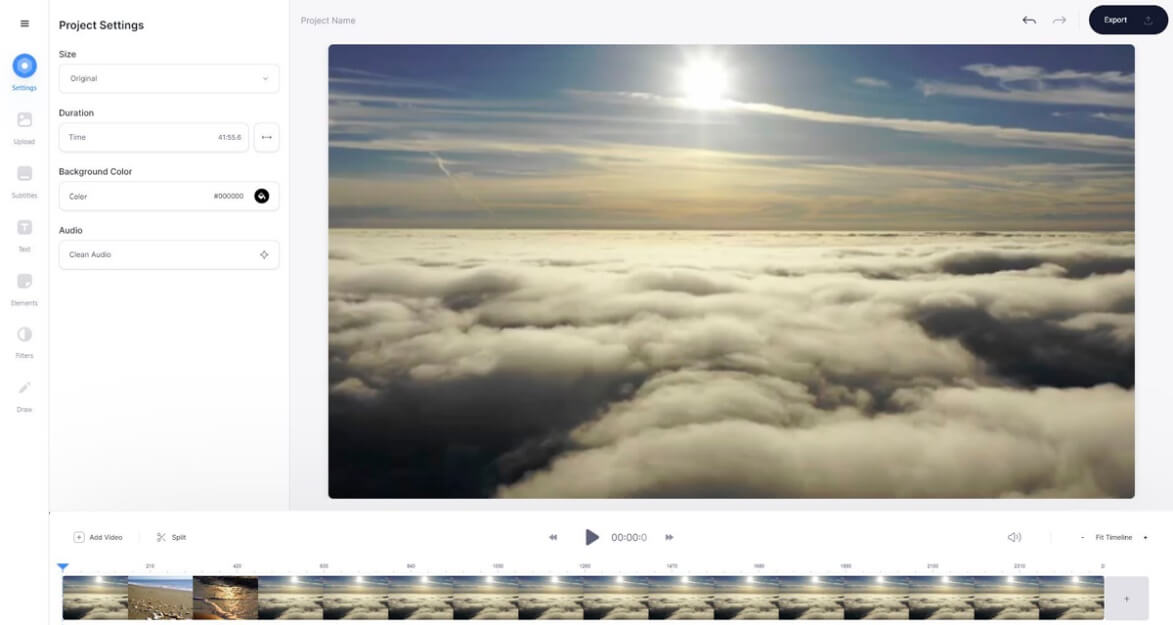 Pros:

Easy to use

Reasonable pricing

Offers a user-friendly and easy to navigate interface
Cons:

The free version offers limited features
Pricing
While Veed.io offers a free plan, you can choose the Basic or Pro plan to make long videos without watermarks. The Basic monthly plan will cost you $12 while the Pro plan will cost you $24.
This online video editing tool offers many features that allow users to come up with beautiful slideshow videos. The features include HD movie downloads, photo uploads, and premium editing styles. You can add logos and captions to your videos, edit scenes, and rearrange your content to match your needs. Its library provides beautiful soundtracks and editing styles that will match your needs. Further, you do not have to download any software to your computer to start using this tool.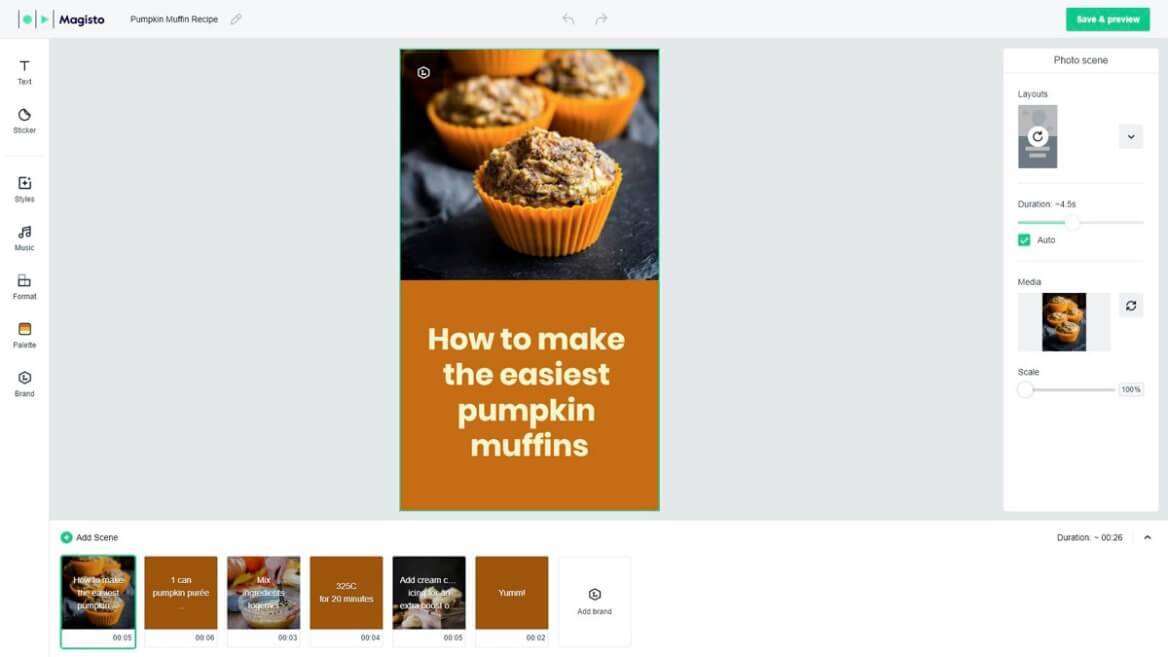 Pros:

Simple and easy to use tool powered by AI

It is free to use

You can string hundreds of photos into a beautiful slideshow video
Cons:

It cannot edit large videos
Pricing
Magisto comes in three pricing options – Business, Professional, and Premium. The business option will cost you $419.88 per year, the Professional will cost you $119.88 per year and the Premium will cost you $59.88 per year.
Animaker is the tool to use if you need pro-level animated videos. This creates video presentation tool offers a platform for you to create funny animated videos. Unlike other tools, it allows enterprise teams to collaborate and make beautifully animated presentations with help of its drag-n-drop interface. You will have access to 8 visual tools, large animated libraries, and multi-user collaboration features. It is a good choice for any enterprise looking to remain ahead in its content creation efforts.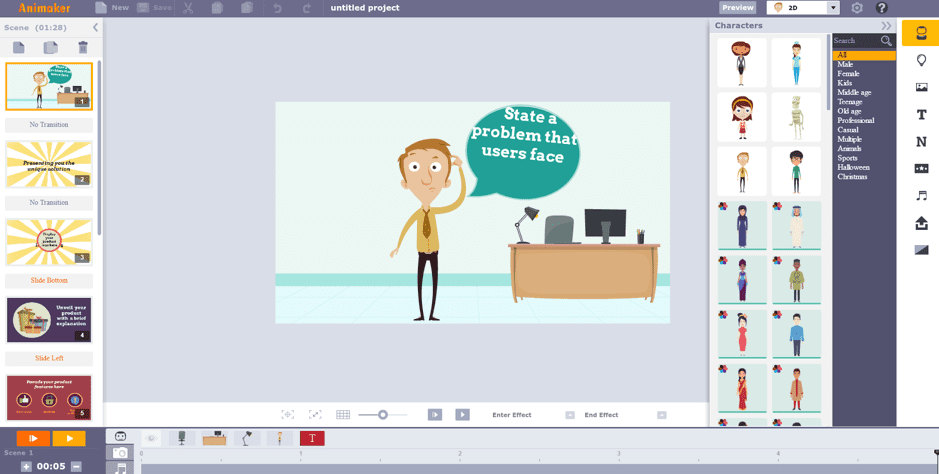 Pros:

It has robust info-graphic capabilities

Easy to understand features

Supports 4K videos
Cons:

The software is based on FLASH technology, which is not supported by most browsers

It runs with a flash player, which makes it slow and annoying to work with
Pricing
Animaker will cost you between $10 and $49 per month, depending on the plan you select. The distributor offers a free trial to allow users to make the purchase decision.
Movavi is among the best video editing applications that allow easier video and photo editing. Unlike most complex professional slideshow video creation software tools, Movavi does not hide its capabilities beneath many layers of menus and tabs. You will access every feature you need to create your video presentations easily. It is compatible with Windows 7 and above and Mac OS.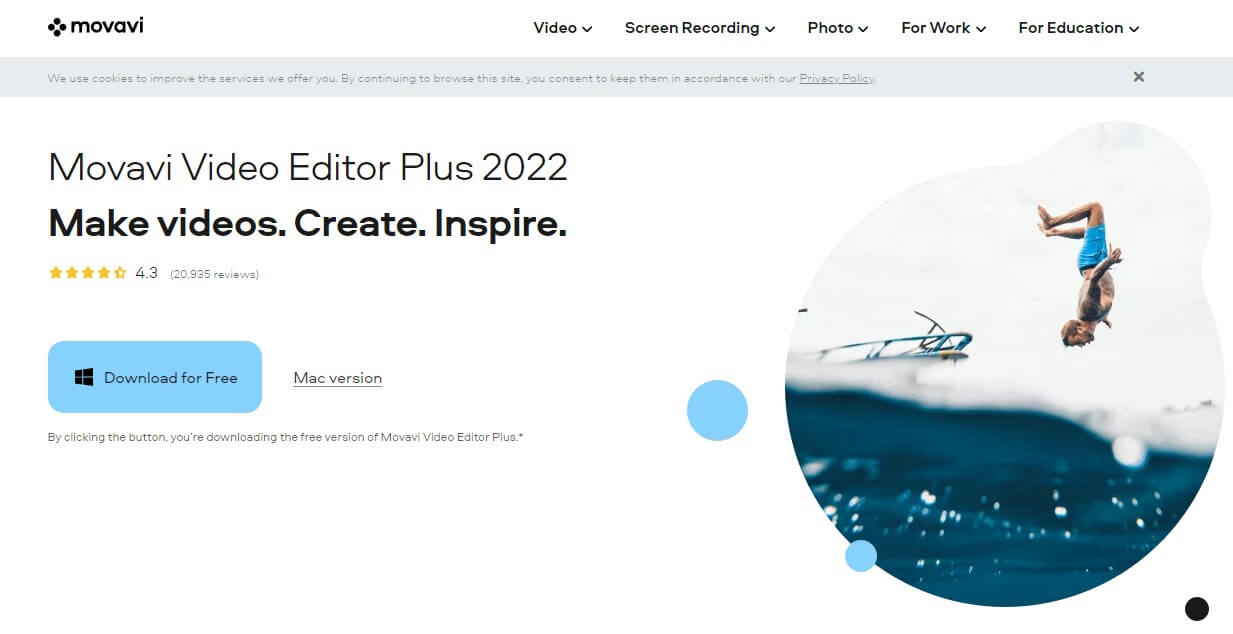 Pros:

Movavi is easy to use

It supports Windows 7 and above and Mac OS

It has many premium features like animation options and timeline makers

It has a short learning curve
Cons:

Slow recording

It limits you when it comes to editing and title addition
Pricing
Movavi offers three options, which are Movavi Editor Plus (1 Year License), which will cost you $44.95 Movavi Video Editor Plus (Lifetime License), which will cost you $64.9, and Video Suite (Lifetime License), which will cost you $85.95.
Visme allows you to create, download, and even share your video presentations easily. The video presentation maker offers hundreds of presentation video templates and animated presentation slides to help you start the video creation process. Unlike many other tools, Visme is web-based but you can also use it offline and collaborate with your teams on your projects. Furthermore, this tool offers numerous visuals that vary from icons and layouts to animated illustrations and data widgets.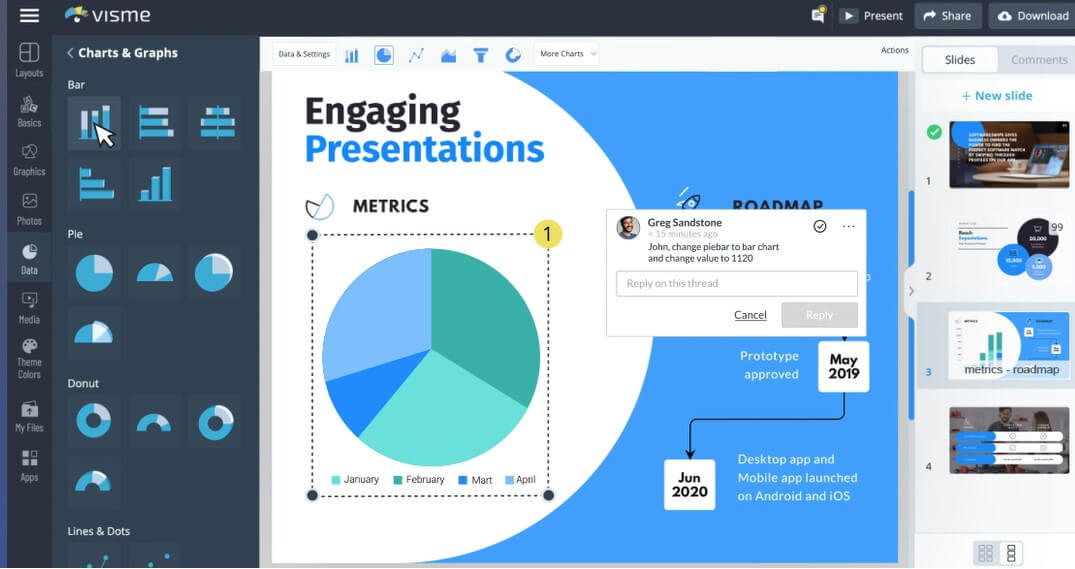 Pros:

Many options

Highly configurable

Rich analytics

Easy to use
Cons:

Expensive

The low-priced plans are restrictive
Pricing
Visme offers a free plan but you will have to upgrade to one of the paid plans to access unlimited graphic assets, premium templates, and many download formats. The Standard plan will cost you $15 per month and the Business plan will cost you $29 per month. The Enterprise plan offers custom pricing.
Part 2: Two Faster Ways of Creating Video Presentation
iMyFone Filme is among the great desktop video presentation software tool to use if your goal is to come up with engaging video presentations. After installing it on your desktop computer, you can use any of these two methods to create your presentation videos.
Look the Video First
Method 1: Slides to Video
Making a video presentation with iMyFone Filme is easy and fast, particularly when using the "Slides to Video" option. This option allows you to upload your PPT slides to iMyFone Filme and convert them to video presentations. Here are the simple steps to follow if you want to complete the process smoothly.
Step 1: Click on the "Slides to Video"
Click on the "Slides to Video" option on the homepage and import your media files by clicking on the "+" button.
Alternatively, you can use use drag and drop features to add all the files you want to convert.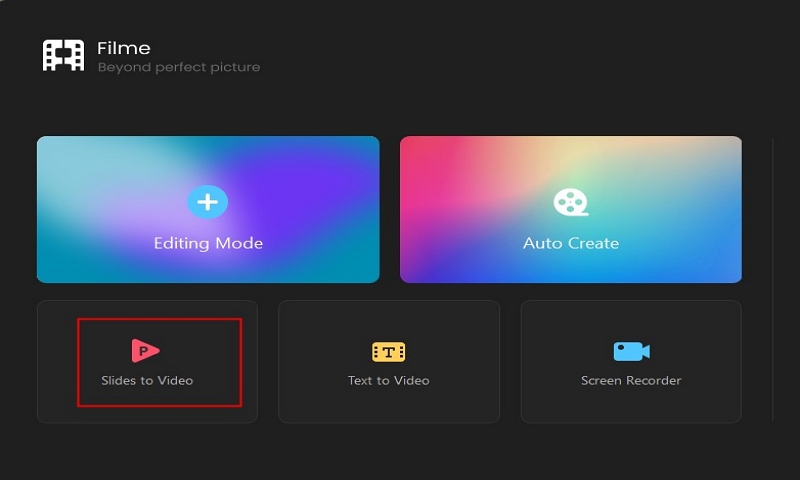 Step 2: Customize Your Video Presentation through Each Tab.
Subtitle:
At this tab, you can input the content to each slide and choose Style for the subtitles. The content can be input by texts or recorded sound from the microphone. Click on the Start recording icon to record your voice content to slides. Besides, you can also convert texts into voice by choosing languages and clicking on Convert All.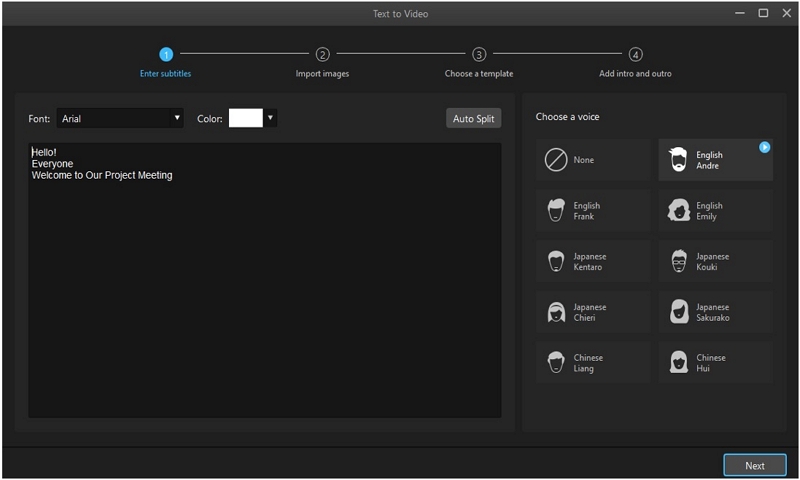 Template:
You can choose a set of template or choose each Frame Background,and Character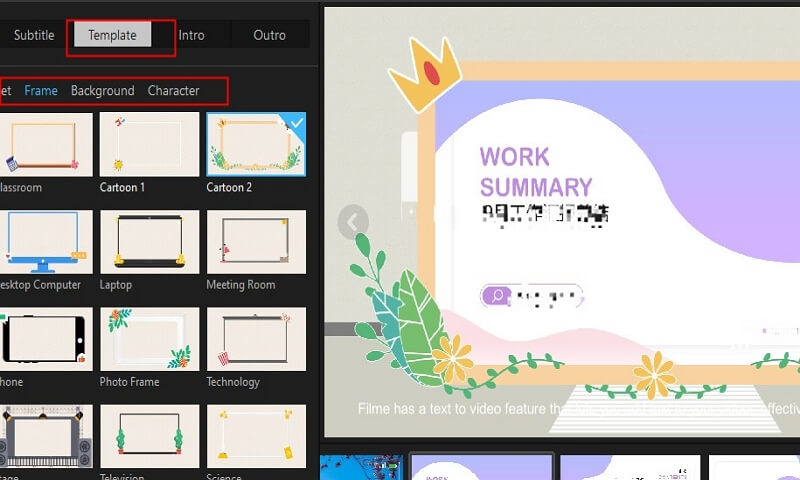 Step 5: Intro and Outro
Intro and Outro: Choose intro and outro from these 2 tabs. If you don't need it, choose None on each tab.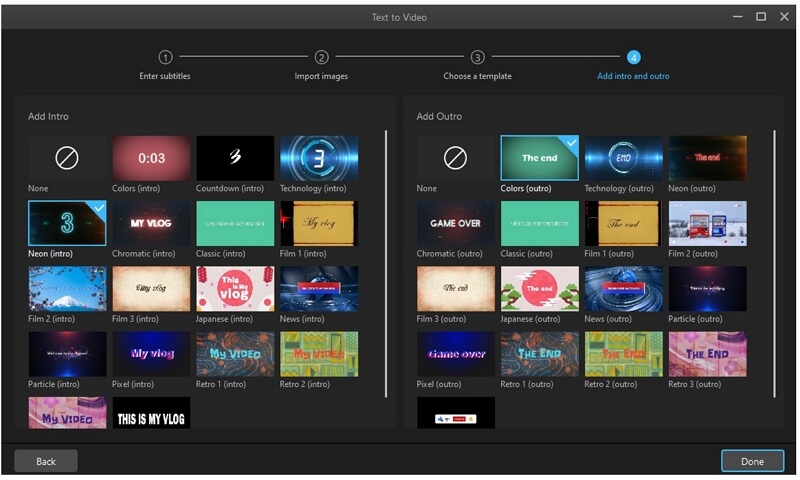 Step 6: Further Edit
Filme will composite the animation and make everything ready. After that, you will see the video in the video editor. Now, you can edit the video as you like.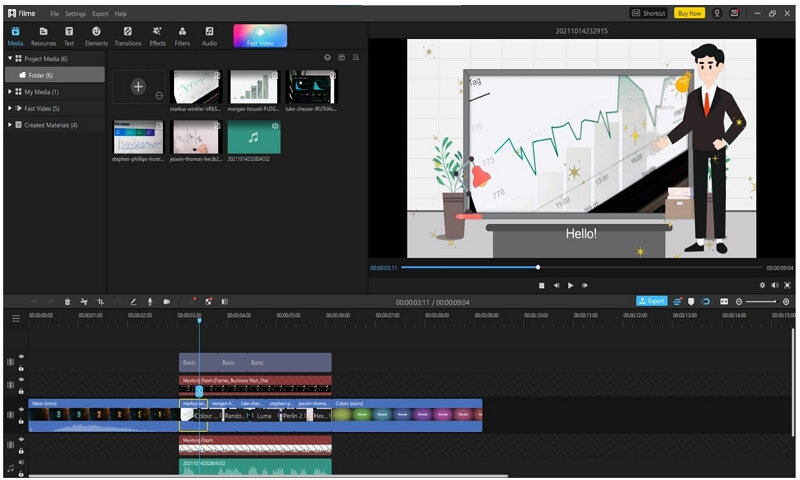 Method 2: Text to Video
IMyFone Filme's "Text to Video" should help you create presentation videos faster and effortlessly with the help of templates. This feature allows you to import subtitles and images, use your favorite template, and add intro and outro to your presentation videos. Further, it will automatically split the subtitles, match the text and images, and allow you to choose eye-catching fonts and text colors. Here is how to use it.
1. Select and Edit the Subtitles of the Video
Open the iMyFone Filme and click on the "Text to Video" option on the home page. Choose the text style and click on the "Apply" button. Right-click on the subtitles in the timeline and the editing options will pop up on your screen. Change the color, the font, alignment, size, opacity, and anything else. Click "Ok" to continue.
2. Import the Images You Want
Click on the "Add Your Media" button and choose the images you would want to include in your presentation video. Click on the "Preview" button to preview your slideshow. You can choose the template at this stage.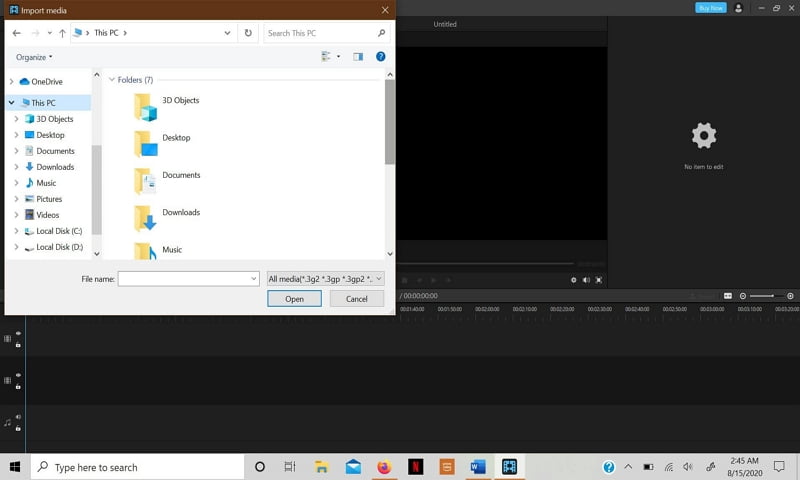 3. Choose the Template
iMyFone will display a list of templates on the left sidebar. Select your favorite from the list. iMyFone Filme offers unlimited trendy templates that will help you shine your video. After choosing the template, you can personalize the background, character, and frame.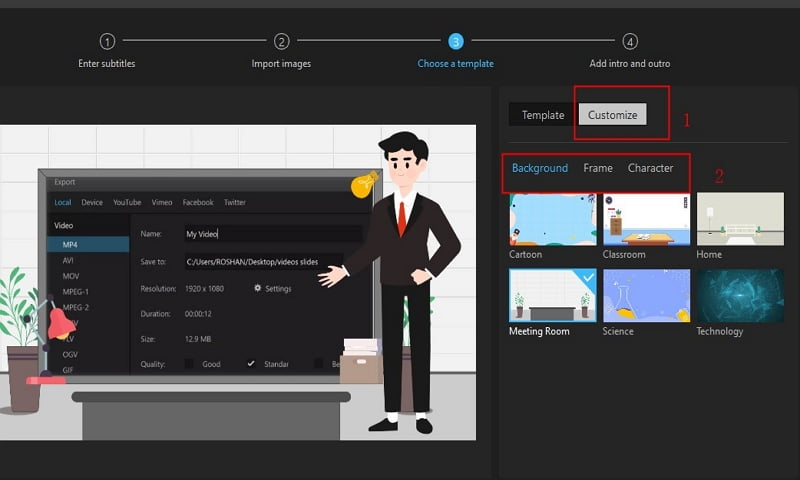 4. Customize the Video
iMyFone Filme allows you to customize the text and image display time. To adjust the text, move the cursor to the end of your video. The cursor will change into a vertical arrow. Click, hold, and drag to increase the duration of the video or decrease it.
5. Further Fashioning the Video
IMyFone Filme allows you to fashion your videos easily. It can split the subtitle automatically, intelligently match the images and text, change the colors and fonts, and include a multilingual voice to read the subtitles.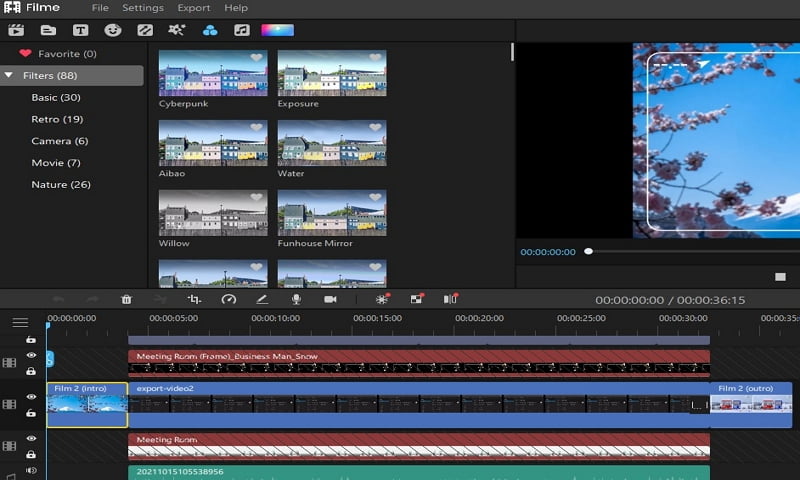 6. Preview and Export
At this stage, your video should be complete. Click on the "Preview" button situated near the right bottom corner and ensure that the video is how you want it. Click on "Export" to share the video on social media or save it on your desktop computer.
Part 3: Pro Tips to Make Your Video Presentation Up
For your presentation video to be successful, you have to plan and strategize properly. You have to know the purpose of the video before you start the process of putting the content and visuals together. The following three tips will help you come up with the best video presentations.
1. Keep it Clear and Simple
Present all your concepts and ideas as brief points and explain each at a time. Avoid writing lengthy texts because they will clutter the information. The recommended number of words per slide is 30 or less. If your topic requires a lot of explanations, break it up. You can cover one idea in several slides instead of fitting all the information in a single slide and disengage your audience as a result. Remember to use creative typography to highlight the main points.

2. Open the Presentation Video with a Powerful Slide
The first impression is important for the success of your video presentation. Therefore, the first slide should attract the attention of your audience. In addition to an eye-catching title and a smart introduction, you have to give your audiences a reason to watch the whole video. Think of the first slide as a summary of the whole video presentation.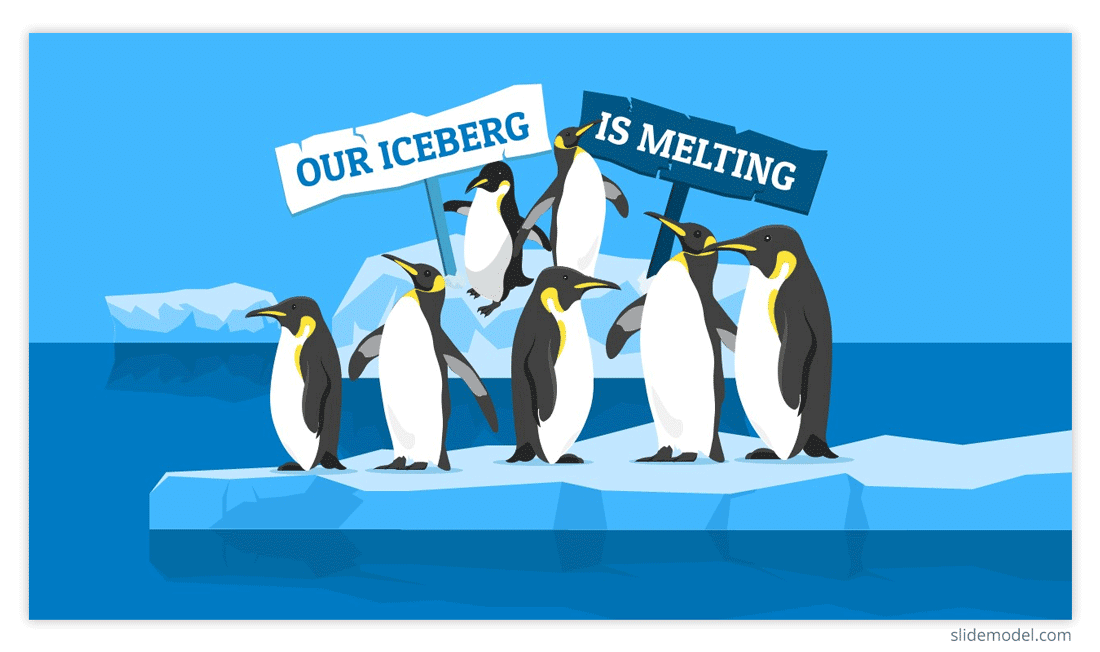 3. Promote the Presentation Video
After your target audience starts noticing the presentation video, link to your website. Another option would be to use SEO or paid social media ads to promote the video.
Conclusion
People create video presentations for different reasons. However, you can use a video presentation marker such as iMyFone Filme, Powtoon, Biteable, and Visme to create your video presentations easily. iMyFone Filme will help you complete the whole process easily. All you need to do is follow the above steps and tips. Remember that the best video presentation should leave a strong lasting impact on your target audience.