For the creation of a genuine and seamless voice, picking the finest AI voice generator is essential. An AI voice generator may be used to provide voiceovers for your videos, convert blog content into podcasts or videos, and more.
This detailed buying guide will help you select the top AI voice generator. You may save time and avoid spending any time in front of the microphone with the aid of these text-to-speech technologies. The environment for voice creation has undergone a significant transformation as a result of recent advances in AI. Nowadays, it might be challenging to distinguish between a real human voice and an AI voice.
Here is our Recommended Commercial Voice Generator in 2023 to save you the hassle and time of creating new audio or video content.
Part 1: How to Make Commercial Voice with Voxbox?
If you are looking for the greatest speech-to-text program, then it is VoxBox. Your voice and idea may be simply turned into readable writings. There are several speech-to-text tools and programs available today, but Vox Box is one of the better programs with support for numerous different languages. It allows users to instantly store and change their transcripts in real-time.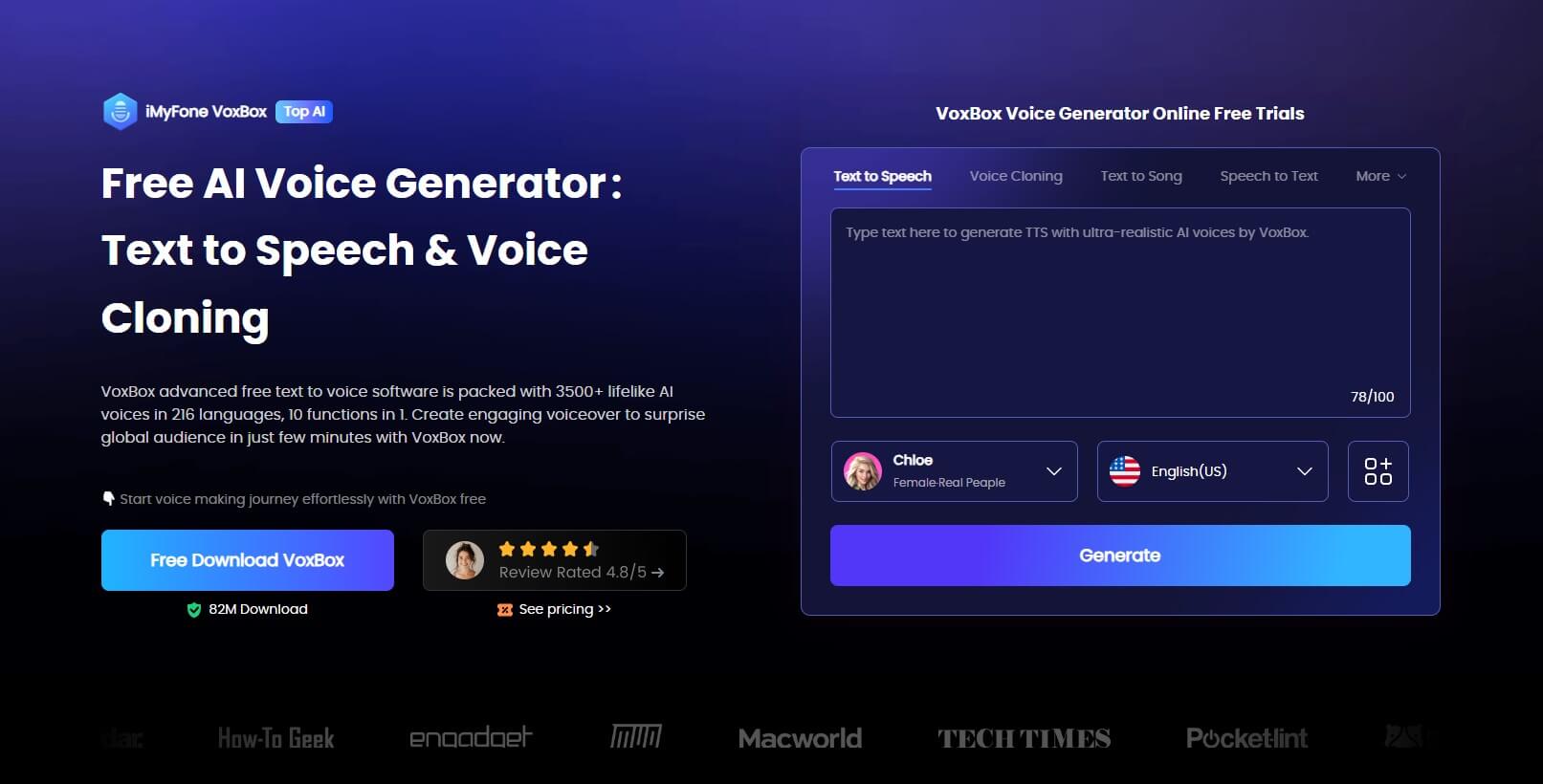 Key Features:
Support for several languages; over 3200 voices and 46+ languages; Offer over46 accents in voices.

Extremly easy to use and self explanatory menu.

New voices are added regularly.

Ad free expreince even on the free version.

Advanced editor allows you to trim, edit and remove part of yoru audio file easily.
How to Steps:
Step #1:Go to the official website and download the software on your system.
Step #2:Insert the text of you want to convert on the text box in the text to speech section.
Step #3:Choose the desired commercial voice you want to add and click on convert and get audio output for yoru commercial content.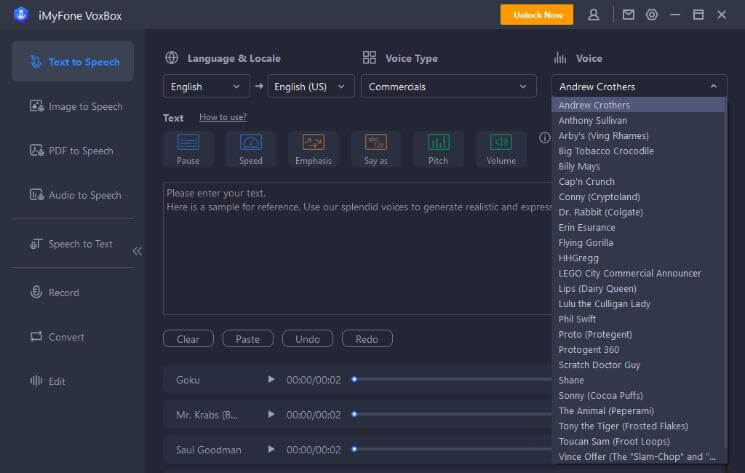 Step #4: The words will transofrm into a voice after a little period of time. You may listen to it once it's finished and make modifications to get the outcome you desire.
Part 2: How to Make Voiceover for a Commercial video?
Step #1: Go to the official website of voxbox and download the software on your computer.
Step #2: Install voxbox into your computer and open up the main screen.
Step #3: Once you are inside the main screen, You can either choose to type in the text to convert into your desired voice.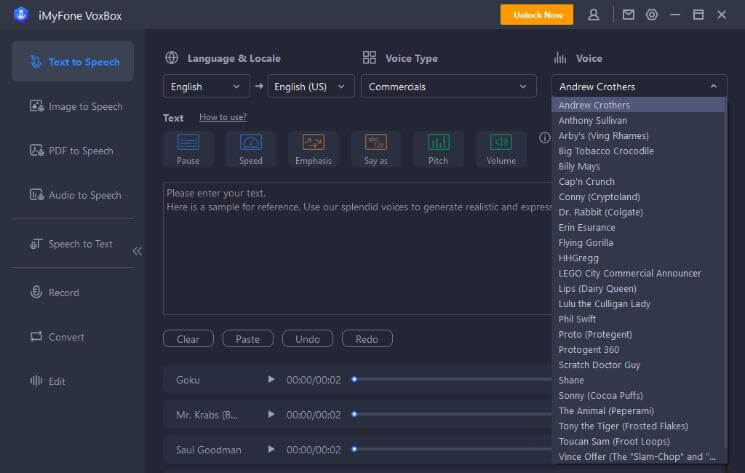 Step #4: or simply record your voice and edit to your liking from the record section. But keep in mind that it requires you to purchase the full software.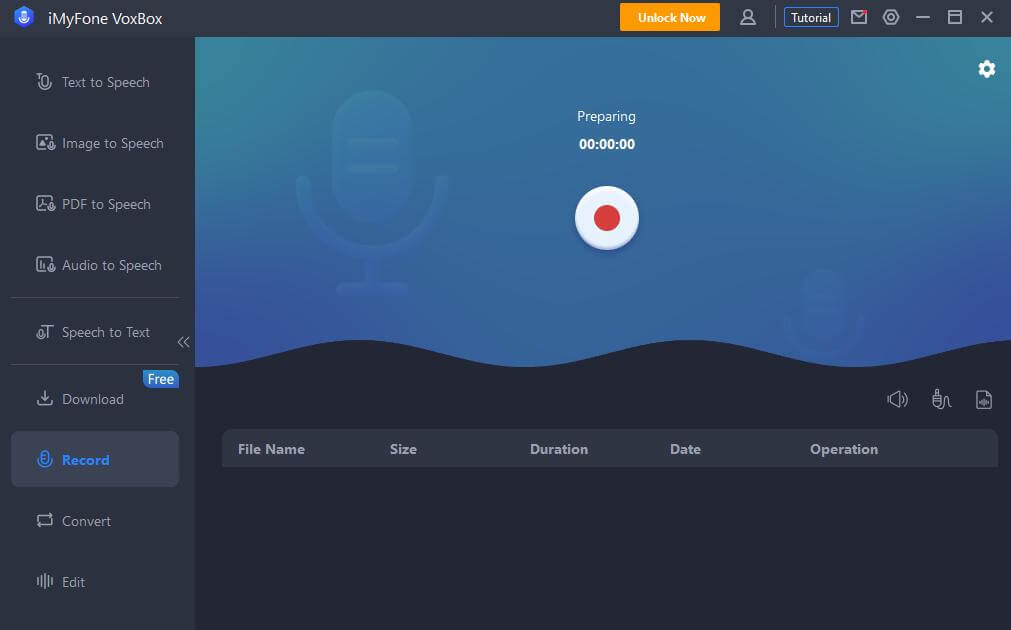 Part 3:FAQs about Commercial Voice Generator
1. Where is commercial voice applied?
A commercial video can be used to make your product's advertisement, YouTube content, or to market any commercial product you can think of.
2. How can I make a commercial voice in text to speech?
Simply download the voxbox software and follow the instruction in the article to make commercial voice in text to speech.
3. Which is the best commercial voice generator?
To this day iMyFone VoxBox is regarded as the best commercial voice generator for computers.
Conclusion
That ends our today's discussion on the Recommended Commercial Voice Generator in 2023. Voxbox is the way to go if you want use commercialvoiceover for your content but not comfortable or want to face the hassle of recording.
This program iMyFone VoxBoxis simple to use, has a ton of functions, and has no advertising at all. So download it right away and get started.