YouTube has some great 4K video content that usually has captivating music tracks. But how do you download these 4K videos from YouTube to MP3 format so you only have the audio? Is it possible to download 4k YouTube videos to MP3 online? Is there any special software that can do it? This article shows you the best and safest ways to download 4K content from YouTube and convert it to the MP3 audio format.
How to Download 4K YouTube Videos Online
The first step is obviously to download the video that you want to take audio from. Since these are 4K videos, remember that the file size is usually much bigger than HD or Full HD, so be prepared for that with the space on your local drive. Also, you should be aware that since the files will be large, you'll need a solid high-speed Internet connection so you can do it quickly rather than wait for hours for each download to finish.
To execute this process, we'll be using an online YouTube 4K download website called Loader.to. The site is secure and supports downloads for YouTube 4K videos into a range of video formats as well as MP3.
The process to download 4K YouTube to MP3 is very simple, as shown below:
Step 1: Get the URL for the YouTube video by copying it from the address bar or using the Share button to copy the link.
Step 2: Go to the to website and paste the copied YouTube URL in the URL field, as shown in the screenshot below: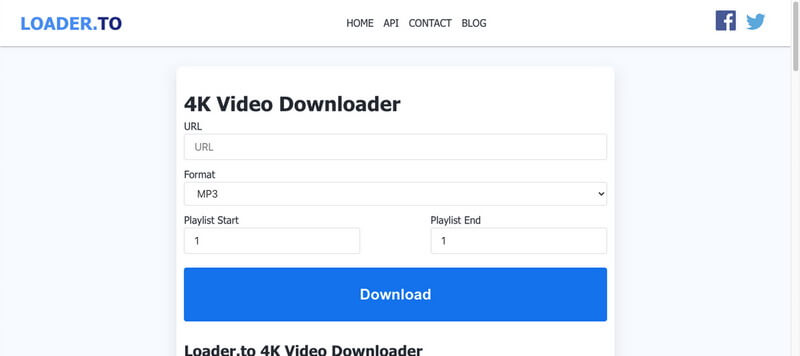 Step 3: Next, make sure the Format option is selected to MP3.
Step 4: Click the Download button and save the MP3 file to your local drive or an external storage device.
That's it! You're good to go! The process, as you saw, is quite simple. However, since the original video has a high resolution, the file size will be very large. That means you need a fast and stable internet connection with no disruptions to interrupt the download and conversion.
How to Convert 4K Youtube to MP3 Online
If you already have a 4K YouTube video that you downloaded earlier, you obviously cannot use the previous method. However, there are other online tools you can use for conversion alone. One of the best online video to MP3 conversion tools for this is Kapwing. Using a simple upload → convert → download process, you can convert nearly any video to MP3, not just 4K YouTube to MP3. Let's take a look at the process:
Step 1: The first step is to go to the Kapwing Convert Video URL at this link.
Step 2: Click the Upload File button on the page and select your 4K YouTube video.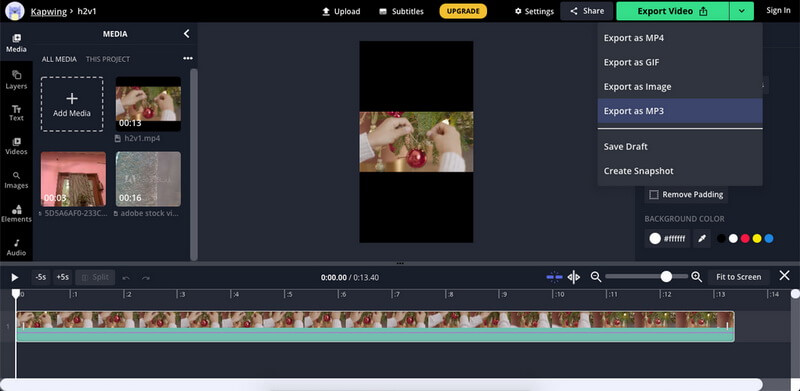 Step 3: When the video preview page appears, click the arrow next to the green Export Video button and select Download as MP3.
The video will be converter to MP3 and downloaded to a location of your choosing. You can then use this MP3 file with another video or just as an audio file.
Also Read:
YouTube to MP4 Best Quality >>
YouTube Shorts Vs Instagram Reels >>
Convert 4K Youtube to MP3 with Editable Option - iMyFone Filme
Many users prefer not to use an online service due to security or privacy issues. Although these websites listed here are secure, your Internet connection may be compromised, especially if you're using a public Wi-Fi hotspot or a shared computer. For these reasons, users may prefer using a downloadable application on their desktop. The perfect utility to convert 4K YouTube to MP3 would be iMyFone Filme because it gives you the option to edit your videos and the audio portion before extracting the audio file as an MP3.
Why iMyFone Filme?
The biggest reason to use Filme is the flexibility it offers its users in terms of features, ease of use, extensive file type support, ample libraries of transitions, effects, audio files, and other assets, a clean UI that makes it easy to navigate, and a simple timeline editor that brings together all the features of the application. Here are some of the key features of iMyFone Filme that make it so flexible and easy to use:
Intuitive interface with easy access to features

Extensive assets such as clip transitions, text effects, filters, audio, etc.

Fast Video mode to create video slideshows instantly with existing media

Option to import media from your smartphone wirelessly or with a data cable

Easy editing on the timeline

Extensive editing tools such as split, crop, pan/zoom, change speed, rotate, offset, adjust brightness, adjust contrast, etc.

Screen recorder and voice recorder with voice changing feature

Multiple export options with full control over export parameters
How to Convert 4K YouTube to MP3 with iMyFone Filme
The conversion process is very simple, but you also have options to edit the video before you extract the audio as MP3. In addition, you can also export it as another video format with effects, etc. Let's look at how to perform edits and also convert the file to MP3.
Step 1: Import the file using the File → Import Media option. You can also drag it into the Media Library pane on the top-left side.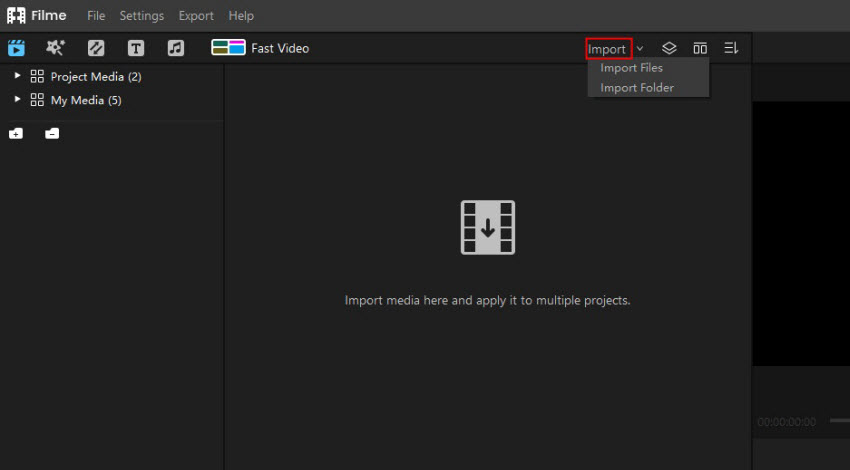 Step 2: To bring it into the timeline, just drag it from the Media Library to the timeline pane at the bottom. The other options are to right-click and choose Add to Timeline/Add to New Track or click the + symbol that you can see when you mouse-over the thumbnail in the Media Library.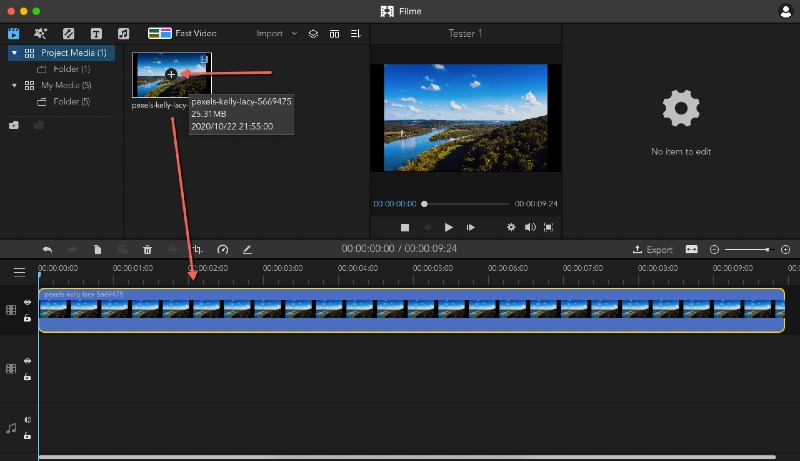 Step 3: When your clip is in the timeline, you can use the tools above the timeline to crop, change, speed, etc. To trim the clip, use the handles on either side to reduce or adjust the size.
Step 4: To make further edits, double-click the clip on the timeline, after which you will see an editing pane on the top right side of your screen. Here, there are options for adjusting various parameters such as rotation, contrast, brightness, color, offset, etc.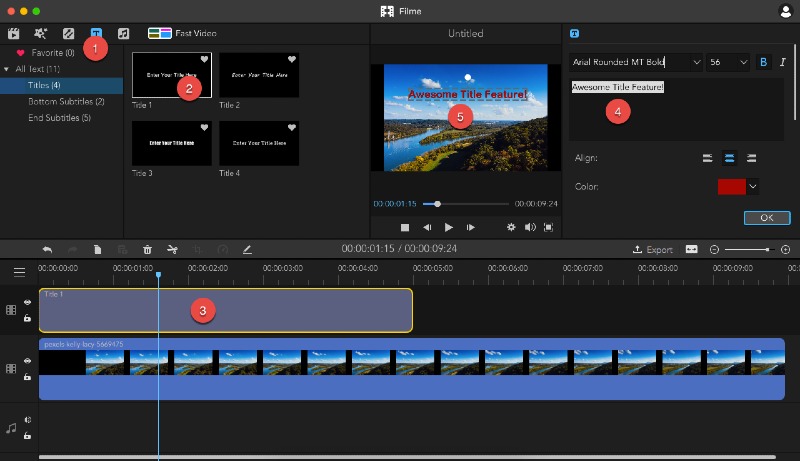 Step 5: Once the edits are done, you can add enhancements using the menu options on the top left. The Effects, Transition, Audio, and Text libraries contain numerous assets that you can download and add to the timeline the same way you add media to the timeline. Each effect can be adjusted and tweaked, after which you can adjust it to match the video clip. You can add multiple elements, each on its own track in the timeline.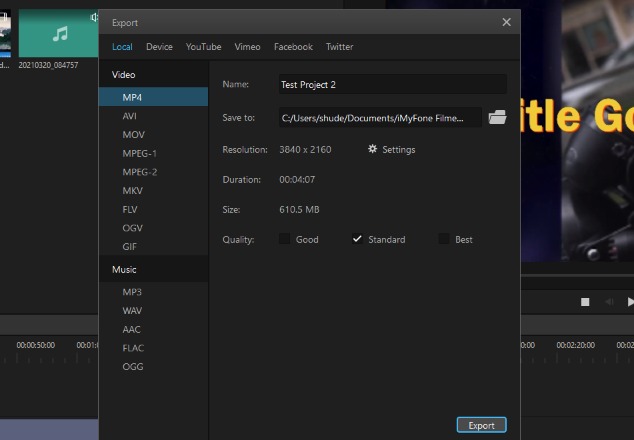 Step 6: To extract the 4K video as an MP3 audio file, click the Export button above the timeline. This will show you a pop-up window where you can change the parameters. Choose MP3 as the output format and hit Export in that window to save it to a specified location on your local drive or external storage device.
iMyFone Filme is the perfect platform for beginners as well as aspiring professionals. The intuitive interface allows first-time users to start using the application without facing a steep learning curve that is typical of most other video editing platforms. In addition, the wide array of features gives the user several options to edit videos and enhance their quality before uploading it to social media or sharing them with others.
Final Considerations
4K videos are quite heavy to manage, so make sure your system has the resources to handle video processing. This is equally true of browser-based utilities because a browser's cache is limited, which may slow down the process. For best results, use applications like iMyFone Filme on computers that have medium to high specifications.
Additionally, you can also download files in a lower resolution if you're only interested in taking the audio portion. The audio sample rate is usually the same for different resolutions of the same video so you won't be losing any quality.
Finally, try not to use the computer for any concurrent tasks such as downloading files, processing images, and so on. This will put less pressure on your memory and storage so your video can be processed that much faster.