Are you a dedicated follower of TimTheTatman's charismatic online persona and eager to infuse a dash of creativity into your content? Your search ends here! In this article, we're about to delve into the fascinating realm of TimTheTatman AI voice technology, TimTheTatman voice changer solutions, and the TimTheTatman soundboard. Whether you're a gaming aficionado, a content creator, or just someone seeking to revamp your audio game, these cutting-edge tools promise to revolutionize your auditory experience and captivate your audience like never before.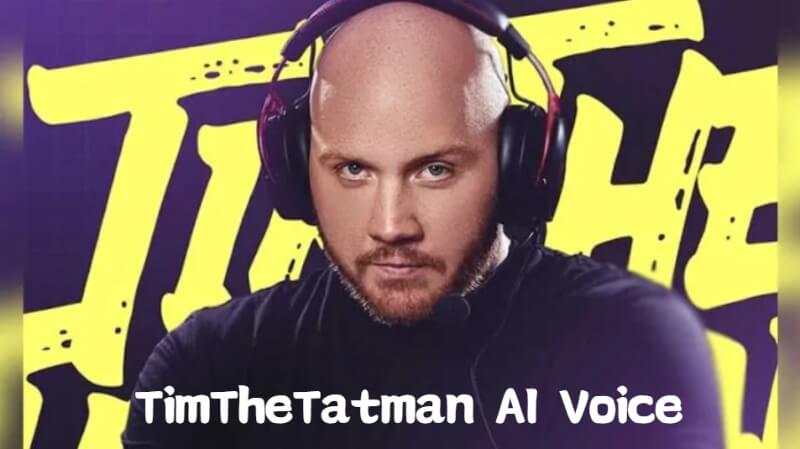 Part 1: Who is TimTheTatman?
Timothy John Betar, widely recognized as TimTheTatman, is a prominent American live streamer and YouTube personality. Since his Twitch debut in 2012, he's garnered over seven million followers. Betar showcases various games, including Counter-Strike: Global Offensive, Overwatch, Fortnite, and World of Warcraft, drawing thousands of daily viewers. He's a Monster Energy esports athlete and an Audio-Technica sponsor.
TimTheTatman's YouTube channel, initiated in 2011, boasts 3.2 million subscribers and 524 million video views. His fame skyrocketed with Fortnite's release in 2017, and he's won several accolades, including Fan Favorite Male Streamer/Gamer of the Year in 2018. In September 2021, he signed an exclusivity contract with YouTube and joined Complexity Gaming as a part-owner and content creator.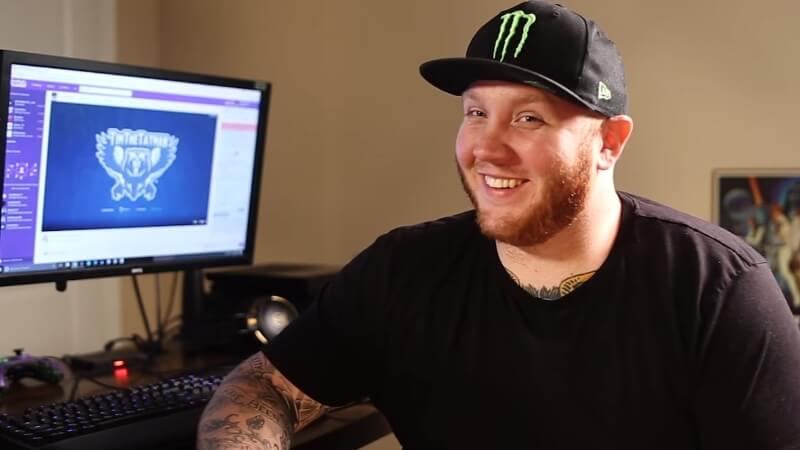 Part 2: How to Get TimTheTatman AI Voice with Voice Changer?
iMyFone MagicMic is a remarkable AI voice changer, perfect for those looking to enhance their audio experience, especially in the world of TimTheTatman AI voice and TimTheTatman Soundboard.
Offering over 250 AI voice filters, 600+ voice effects, and 200+ voice memes, it's a versatile tool suitable for a variety of programs and applications. MagicMic provides real-time voice transformation and direct sound emulation, making it ideal for gaming and other activities. Moreover, it simplifies audio file recording and modification, enabling easy, one-click voice customization to create unique voices effortlessly.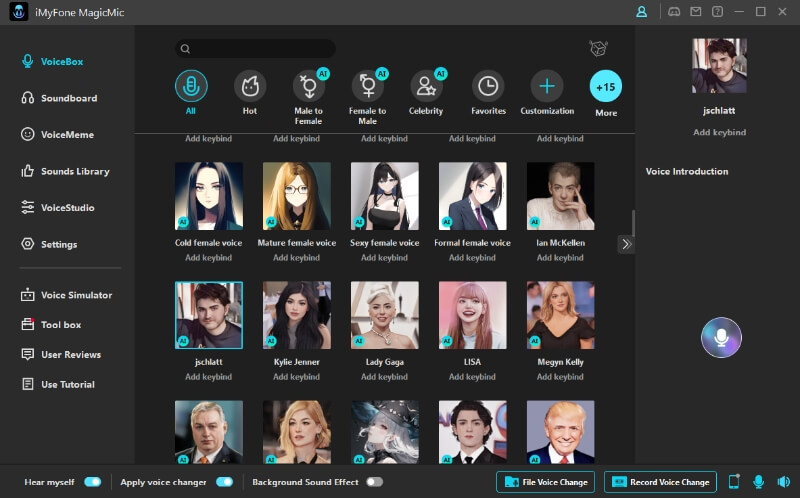 How to use MagicMic TimTheTatman AI Voice Changer?
Step 1: Begin by downloading the MagicMic software. You can obtain it either from the official MagicMic website or simply by clicking the button below.
Step 1: Download the MagicMic software from the official MagicMic website or by clicking the button below.
Step 2: After downloading, launch the software. Select your preferred microphone and headphones. Ensure to activate the "Hear Myself" and "Apply voice changer" options, which can be found at the bottom of the interface.

Step 3: Choose from a wide range of Voice and Sound Effects or embark on the journey to Create a TimTheTatman AI Voice. Dive into the "VoiceBox" for pre-set voices or assign keybinds to enhance your gaming experience. If the voice you desire is unavailable, utilize the "Customization" feature to upload your own audio clips.

Key features of MagicMic TimTheTatman AI voice changer
Extensive selection of customization options with more than 250 distinct voice effects, 600 soundboards, and 200 voice memes.

High-quality, real-time voice modification with minimal latency, supporting popular platforms such as Skype, Discord, Twitch, and more.

Provides user-friendly hotkey customization, facilitating on-the-fly in-game sound effect adjustments for enhanced convenience.

Incorporates effective noise reduction technology, guaranteeing crystal-clear communication even in noisy environments.

Users can record and enhance audio from any source, elevating the quality of their content.

Compatibility with Windows, Mac, Android, and iOS operating systems, enabling seamless use across multiple devices.
Voicemod is the ultimate solution for gamers seeking real-time voice changer. This versatile and dynamic tool empowers users to morph their voices, turning a man's voice into a woman's or TimTheTatman with ease.
What sets Voicemod apart is its wide compatibility with popular chatting and streaming software, including Discord, Twitch, VR Chat, and Skype. Gamers can harness its power to alter their voices in real-time while engaging in thrilling gameplay sessions, whether it's the intensity of PUBG, the creativity of Minecraft, or the excitement of Fortnite. Voicemod is the go-to choice for those looking to add an extra layer of fun and creativity to their gaming experiences.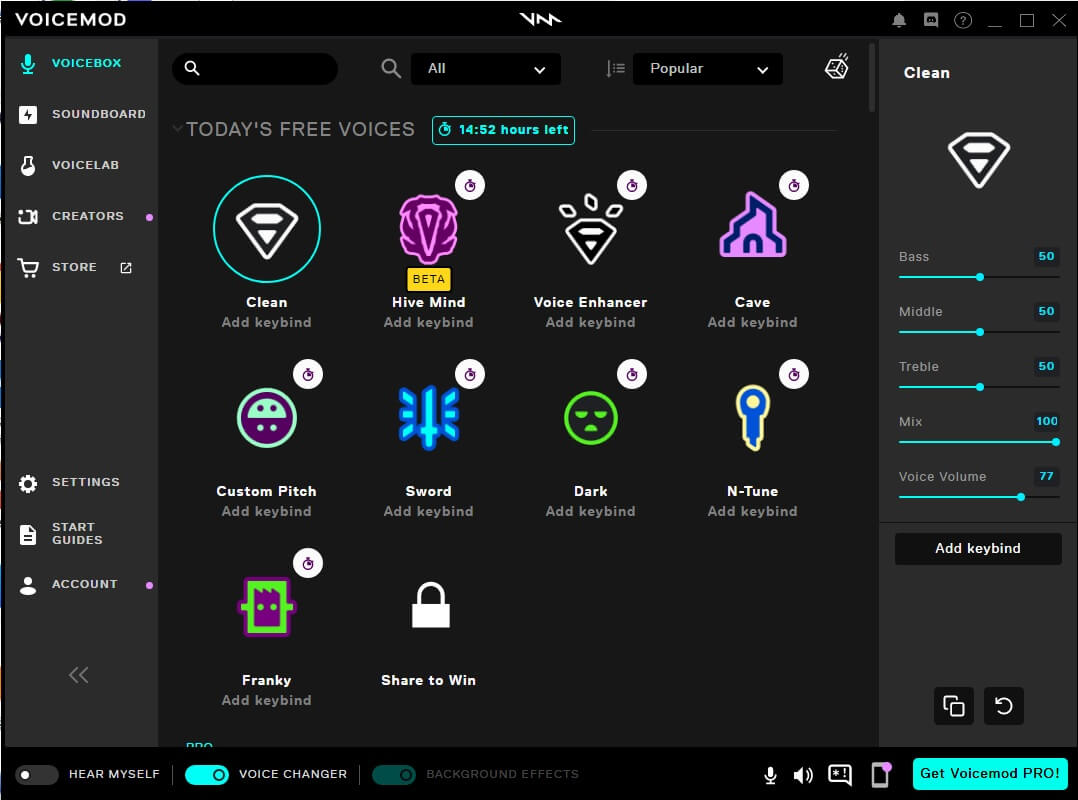 Key features of Voicemod
Voicemod boasts approximately 60 voice filters for versatile voice modulation.

It provides a free trial with limited functionality; the pro version unlocks all features.

With its user-friendly yet highly effective interface, you have complete control while altering your voice.

Voicemod offers popular voice editing features like satanic agents, chipmunk, Xbox gamer girl voice changer, and an alien voice.
Part 3: What Soundboard Does TimTheTatman Use?
TimTheTatman used a soundboard during his live streams. To find out the most current information on the soundboard TimTheTatman is using, we recommend checking his official social media profiles or his live streams, as he may mention or showcase his current setup there. Additionally, you can visit online communities or forums related to TimTheTatman's content, where fans often discuss the equipment and software he uses.
While we don't know what soundboard TimTheTatman uses, if you're interested in using a soundboard too, you can consider MagicMic. MagicMic offers 800+ soundboards, allowing you to use them in real-time during gaming, live streaming, and voice communication, enhancing the enjoyment of your activities.
Part 4: FAQs about TimTheTatman AI Voice
Top 10 Twitch Streamrs
1. Ninja (Tyler Blevins)
2. Shroud (Michael Grzesiek)
3. Tfue (Turner Tenney)
4. Summit1g (Jaryd Lazar)
5. TimTheTatman (Timothy John Betar)
6. DrLupo (Benjamin Lupo)
7. LIRIK (Saqib Zahid)
8. xQcOW (Felix Lengyel)
9. Pokimane (Imane Anys)
10. Asmongold (Zack)
What is TimTheTatman AI Voice?
TimTheTatman AI Voice is an artificial intelligence-powered voice transformation tool that allows users to modify their voices in real-time to sound like TimTheTatman, a popular content creator and streamer.
Is TimTheTatman AI Voice only for gaming purposes?
While TimTheTatman AI Voice is popular among gamers, it can be used for various purposes. You can use it for entertainment, content creation, or simply to have fun during voice chats with friends.
Final words
In conclusion, TimTheTatman AI voice and TimTheTatman voice changer offer an exciting realm of possibilities for content creators, gamers, and enthusiasts alike. With these innovative tools, users can transform their voices in real-time, adding a unique and entertaining dimension to their activities. Whether you aspire to sound like the iconic TimTheTatman or explore a world of creative voice customization, these technologies provide a captivating and fun experience. Come and try MagicMic!