If you have had the chance to use the TikTok app, you know that one of the app's most popular options is adding your voice to the video. It can be done by using the TikTok voice generator, which comes with plenty of different options and effects that you can use depending on what type of effect you are going for.
These tips will help you start using the Tiktok AI voice generator to create funny videos for posting on your account and sharing with your friends and family.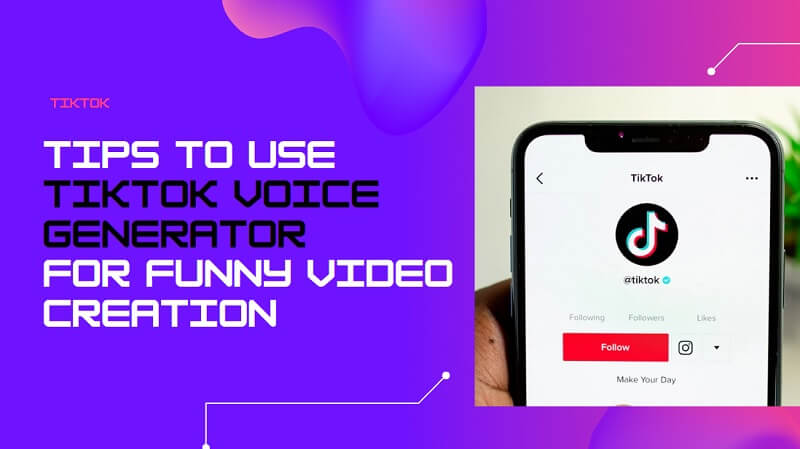 Part 1: How to Change Voice for Tiktok Videos with Tiktok Voice Generator?
TikTok is a video-sharing app that lets you make short videos of yourself and share them with the world. It's the perfect app to use when you're bored and want to do something fun.
And now it's even better since they added a Tiktok voice changer and generator feature! If you have never used one before, here are some quick tips on changing your voice for Tiktok videos using their voice generator.
How to Make TikTok Voices Using Voice Effects on TikTok?
TikTok is a great app that's popular among teens and young adults. It has various features. One fun feature is the TikTok voice generator, which lets you change your voice into different effects!
The steps are as follows:
Step 1: Record your video using the TikTok app.
Step 2: Check your work by tapping the red checkmark.
Step 3: Simply tap the Voice effects button.
Step 4: Add an effect by selecting it.
There are many ways to use this tool. The possibilities are endless!
Part 2: Top 3 TikTok Voice Generators to Enhance Your Video
While TikTok's native voice generator provides a convenient in-app text-to-speech feature, those seeking greater creativity for their TikTok voiceovers may encounter the following limitations:
1.The TikTok voice generator currently supports only the English language.
2.It doesn't permit the use of multiple TTS voices within a single TikTok video.
3.Furthermore, the text-to-speech option on TikTok may not even be accessible in some countries.
1)VoxBox TikTok AI Voice Generator
VoxBox serves as an all-in-one AI TikTok voice generator for converting text to speech. It boasts an extensive library of over 3200 voices. Furthermore, it offers support for 77+ languages, including Spanish, Irish, Japanese, and many others that make your tiktok video more attractive and convinient.
In addition to its cutting-edge text-to-speech capabilities, VoxBox simplifies the process of voice cloning. Users can effortlessly replicate voices by uploading an audio file of their desired voice, and with a simple click of the "generate" button, they can achieve highly realistic voice reproductions.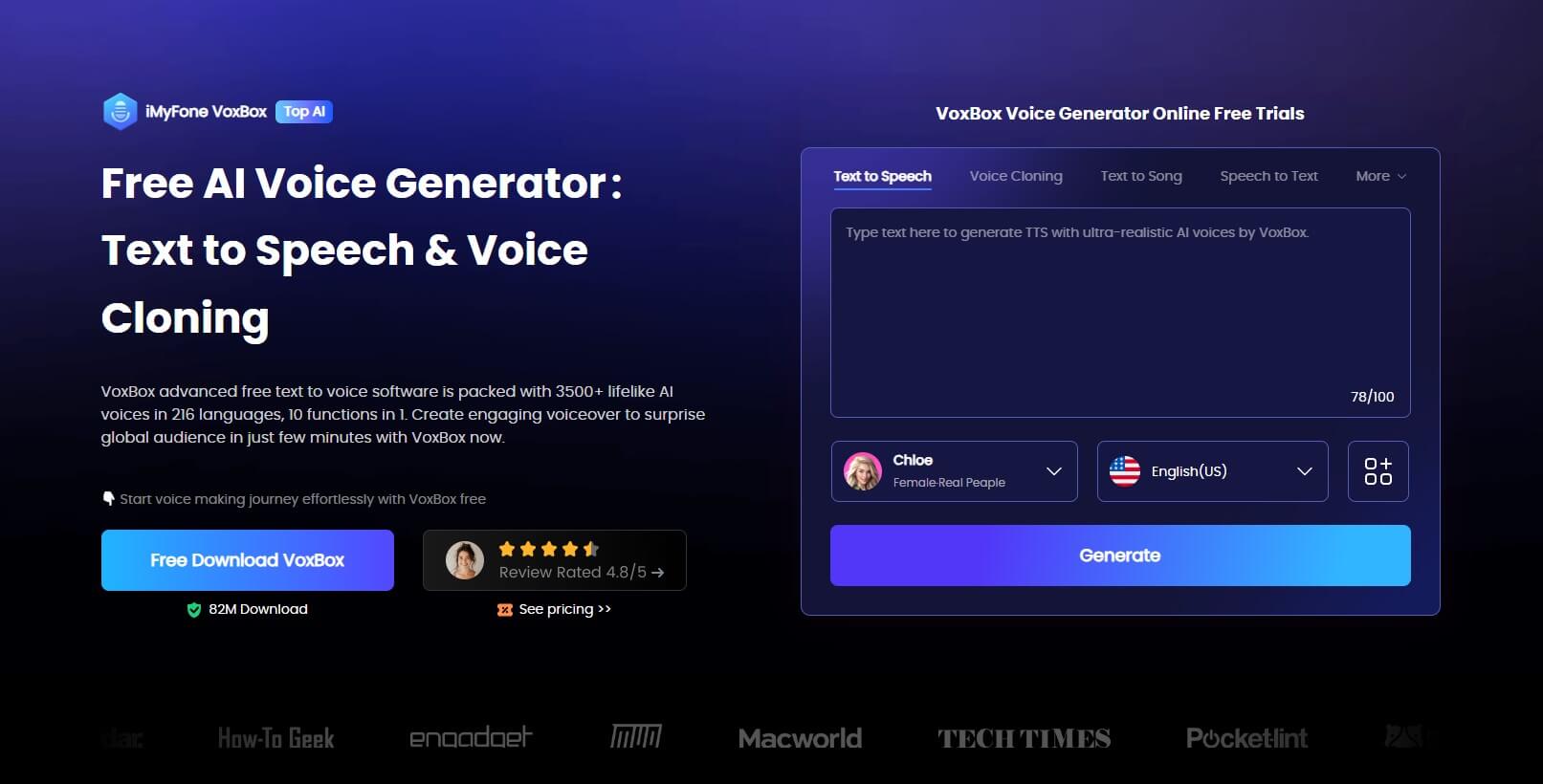 Features of VoxBox TikTok AI Voice Generator:
Get 2000 free character counts for effortlessly TikTok text-to-speech voiceovers.

Harness the strength of powerful voice cloning for effortlessly producing top-notch cloned voices.

Benefit from Windows-compatible software offering support for over 77 languages and access to a vast selection of 3,200+ distinct voices.

Enjoy a range of editing features such as cutting, trimming, and importing, all free of charge, for perfecting your Hatsune Miku text-to-speech creations.

Experience an all-inclusive tool that covers text-to-speech, speech-to-text, voice cloning, audio editing, and more.
2)Play.ht Tiktok Text to Speech Voice Generator
Play.ht stands as a TikTok TTS voice generator online, combining AI voice cloning and text-to-speech functionalities to simplify the creation of top-tier AI voices. Its standout features encompass a user-friendly interface, an extensive array of accessible voices, and effortless integration with popular content management systems.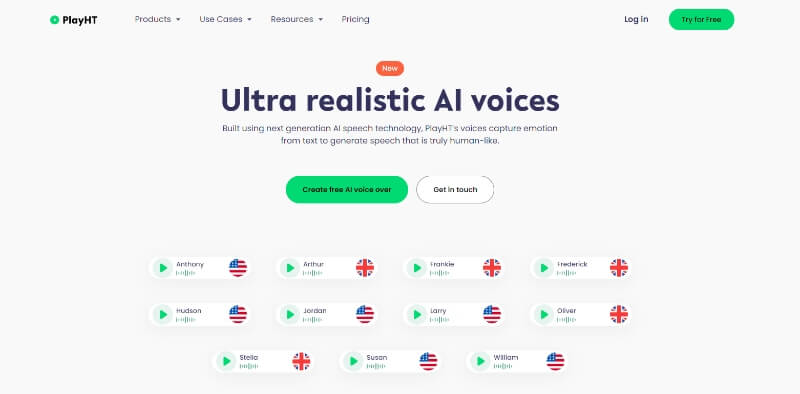 Features of Play.ht TikTok Text to Speech Voice Generator:
Over 800 natural-sounding voices with lifelike intonation for a rich auditory experience.

Multilingual support for 142 languages and accents powered by advanced Machine Learning technology.

Exceptional voice quality and realism enhance user engagement and content impact.
3)Veed.io Tiktok Voice Generator
VEED's TikTok voice overs generator empowers professionals and content creators to infuse creativity into their videos. Our AI-driven text-to-voice tool effortlessly converts text into captivating voiceovers. With VEED's AI, you can also craft scripts for your videos. Just input your text, select from natural voices, and create voiceovers matching your video's tone. Elevate storytelling, convey impactful messages, and personalize your TikTok content effortlessly with VEED's TikTok voice generator.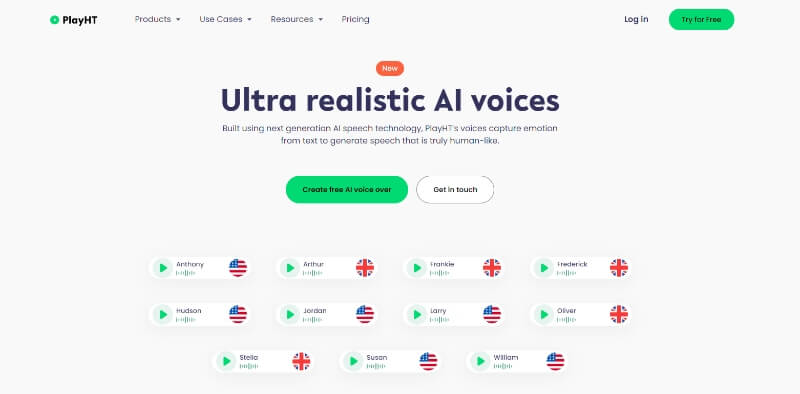 Features of Veed.io TikTok Voice Generator:
Authentic Voices: VEED.io offers engaging, authentic voiceovers that breathe life into TikTok videos.

Voice Variety: Diverse voice options cater to various themes, styles, and accents for a perfect match.

Integrated Video Editor: VEED.io's TTS tool includes a professional video editor for enhancing TikTok content.
Bonus Tip: Change Your Voice in Real-time Using TikTok Voice Changer
MagicMic TikTok Voice Changer
The TikTok app allows users to enhance their videos with voice effects and text-to-speech capabilities. For those who prefer to change their voices in real-time while gaming, chatting, or playing pranks on their friends, MagicMic is a professional voice changer software for you. With this funny voice changer, you can change the voice with various fake voices. As well as adding background sound effects to your audio, you can also record your music with this app.
Features of MagicMic TikTok voice changer:
250+ voice effects, 600+ soundboards, 200+ voice memes for versatile customization options.

Real-time, high-quality voice change on platforms like Skype, Discord, Twitch, with low latency.

Customize hotkeys for quick in-game sound effect changes, enhancing your gaming experience.

Noise reduction ensures clear communication in noisy environments, improving clarity and understanding.

Record and enhance audio from any source to enhance content quality and sound production.

Compatible with Windows, Mac, Android, and iOS systems for broad accessibility and usability.
Step to record voice and change voice on TikTok
Step 1: Record voice or import audio on MagicMic.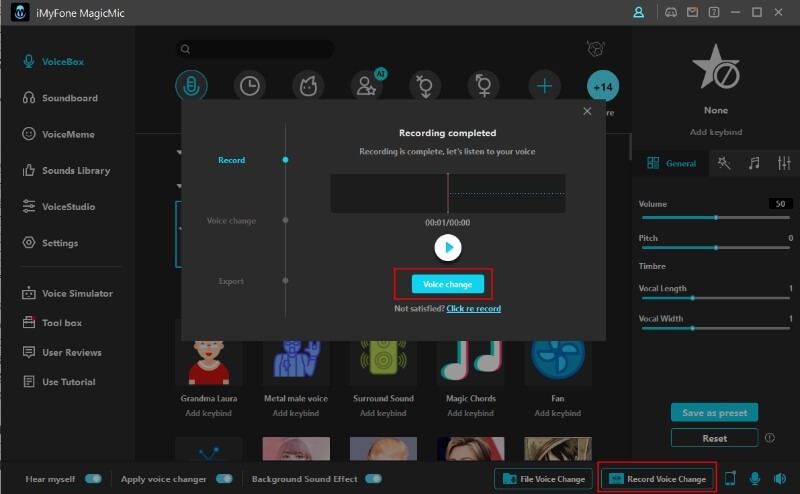 Step 2: Choose voice effects from 250+ voice changing effects.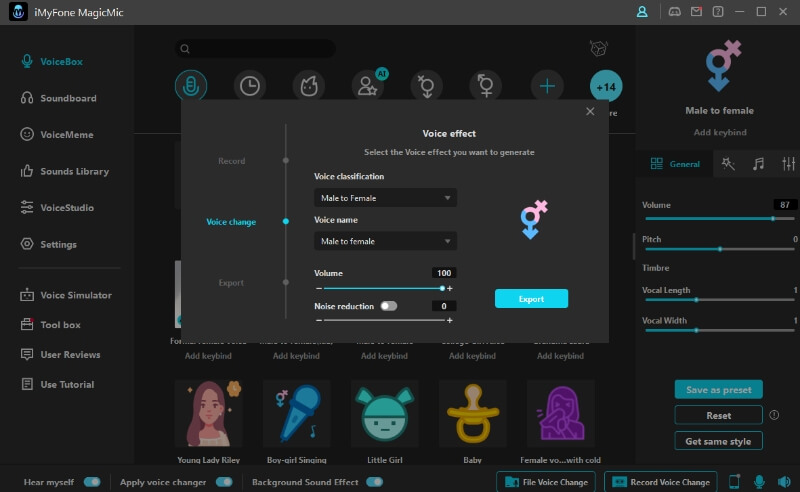 Step 3: Export audio and insert on Tiktok video.
Tips
The voice quality depends on how high quality of audio recording you use when making your original video. Make sure there's no background noise or other distractions.
Part 3: How to Do Text-To-Speech on TikTok?
If you've used TikTok before, you've probably seen some videos using the text-to-speech feature. It is a feature that allows on-screen text in your videos to be spoken aloud using TikTok's text-to-speech feature.
Using the TikTok text to speech voice generator can save time and energy when you want to do a voiceover without recording it yourself. As a bonus, you can also use it to create some funny moments that make your videos go viral! 
There aren't many steps involved in adding text-to-speech to a TikTok video, and it only takes a few moments. You will need the TikTok app on your mobile device to follow these steps.
Step 1# Record video on Tiktok: Using your standard recording equipment, record your video. When you are satisfied with how it looks, click on the editing screen.
Step 2# Add Text: Here is some text we would like to add. Type everything you want the voiceover to say under "Text" at the bottom of the screen. In the top right corner, click "Done" after you're done.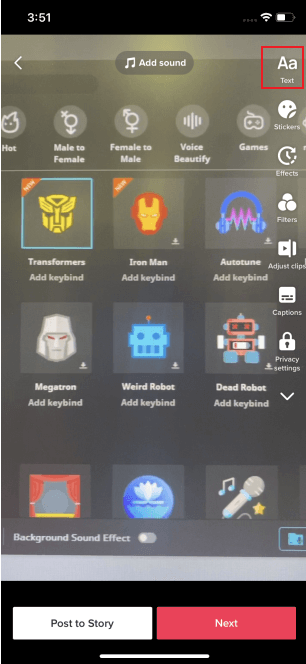 Step 3# Choose Text-to-Speech: Your just-written text section will appear when you tap on it. Choose "Text-to-speech" from the bubble that appears next to it. TikTok will now speak what you wrote using one of its voices.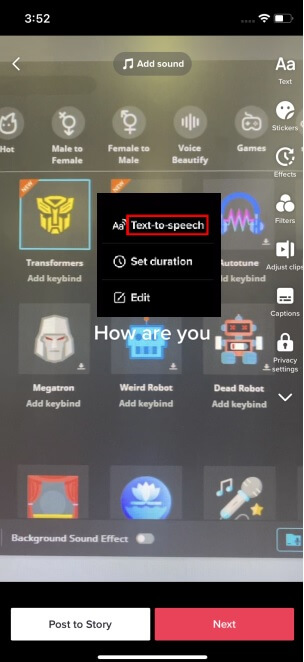 Users with visual impairments can watch these videos and hear what the on-screen text says, thanks to TikTok's text-to-speech feature. When reading the text is impossible or difficult, the TikTok text to speech voice generator also allows people to hear it.
You can be something other than a comedic genius to create hilarious videos. All you need is creativity and time to play around with the TikTok voice generator. You'll get better results if you experiment with different pitches, filters, and backgrounds in your video before you post it online. For improved results, use MagicMic regardless of the consequences. 
Final Words
You can be something other than a comedic genius to create hilarious videos. All you need is creativity and time to play around with the TikTok voice generator. You'll get better results if you experiment with different pitches, filters, and backgrounds in your video before you post it online. For improved results, use MagicMic regardless of the consequences. 
Thanks so much for reading; we hope this helps! If you have any questions or comments about our blog post, please leave them below! We would love to hear what you think of these tips.