SpongeBob SquarePants has captured the hearts of millions with his iconic voice. Now, thanks to AI technology, you can transform your own voice into that of SpongeBob's with the help of voice changers and text-to-speech generators. In this article, we will explore the top 10 AI SpongeBob voice changers that allow you to have fun and bring the beloved character to life.

Part 1:Top 5 Real-Time SpongeBob Voice Changers for PC
According to our testing data, we picked the top 5 SpongeBob voice changers for PC to share with you. Continue reading to find what they are.
MagicMic is a versatile voice changer available on Windows, Mac, Android, and iOS. It lets you create a SpongeBob voice by adjusting pitch, tone, and speed. With customization options and a user-friendly interface, you can easily generate a high-quality SpongeBob voice that captures his unique style.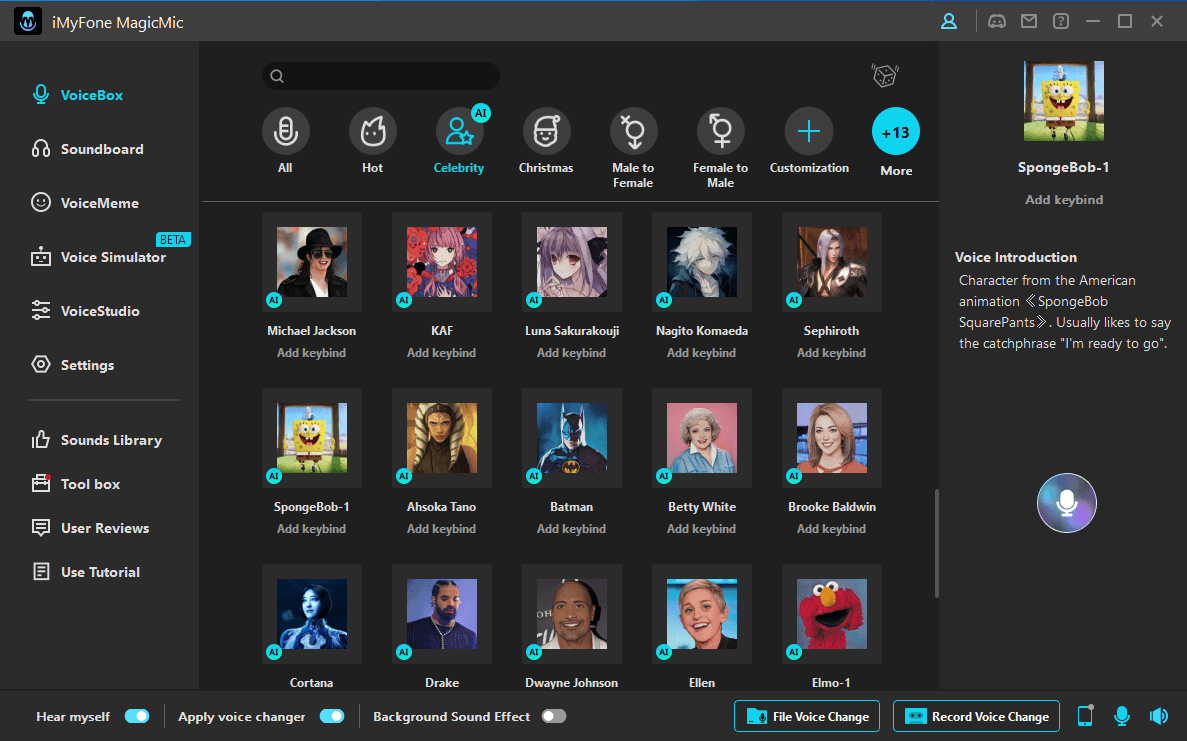 Key features of the MagicMic SpongeBob AI Voice Generator:
User-Friendly Interface: Enjoy easy-to-use voice-changing functions on both Mac and Windows PCs.

Multi-Platform Compatibility: Experience MagicMic on Windows, Mac, Android, and iOS devices.

Extensive Voice Filters: Access over 300 voice filters, including built-in SpongeBob AI voice, with some offering background sounds (PC version).

Vast Sound Library: Choose from 600+ sound effects and 200+ voice memes, including built-in SpongeBob memes.

Customizable Sound Effects: Import MP3/MAV audio files for personalized sound effects, including SpongeBob screaming memes.

Voice Studio Function: Customize and fine-tune voice effects with the voice studio function, allowing for precise sound adjustments.

Flexible Voice Recording: Record and pre-record voice changes, in addition to real-time voice modification, providing flexibility for PC users.

Experience the evolution of a SpongeBob voice changer with Morphvox Pro. Morphvox is a top choice for Windows users. It's user-friendly and delivers high-quality sound effects.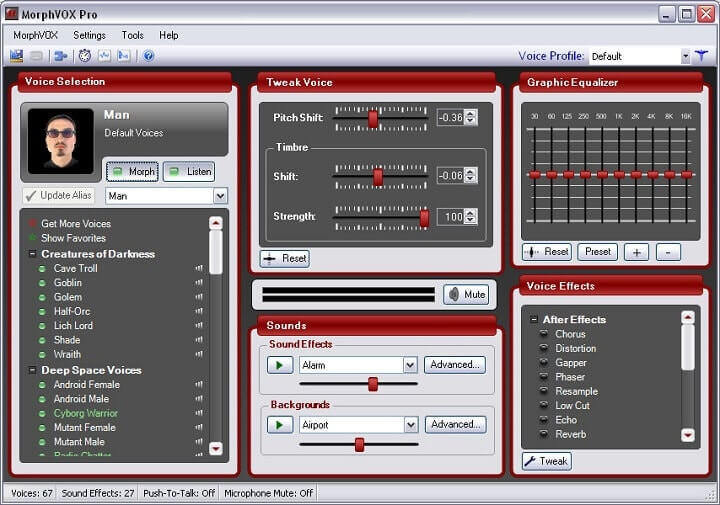 Morphvox Pro is continuously evolving and offers a lightweight and user-friendly interface. With this versatile voice changer, you can enhance your online gaming and social interactions by adding background music.
Features:
Morphvox is fitting to use in real-time gaming platforms.

You've got the luxury to select from high-quality audio effects.

It also comes with ultra-quiet background cancelation.

Apart from gaming platforms, you can also use Morphvox in real-time streaming and chatting platforms.

Morphvox Pro comes with a pretty reasonable premium package.
User rate: 3.9
Most users complain that Morphvox junior only offers 3 voice-changing effects, and its pro version priced at 39.99$ is too expensive.
Discover the perfect SpongeBob voice changer with Voicemod. This reliable PC tool can transform your voice into SpongeBob's iconic tone.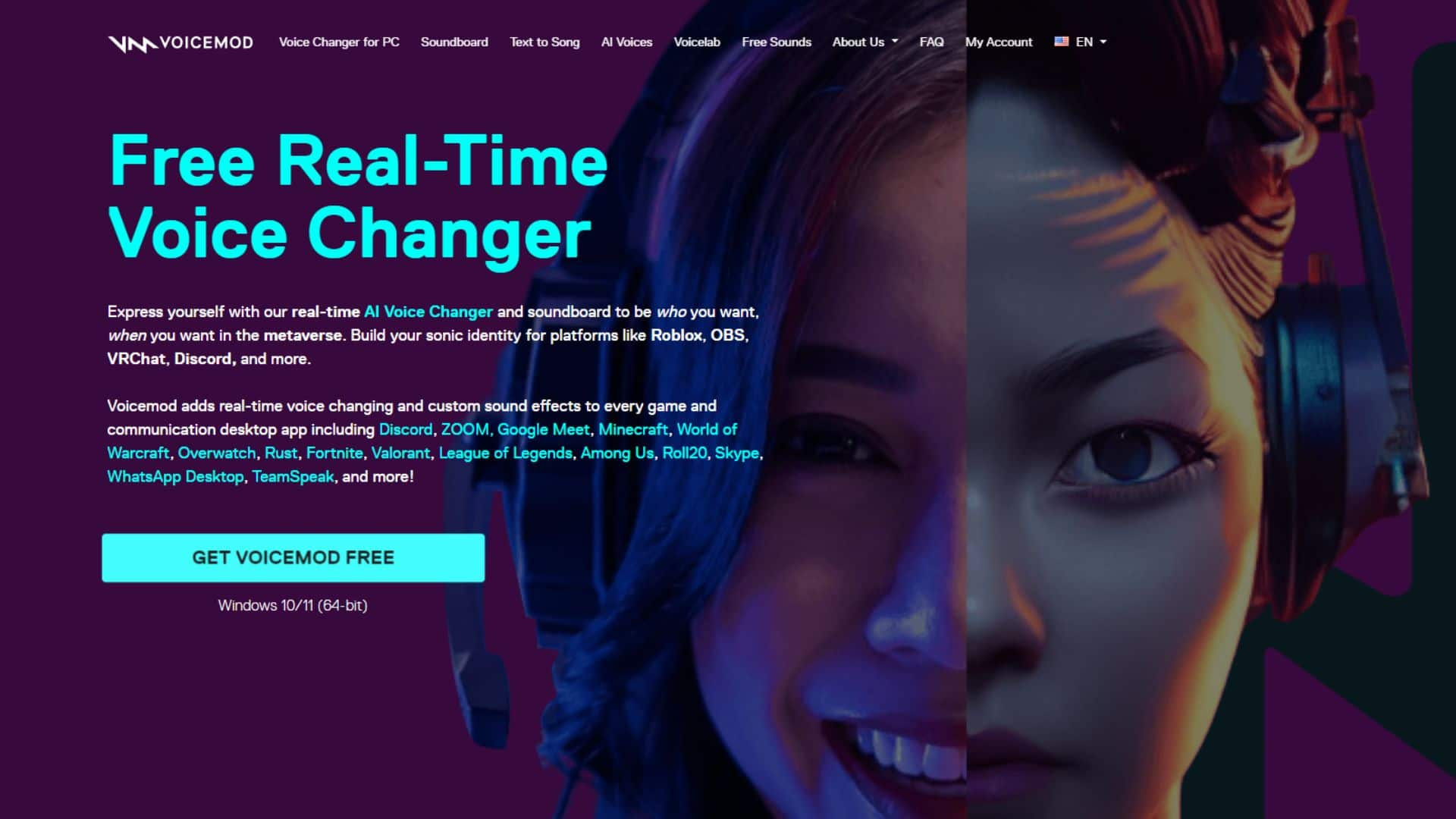 Choose from a wide range of voice filters and sound effects. While Voicemod is popular for real-time voice modulation on online platforms, some users find its morphing effects repetitive and unnatural.
Features:
An online voice changer allows you to change your voice live on different platforms.

Voicemod enables you to use funny sounds like troll sounds or memes.

Voicemod offers an effortless user interface, meaning you don't need to worry about its working procedure.

Apart from gaming platforms, you can also use Morphvox in real-time streaming and chatting platforms.
User rate: 4.2
However, occasional server instability is a notable drawback.
4.Voxal [Mac/Windows]
Voxal Voice Changer is another voice changer that can help you make your voice like SpongeBob. Whether you're looking to convert your voice into a male voice or female voice, Voxal Voice Changer has got everything covered.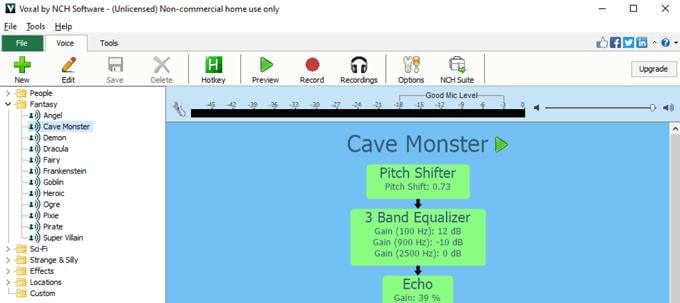 Moreover, you can pair this voice changer with gaming and chatting platforms, meaning you've got the opportunity to prank your friends in real time. Interestingly, this tool allows you to establish high-quality podcasts with minimal effort.
Features:
It allows you to explore tons of sound effects.

You can also create custom voice effects using this flawless voice changer.

Voxal Voice Changer allows you to use sound effects in real-time.
User rate: 4
The interface of Voxal is very old-fashion and not cool at all. Second, it's not cheap to charge, but the built-in voice changing and sound effects are not rich.
Voice.ai, a leading provider of speech recognition and speech synthesis technology, offers advanced artificial intelligence solutions that offers AI SpongeBob voice. With its expertise, Voice.ai enables seamless conversion of speech to text and text to speech.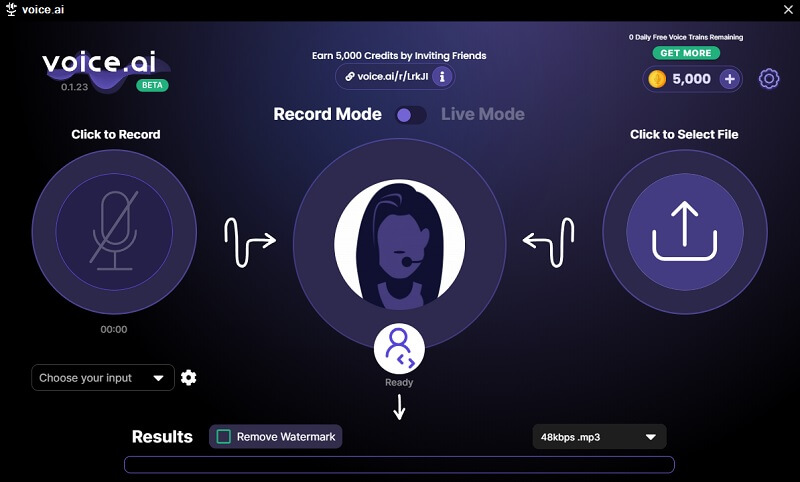 The applications of Voice.ai span across diverse fields, including voice assistants, voice control, voice interaction, and even voice translation. Looking for a SpongeBob voice changer? Voice.ai has you covered.
Features:
Voice.ai's speech recognition technology has high accuracy, accurately converting speech into text. This improves user experience and enables users to interact with devices or applications through speech.

Voice.ai supports recognition and synthesis in multiple languages and dialects, catering to the needs of different regions and users.

Voice.ai's speech recognition and synthesis technologies can process audio in real-time, reducing latency and enabling quick responses to user commands and requests.
User rate: 3.7
Voice.ai offers voice-changing capabilities, but there is room for improvement. Limited options for voice changers on Mac platforms highlight the need for enhancements and smoother usability. Alternatively, for Mac users, we recommend MagicMic, which was mentioned at the beginning of the article.
Part 2:Best 5 Online SpongeBob Text-to-Speech AI Voice Generators
Discover the top 5 websites for Spongebob text-to-speech generators. These platforms offer incredibly accurate voices that closely resemble Spongebob and other characters like Squidward, Patrick Star, and Sandy Cheeks.
Explore these online tools and unleash your creativity today!
Discover Uberduck, an online SpongeBob voice text-to-speech tool that allows users to synthesize text into audio. With a variety of default categories and characters to choose from, including SpongeBob AI voice, simply select the desired voice and character, and click "synthesize" to generate the audio. Please note that signing up is required to access this feature, which can be done using a Google account, Discord, or any email.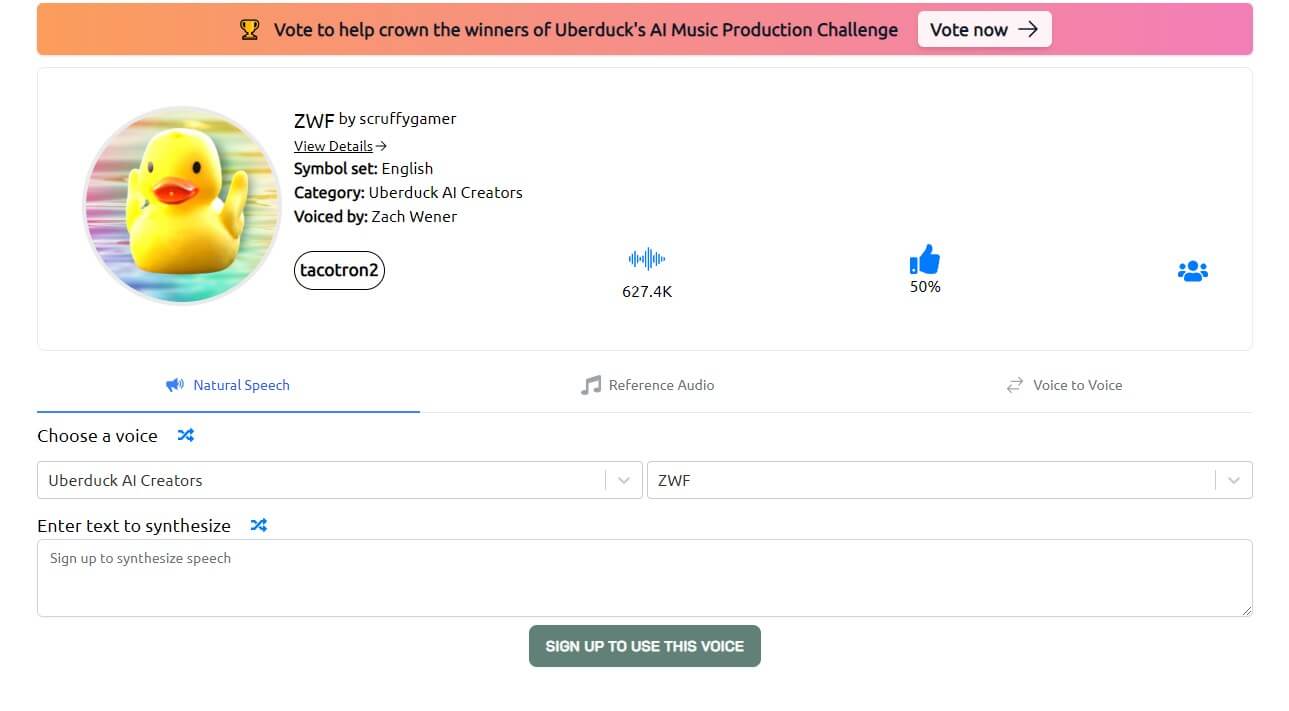 Please note that signing up is required to access this feature, which can be done using a Google account, Discord, or any email.
Features:
Extensive Voice Selection: Choose from 5000+ voices, including Quandale Dingle and celebrity voices.

Developer-Friendly APIs: Uberduck offers APIs for developers to build customized applications.

Custom Voice Cloning: Create your own unique voice clone with Uberduck.
User rate: 4.0
Resemble AI is a highly regarded SpongeBob voice generator celebrated for its precision and adaptability. With the ability to create audio files of different durations, it caters to diverse applications such as video games, marketing campaigns, and media projects.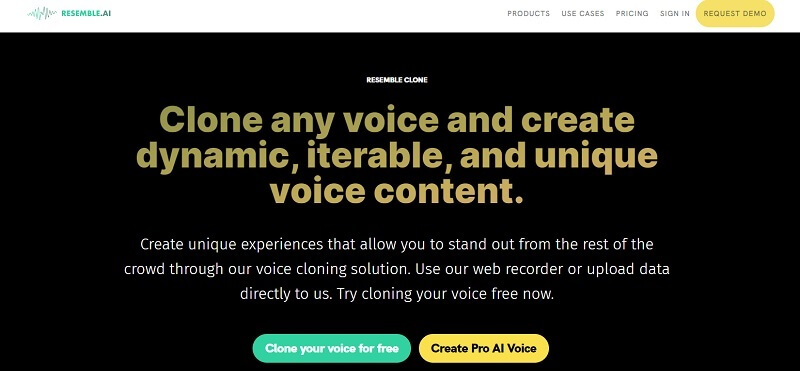 Employing advanced technology, Resemble AI delivers exceptional output that faithfully captures SpongeBob's voice and style.Additionally, its user-friendly interface enables effortless customization to suit individual requirements.
Features:
Known for its precision and adaptability, Resemble AI generates high-quality audio files of various lengths, making it suitable for a wide range of applications.

Resemble AI closely matches SpongeBob's voice and mannerisms, ensuring an authentic and immersive experience.

User-friendly interface
User rate: 4.2
15.ai is renowned for its simplicity as the easiest text-to-speech website. With a user-friendly interface, users input text and effortlessly generate AI SpongeBob voice speech by pressing "Enter" or clicking "Generate." The conversion process is quick, taking only a few seconds. However, it is temporarily paused to address and resolve existing bugs.
Features:
Instantly access without any sign-up requirements.

Enjoy the easiest user interface among online tools.

Choose from thousands of voices for seamless text-to-speech conversion.
User rate: 4.4
Fakeyou is an online community-driven platform for creating high-quality SpongeBob AI voices. This tool offers premium features for free, allowing you to choose from popular voices that enhance your projects and videos with increased engagement. With its wide selection of all-natural sounding voices, you can easily find the perfect fit for your needs.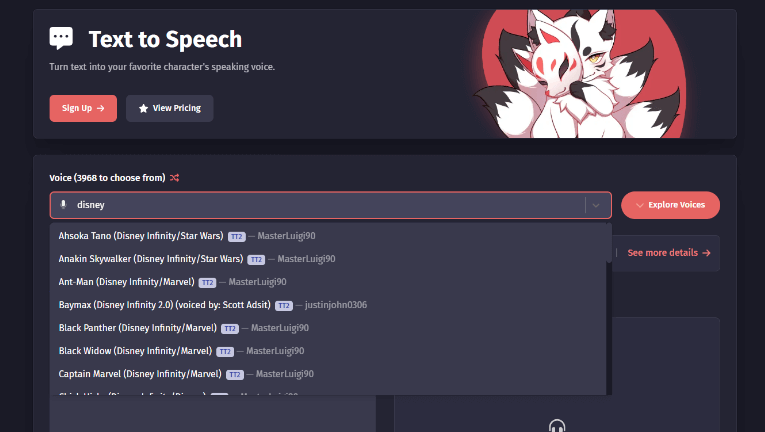 Features:
Choose from available or paid subscription options.

Add pleasing soundings for a satisfying audio experience.

Receive prompt assistance whenever you need help.
TopMediai is a robust SpongeBob AI voice generator offering both free and paid versions. With its array of options, it provides a swift working environment for converting text to speech and creating SpongeBob AI voices at high speeds. Leveraging advanced speech synthesis technology, it boasts a vast library of natural-sounding voices to deliver the best user experience.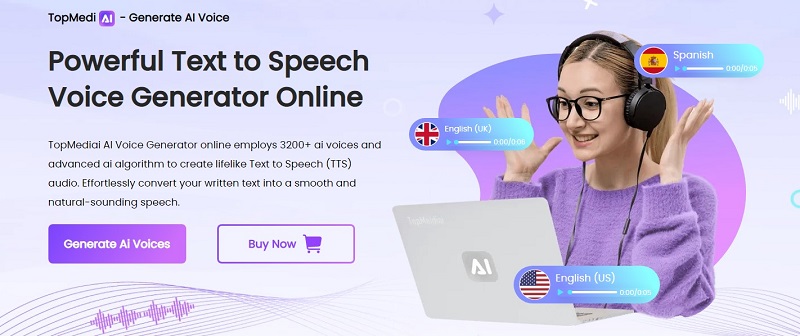 Features:
3200+ Voices: Enjoy a vast collection of voices including Mickey Mouse and Squidward, with some available for free.

Multilingual Support: Access over 70 languages for enhanced accessibility.

Voice Customization: Control speed, pitch, and volume to achieve desired sound quality.

Audio Editing: Edit the generated audio according to your preferences.

Voice Generation and Speech Recognition: Benefit from a range of functions encompassing voice generation and speech recognition.
Conclusion
With the top 10 AI SpongeBob voice changers and SpongeBob text-to-speech generators mentioned above, you can unleash your creativity and have fun transforming your voice or generating SpongeBob-like audio. Whether you want to entertain friends, create engaging content, or simply have a good laugh, these tools are sure to bring the joy of SpongeBob into your life.
Experiment with different voice changers and text-to-speech generators to find the perfect fit for your SpongeBob voice transformation needs. So, go ahead and dive into the world of AI SpongeBob voice changers, and let your voice take on the iconic charm of SpongeBob SquarePants!As for me, my choice is MagicMic voice generator.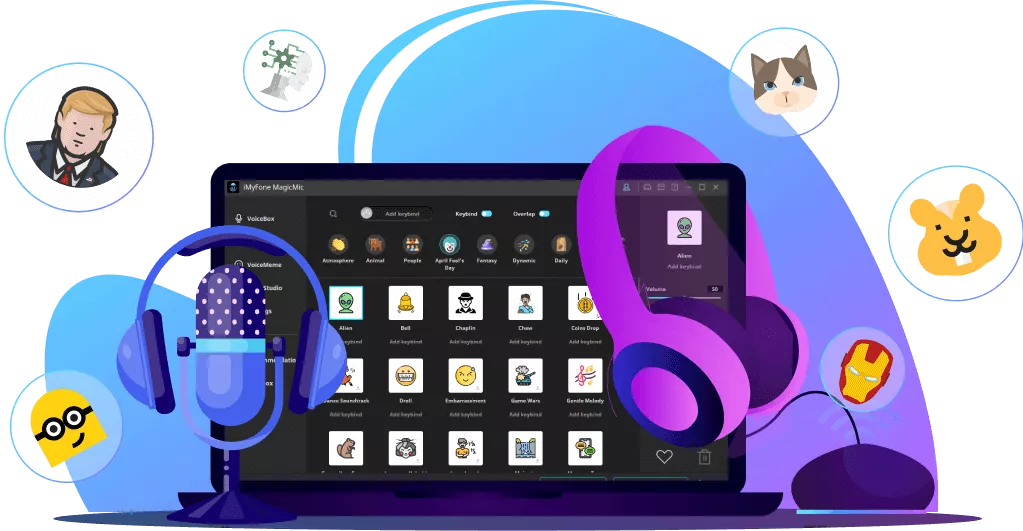 300+ Voice effects for one-click voice changing in real-time.
Huge library with 600+ Voice Effects and 200+ Voice Memes.
Voice modulate in games, live, chatting, online classes, and more.
Voice recording and audio voice changing are supported.
Voice studio lets you create any voice you like.