Are you looking for a fun way to create your own movie soundboard with unique voice clips? Look no further than the best movie voice generator and movie sound effects tool on the market. Whether you're a movie buff, a filmmaker, or just someone who loves sound effects, a movie soundboard is a great tool to have at your fingertips.
With these tools, you can easily manipulate your voice to sound like your favorite movie characters and add in sound effects for an immersive experience. Let's take a look!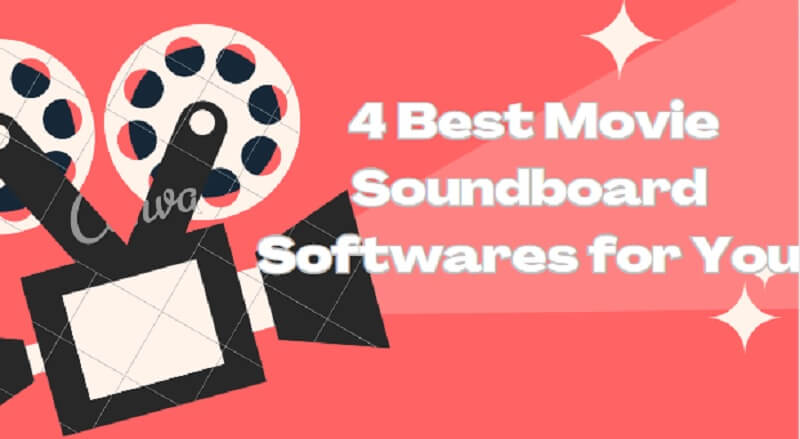 4 Best Movie Generator in 2023 for PC
Are you a movie lover who wants to add some fun to your PC? Look no further! In this part, we'll introduce you to some voice changers for PC that allow you to create your own Movie Soundboard. With these voice changers, you can sound like your favorite movie characters and add some excitement to your online gaming or social media experiences. Let's dive into these tools.
MagicMic is a real-time voice changer and soundboard changer software that allows users to create unique and entertaining audio content for various purposes. It has become a popular tool for content creators, gamers, and entertainers to add personality to their audio recordings, livestreams, or videos.
One of the key features of Voicemod is the Movie Soundboard, which enables users to add sound effects, quotes, and music from their favorite movies to their audio creations.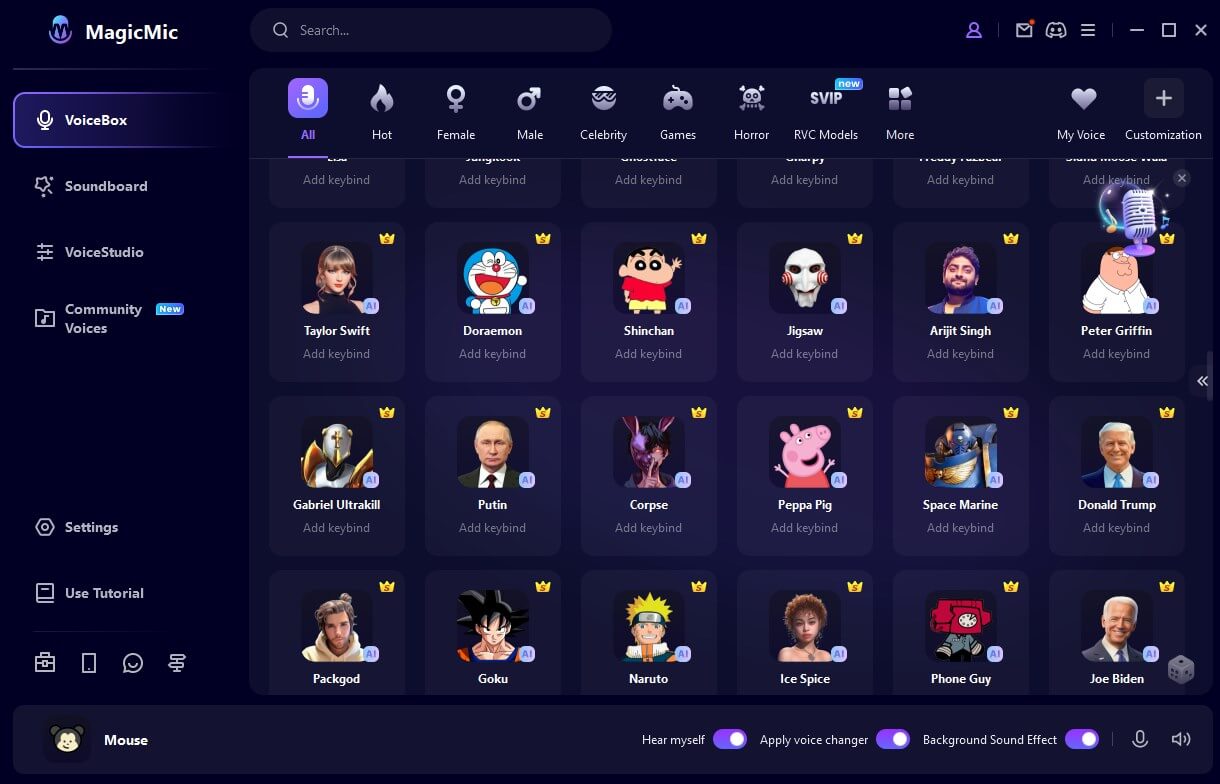 Key Features of MagicMic
Change your voice in real-time with 125+ various voice filters on both Mac and Windows.
MagicMic can modify the user's voice or audio in real-time, enabling seamless integration with live streaming or recording applications.
It works with all versions of Windows and supports tons of games and chat.
Users can also create custom soundboards with their own audio files, which can be assigned to keybinds for easy access.

500+ built-in sound effects and memes for movies, games, chats, and live streams with import support, such as  Dungeons and Dragons.

MagicMic Movie Soundboard can be easily accessed with just a few clicks, allowing users to use their favorite movie sound effects in their audio creations.
Pros of MagicMic Movie Soundboard:

Easy to use even for beginners.

Offers a wider selection of voice filters and sound effects.

You create unique voices by adjusting various sound parameters.

Supports both Windows 11 and Mac systems.

Set up hotkeys to quickly access your favorite voice filters and sounds, without interrupting your gaming or voice chat.
Cons:

Some sound effects not named correctly.

New product. Less famous.
Price: Free and Pro version
MorphVOX Junior is a free voice changer software that modifies your voice to match your personality, making it sound like a man, woman, or little folk.MorphVOX is compatible with online games, chat applications, and voice-over-IP programs. It is available in several versions, including MorphVOX Junior (a free version with limited features) and MorphVOX Pro (a paid version with advanced features).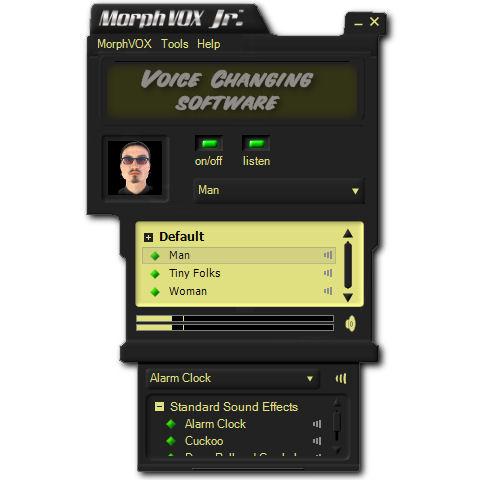 Features
Optimized for online games with low bandwidth and CPU usage, providing excellent performance.

Built-in voices and sound effects make it convenient to use.
Pros:

Built-in sound effects library with the ability to select freely.

Suitable for online games and instant messaging applications, fully integrated with them.

Customizable voice settings to add background sound effects to make the call recipient believe that you are in heavy traffic, for example.
Cons:

Limited voice effects compared to some competitors

The interface may not be as user-friendly as other similar programs

The free version has limited features and may require users to purchase additional voices or effects
JN Soundboard is a free and open-source software (FOSS) designed for playing audio files and sound effects in various applications.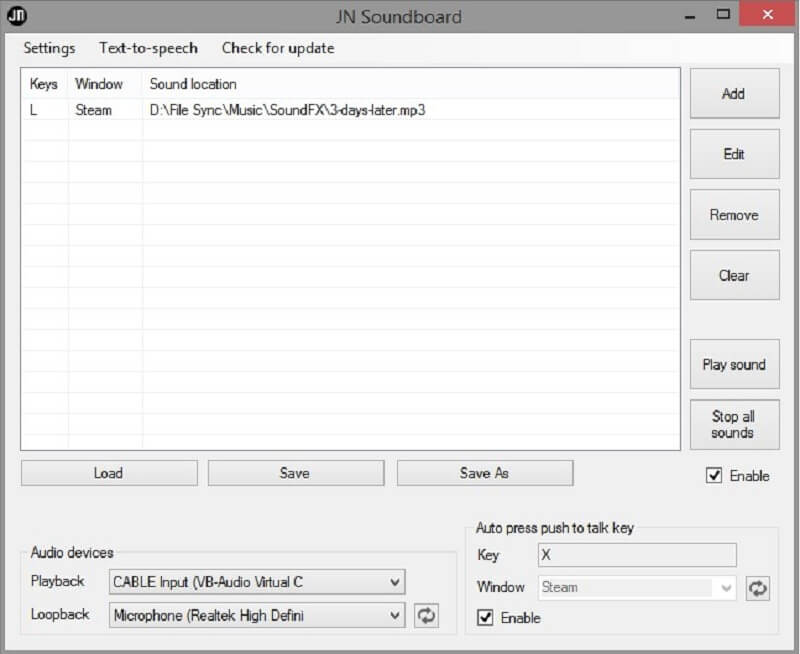 Features
Supports playing various audio file formats such as MP3, WAV, WMA, M4A, and AC3
Allows playing sounds through any sound device including speakers and virtual audio cable
Features microphone loopback, which loops microphone sound through the playback device
Has a lot of features including the ability to set, edit, and remove custom hotkeys
Pros:

JN Soundboard is a free and open-source software.

It comes with a lot of features and customization options.
Cons:

JN Soundboard is not as cross-platform as other soundboard apps such as EXP Soundboard.

It may not be as beginner-friendly as some other soundboard apps.
Clownfish Voice Changer is a voice modification application that can be used with various communication applications and software that use a microphone or other audio capture device.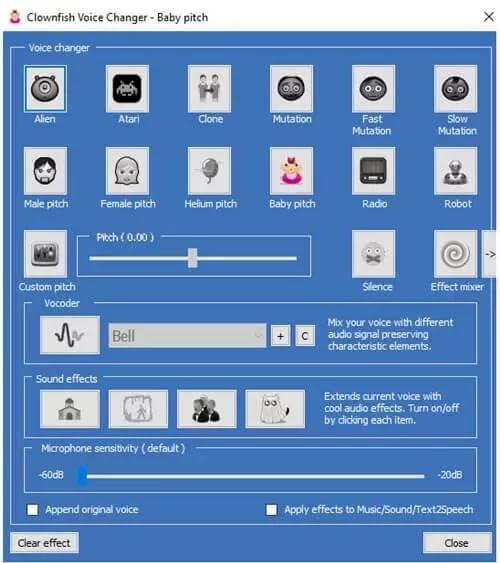 Features
Can modify your voice in various communication applications, including Discord, Skype, TeamSpeak, Hangouts, and more
Can also translate text in different languages and read it aloud with the modified voice.
Available for free download and installation on Windows operating systems
Keybinds setting is supported.
Pros:

The quantity of voice effects is large.

Easily integrate with other popular apps such as Skype, Twitter, modern games, and many online streaming apps.

It's a free application.
Cons:

Users have mentioned that the voice changing feature does not work in some cases, which can be frustrating

The software may not work as intended on all operating systems
Top2 Movie Voice Soundboard Online
101soundboard is a website that provides a collection of soundboards that you can use to play various audio clips and sound effects. The soundboards are divided into different categories, such as memes, movies, video games, and music, and each category contains a variety of soundboards that you can choose from. You can also create your own custom soundboard by uploading your own audio clips.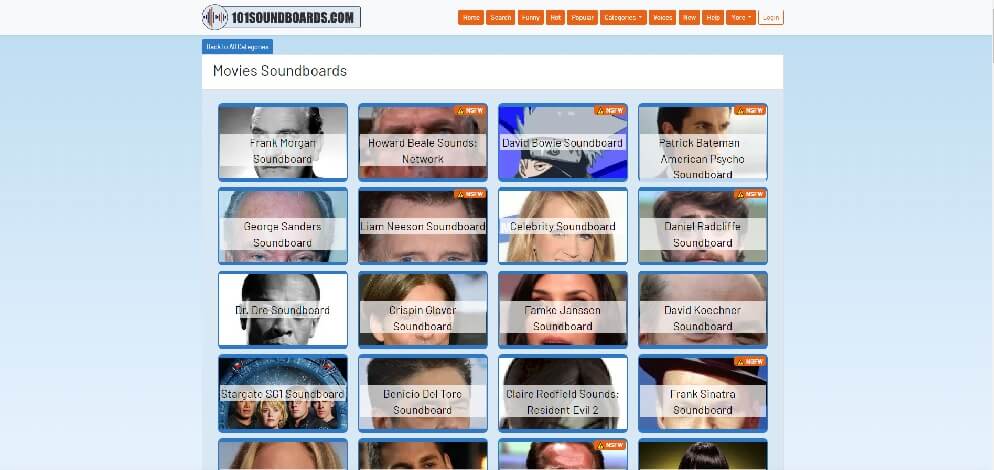 Pros:

It's a fun and easy way to add audio clips and sound effects to your videos, memes, or other digital content.

The soundboards are organized into different categories, making it easy to find the type of sound effect you're looking for.

You can create your own custom soundboard by uploading your own audio clips.

The website is free to use and doesn't require any downloads or installations.
Cons:

Some of the soundboards may contain inappropriate content

You may need to search for high-quality clips to get the best results
Myinstants is a web application that offers a plethora of short sound clips, making it a great resource for creating your own soundboard. While its design may come off as a bit flashy, it is still a useful tool for soundboard enthusiasts.
One of the noteworthy advantages of Myinstants is its mobile compatibility, which enables users to create a browser-based mobile soundboard creator app by simply creating a shortcut. This feature allows for easy access to your personalized soundboard on the go, making it a great option for those who want to take their soundboard with them wherever they go.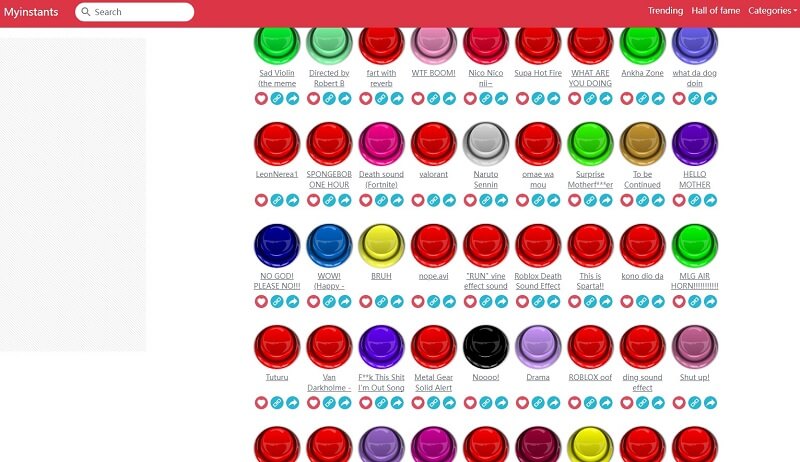 Pros:

Myinstants website has various categories, such as TV, movies, music, memes, viral, and politics.

You can easily find your favorite category by using the search button.

Each sound option is displayed with a colorful button.
Cons:

Audio clips may have inappropriate content not suitable for all audiences.

Audio quality and content are not moderated, so some may be low-quality or uninteresting.

Certain audio clips may infringe on copyrights, leading to legal issues.
Conclusion
Based on the above discussion, it is clear that a movie soundboard and voice changer can add an extra layer of fun to your experience. With the variety of options available, from sound effects to character voices, it's easy to find something to suit your taste. And with the convenience of mobile apps like iMyFone MagicMic, you can create your own customized soundboards and voice recordings on the go. So why not Try these movie soundboards and movie voice generators?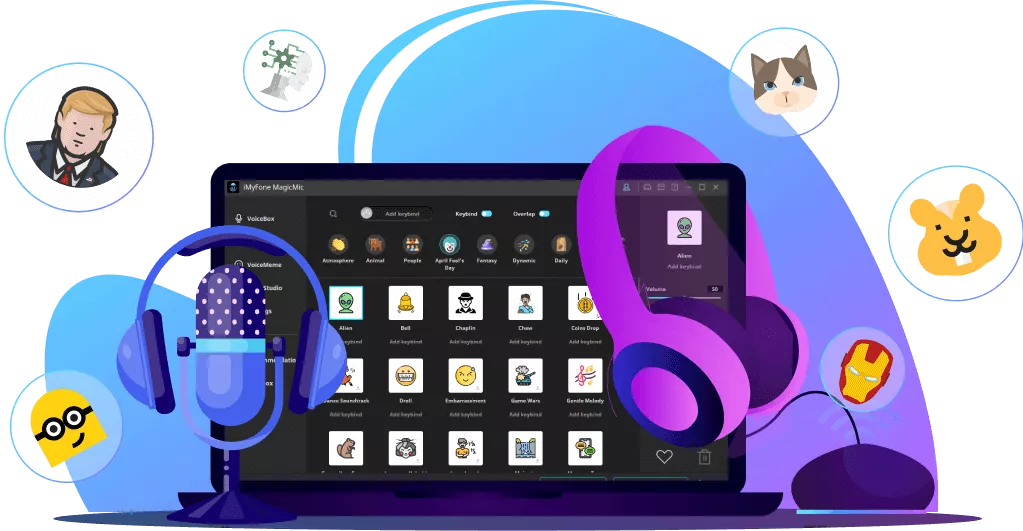 125+ Voice effects for one-click voice changing in real-time.
Huge library with 400+ Voice Effects and 150+ Voice Memes.
Sound emulator in games, live, chatting, online classes, and more.
Voice recording and audio voice changing is supported.
Voice studio lets you create any voice you like.