In an age where technology constantly pushes the boundaries of creative expression, the fusion of traditional and modern takes center stage. Enter the realm of Megaphone voice changers – a captivating innovation that marries the iconic amplification prowess of megaphones with the dynamic versatility of voice modulation technology.
This article delves into the multifaceted universe of Top 6 Megaphone voice changers for PC, apps and online, unraveling their features, applications, and the unique blend of entertainment and functionality they offer.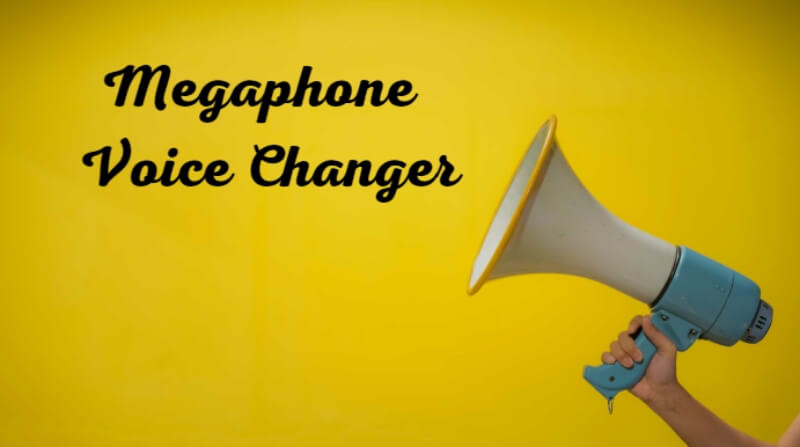 Part 1: Pros and Cons of a Megaphone Voice Changer
A megaphone with a built-in voice changer offers both advantages and disadvantages. Let's explore the pros and cons of using this unique device:
Pros:
Entertainment Value: A megaphone voice changer adds an element of fun and entertainment to events, parties, and gatherings. It can captivate audiences and create memorable moments.
Attention-Grabbing: The altered voice produced by the voice changer can easily capture attention and draw crowds. This is particularly useful for public speaking or announcements in crowded spaces.
Novelty Factor: The novelty of a voice-changing megaphone can create intrigue and excitement, making it an excellent choice for themed events, costume parties, and performances.
Versatility: These devices often feature adjustable voice settings, enabling users to switch between different voice effects. This versatility enhances the device's utility in different scenarios.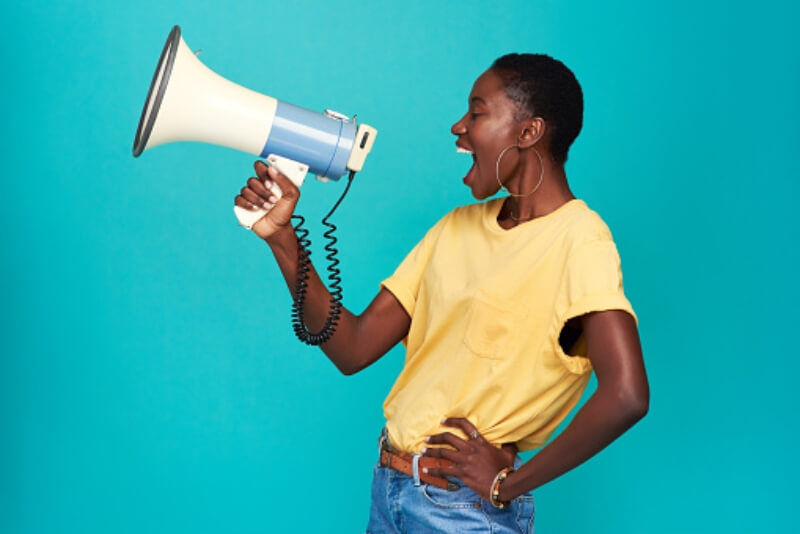 Cons:
Voice Clarity: Megaphone voice changers may compromise voice clarity. The altered voice might become distorted or difficult to understand, especially in noisy environments.
Battery Consumption: Voice changers and amplification systems can drain batteries quickly, requiring frequent replacements or recharging during extended use.
Technical Issues: As with any electronic device, technical glitches or malfunctions are possible, leading to unexpected changes in the voice or device breakdown.
Cost: Megaphone voice changers can be more expensive than traditional megaphones due to the added technology. If the voice-changing feature isn't a necessity, the added cost might not be justified.
Tips
Megaphone devices are not easy to carry and have many disadvantages, but megaphone voice changer software can solve these problems very well, take a look at the 6 megaphone voice changers we recommend!
Part 2: Best 2 Megaphone Voice Changer for PC
MagicMic is an innovative megaphone voice changer that incorporates cutting-edge AI voice technology to enhance online gaming and communication experiences. With over 250 realistic voice filters, MagicMic brings a new level of immersion and entertainment to your interactions. Beyond gaming and live streaming, MagicMic also boasts exceptional voice recording capabilities and seamless filter application, making it a versatile tool for a range of scenarios.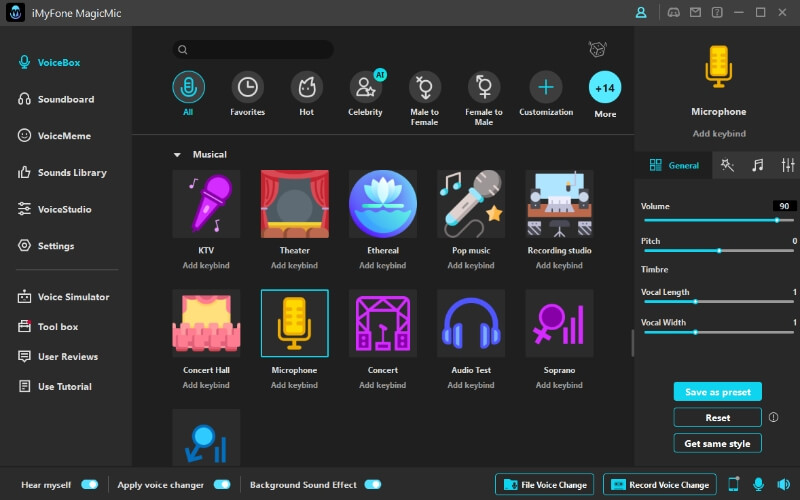 The steps to get Megaphone sound effect
Step 1: Download and Launch
Install the MagicMic software and log in.
Step 2: Configure Input and Program Settings
Set your main microphone as input, enable "Apply Voice Changer," and turn on "Hear Myself" for instant feedback.
Step 3: Select the MagicMic Virtual Audio Device
Select Virtual Audio Device as input in your chosen app for smooth voice alteration.
Step 4: Choose Voice or Create AI Voice
Explore effects , assign keybinds, create personalized AI voices, such as Megaphone sound effect, radio voice, KTV or others.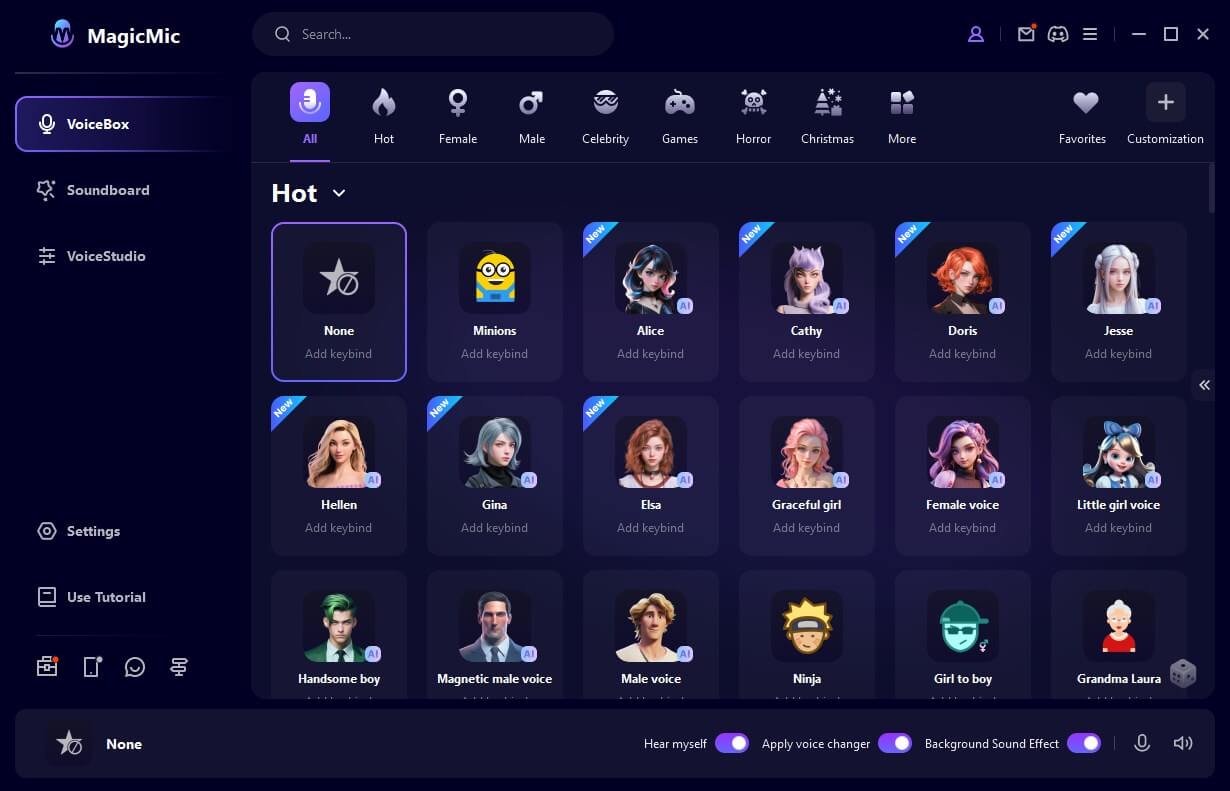 Key features of MagicMic
Megaphone Voice Changer
Extensive Voice Effects: 250+ voice effects, 600+ voice effects, and 200+ voice memes for versatile voice modulation creativity.

Real-Time AI Effects: Instantly enhance conversations with dynamic AI-powered voice improvements.

Interactive Soundboard: Trigger engaging effects on the fly for immersive audio experiences.

Customizable Hotkeys: Effortlessly switch voice effects using personalized hotkeys.

Background Noise Reduction: Clear voice in noisy environments with noise reduction.

Platform Compatibility: Smooth integration with Discord, Twitch for seamless interactions.

Versatile Audio Driver: Capture and transform audio from any source for diverse content enhancement.
Video
Watch the Video to know more about megaphone voice changer
Voicemod is a popular software application known for its versatile voice modulation capabilities. Primarily recognized for its voice changing megaphone feature, Voicemod allows users to transform their voices into a variety of effects, including a megaphone-like sound. This tool is often used in gaming, online chats, and content creation to add a playful and entertaining dimension to communication.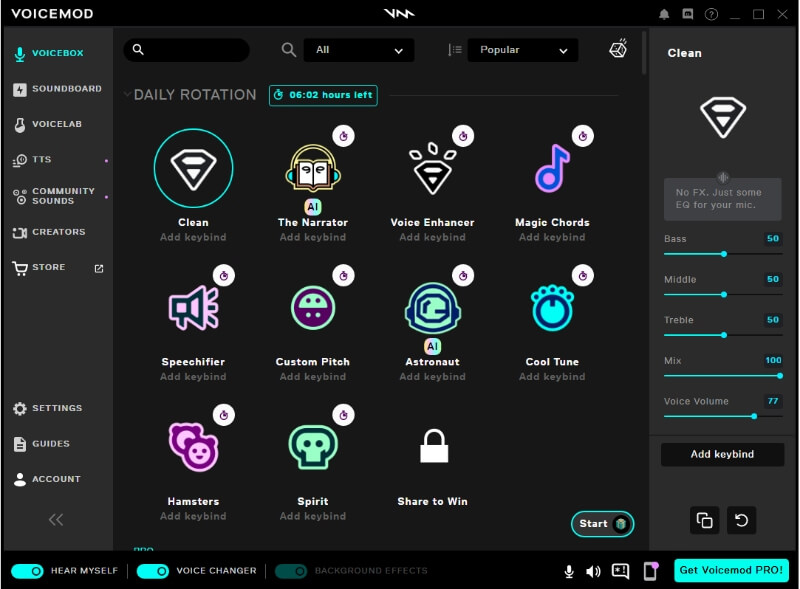 Key features
Diverse Voice Effects: Voicemod offers a wide range of over 70 voice effects for various tones and moods.

Real-Time Transformation: Instantly modify your voice during chats, gaming, or streaming.

Personalization: Fine-tune effects by adjusting pitch, speed, and modulation.

Platform Compatibility: Works seamlessly with popular communication and gaming platforms.
The steps of using Voicemod
Step 1: Start by downloading the Voicemod software and completing the installation process on your device.
Step 2: Close any ongoing communication programs, such as chats or calls, to ensure smooth integration of Voicemod.
Step 3: If it's your first time using Voicemod, follow the initial setup instructions. For subsequent uses, access the "Settings" option. Choose your microphone as the input device and select your headphones as the output device. Confirm your choices by clicking "Ok."
Part 3: Best 2 Megaphone Voice Changer Apps
Voice Changer Plus is a mobile application available on iOS devices. This megaphone voice changer app allows users to modify their voices in real-time by applying various voice effects and filters. It's often used for fun and entertainment purposes, such as creating funny voice recordings, making prank calls, or sharing altered voice clips with friends.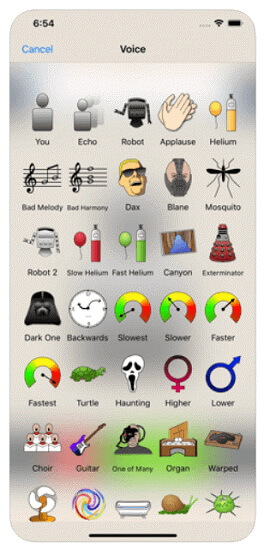 Key features
Access 55 voice effects with accompanying background sounds for captivating transformations.

Edit your recordings precisely with the trimming option, tailoring your sounds to perfection.

Effortlessly adjust and improve pre-recorded voices using intuitive tools.

Enjoy full voiceover support for creating professional-quality content and narratives.
The steps of how to use Voice Changer Plus:
Step 1: Launch the app, choose 'Record' or 'Import' a file from your device or File Sharing.
Step 2: Click on the human icon after importing, choose voice effect, and press 'Play' to preview.
Step 3: Utilize the Trimmer to edit the audio by sliding the sliders to adjust the effect.
Step 4: Save the modified file with a name or share it on social media platforms for sharing.
With an impressive 10 million downloads and a 4.4 rating, Voice Changer with Effects reigns as the top megaphone voice changer app for Android. It's user-friendly, quick to install, and seamlessly integrates with your chat applications.
Unlock a world of fun with 40+ captivating voice effects, including Helium, robot, giant, drunk, alien, and more. Transform both pre-recorded and live recordings into unique sound experiences. Elevate your interactions with this app's simplicity and versatility.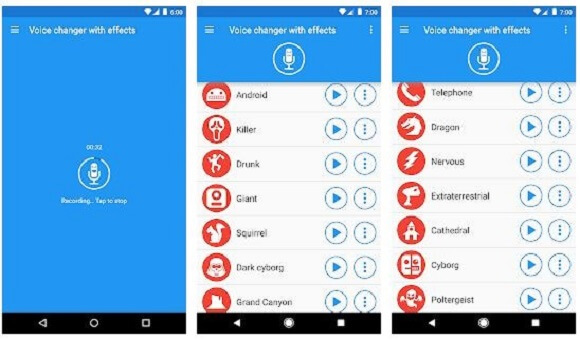 Key features of Voice changer with effects app
Easily generate speech from text, expanding communication options and enhancing convenience.

Set the output file as a custom ringtone or share it through email, WhatsApp, and other platforms.

Enjoy an extensive selection of voice styles to choose from, ensuring a wide range of creative possibilities.

Seamlessly share your transformed recordings via various platforms, enabling effortless distribution and enjoyment.
The steps of using voice changer with effects
Step 1: Get the app from Google Play Store, launch it. Home page is blue with microphone icon.
Step 2: Tap the "Microphone" icon to record. Grant microphone permission if needed. Tap again to stop recording.
Step 3: After recording, choose from effects like cyborg, squirrel, helium, etc. Preview with "Play" icon.
Step 4: Save with "Menu" icon, select "Save recording." Share or set as ringtone/notification from options.
Part 3: Best 2 Megaphone Voice Changer Online
Voicechanger.io is a megaphone voice changer online that offers a versatile platform for voice modulation. Whether you're uploading audio, recording in real-time, or generating text-to-speech, this tool empowers you. Unleash your creativity with a diverse range of effects, from ghostly whispers to futuristic robots and classic phone rings to clock ticks. Designed to fulfill your core requirements, Voicechanger.io provides an array of voice-changing options. Please note that this tool focuses solely on voice transformations, excluding background effects at present.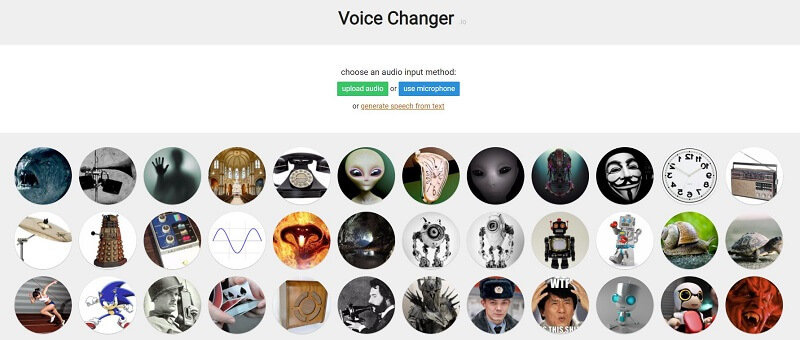 Key features
Enjoy the freedom to add your own custom voice effects, giving you personalized control over your audio transformations.

Choose from a diverse selection of 55+ voice effects, allowing you to craft the perfect sound for any occasion.

Use Voicechanger.io for commercial purposes without requiring credits or additional fees, ensuring convenient and hassle-free utilization.
How to use VoiceChanger.io:
Step 1: Visit Website: Open a web browser and go to Voicechanger.io.
Step 2: Record and Transform: Import audio or speak into a microphone to apply voice filters and effects, even convert text to speech.
TopMediai is another online megaphone voice changer, offering an extensive collection of voice filters and smooth soundboard features. Its remarkable capability to craft realistic megaphone sound effects is matched by the capacity to apply top-notch sound enhancements. Beyond real-time voice alteration, TopMediai's versatility adds value for content creation and amusement.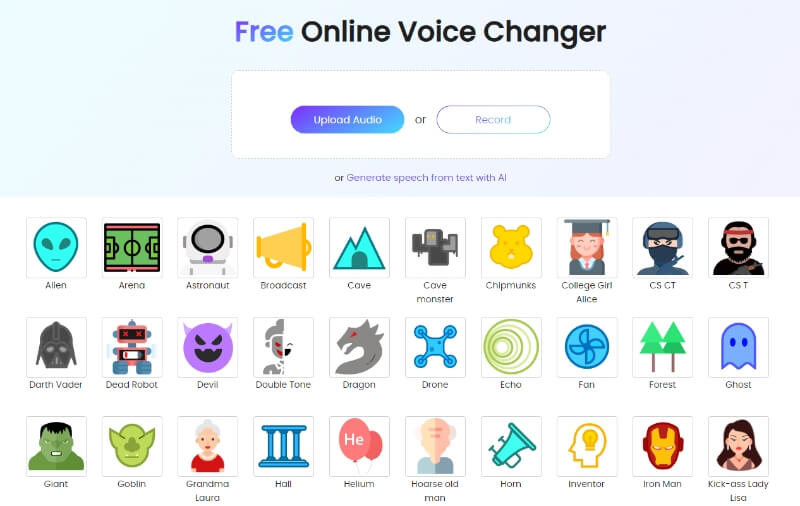 Key features
AI-powered, works on smartphones and laptops.

Topmediai's straightforward interface is designed for easy navigation and usability, enhancing the user experience.

With a collection of 500+ sound effects and 125 voice filters

Users can adjust pitch and volume of voice filters to match personal preferences
Part 5: FAQs about Megaphone Voice Changer
1.What is a Megaphone Voice Changer?
A Megaphone Voice Changer is a device or software that combines the functionality of a traditional megaphone with the ability to modify and alter the user's voice in real-time. It offers various voice modulation effects for entertainment, public speaking, or creative purposes.
2.What Are the Practical Applications of a Megaphone Voice Changer?
Megaphone Voice Changers can be used for entertaining performances, public events, costume parties, theatrical productions, online streaming, content creation, and adding a fun element to social gatherings.
3.Can Megaphone Voice Changers Alter Background Noise?
While some high-end Megaphone Voice Changers might have noise reduction features, most primarily focus on modifying the user's voice itself rather than altering background noise.
Final words
In a world where technology continues to reshape our interactions, the Megaphone voice changer emerges as a vibrant testament to innovation's boundless potential. From playful gatherings to professional presentations, its fusion of classic megaphone amplification and cutting-edge voice modulation offers a harmonious blend of tradition and modernity.
Through devices like MagicMic, we witness the convergence of creativity, entertainment, and practicality, all orchestrated through the whimsical interplay of voice.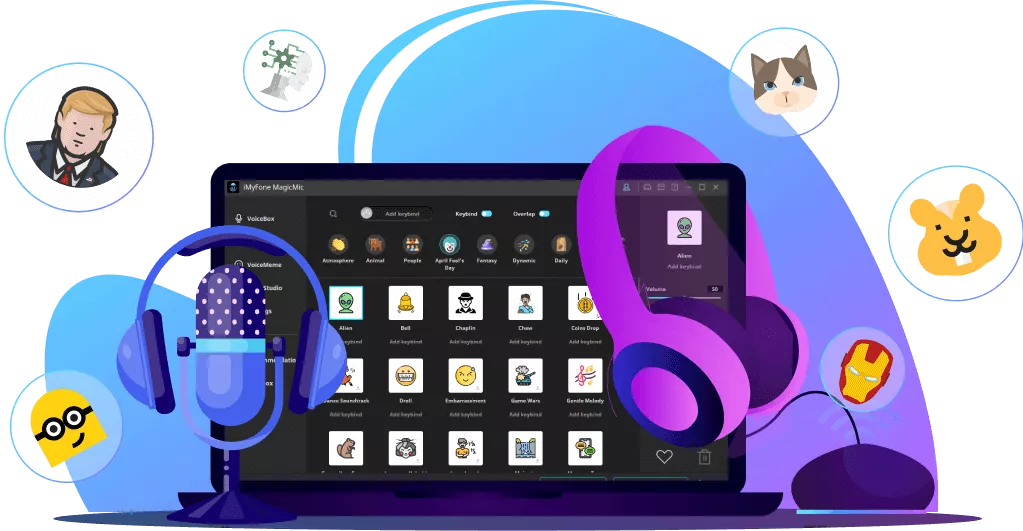 250+ Voice effects for one-click voice changing in real-time.
Huge library with 600+ Voice Effects and 200+ Voice Memes.
Sound emulator in games, live, chatting, online classes, and more.
Voice recording and audio voice changing is supported.
Voice studio lets you create any voice you like.