Lost Ark is a Korean-developed, action MMO that recently got released worldwide. While the 50 levels in a dimension of monsters, demons, and dungeons might be difficult for some, this incredible game always feels rewarding.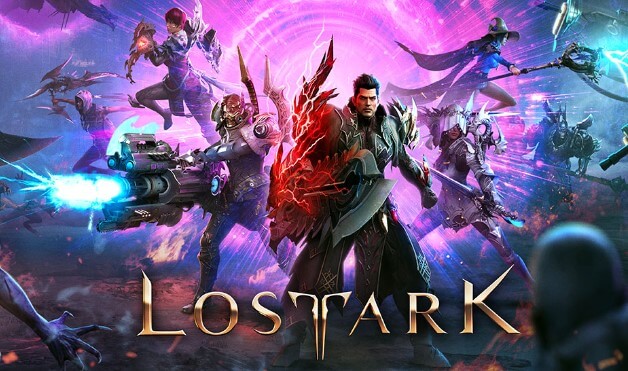 An important aspect of your adventures in Lost Ark is character creation and voice selection. Players like to spend some time customizing the appearance of their character and selecting a voice that suits their character. But if you just realized that you've made a mistake with your character's voice, don't fret. Read this guide to lost ark change character voice.
How to Change Character Voice Language in Lost Ark?
In MMO like Lost Ark, players can create their characters and choose the voice on the creation screen. To choose a character voice, you'll find a voice icon on the top right of the creation screen. When you click on it, you'll be presented with 4 different voice options for your character.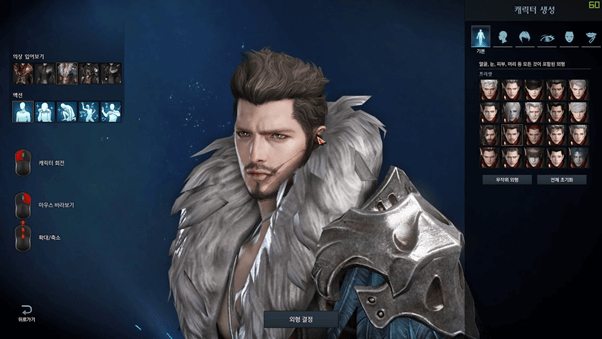 But most players think that you get to choose your character's look and voice only once, there's still a way to change your character's voice in Lost Ark.
Follow these steps to change the character voice in Lost Ark:
step1: Launch Lost Ark and on the character selection screen, you'll find the option "Re-skin" at the bottom right corner.
step2: To change your character's voice, you'll need an "Appearance Customization Ticket."
step3: Select "OK" on the small menu that appears to get the ticket. Now, you'll be taken back to the Character Customization screen where you change the character's voice.
step4: However, the changes won't be applied unless you click on the "Buy A Ticket" option at the bottom of the screen.
You can also change characters' voice language in lost ark by following the steps given below:
1. Firstly, launch Lost Ark and go to the main screen.
2. You'll find "Services" on the bottom right of the main screen. Click on it.
3. After that, select the "Game Menu" or hit the "ESC" key on your keyboard to bring up the game menu.
4. Once the game menu appears, select "Settings" located at the bottom.
5. Click on "Settings" and a new menu will appear, where you'll find the "Audio" section.
6. Go to the "Audio" settings and choose "Select Voice Menu."
7. After clicking on it, you'll get 4 language options English, Spanish, German, French, and Korean. Choose any language of your choice and the character's voice language will be changed.
Lost Ark: Q&A
Q: Lost Ark Chat Not Updating
A: With the latest update, many players have experienced Lost Ark chat not updating problems, but you can try a few fixes to get the chat to work again.
Go to "Chat Tab" settings: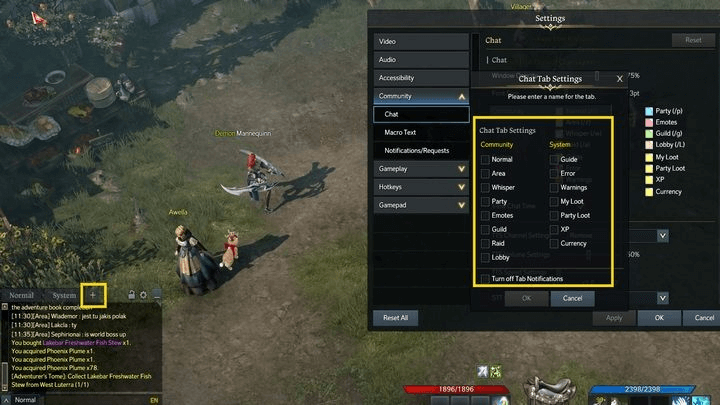 FIX 1: Under the "System Subsection," uncheck "Guide."
FIX 2: Uncheck all the other languages under the "Language Filter Settings."
FIX 3: Uncheck all options under the "System" section.
Restart your game after trying each fix. You can also close the game and restart your system to get the chart working again. If that doesn't work, you should remove and reinstall Lost Ark as well. However, if nothing is working, then wait for the release of the game update. It'll surely resolve the issue.
Q: How To Lock Items in Lost Ark?
A: By locking items, you can prevent them from being sold and dismantled. If you want to know how to lock items in Lost Ark from your inventory, hover over any item you want to lock, press Ctrl and Right Click to select lock via PC. If you're using a controller, Right Trigger and Left Stick Button, select lock.
Q: Lost Ark Can You Change Hairstyle?
A: Yes, you can change the hairstyle of your character after you've left the creation screen. Once you launch the game and go to the character selection screen, there will be a "Reskin" button at the bottom right. You can click on it to change your character's appearance. But changes won't be applied unless you buy a ticket for 800 Royal Crystals.
How to Customize Character Voice with iMyFoneMagicMic?
Do you want to change your character's voice in real-time? iMyFoneMagicMic offers multiple voice filters to help you create a better gaming experience in Lost Ark. Apart from more than 200 voice effects, MagicMic updates new sound effects every month.
Follow these steps to customize the character voice with iMyFoneMagicMic:
Step 1: Install iMyFone MagicMic, launch it, and install the software on your device.
Step 2: Next, choose the output and input devices. To use this voice changer, you can simply choose "Microphone" as your input device, whereas, the "Headphones" as the output device.
Step 3: To check the Voice-Changing Effect, you have the option of selecting any voice filter that you like, and then speak into the microphone to understand how the voice sounds on each filter.
Step 4: You can change your voice instantly on various platforms, including Lost Ark via the MagicMic.
Here's what you need to do:
XLaunch Lost Ark, where MagicMic needs to be used, and select the Voice Settings.
When you go to the Input Device option, choose "Microphone (Voice Changer Virtual Audio Device (WDM))."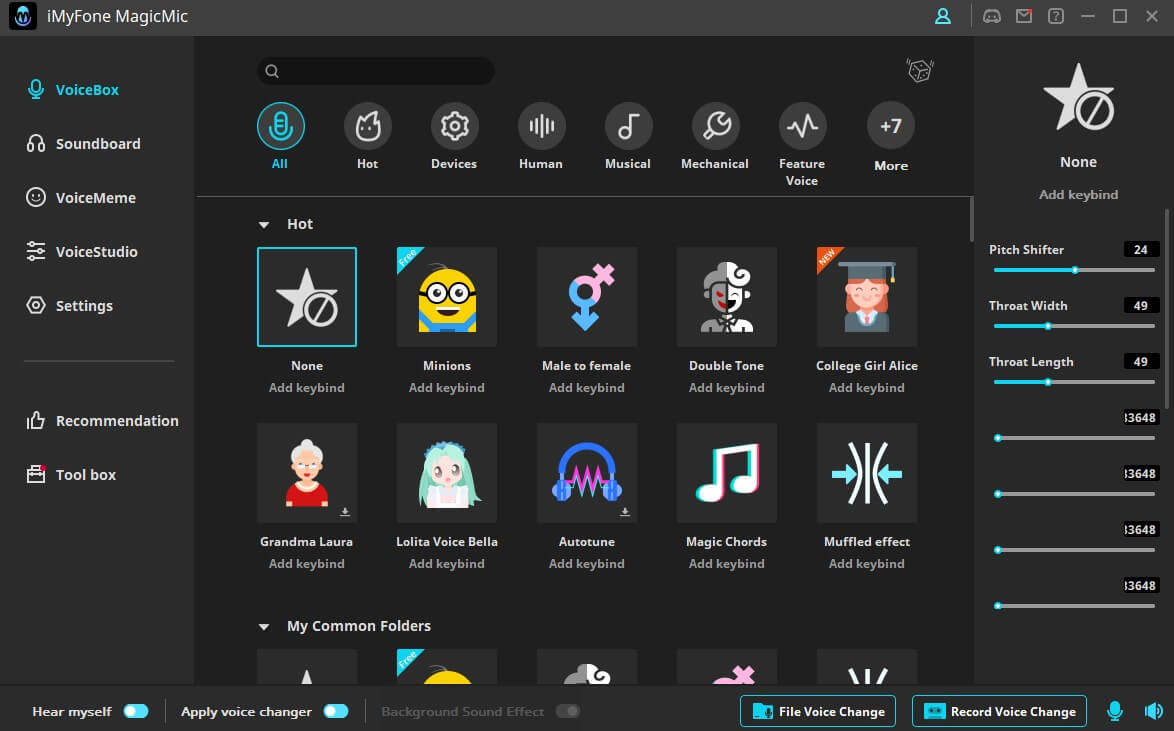 Now, you can easily change your character voice in real-time with MagicMic.
But if MagicMic voice-changing effect doesn't work, you might have one of the following problems:
Your headphones or microphone can't be detected by MagicMic.
Low or no sound on MagicMic.
Solution 1: To solve headphones or microphone detection issues, follow these steps:
1. Go to your Computer, then search "Control Panel."
2. Next, go to Hardware and Sound, and select Sound.
3. Now, check to see if your Headphones (on the Playback option) and microphones (on the Recording option) are available. If your device is Disabled, then you should Enable it.
Solution 2: To solve low or no sound on MagicMic, take the following steps: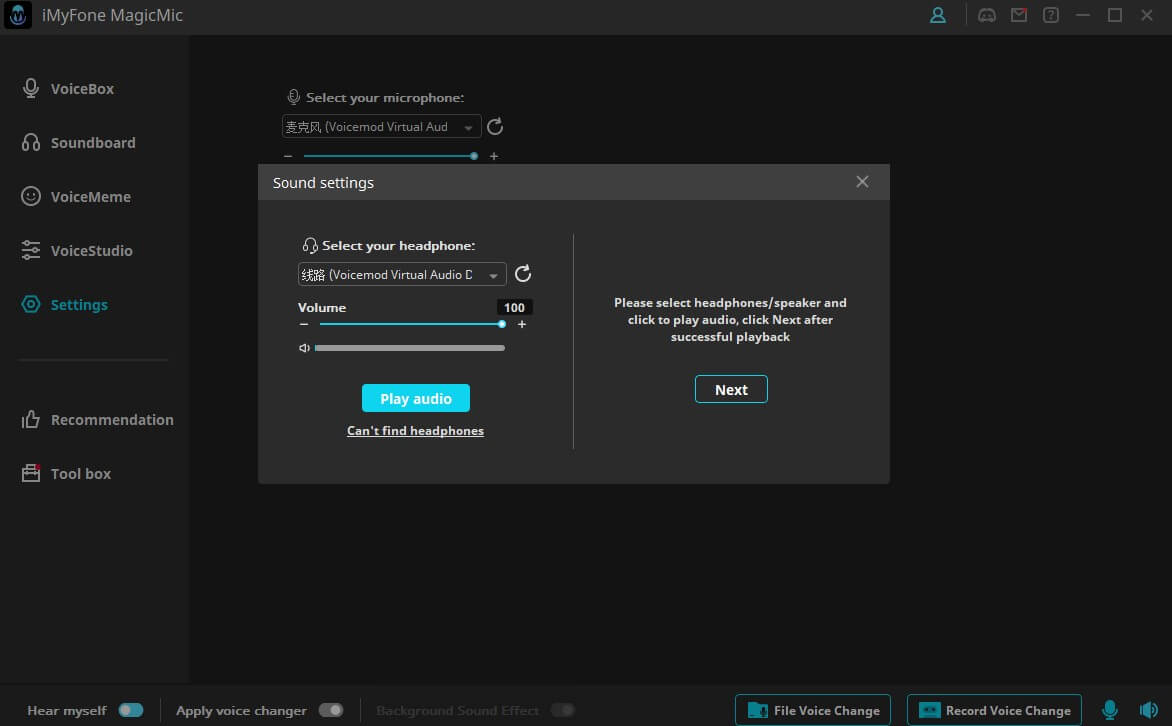 1. Go to the "Settings" on MagicMic and click on the drop-down menu to select the headphones and microphone devices you're currently using.
2. If there is no sound or the sound is too low, try turning up the headphones and microphone volume control.
3. If this setting is correct, the audio volume detection bar changes as you increase or decrease the volume.
4. If the voice changer effects don't work, check and ensure that the "Apply voice changer" button is turned on.
5. If there is no sound when you speak, check the Microphone button and make sure the "Hear Myself" button is turned on.
6. If the echo and noise are very strong, check to see whether the "Noise Reduction" option in the Speaker section is turned on. To reduce the noise, you should increase the noise reduction level.
You can download iMyFone MagicMic by visiting their website https://filme.imyfone.com/voice-changer/
Conclusion
Lost Ark is a grindy, action MMO that got popular soon after its release worldwide. This fantastic game provides its players with character creation and voice selection options. But it doesn't stop there. Even if you've already created your character and selected its voice, you can still change the voice, language, and appearance of your character. Lost Ark change character voice is an amazing option for players who are looking for a change. Moreover, if you want to change your Lost Ark character voice in real-time, iMyFone MagicMic is an incredible option.