Are you a gamer that has ever wanted to modify your voice when playing games with friends?
The word 'voice changer' can cover a lot of things. Some of them change the pitch of your voice, and others turn it into an entirely different sound altogether. While others are multi-functional, allowing you to do both and create whole new voices for yourself.
There is a lot of information available on the internet about how to get a voice changer. But we have found accurate, reliable, and up-to-date information about voice changers.
Part 1: Editor's Favorite Voice Changer [For Windows/Mac]
iMyFone MagicMic is an excellent voice changer software for Windows and Mac. It can modify your voice in real-time and make you sound like a girl, a robot, or anything you want. If you are a game streamer or gamer, use Magicmic to produce more funny moments for your fans.
Change your voice with iMyFone Magicmic You can change your voice to female or children, and there are many popular sound effects. Unlimited possibilities for you to be anyone you want!
Amazing Features:
Support Systems: Both Mac and Windows

The software can work on both Mac and Windows systems to change voice while chatting and playing games.

Change Voice in Real-time

It is a real-time voice changer. You can change your voice in seconds with the hotkey you set.

Audio Files Import

You can import local audio files import which make more sound effects available for you.

Customized Hotkeys for Changing Voice in Games

You can set up customized hotkeys for changing voices in games to make it easier and quicker for you to control the software during gameplay.

Reduce Background Noise

Replace the noise in your voice with the sound of nature, animals, cars, etc.

Voice Studio

You can set up customized hotkeys for changing voices in games to make it easier and quicker for you to control the software during gameplay.
Pros:

User-friendly interface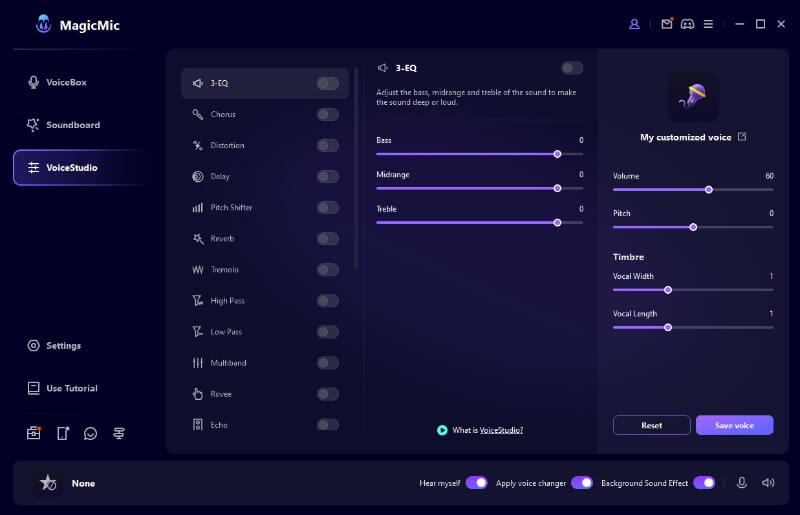 Easy to use

Numerous voice effects
Cons:

It's new and not a famous voice changer yet.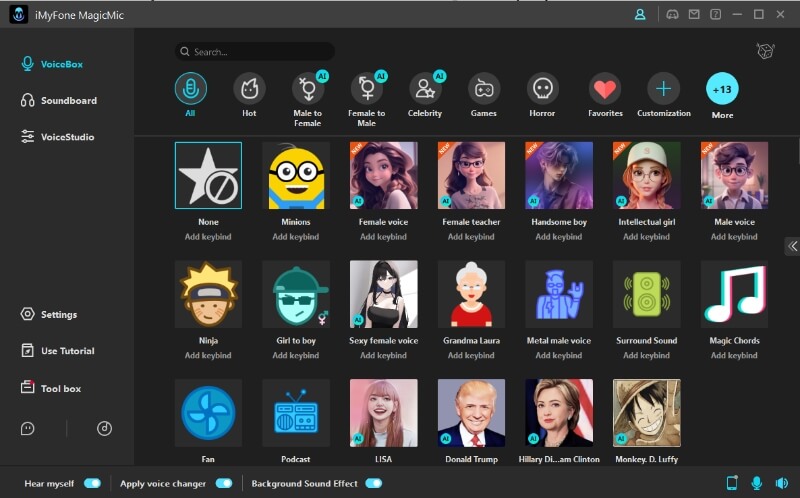 Part 2: Steps to Get a Voice Changer
Step 1: Download and Install Magicamc
Step 2: Open it; you can see an iMyFone Magicmic icon on the menu bar.
Step 3: Click on it, then you will see a popup window like this: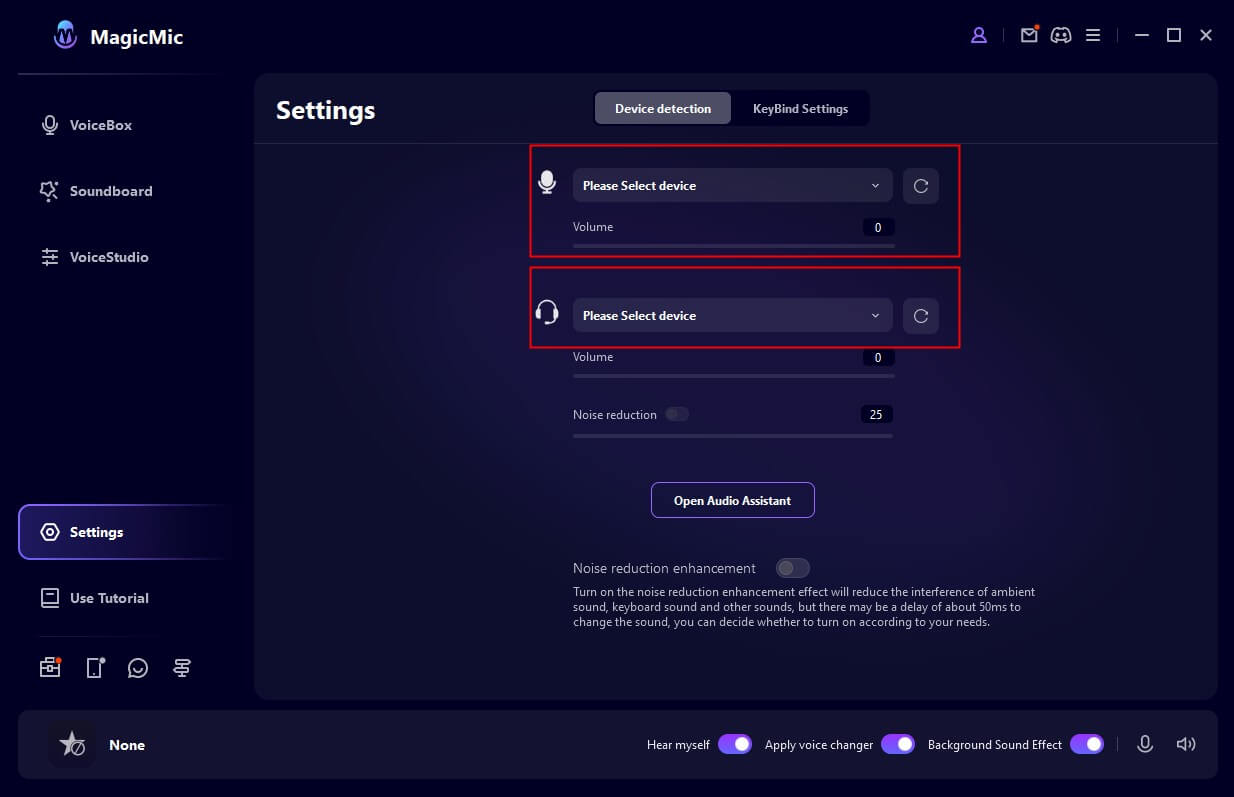 Choose a microphone, and you can select your computer's built-in microphone or connected headset. But if you are not satisfied with the result after recording, you can choose "Built-in Output" to get better sound quality.
Note: Built-in Output may lead to echo, but don't worry, we have an auto-echo cancellation feature that makes it easy to remove echo.
Step 4: Now you have already got an original wav file that includes both the game audio and your voice, but we need to extract your voice only from it! To achieve this goal, click the Next button on the lower right corner of this screenshot: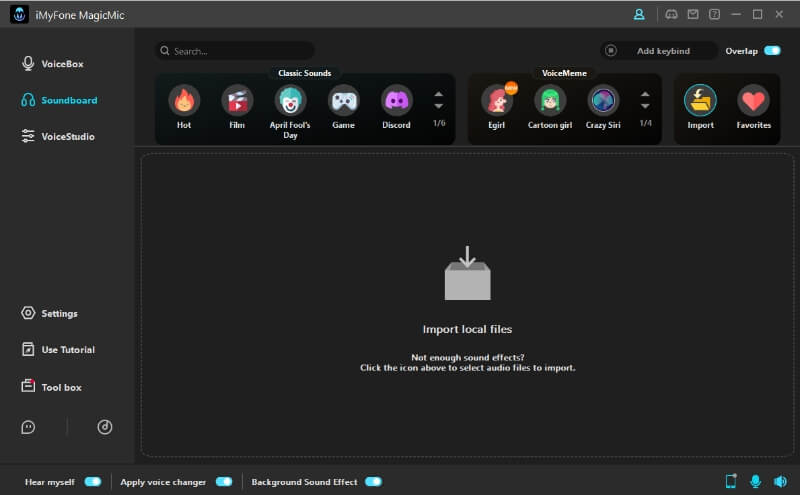 Step 5: when a new window will pop up for you to edit your voice effect settings:
You can change the pitch and timbre of your voice by using the Voice Type dropdown list. Click the Effects button to open the effect window, choose a preset filter or customize your filters to apply to your voice recording.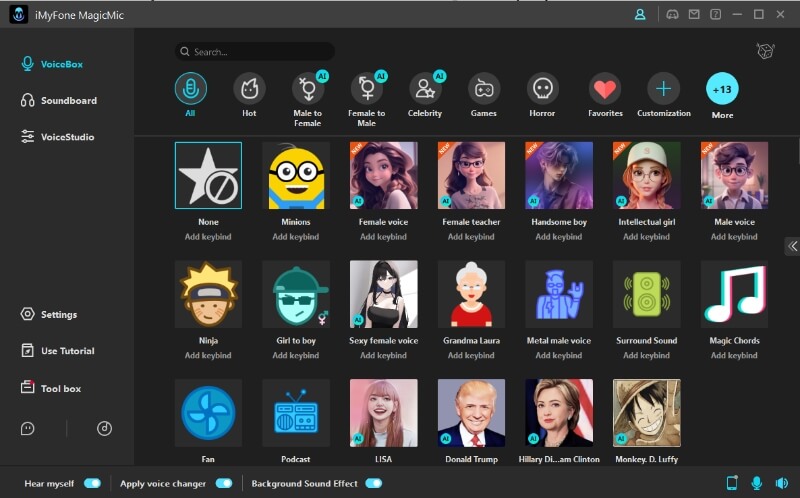 Step 6: When editing is done, click the save button and do real-time voice changing, play sound effects or background music on various platforms.
Part 3: More Voice Changer Choices for Comparisons
Murf is a virtual assistant and voice changer that transforms your phone into a portable sound booth, just like in the movies. With intuitive controls, you can record and change your voice with only a single tap of your finger.
Pros:

Murf will respond to up to 30 different sound commands.

Turn your voice into a high pitch squeaky voice.
Cons:

Murf voices still slightly lag in quality.
Let your imagination come to life! AV Voice Changer does not simply change your voice in real-time. It creates a complete home studio, and its included audio contributions give you endless creative options. Change your voice easily whenever you want with the simple user interface.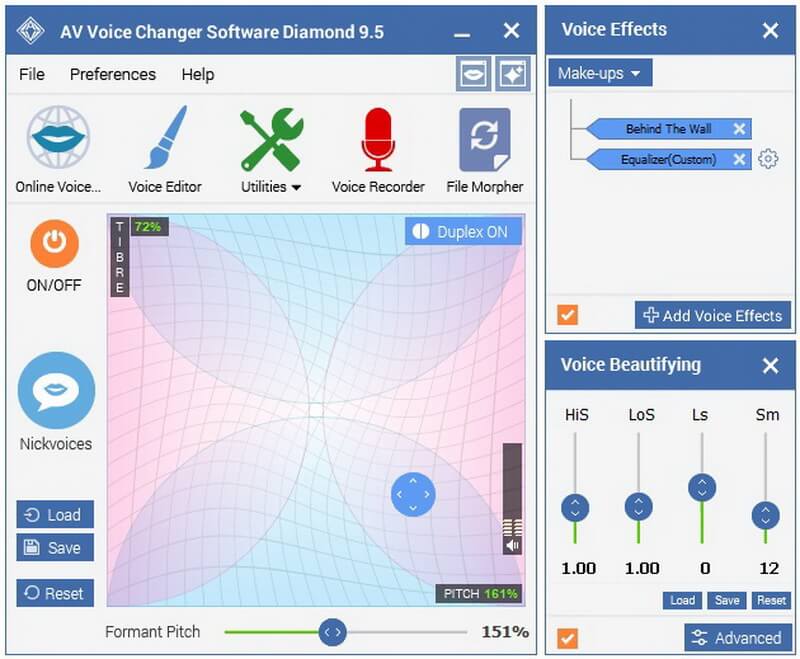 Pros:

Users can change their voices with a microphone.

Audio can also be recorded from external sources like LPs.
Cons:

Its flat interface irks some of the customers.
You can change your voice to enhance your online gaming experience or disguise your age, gender, or identity. Voxal Voice Changer Software is compatible with many voice chat programs and lets you change how you sound using a microphone. Easily create your high-quality voiceovers for movies, radio, narration, and more.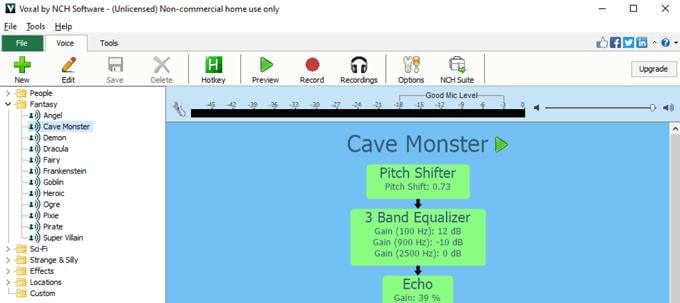 Pros:

Change voices for video games.

Simple to use.
Cons:

Specific effects are unavailable for free.
Conclusion
iMyFone MagicMic is specially designed for all kinds of people. If you ask how to get a voice changer on pc or on discord, iMyFone Magicmic is the best choice for you. We do not just love the magic voice but also focus on improving the quality of voice transformation.
We have found that the critical quality in voice transformation is not to make it sound very mechanical but to convert voices into a natural and fluent manner.
Overall, iMyFone Magicmic is a better voice changer than other voice changers. Its multiple functions of voice changing and audio editing make it a good voice changer and a great audio editor.