When creating a TikTok video, sometimes we need to add some voice to that video. So, TikTok provides a Text-to-Speech feature that lets you add a voice without needing you to do the whole voiceover, which will make things difficult for creating the video. But if you want more, iMyFone MagicMic can help you to make it better.
So, knowinghow to do Text to Speech on TikTok and let you add some text to your video, it will read out that text loud whenever the video is played. The best part is that you can set the duration for specific texts. Here is how to add/fix Text-to-Speech on TikTok.
Part 1: How to Do Text to Speech on TikTok
Text to Speech is one of the best features of the TikTok application and knowing how to do Text to Speech on TikTok can save you a lot of time. You will never have to do retakes with your voice because editing the Text to Speech feature is easier than ever. The best part here is that you get different features and options on different devices, like how to change your text to speech voice on TikTok works across different devices. So, here we will be discussing how to do text Speech on TikTok and how it works on different devices like iPhones and Windows PCs.
1. How to Do Text-to-Speech TikTok [Android]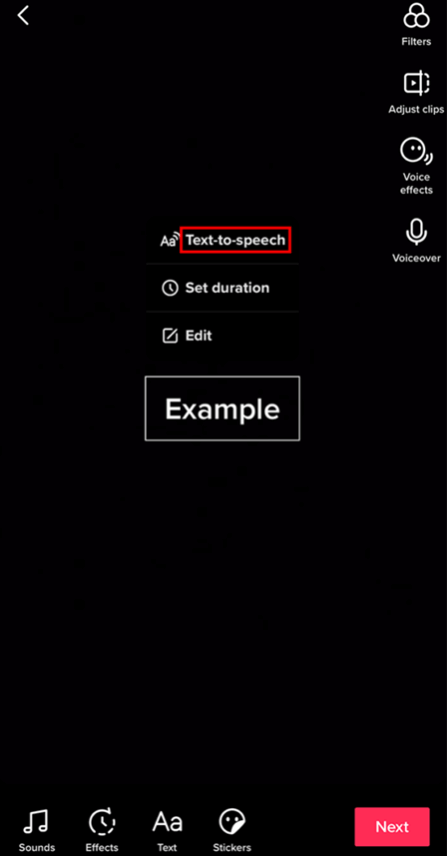 Androids are amazing at providing some of the best features, and adding text to Speech in TikTok is one of them. On your android device, you can do that within no time and using no additional effort. It is because of the easy 4-step process. So, below are the steps and the details about each one.
1.Record your video
The first step is to record your video like you normally do. Go on TikTok's video recording option and record your video the way you want. Once you are done with recording, you can move to the next step.
2.Enter your text
After recording the video correctly, you must go for the text entering option. Click on that and enter the text you want as text to Speech. Just type everything that you want TikTok to read out loud.
3.Select text to Speech
Press "Done/Next" after entering the text, and you can place that text wherever you want to place it on the video. The next part will be selecting text to Speech for that specific text. You just need to tap on the text, and you will get some options. You can tap on the text to Speech and press next.
4.Save your video
The last thing left for you to do is to save your video. Do it just like normal, and you will be done with how to do text to Speech on TikTok.
2. How to Change Text-to-Speech Voice on TikTok [iPhone]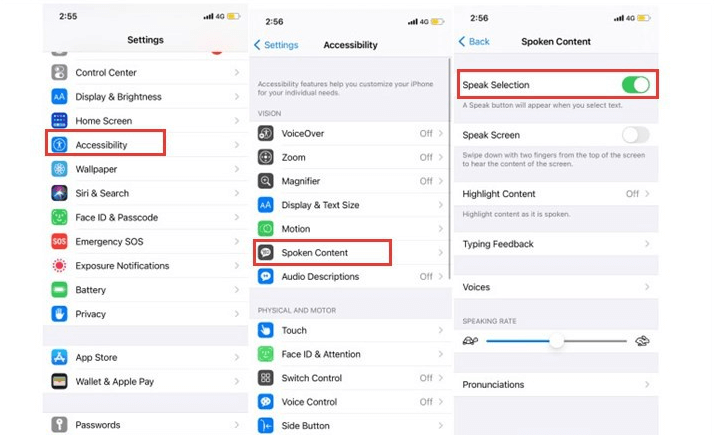 If you have an iPhone, then knowing how to do text to Speech on TikTok is important. It is more important to know how to change your text to speech voice on TikTok. So, if you just want to change the text to speech voice volume on TikTok, then you can do that in the dropdown menu on the right side of TikTok. As for combining videos on tiktok, this article will show you more details.
Just add your text to speech text and then edit the volume. If you want to go one step further and change the voice, you will need to use third-party voice-changing apps on your iPhone.
Part 2: Fix the Missing Text-to-Speech Issue on TikTok
Everyone is talking about the text to Speech feature these days. However, some users are still not finding it while using TikTok. There is no need to worry as a simple fix can resolve the text to Speech TikTok missing issue for you. So, here we will be discussing all the reasons for this issue and your best fix for this problem.

1. What Happened to TikTok Text-to-Speech?
The reason behind the text to Speech TikTok missing issue is the recent update that TikTok made to their text to Speech feature. There was a lawsuit on TikTok from ByteDance, the parent company of TikTok. There must be some incrementation, which is why TikTok had to change the voice of their text to speech feature. While the older voice was less energetic, the newer one was more energetic, and it also has an upbeat voice that makes the new TikTok videos more attractive.
2. How to Fix Missing Text-to-Speech Issue on TikTok?
If you are facing a missing text-to-speech TikTok issue, you do not need to worry. A lot of users are facing this issue, and it is because of the common mistakes that people make. There are 4 simple solutions that you can try, and hopefully, you will fix this issue on your device.

Updating your app
The first fix you can try is updating the TikTok application on your device. As there was a recent update, the chances are that you do not have the latest version on your device, causing you to face the text to Speech TikTok missing issue. So, regardless of your device, update the application, and you will have the issue gone.
Restarting TikTok app or try restarting your device
The next easy fix for how to do text to Speech on TikTok and resolve text to Speech TikTok missing issue is to restart the app or your device. Try killing the app from multitasking and then open it again. If that did not work, you could fix it by force restarting your device.
Update your OS version
Sometimes older OS versions block the latest TikTok updates. So, update your OS version and see if it works for you.
Uninstalling and reinstalling the app
The last fix is to uninstall and then reinstall your TikTok app. That will hopefully bring the text to Speech feature for you.
Part 3: How to Customize Your Voice with MagicMic?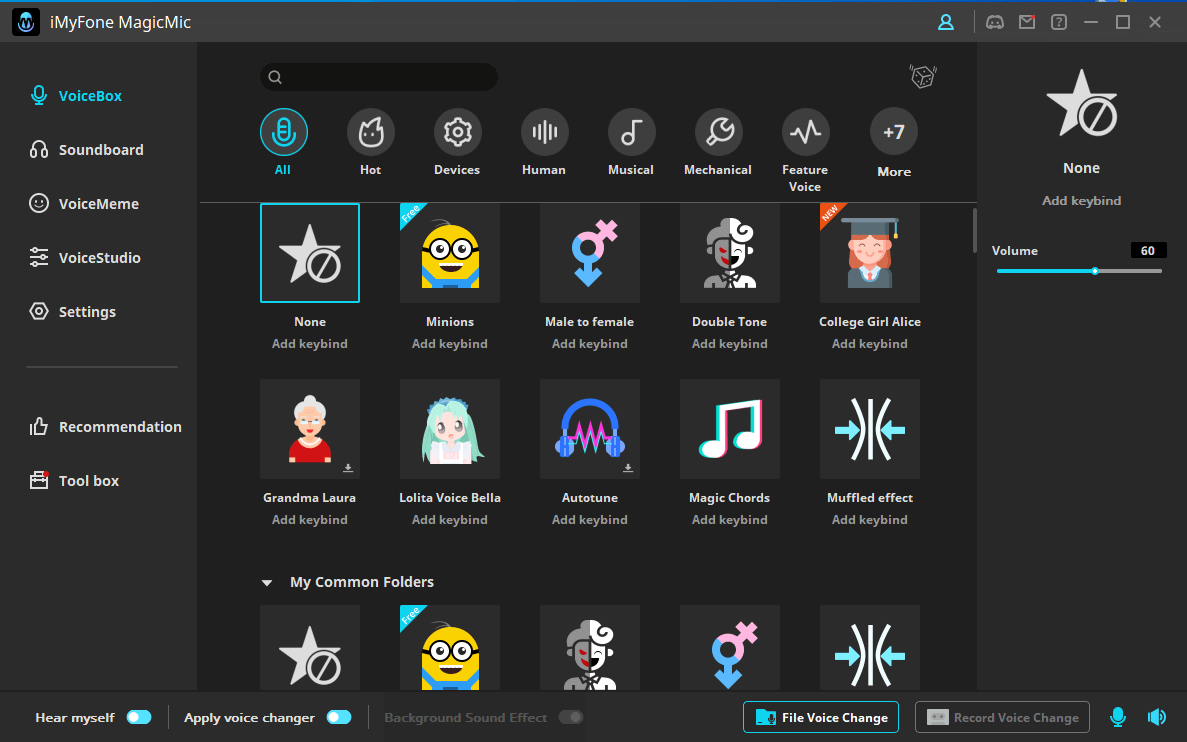 MagicMic is a real-time voice changer tool provided by iMyFone to meet all your content-creating needs. So, if you want to do a voiceover for your TikTok videos or videos across any other platform, then you can easily do it. Luckily, it is pretty simple to achieve with MagicMic because of the easy process and many customization options readily available. So, here is the step-by-step guide on how to change your text to speech voice on TikTok and other platforms using MagicMic.
Instant Voice-changing Experience with MagicMic
The last thing left for you is to know how to do text to Speech on TikTok and change your voice. Start the tool, and you can set the devices of your choice. With that done, you will instantly change your voice in real-time. It brings a very smooth experience for you whenever you face text to Speech TikTok missing error or do not know how to change your text to speech voice on TikTok. Benefits of MagicMic Going with MagicMic brings a ton of benefits, including the following:
Features:
No need to reveal your voice

Anyone else can do your video voiceovers

Real-time voice changing best for streamers

A ton of configuration and customization options. With all these features, MagicMic is the best choice for your TikTok voiceover and content-creating needs.
Steps to Use MagicMic
1. Configure your input and output devices
So, when you first install and use MagicMic, you will need to configure your device. It is important to use the correct device, including a good quality input microphone and high quality output speakers/headphones. After selecting the device of your choice, you can continue and the tool will display a prompt indicating that your device selection is complete.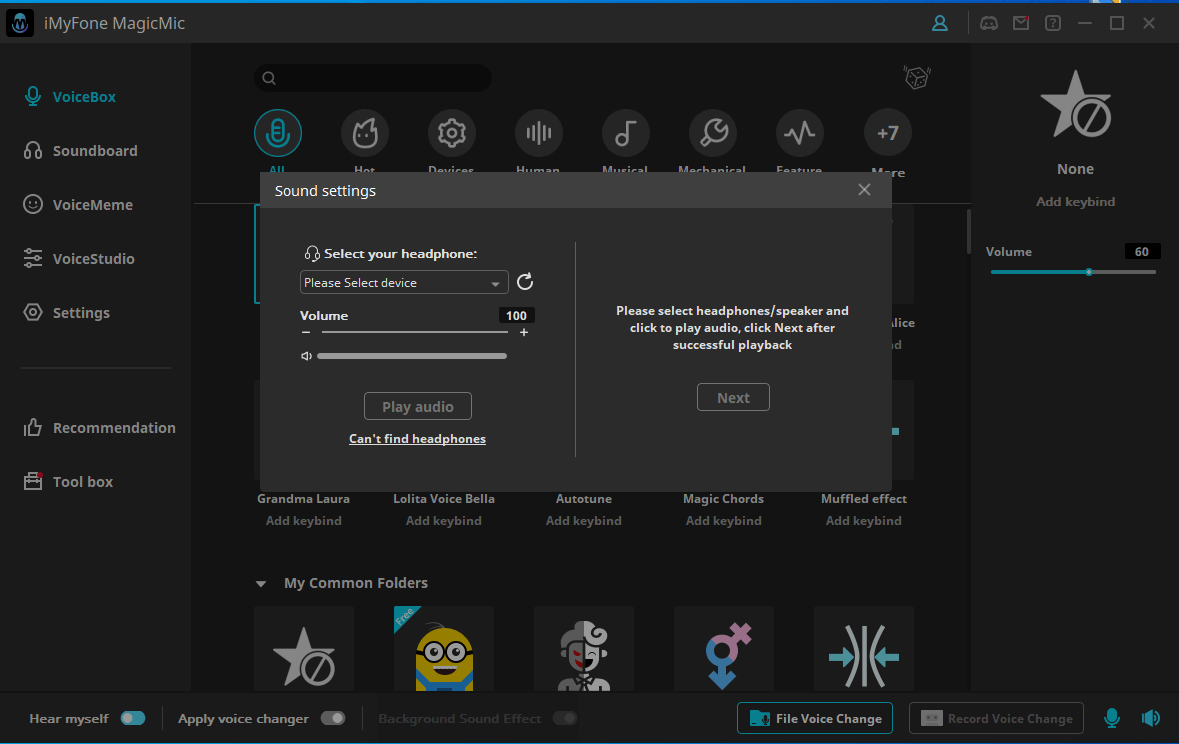 2. Select the effect of your choice
Once the device selection is complete, you can go to the "VoiceBox" tab on the top left. There, you will come across a number of voice converters that you can easily select. There are options such as time, volume, voice tone, etc. that you can configure according to your requirements.
Final Words
Knowing how to do Text to Speech on TikTok can benefit you. It helps where you need to add some additional voice to the videos. However, to take things to the next level, you need to check out MagicMic. It lets you customize your voice with many options and sound effects. So, you will be speaking, but your audience will listen to the voice after iMyFone MagicMic customizes it. This way, you can easily meet all your TikTok voiceover requirements.