Halloween sounds are in great demand, especially during this spooky season. Halloween just being around the corner means that the decorations in people's houses are already up, outfits are already being planned as well as spooky parties for the grand finale of the last day of the Halloween season.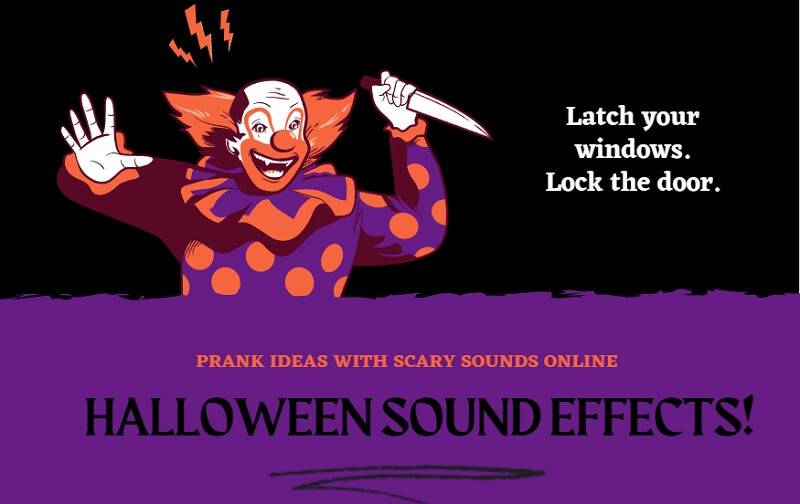 How else would you be able to bring a costume to life other than to use the appropriate sound prank? Yes, this is absolutely possible and this article goes into detail on where to find the right resources and how to use them.
How to Prank with Halloween Sounds?
Scary Halloween sounds and Halloween sound effects can be used in setting the right scene in various ways such as:
Ideas to Prank with Halloween Sounds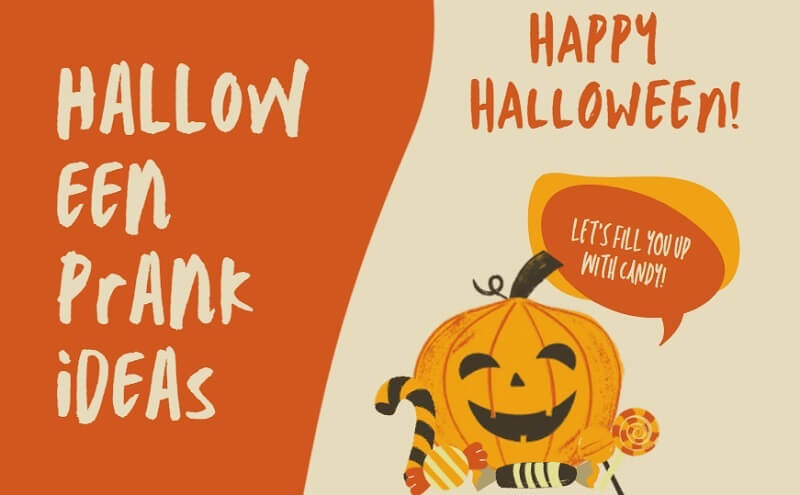 Using them to create a sense of being in a haunted house. Halloween is only Halloween if haunted houses are included. You can use loud spooky Halloween sounds at various points in your house to maximize the impact.
Using them on trick-or-treaters. You can let the trick-or-treaters be met by scary Halloween sounds which are set to be a good prank for sure!
Using Halloween sound effects as fillers between songs during your Halloween party will elevate your guests' experiences. You can make them very loud and eery which not only goes with the Halloween theme going but will definitely get people scared.
Using Halloween soundtracks as part of your voicemail message is a great way to prank your friends and family.
You can also use Halloween sound effects in creating fun slideshows and videos for your Halloween movie night. Using background Halloween sounds on pictures is a great idea too!
10 Popular Scary Sound Effects for Halloween

1. The voice of a ghost child. This can be executed by having a Halloween sound of a ghost child calling onto its mother, or father, or even singing a children's song but creepily.
2. A ticking clock. The sound of a loud clock striking midnight is terrifying and perfect for Halloween.
3. Ghost voices. Ghost voices make the perfect addition to a prank.
4. Haunted house noises. This is perfect for creating the feel of being in an actual haunted house, except for the fact that you do not need to leave your house to create the experience.
5. Creaking door. Freaky creaky doors sound effects are the best way to spice up your Halloween parties as they scream horror.
6. Zombie growls: Zombies are yet another aspect that makes Halloween what it is. The sound is usually raspy and almost inaudible of people who have resurrected from their graves.
7. Vampire sounds. You can get Halloween sound effects simulating vampires doing their rituals of drinking blood.
8. Cackling witch. Witches' laughs sound horrific and that is why they make the best Halloween sound effect.
9. Thunder. The sound of booming thunder can be horrific.
10. Bats. A recording of the vocalization of bats is very much in tune with the Halloween mood.
Amazing Halloween voice changer with a huge scary sound effect
MagicMic is popular for being the best real-time voice changer. It allows you to change your voice to whichever one you would prefer all in real-time which is what you need during this spooky season. Some of the key features of MagicMic include: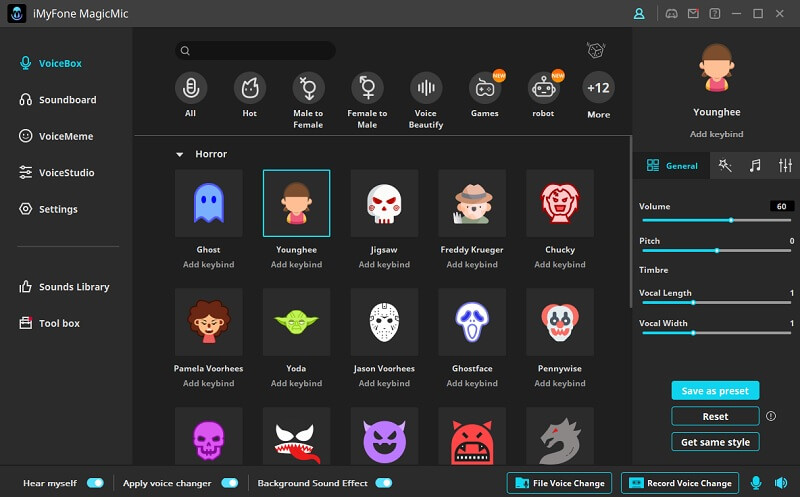 Features:
1. MagicMic works in real-time.You do not need to prerecord anything. The sound effects and voice changer are all in real-time.

2. MagicMic offers the chance to record as well and then change the voice as a file if that is what you are looking for.

3. This app has more than 150+ voice memes and more than 300+ voice effects that one can choose from. They have an array of scary voices and sound effects that will come in handy this spooky season.

4. It allows you to customize your very own soundboard that you can use on various online platforms.

5. It is compatible with both Windows and Mac operating systems and it gives you the choice to assign keybinds to various sounds such that you can use them whenever you need to without having to interrupt your audio.

6. MagicMic 's sound effects can be manipulated in various ways such as muting, replaying, overlapping, and even cycling.
The Scary Voices on MagicMic: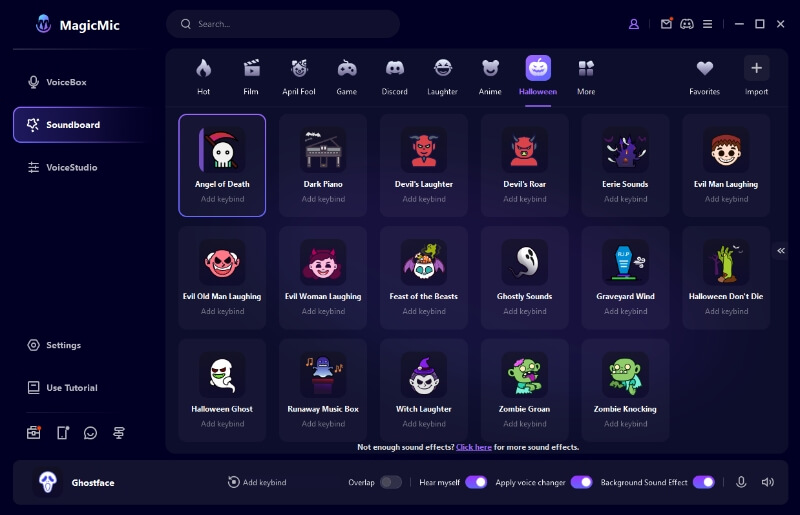 Ghostface voice
Pennywise voice
Vecna voice
Squid game Youngee voice
Titans
Spooky Halloween sounds on MagicMic:
Light footsteps
Horror laughter
Horror scream
Ghost sound
Suspense progress
Watch Video Guide About Halloween Voice Changer
3 Ideas to Prank with MagicMic on Halloween
You can use MagicMic on Halloween to:
Idea 1: Play a prank on your friends while playing online games. If you enjoy Fortnite, this is a perfect time to make your own soundboard with MagicMic, and right in the heat of the game, change your voice using the effects and then change it back. Your friends will think your game is haunted or that you have even been hacked.
Idea 2: You can also use sound effects and voice-changing effects when on a video call or a zoom meeting to prank your colleagues.
Idea 3: Background sounds can be used to prank your loved ones when sending them voice notes as well as telling them you think there may be something weird happening in your house.
Steps to Change Voice and Play Soundboard with MagicMic
Step 1: The first step would be to launch iMyFone MagicMic on your operating system.
Step 2: Select your output and input devices of choice. You should choose your headphones to be your output device and your microphone to be your input device.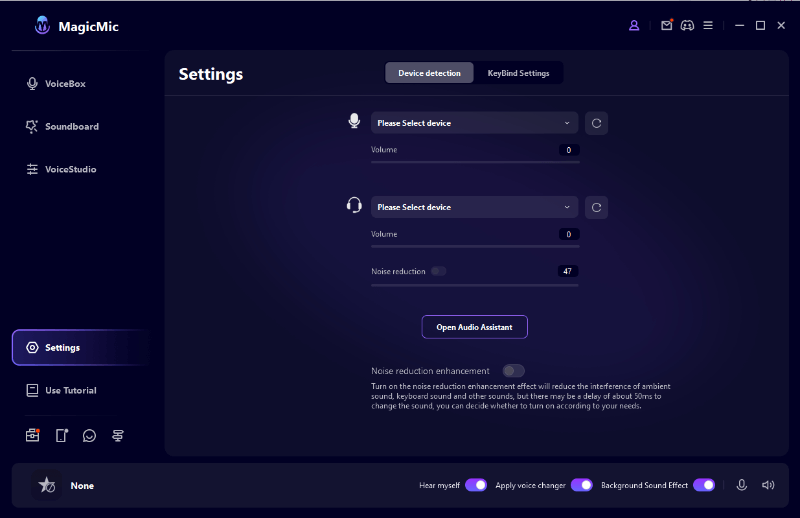 Step 3: Check your effects. You can now click on any voices, talk into your input device and you will be able to tell how much you like the alteration.
Step 4: Import or select memes. You can either use the readily available memes or import others from other websites.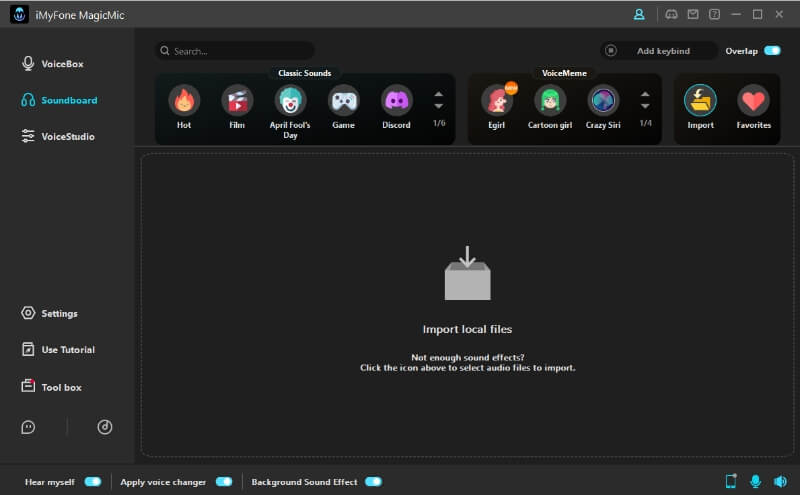 Step 5: After finishing all the settings on MagicMic, you will be able to use the soundboard on any gaming site as well as other uses.
5 Website for Scary Halloween Sounds Download?
MagicMic is a real-time voice changer application with more than 300 sound effects to choose from which makes it the best source to get your various Halloween sound effects. MagicMic has various sound effects that can be used for Halloween.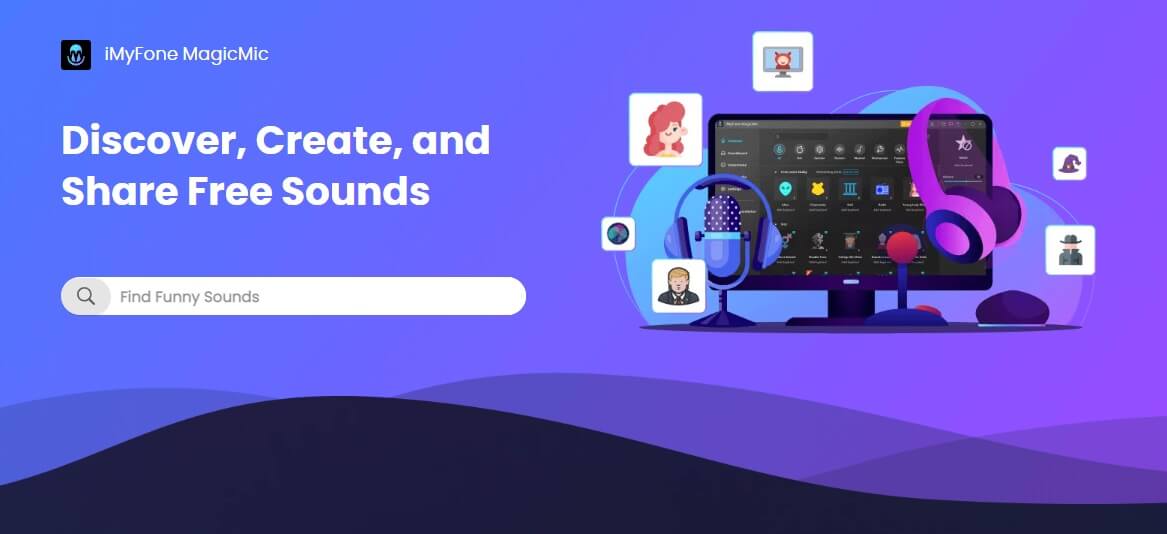 Halloween sounds are used in various Halloween installations throughout the world. They are sold on iTunes. The horror soundtrack by Halloween sounds has even been featured on BBC World Service as well as BBC Radio.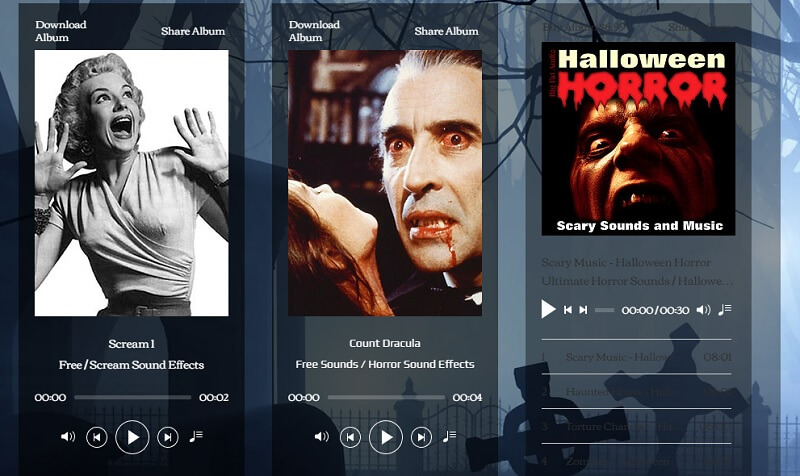 This is a free online library that allows you to download various Halloween sound effects. Their Halloween range of sound effects is quite big and includes scary sound effects.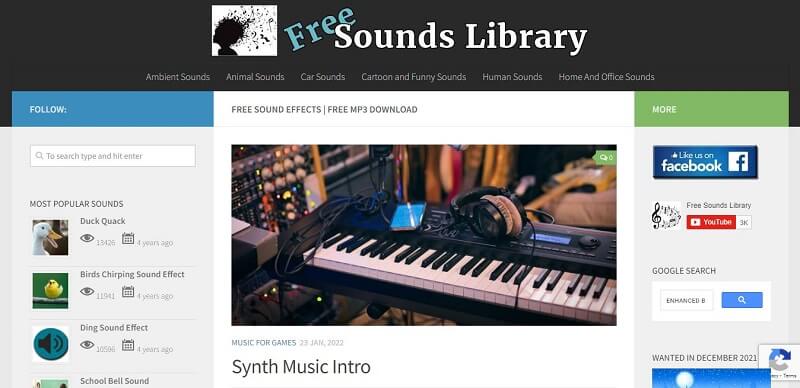 This is yet another website where you can find an array of Halloween sounds for free. All the files on the website are available both in MP3 as well as in WAV formats. They offer their sound effects which are royalty free for free which makes them accessible to many more people all around the world.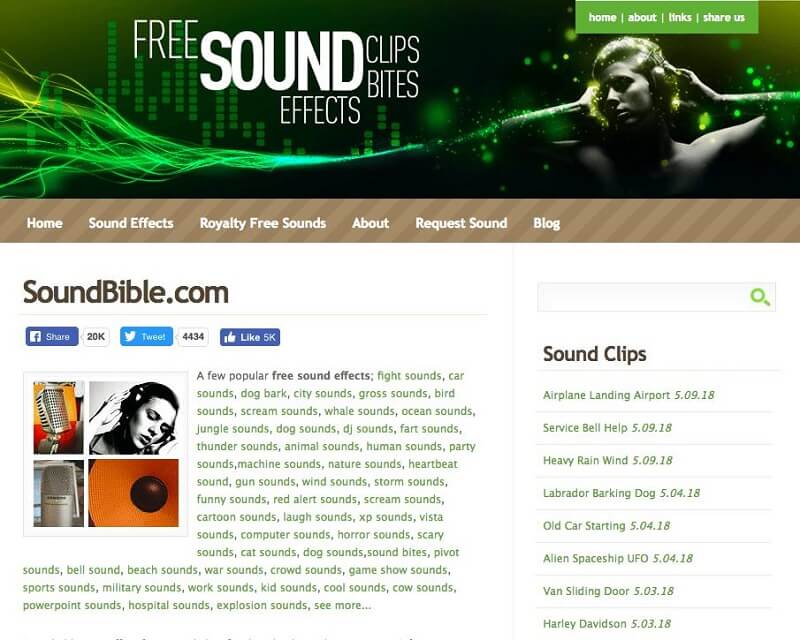 Felsiyan studios is another website where one can get royalty-free spooky Halloween sounds for free. Some of the free Halloween sounds download are free.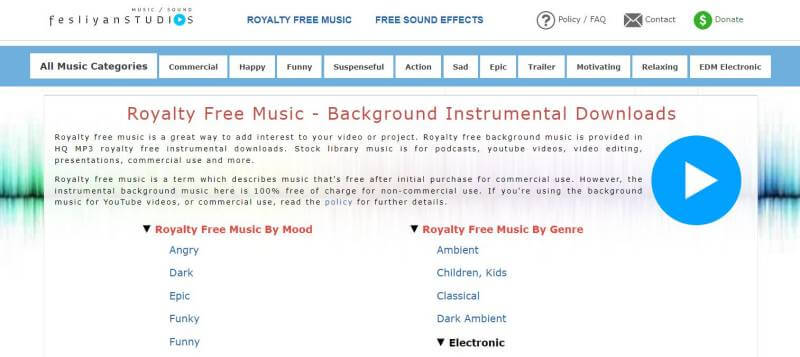 Conclusion
Halloween sounds are very unnerving and powerful when used in the right setting as they can evoke a lot of suspense and fear. As seen above, there are quite a number of websites which one can download their Halloween sound effects from. However, MagicMic continues to stand out.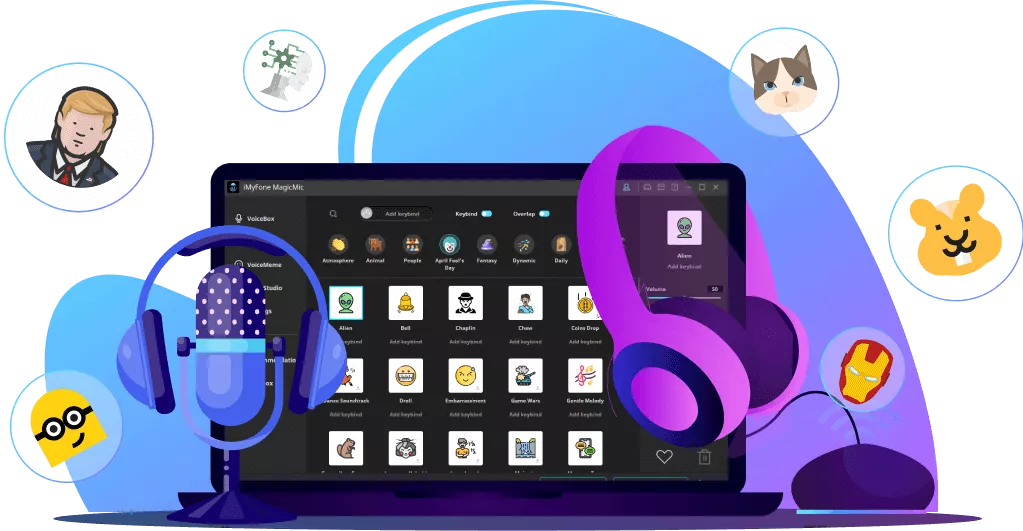 100+ Voice effects for one-click voice changing in real-time.
Huge library with 300+ Voice Effects and 150+ Voice Memes.
Sound emulator in games, live, chatting, online classes, and more.
Voice recording and audio voice changing is supported.
Voice studio lets you create any voice you like.