Funny Christmas memes never get old. Surely Christmas is the best time of year to spend quality time with family and friends and have a lot of fun.
But the "Christmas-y" spirit gets hyped when you start sharing memes with your family. These things really make the time memorable!
So, here are great ideas on how you can apply and create great Christmas memes that your friends will remember for a whole year!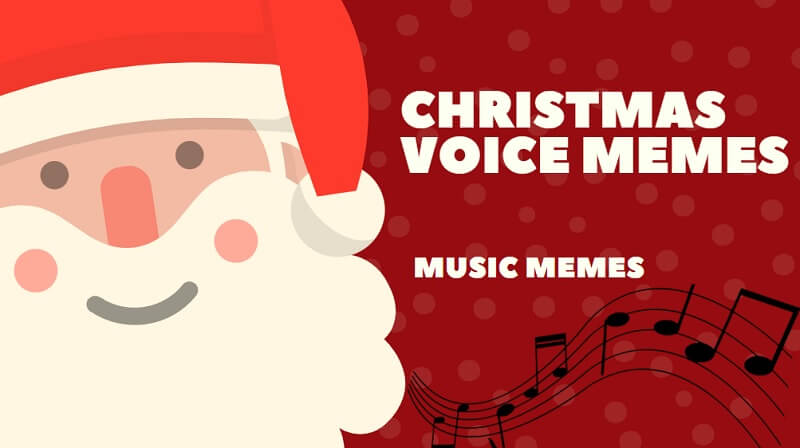 5 Funny Christmas Memes You Can't Miss
Classic and Popular Christmas Music Meme
Memes have to be funny. So, choosing the right one to send on Christmas is really crucial. But worry no more. I have shortlisted the top 5 funny Christmas memes that you can send without any hesitation.
1. We Wish You a Merry Christmas
We Wish You a Merry Christmas is perhaps the most popular Christmas song. It is catchy, but you can make it even more awesome by making its memes. You can add different sound effects like dog barking, thunder, cartoon-style, etc.
Also, if your friends/family follow politics, you can make memes in politicians' voices like Obama, Trump, etc.
2. Jingle Bells
"Jingle Bells" is another famous song that is played/sung on Christmas. It can be made into an interesting meme by adding sound effects like Airhorn, Wally Wow, or anyone which you think will make the meme more entertaining.
You can either edit an already recorded audio, or sing it live on a call (more on that later about how you can do this).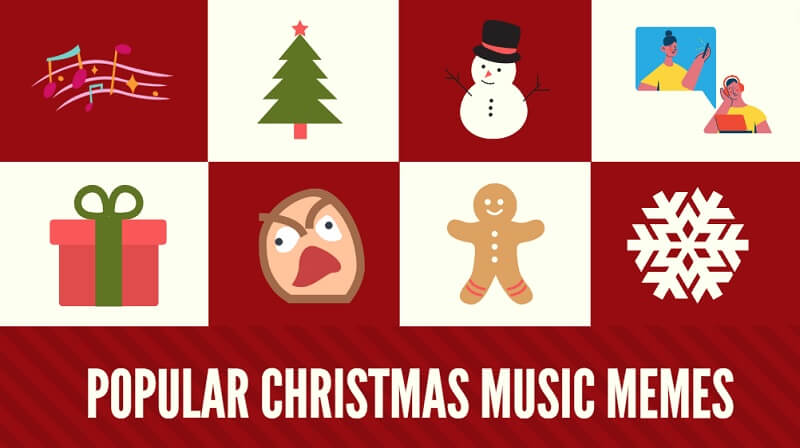 3. Nightmare Before Christmas- What's This?
Nightmare Before Christmas is the first movie choice for lots of people to watch on Christmas. The What's This and We are Number One pair really well to make a meme.
Also, add sound effects like Robot, Elf, Monster, cat meowing, etc., to make it more catchy.
4. O Come All Ye Faithful
O Come All Ye Faithful song has a super melodic tone that makes the feet move. But did you know you can make a great meme out of it? Well, yes.
You can add literally any sound effect there and get a perfect Christmas meme out of it. So, try using the O Come All ye Faithful song to make the snappy meme.
5. Deck The Halls
The last idea I have for you is to use Deck The Halls song/tune and make it even more phenomenal in the form of a meme. There are already memes on social media in which editors added the rapper's sound effects.
You can also put in effects like Santa Claus, Minions, Venom, Goblin, and other trendy effects.
However, you have to be really careful about the sound effects you are adding. If they are not real-sounding, then the whole meme will be ruined. Don't worry; Out of all the apps you can use, I have the best voice changer you can use to make Christmas memes.
How to Apply Christmas Memes on Voice Chat?
Do you want to change your voice while playing video games, doing live streaming, or conversing with friends? If so, it is now possible thanks to the finest voice changer for PC and Mac called MagicMic.
What makes MagicMic the best voice changer? Let's discuss everything about MagicMic.
MagicMic - Voice Changer for Online Voice Chat
MagicMic is the best voice changer to use if you are planning to play a prank on your friends or if you want to change your voice just for fun.
It is the best software because it includes practically all the functionality of the voice changer, such as voice and sound effects, voice customization, keybinds control, voice-altering background sound, etc.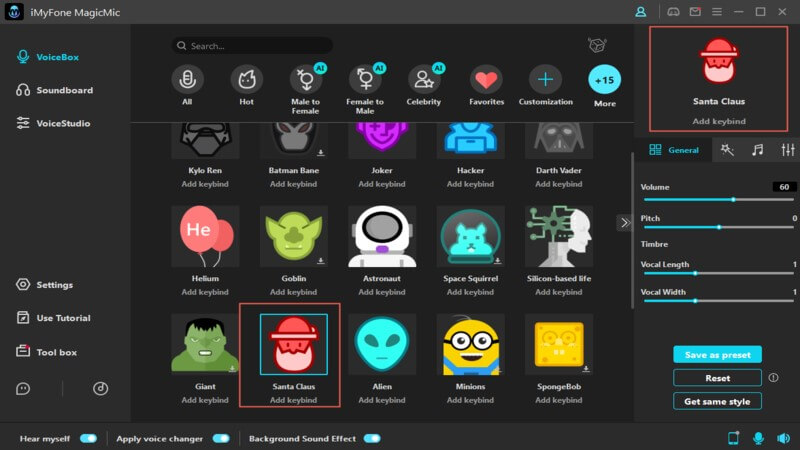 Features:
Changes Your Voice in Real-Time with 125+ different voice filters for voice chat online while gaming and so on.

It has 400+ Voice Effects and 200+ Voice Memes,including Christmas music memes.

Voice changing and voice recording for audio files are supported.

It is extremely user-friendly with a fashionable interface.
Popular Sound Effects
Are Christmas memes funny? Of course, they are. To make them, here are some popular sound effects of MagicMic that you should use while making memes:
Vine boom
Roblox oof
Bruh
Quandale dinge voice memes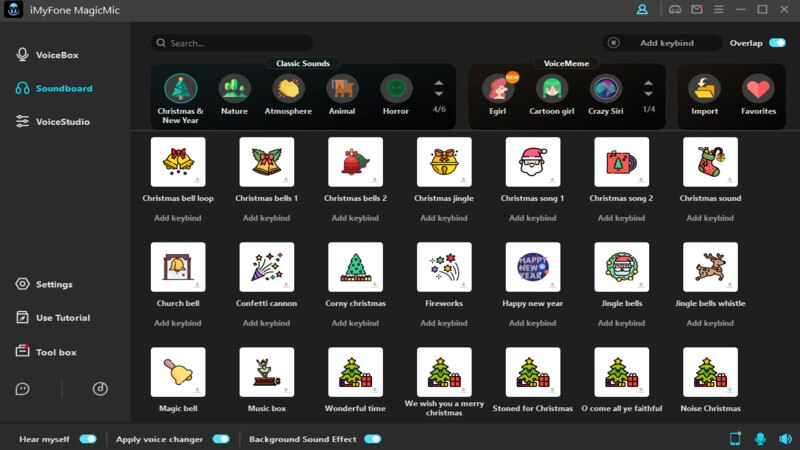 In addition, you can also make Christmas cat memes and Christmas music memes there. That's not it. You can also go for the Nightmare before Christmas meme with MagicMic.
Step to apply Christmas music memes with MagicMic
Let me tell you how you can apply voice memes with MagicMic.
1.Install the MagicMic app on your device.
2.Next, choose the output and input devices. The Headphones serve as "Output" and the Microphone devices as "Input." The Sound Setup is complete message will then pop up.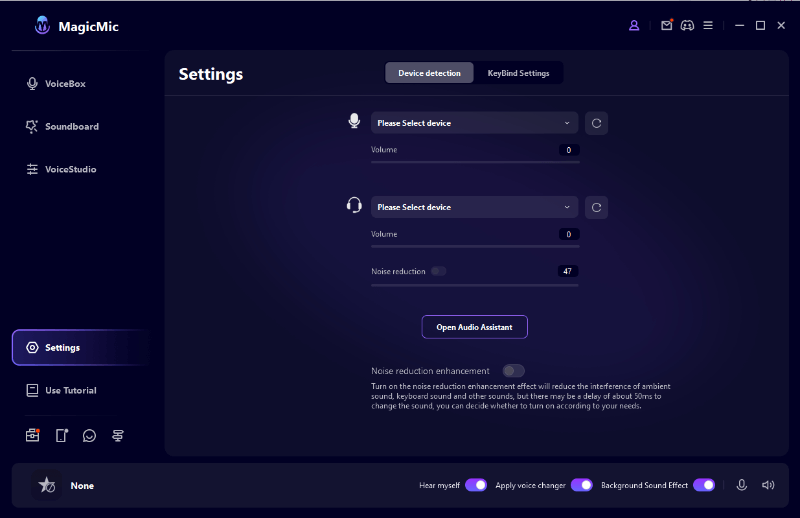 3.If you want to use MagicMic with any other app, open that app's settings. Go to Audio and there, select Microphone (Voice Changer Virtual Audio Device (WDM) as the input.
You can then choose any voice/effect and start having fun while playing Christmas games.
If you are not using MagicMic with any other app, you can simply open its interface and start using it straight away. Every sound effect will be on your screen. You can also record the audio there and then add the voices/effects to make the meme as funny as possible.
It's that simple.
So, show your fun side to your friends and family and use MagicMic!
Watch Video Guide About MagicMic Voice Changer for Chrismas
Conclusion
Christmas is the most wonderful time of the year, which gets even better with funny Christmas memes. But many people don't have an idea about how they can make cool & entertaining memes.
I discussed the top ideas here that will make the time memorable. But to make them work, you will need a top-quality app.
For this, use MagicMic voice changer. It is a top-notch voice-changing app that lets users change their voice to any other (like Robot, Ghost, Minion, Monster, etc.) within seconds. You can choose from 600+ sound effects and make the audio even more interesting.
So, download MagicMic and apply Christmas funny memes for voice chat now.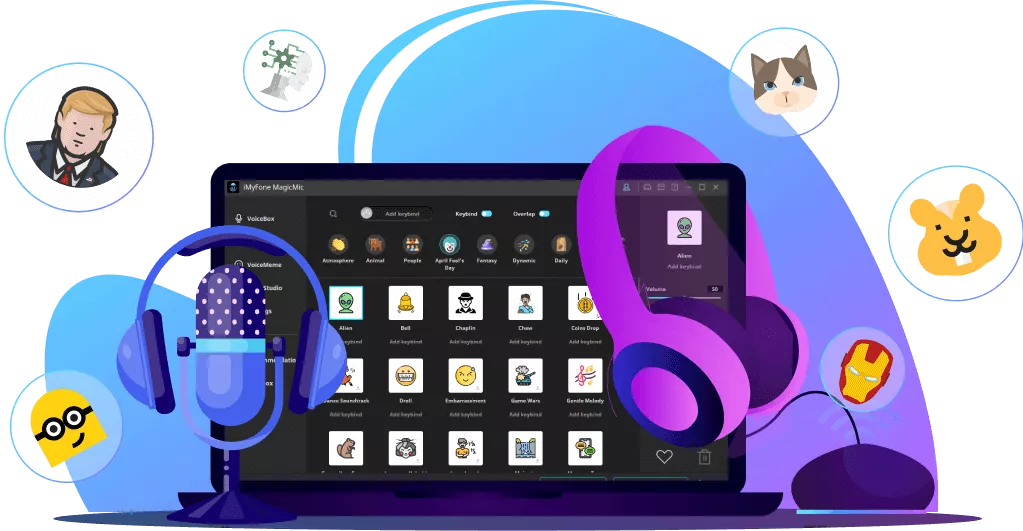 125+ Voice effects for one-click voice changing in real-time.
Huge library with 400+ Voice Effects and 150+ Voice Memes.
Sound emulator in games, live, chatting, online classes, and more.
Voice recording and audio voice changing is supported.
Voice studio lets you create any voice you like.