Are you intrigued by the idea of harnessing the power of AI voice technology to replicate the captivating voices of Corridor Crew and Corridor Digital? Your search ends here! In this article, we embark on an exciting exploration of the Corridor Crew AI voice, cutting-edge Corridor Crew voice AI solutions, and the revolutionary Corridor Crew voice generator.
Whether you're a fan of their content, a content creator yourself, or simply someone interested in enhancing your audio projects, these innovative tools are poised to transform your audio experience and captivate your audience in new and exciting ways. Join us as we dive into the future of voice technology and its incredible potential in replicating the unique vocal charisma of Corridor Crew.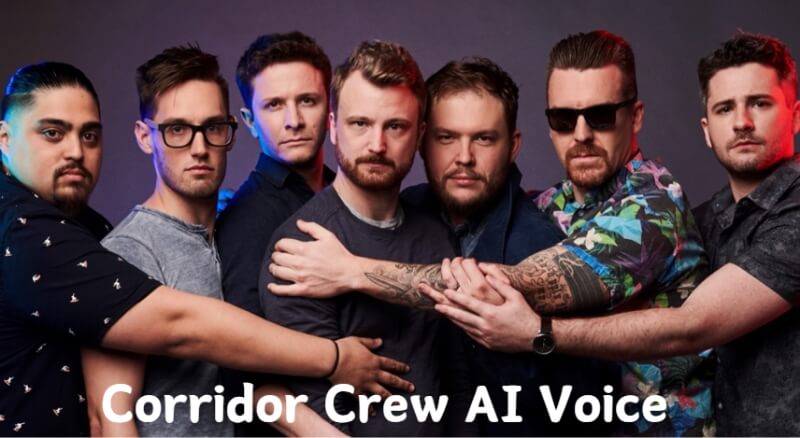 Part 1: Info about Corridor Crew
Corridor Crew is a renowned YouTube channel stemming from Corridor Digital, a filmmaking and visual effects studio. With a focus on filmmaking, VFX, and behind-the-scenes content, Corridor Crew is famous for its "VFX Artists React" series. In this series, professional VFX artists analyze and critique special effects in movies and TV shows, often with humor and insights. They've also produced popular subseries like "Stuntmen React" and "VFX Artists React to Bad & Great CGI."
Corridor Crew frequently features guest appearances from industry experts, adding depth to their discussions. Beyond VFX, their "VFX Artist Reveals" series delves into science and technology topics, providing real-world context for iconic objects and phenomena. This channel has garnered a substantial following, offering valuable insights into the world of filmmaking and VFX.

Part 2: How to Generate & Sound Like Corridor Crew AI Voice?
iMyFone MagicMic real-time voice changer is an advanced AI voice modifier tailored for Corridor Crew fans. This cutting-edge tool boasts an extensive feature set, including 250+ AI voice filters, 600+ voice effects, and a library of 200 voice memes.
Perfect for gamers and content creators, it excels in real-time voice transformation and precise sound replication, elevating the audio experience. This user-friendly feature empowers users to effortlessly create unique voices, adding a fresh dimension to their content and projects. MagicMic is the go-to choice for injecting creativity and Corridor Crew's AI voice charm into audio content.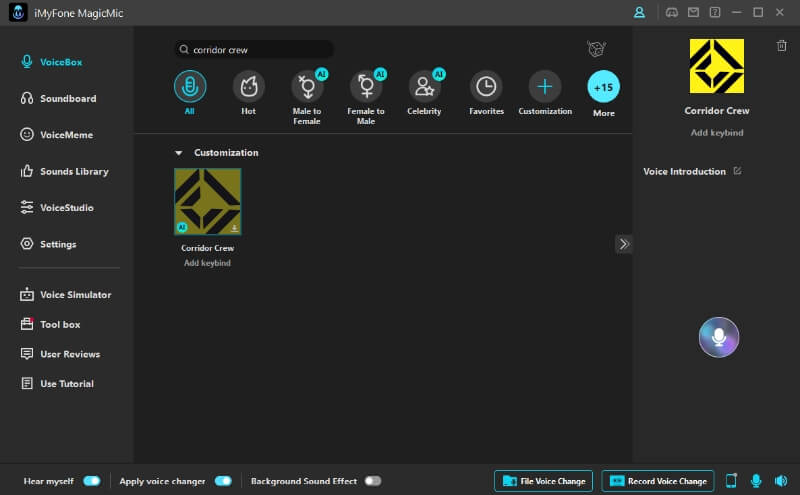 How to use generate the same voice like Corridor Crew?
Step 1: Acquire and Set Up MagicMic Software
Start by downloading the MagicMic software from the official website or the provided button. Then, designate your primary microphone as the input device. Ensure you activate "Apply Voice Changer" and "Hear myself" by selecting the respective buttons at the bottom.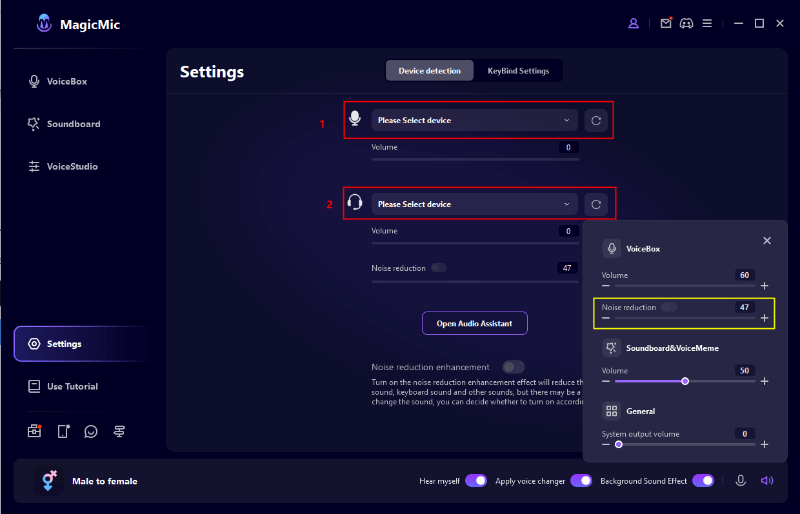 Step 2: Select MagicMic Virtual Audio Device
In the application where you wish to modify your voice, opt for "Microphone (Voice Changer Virtual Audio Device)" as your input source.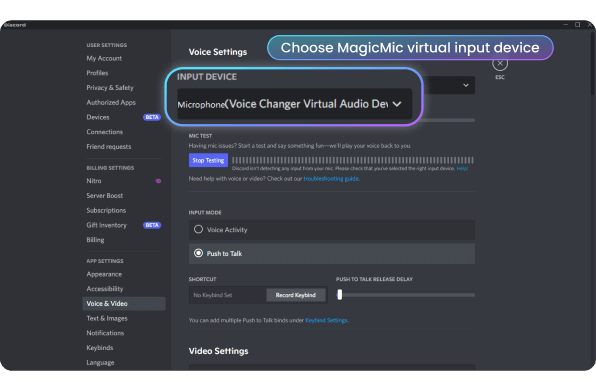 Step 3: Choose or Personalize Your Corridor Crew AI Voice
Explore preset voices in the "VoiceBox" or establish gaming hotkeys for added convenience. If your desired voice isn't in the presets, utilize the "Customization" feature to upload your audio clips, creating a wholly unique auditory experience.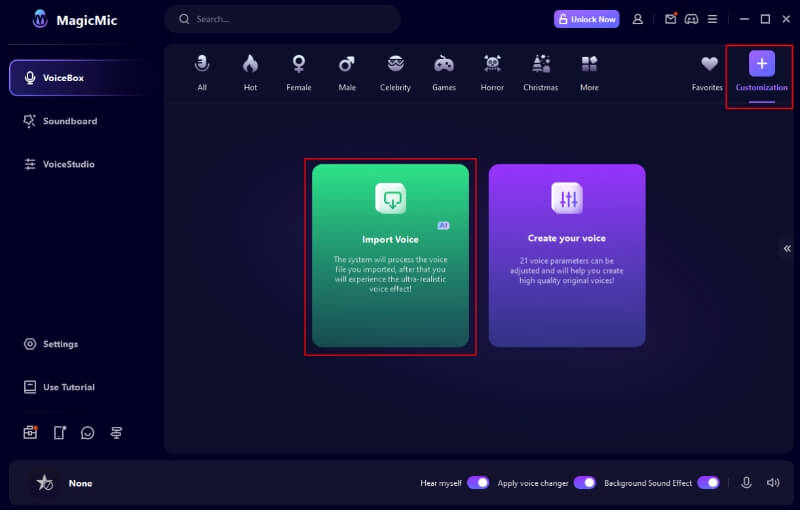 Key features of MagicMic Corridor Crew AI voice changer
More than 250 voice filters, 600 soundboards, and 200 voice memes at your disposal.

Achieve real-time, top-notch voice modification with minimal delay across multiple platforms like Discord, Skype, Zoom, Twitch, and Roblox.

Simple customization of hotkeys for effortless in-game audio management.

Capture and improve audio from any source to elevate content quality.

Efficient noise reduction ensures crystal-clear communication even in noisy surroundings.

Enjoy cross-platform compatibility, including Windows, Mac, Android, and iOS, for smooth and hassle-free operation.

Craft your personalized AI Voice, tailoring it to your specific preferences.
VoxBox stands as the ultimate Corridor Digital AI voice generator, offering complimentary text-to-speech capabilities that revolutionize audio content production. Featuring an extensive collection of over 3200 lifelike text-to-speech voices in 46 languages, VoxBox leverages AI voice replication to supply instant, nearly 99% accurate human-like voices. This empowers content creators to tap into the potential of personalized, authentic AI voices, taking their projects to unprecedented levels of quality and realism.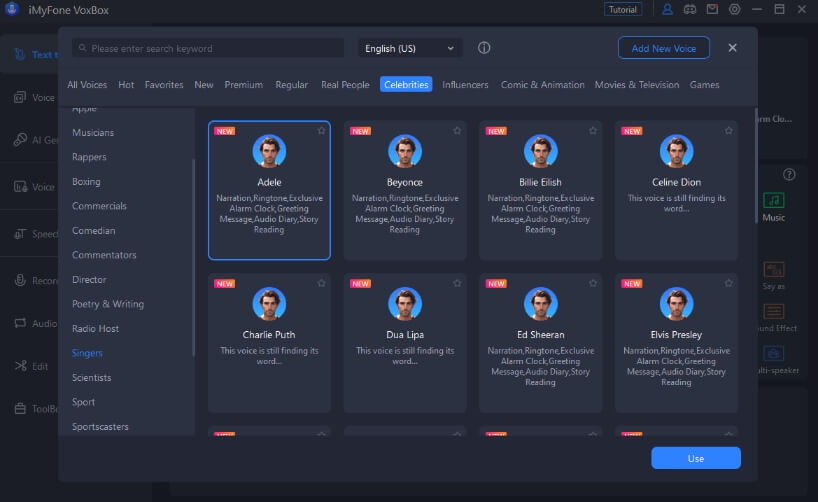 Key features of VoxBox
Highly accurate, human-like voices instantly via cutting-edge AI voice cloning technology.

VoxBox boasts 3200+ natural-sounding text-to-speech voices across 46+ languages.

Benefit from cost-efficiency, user-friendliness, speed, and strong security with VoxBox.

Content creators can employ custom AI voices to personalize their projects.

VoxBox is compatible with top-notch audio formats like MP3 and WAV.
Part 3: FAQs about Corridor Crew AI Voice
1. What is Corridor Crew AI Voice?
Corridor Crew AI Voice refers to the use of artificial intelligence (AI) technology to replicate the voices associated with Corridor Crew, a popular YouTube channel and filmmaking studio. This AI voice technology allows users to mimic the distinctive voices of Corridor Crew for various creative and entertainment purposes.
2. What can Corridor Crew AI Voice be used for?
Corridor Crew AI Voice can be used for a wide range of applications, including video production, content creation, voiceovers, and more. It allows users to incorporate the charm and humor of Corridor Crew into their projects, adding a unique touch to their content.
3. Are there tools or software available for Corridor Crew AI Voice?
Yes, there are AI voice modulation tools and software available that can replicate the voices of Corridor Crew like MagicMic and VoxBox. These tools often come with features for real-time voice transformation and customization, allowing users to adjust the AI voice to their specific needs.
Final words
With innovative solutions like MagicMic, which harnesses the charm of Corridor Crew's unique voices, creators now have a powerful tool to elevate their projects to new heights. The vast array of customization options, real-time voice alteration, and compatibility with various platforms make MagicMic a game-changer in the realm of AI voice modulation.
So, whether you're a content creator, gamer, or audio enthusiast, why wait? Dive into the world of Corridor Crew AI Voice with MagicMic today and unlock limitless creative possibilities! Download it now!