Embark on a musical journey with AI singer online voice generator. Explore the top 5 AI singer online voice generators tailored for AI singing enthusiasts.
Elevate your singing prowess and discover a world of virtual vocal possibilities.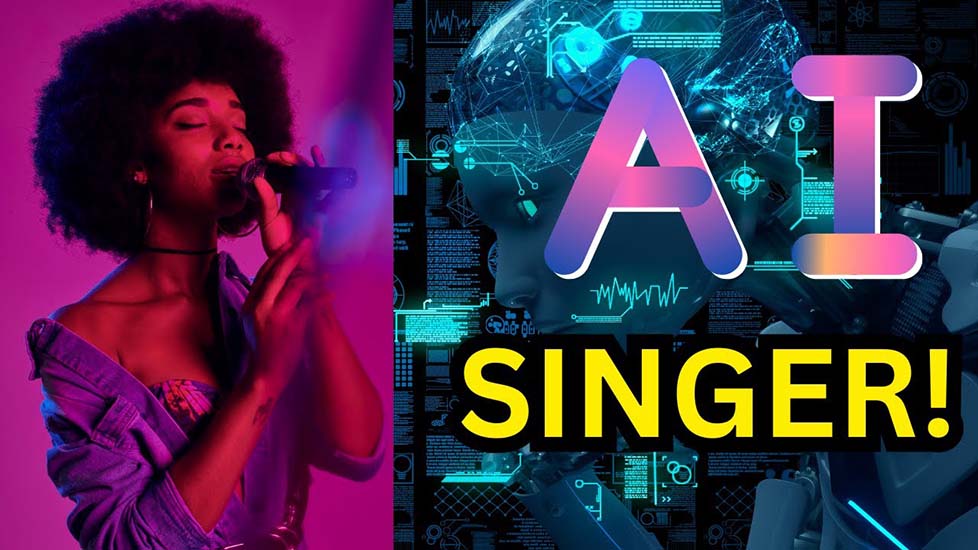 Part 1: What are AI Singer Online Voice Generators?
AI Singer Online Voice Generator is an innovative tool that use artificial intelligence to create and modify synthesized singing voices. With these platforms, users can easily generate high-quality vocals for music production, virtual performances, and more.
It's a convenient and accessible way for anyone to explore their passion for singing and unleash their creativity.
Part 2: Top 5 AI Singer Online Voice Generators for AI Singing
Discovering the best AI singer online voice generator software can be challenging. In this article, we present the top 6 options available, allowing you to make an informed decision. Evaluate each application's strengths and weaknesses to find the perfect fit for your needs.
Soundraw operates differently than many users perceive. It generates music based on chosen parameters, not text prompts or mimicry.
By selecting tracks from an original song list, created by professional music producers, users can customize them in the editor. Regenerate lists or access Pro Mode for additional customization options.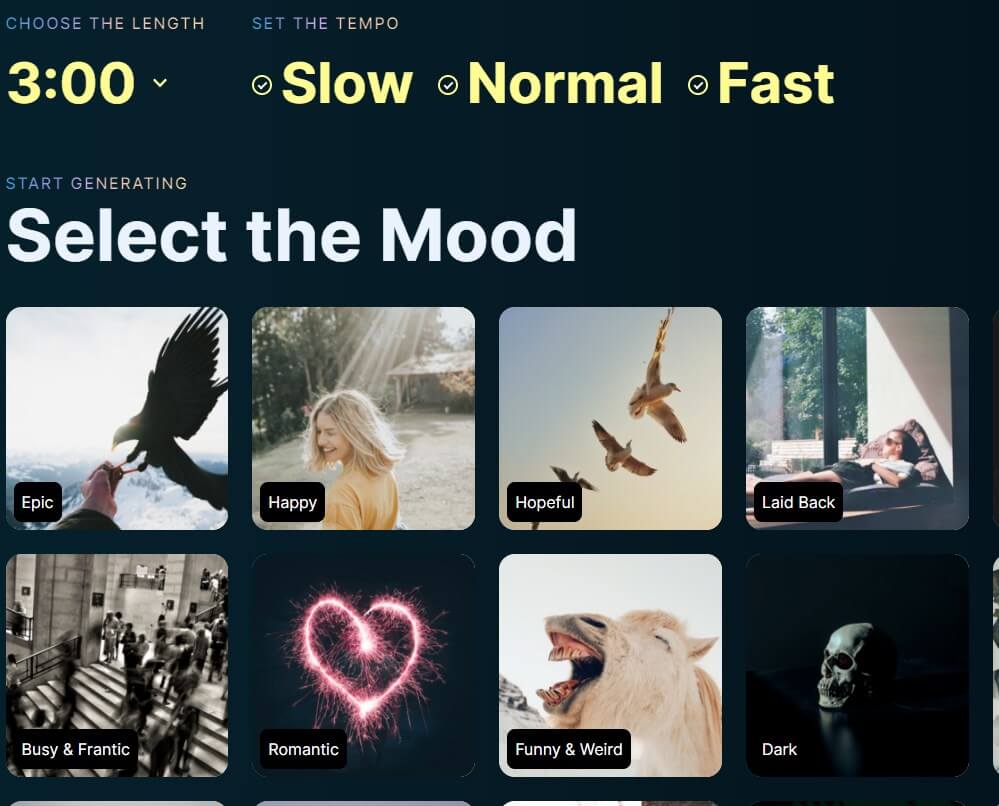 Pros:

Easy customization with a prompt-based interface.

High-quality original samples by professional music producers.

Extensive customization options in the editor.

Regenerate song lists by adjusting tags for fresh compositions.

Advanced customization features in Internal Pro Mode.
Cons:

Misconceptions about software capabilities.

Limited ability to mimic existing singers or use specific uploaded music.

Chatbot intended for support, not song creation.
Whether you're a professional musician, content creator, or simply a music enthusiast, Voicemod AI Singer Online Voice Generator opens up a world of possibilities for creating unique and captivating vocal tracks.
With a wide range of voice options and customization features, you can explore various singing styles, genres, and tones.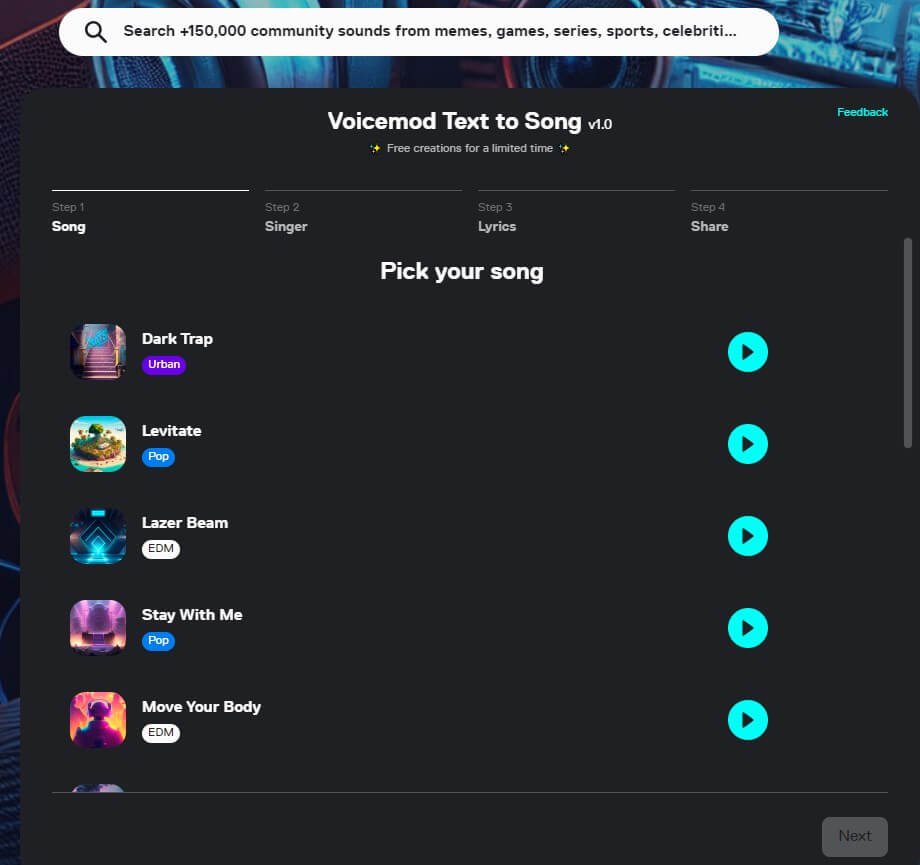 Pros:

Advanced AI technology for realistic synthesized singing voices.

Wide range of voice options and customization features.

User-friendly interface for easy voice generation.

Suitable for professionals and music enthusiasts.

Diverse selection of singing styles and genres.
Cons:

Limited control over fine-tuning voices.

Requires internet connection.
Melobytes AI Singer Online Voice Generator is a cutting-edge tool that utilizes artificial intelligence to generate lifelike singing voices. With Melobytes, you can create dynamic vocal performances by inputting lyrics and choosing from various parameters such as language, tonality, tempo, and time signature.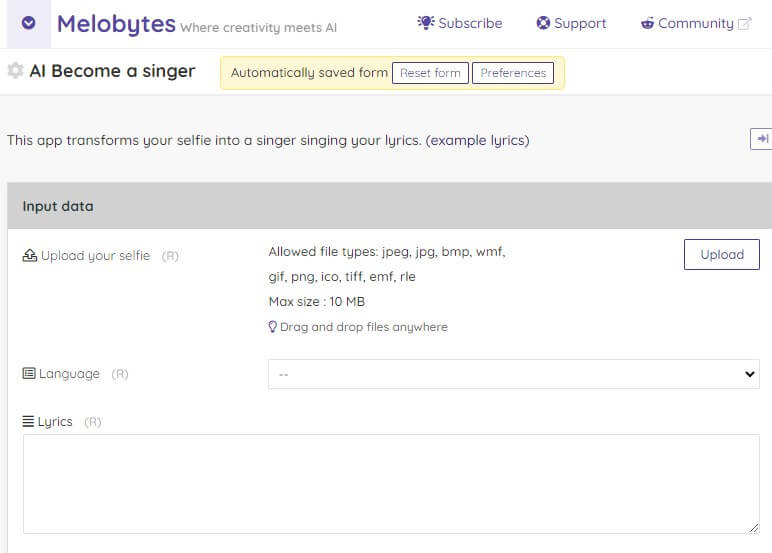 Pros:

Easy-to-use interface for generating singing voices.

Ability to input lyrics and customize various parameters.

Option to upload a selfie and transform it into a virtual singer.

Provides a range of language options for diverse vocal performances.

Supports various file types for uploading and processing.
Cons:

Limited lyric completion capability with AI.

File size limitation for uploading selfies (10 MB).
Whether you're a seasoned musician or a beginner, this powerful platform offers a wide range of features and tools to help you bring your musical ideas to life.
From composing melodies to refining harmonies, MusicStar.AI provides an intuitive and user-friendly interface that makes the music-making process enjoyable and accessible.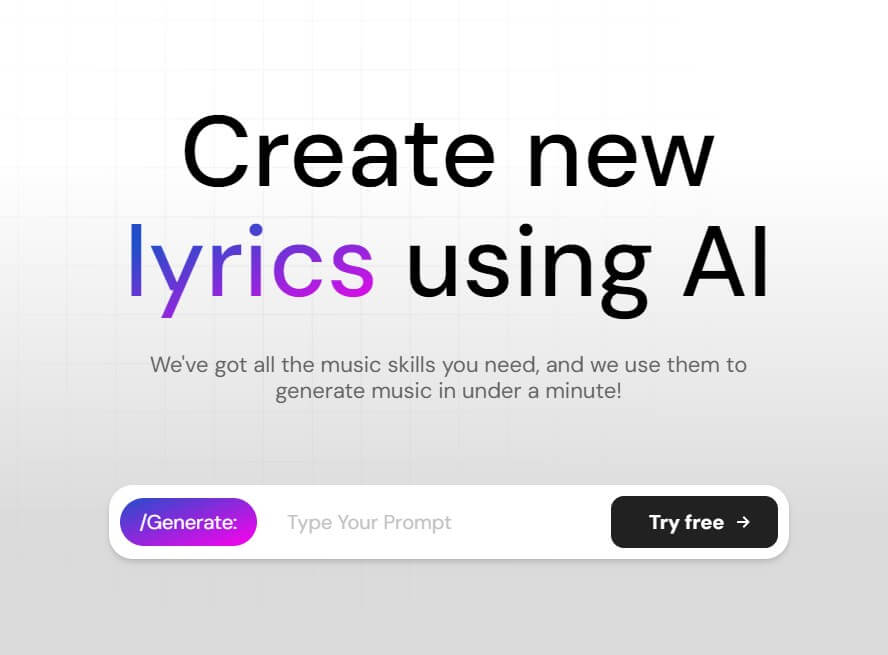 Pros:

Versatile music creation with features for beats, vocals, and lyrics.

User-friendly platform accessible to musicians of all levels.

AI-powered vocals for realistic and high-quality performances.

Affordable pricing options including free trial and discounted subscriptions.

Creative inspiration and unique musical ideas.
Cons:

Limited customization options for fine-tuning music.

Learning curve to effectively utilize all features.
TopMediai AI Singer Online Voice Generator is a renowned tool that harnesses advanced AI technology to produce incredibly realistic singing voices from text input.
Its exceptional vocal tracks are often indistinguishable from human singing, showcasing the power and quality of its AI-generated voices.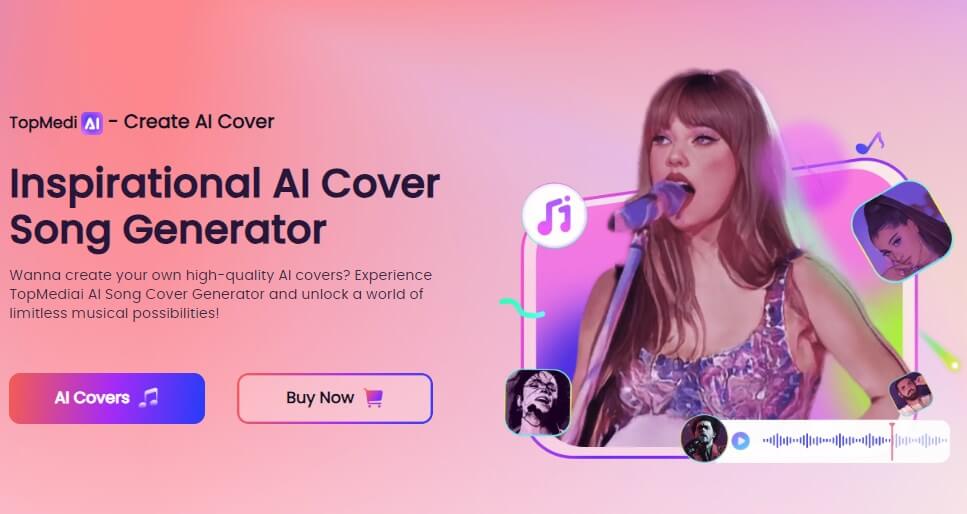 Pros:

Regular updates and enhancements.

Further expands its offerings, like ai cover and vocal remover.

One-stop destination for creators, musicians, content producers, and multimedia enthusiasts alike.

Expanding voice and languages options.

Enables you to create multilingual content with ease, reaching a global audience.
Cons:

You need an internet connection, which comes with an online-only tool.
Bonus: How to Get Real-Time AI Voice to Become an AI Singer
Unlock the secrets to obtaining real-time AI voice for your AI singing journey. Learn techniques and tools that enable you to embody an AI singer and captivate audiences with your virtual vocal talents.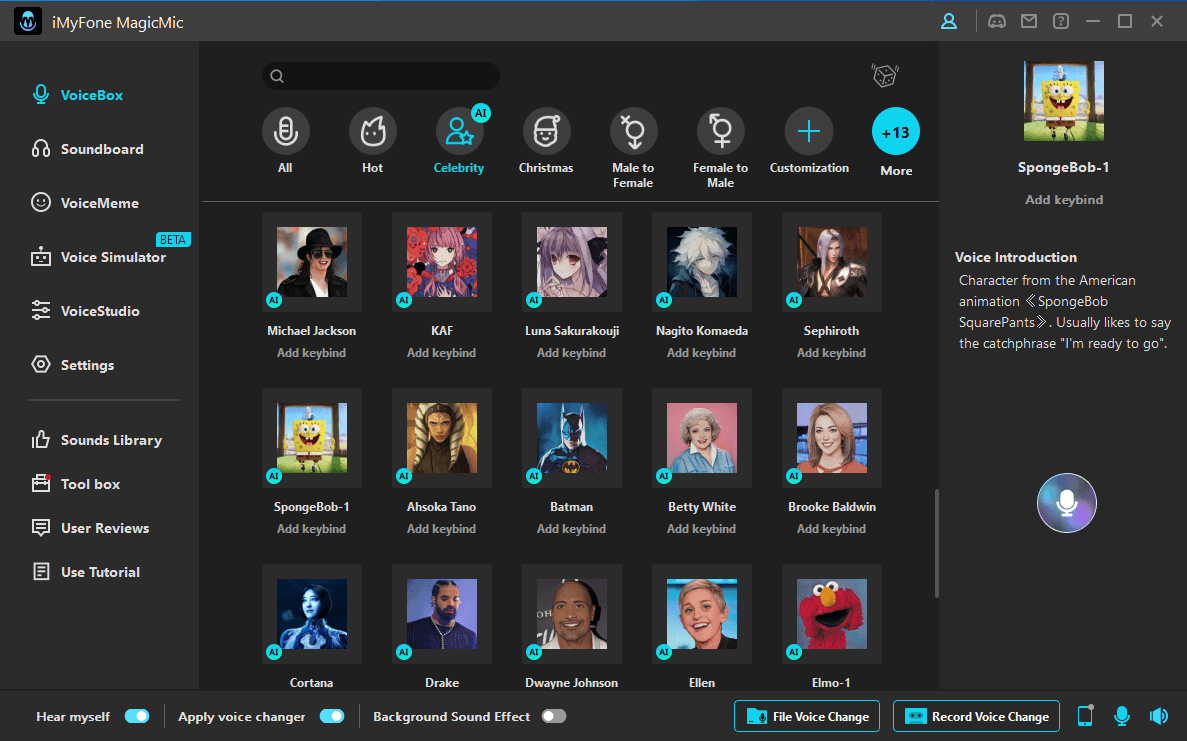 Key features of MagicMic AI singer voice changer
225+ voice filters, 600+ sound effects, 200+ voice memes.

Enjoy a variety of voice-changing options such as Minions, Female to Male, Alien, and Monster, accompanied by a sleek user interface.

Instantly modify your voice in real-time while using chat or gaming platforms.

Compatible with popular platforms like Among Us, Zoom, Skype, Xsplit, Streamlabs, PUBG, Twitch, and more.

Unleash your creativity with the voice studio feature to create your own unique voice.
How to use MagicMic AI Singer Voice Changer?
Step 1: Download and Launch
Download and install the MagicMic software. Open the application and log in with your email.
Step 2: Configure Input and Program Settings
Set your primary microphone as the input device. Enable "Apply Voice Changer" and "Hear myself" for real-time voice modification.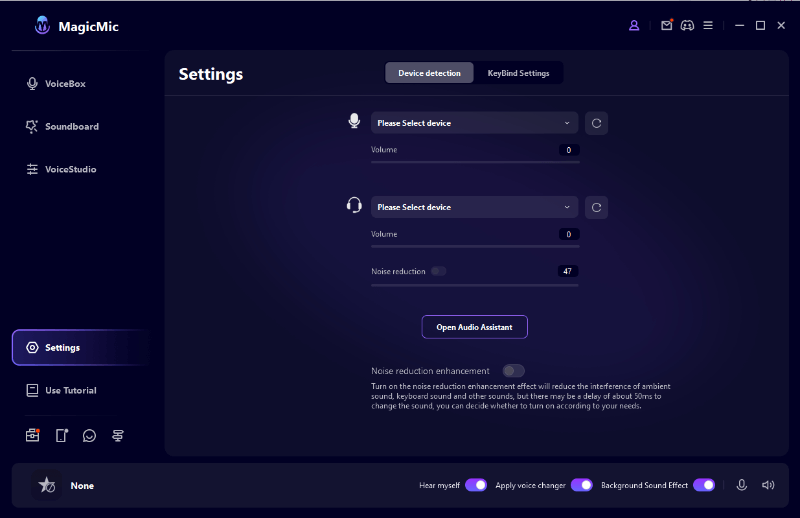 Step 3: Select the MagicMic Virtual Audio Device
Choose the Voice Changer Virtual Audio Device in your desired application for accurate voice capture and integration.
Step 4: Choose Voice and Sound Effects
Explore various voice effects in MagicMic, such as "Jigsaw". Set keybinds for smooth transitions between effects.
Video Guide Below About MagicMic AI Singer Voice Changer:
Part 4:Faqs about AI Singer Online Voice Generator
1. Can an AI Singer Online Voice Generator create realistic singing voices?
Yes, an AI Singer Online Voice Generator can create realistic singing voices.The AI is trained on a vast amount of data, allowing it to mimic various singing styles, tones, resulting in high-quality and convincing singing performances.
Disguise voices or make them sound like someone else's with the assistance of AI voice changers – a popular trend nowadays, prompting many to forgo voice-altering equipment for the leading AI voice changers– the ideal tool for crafting a one-of-a-kind AI Singer.
2. Are there any language limitations for AI Singer Online Voice Generators?
No, there are generally no language limitations for AI Singer Online Voice Generators.They often support a wide range of languages, making them accessible and useful for users from different linguistic backgrounds.
3. Popular Ai Voice: Taylor Swift, Ariana Grande, Drake AI Voices
AI generated voices have greeted the world with incredible success; Some of the most renowned are those of Drake, Ariana Grande, and Taylor Swift.
Conclusion:
In conclusion, with the top 6 AI Singer Online Voice Generators, you can explore the limitless possibilities of AI singing. From changing your voice to match KPOP sensations likeBTS andBlackpink to transforming into renowned artists likeTaylor Swift,Ariana Grande,Drake, or Kanye, these tools offer a world of musical exploration and creativity.
With MagicMic AI Voice Changer, you can unleash your AI singing potential. Explore 225+ AI voices, stunning filters, and real-time changes to create unique and mesmerizing singing performances. Let the magic of AI take your singing to new heights!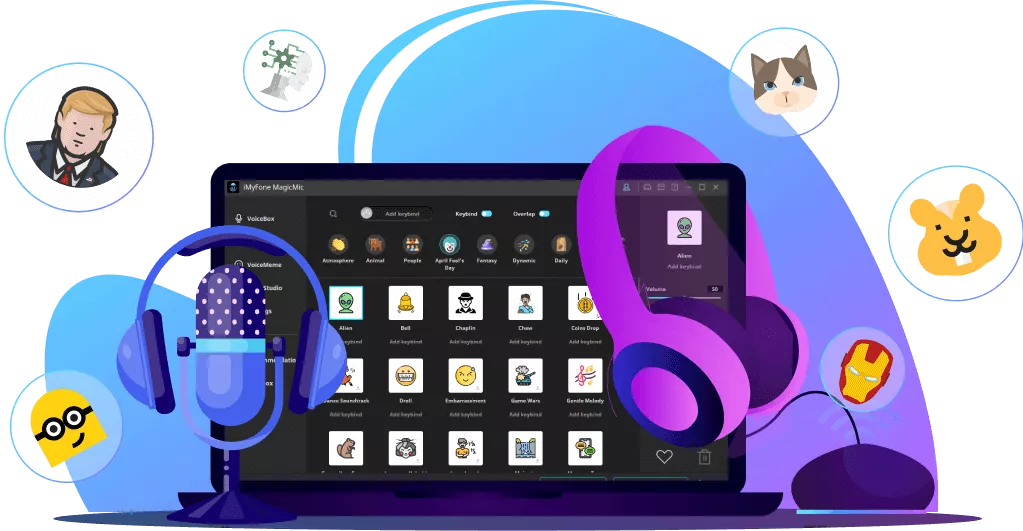 220+ Voice effects for one-click voice changing in real-time.
Huge library with 600+ Voice Effects and 200+ Voice Memes.
Sound emulator in games, live, chatting, online classes, and more.
Voice recording and audio voice changing is supported.
Voice studio lets you create any voice you like.