Vlogging is a very popular industry on different social sites. Many people do it for fun, while many others have opted for it as a full-time job. Vlogging has many prospects that have caused many young YouTubers to step into this field but to start vlogging. You need to have the basic essentials of this profession. A vlogging kit is a thing that comprises all these essentials. For a newbie making this kit can be hard but don't worry, we are here to help you. We will guide you how to make your own vlogging kit and which vlogging kits in the market are best for you.
Top 3 Best Portable Vlogging Kits for Beginners
By now, you know which gadgets are required in a vlogging kit and how should you look for them according to their features and usage. But some people do not want to indulge in such hardships and take the simple way of purchasing a vlogging kit for themselves from the internet or the market. There are a number of such kits available that serve this purpose, but only a few can be regarded as the best. Here we have listed the top 03 vlogging kits that you can use to start your vlogging career.
Sunpak Portable Vlogging Kit
Sunpak is a famous brand that makes use of its top products and helps vloggers from all around the world in their vlogging experience. Their products are highly durable and score well on performance tests. Here we have listed the Sunpak vlogging kit that can be used by travel vloggers or outdoor vloggers in the making of their vlogs.
If you are a newbie and want to buy a complete vlogging kit that you can pack and take anywhere with you, this might be the perfect product for you.
Digipower Vlogging Kit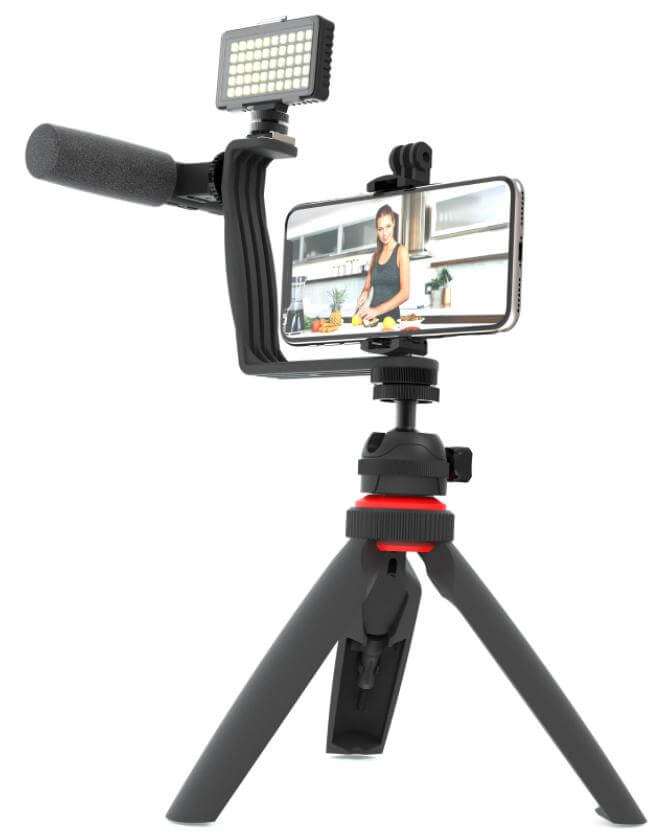 After Sunpack, Digipower vlogging kit are the most popular kits in the market. In terms of performance, the Digipower kits are somewhat similar to Sunapack gadgets, but a minor difference appears in some cases. For a vlogging starter kit, these two kits do not have any major differences and can be used according to your needs.
This brand offers a 5pcs vlogging kit and includes every basic gadget that you will need. This is also portable depending on the type of gadgets that you include in this kit.
Ubee Vlogging Kit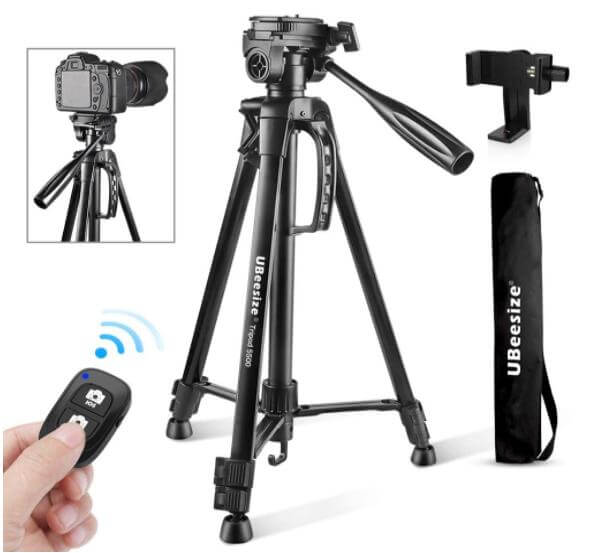 Ubee specializes in ring lights and tripods, and other such accessories, but it also offers proper vlogging kits for its users. The equipment in the Ubee Vlogging Kit can be selected according to your budget and needs. A wide range of equipment in different price ranges are available for the new and pro vloggers. Get a specialized kit from Ubee and enjoy your vlogging experience. In short, this could be a best vlogging kit for beginners.
Vlogging Kit for Beginners: Fabulous Camera
A camera is by far the most important thing in a vlogging kit. Being a vlogger, you will shoot vlogs with your ideas all day, and all the content that you create will be available to your audience in video form, so having a good camera is an absolute requirement for a good vlogger. Good camera quality can attract a lot of viewers and can help you get a large pool of audience in a lesser time as compared to an ordinary camera.
Key Features for a Good Vlogging Camera
Video Quality

Some people make the mistake of buying a camera that captures beautiful pictures and has a high-definition result for images, but they fail to understand that they will need a camera for recording videos and not capturing images. It is understandable that sometimes images can be a part of vlogs, but generally, all the vlogs are based on video capture. You must buy a camera that has high-definition recordings and gives you top-quality video results.

Battery Timing

There are different kinds of vlogs, and many kinds of vlogging include outdoor activities. If you are a tourist and plan to make vlogs about your visit to different areas that you visit, you will need a camera with longer battery life than usual. For some vloggers, this can be a difficult task. For making outdoor vlogs, it is recommended to buy cameras with extended battery life so you will not have to face the difficulty of charging your camera again and again.
Steps to Find a Great Camera
Finding a great camera can be difficult and requires some research. So, get ready to do some homework before you get your perfect camera match. Following are the steps you need to keep in mind while looking for a great camera.
Extensive research – Look on the internet about what you need to buy and compare different cameras and their features with your needs and see which product suits you the best.

Ask a Pro – If you can get a camera expert or a pro vlogger to help you in this step, it will be great. Ask their recommendation before any purchase.

Look in the Local Market – Search in the local market for second-hand cameras that are in good condition. They are available at cheap prices so you can save a lot of money if you find a good one.
Vlogging Starter Kit: Good Lighting
After buying a perfect camera for your vlogs, you will need to buy a vlog lighting kit. Because natural light, i.e. the light from the sun can't be controlled, so you need an alternative, giving your viewers the illusion of perfect shooting. You will sometimes shoot vlogs early in the morning or late at night, and at that time, no natural light is available. Here you will need artificial light.
The artificial lighting will also give a much better and clearer look to your vlogs and make them much more interesting to watch.
Key Features of Great Lighting
Adjustable

A good lighting source must be adjustable. This means that the lighting source should be able to provide lights of different intensities according to the need of the user. There are many options available in the market that come with this function. You can adjust the intensity of the light depending on the natural light availability and the type of vlog that you are shooting.

Durability

The lighting will be used every day for several hours while you shoot vlogs for your channel. The extensive use of this gadget requires that the product should be durable. You could be in the middle of your vlog shooting process, and if one of the lights goes out of function, it will waste your time and possibly an amazing vlog. The condition can be even worse if you face it on a trip or away from any other lighting option.

Low Power Consumption

High-intensity lighting with low power consumption will save you from a lot of extra electricity bills. It will also prolong the use of the battery and can be used for longer durations of time as compared to high-power consumption lights.
Steps to find Best Lighting.
For a newbie with zero knowledge of the vlogging kits finding perfect lighting can be difficult, but it's not impossible. You just need to have some basic preparation before you set out to buy your favorite product from the market. Here are some steps that you need to keep in mind while looking for such a product.
Extensive Research – Whenever you go into the market to buy a product, you must know about the other options close to that product and the pros and cons that the gadget will offer you. Search on the internet about the best lighting gadgets and then compare the results to shortlist your selection.

Comparison – Compare different products available in the market and look for alternatives to the top brands. Compare the top brands with each other and make sure that you buy the right product. Also, read the reviews of all the customers online before buying a product.
Best Buy Vlogging Kit: Great Audio Device
Audio devices that you require for vlogging basically include microphones that will record high-quality audio with a clear voice and minimum background interference. Suppose you use any ordinary mic, which can spoil the entire vlog. The constant noise in the audio and poor-quality recording can result in very poor audience response. To make a vlog shine, everything must be in a perfect balance, and the audio quality should be in perfect balance with the video quality. Poor audio quality with high video quality will make the video look like it is dubbed.
Key Features of Audio Mic
High-Quality Recording

The mic should be able to record the audio in high definition. This is the basic function of the mic in vlogging. A good quality mic will record excellent audio with crystal clear audio that can be easily understood.

Low background noise

While making videos, a gust of wind or a vehicle passing in the background can make enough noise to spoil the entire scene. Thus, the mic must be able to record low background noise such that the total audio is not spoiled. Some microphones record all the audio input, and this results in a lot of interference that ultimately makes the recorded audio unusable. The background noise can be minimized using good editing software, but it does not completely eliminate the background interference.

Portable

If you are looking to make outdoor vlogs, you need a mic that is portable. There are some mic that can be attached to laptops and PCs, but they can't be taken everywhere due to their size and their power supply source. So, keep in mind that you will need a compact and small mic for your outdoor vlogs that can run on low electricity consumption.
Steps to Find a Great Audio Mic.
Here are some pros tips that will help you in finding a great mic.
Research – You need to have basic knowledge about the mic and their functions with the prices, pros & cons, and their availability before you buy a mic. Another thing that you need to know is the durability of the product that you are buying. The durability and the pros of the product should be according to the price of the mic.

Comparison – Perform a comparison between different products after short-listing the products that you think that suit you then best. Compare the pros and cons of each of the mic and their price before you buy them.
Create Vlogs with a Beginner-Friendly Editing Application
Even if you have the best vlogging kit, the final editing touches are the thing that you need to really show off your vlogging skills. The high-quality video footage and the vlog content needs to be filtered and carefully composed into a final form of a video that is neither too long nor too short for a vlogging channel. This requires a lot of practice and excellent editing software that allows you to manipulate your video however you like. iMyFone Filme is one of the best editors that you can use to start your career as a vlogger. Many vloggers use this software to show off their skills and enjoy a very fast, easy, and flexible editing experience.
Key Features
Here are some of the key features of this software that you will definitely enjoy being a vlogger.
Easy-to-use: This software is exceptionally easy to use as compared to any other application available on the internet. In terms of ease of usage combined with the tons of functions that this software provides, there is no match for iMyFone Filme.

Allow quick and high-quality video editing before posting: It is designed to work fast and efficient. You can edit a long video in a matter of minutes with this software and save a lot of time. Moreover, the quality of the video is also not compromised while editing it. You can choose to perform any desirable function and enjoy the quick working of this editor.

Instagrammers, Gen Z, and Millennials cup of tea: For the new generations using this software is as easy as riding a bike. They can easily spot their way around the user-friendly module and understand different functions in a matter of minutes. The entire software is designed while keeping user ease in mind.

Functions: There are more than 110+ transitions, 170+ filters and 50+ settings for audio available in this software.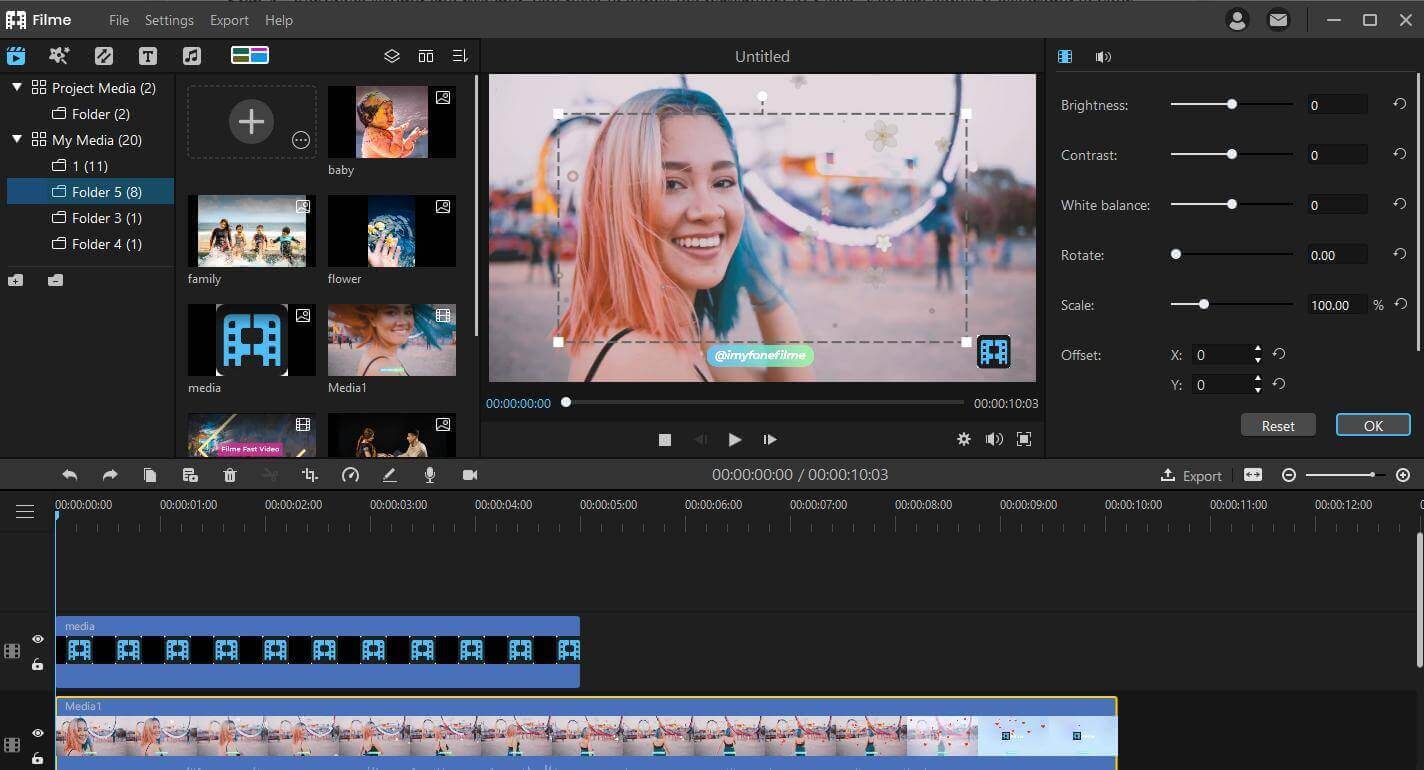 How to Edit Your Video Using iMyFone Filme.
Upload your Video for Vlog
Import your video in the iMyFone Filme application to start the editing process and then cut and crop any extra or recurring parts of the video to make it concise and interesting.
Add transitions, filters, music, and text
After that, use the features and functions in the application to add different filters and add background music to enhance the overall viewing experience of the vlog.
Export and Share it On Social Media Platform
After finalizing the video, share the video to any social media platform and to your YouTube channel for your audience to see.
Conclusion
Vlogging can be difficult and fun at the same time. Dedication and passion for work are the two things that can help you in achieving your goals, but simple gadgets can also make a lot of difference. The gadgets and devices discussed here can help you a lot along your vlogging journey and create a lot of ease on the way. A perfect vlogging kit combined with iMyFone Filme editing software is sure to give you a head start in the long run.