In this modern era of social media, vlogging is taking precedence over any other thing. The reason is apparent; it gives proper insight into the realities and incidents in our daily lives.
In addition, some people do vlogging for entertainment purposes and to remain intact with their audience. However, to make an appealing and engaging vlog, you need to create a commanding vlog intro.
For making a vlog intro, you may get help from various intro makers who offers their services either free or paid. We have decided to explore some of the finest intro maker tools for you.
Let's get on with it.
5 Best Vlog Intro Maker 2021
Let's talk about the five best vlog intro makers.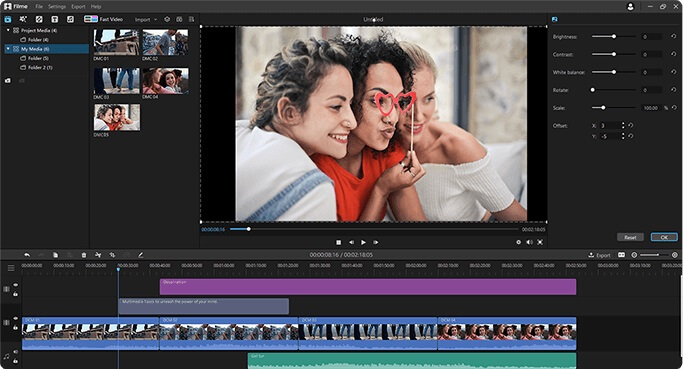 iMyFone Filme is an excellent vlog intro maker that offers excellent features for its users. Using cool filters, prolific transitions, overlays, and custom titles, you can create an eye-catching vlog intro without much effort.
iMyFone Filme offers an intuitive and user-friendly interface that allows you to drop and drag video clips into your editing timeline. Its features include green screen compositing, super crisp 4K quality, an audio equalizer, and background noise removal.

Animaker is a free vlog intro with high standards due to its mouthwatering features and flawless interface. You can estimate its value by looking into over three million users and nearly 1000 brands using this tool.
It possesses a pretty simple interface and offers features like transition effects, pro-level camera, sound effects, and background tracks. If you use it as a free tool, then your videos will feature a watermark.
If you want to get rid of the watermark on your videos, you can acquire its paid version starting from $12 to $39 per month.

If you want to create an appealing vlog intro, Renderforest can prove to be a game-changer for you. It allows you to select a template from over 50,000 video intro templates.
It also allows you to personalize and edit templates with a soundtrack, logos, fonts, and color palettes. Renderforest's free version enables you to create a three-minute vlog intro with a watermark. However, it also has a paid version starting from 12 dollars per month with no watermark.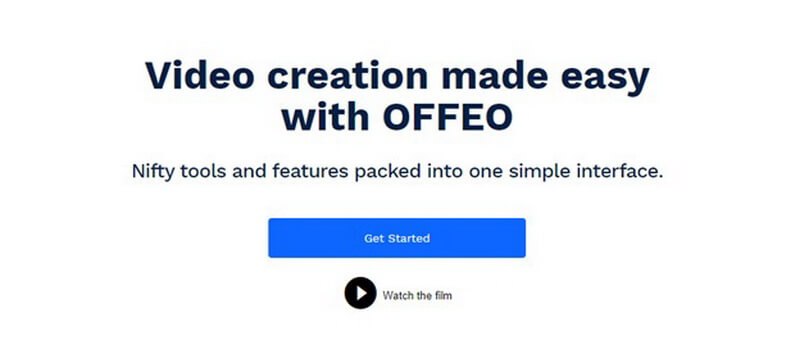 Using OFFEO, you can add another dimension to your vlog intro. Its graphics and awesome templates make the user experience worth remembering.
The good thing about this tool is that its templates have been divided into several categories like logos, outros, and intros. Its soothing qualities and eye-catching features mean you'll make your audience enjoy the vlog intro.
It comes with a free version, but it has a lot of limitations. But a monthly subscription for $19 will make sure you enjoy all its advanced features.
Flixpress is a cloud-based vlog intro maker that allows you to create the most professional intro with minimal hassle. You'll enjoy the most with this tool because you don't need to download a hefty file using Flixpress's features.
With its awesome templates and attractive graphics, you'll be able to create the most exciting vlog intro for your audience. You can acquire its premium version at just 79.99 dollars per month. With the subscription-based tool, you'll be able to explore all its advanced features.
How to make a Vlog Intro with Templates using iMyFone Filme
If you want to create an appealing and engaging vlog intro for your audience, there is no better tool available than iMyFone Filme. This tool can create content that will surely impress everyone, whoever would take the opportunity to watch it.
Its eye-catching features and prolific fast video modes will add another dimension to the video, making it popular in pretty little time.
Features
1. Fast Video and Audio
Filme possesses 20+ fast video modes that'll surely make your video look unique and exciting. In addition, users will also enjoy the presence of 50 soundtracks in iMyFone. You can select any soundtrack for adjusting it to the background of the video.
2. Multiple Templates
iMyFone Filme possesses multiple templates to choose from. Filme's templates are elegant and breathtaking who more often than not, will make your video story appealing and fascinating.
3. Basic Editing Tools
With the Filme tool, you can cut, trim, shuffle, or change the video's speed with ease.
4. Transitions
Not many video editing tools provide over 100 transitions, but Filme provides this facility to its users.
Moreover, users will also get the luxury of applying 170 outstanding filters to their vlog intro video.
People Who Liked this Content Also Liked
Steps of creating a vlog intro
Step 1: Import your media
After launching the Filme tool, importing videos or pictures that you want to add to your vlog intro, you can select the content that suits your intro video.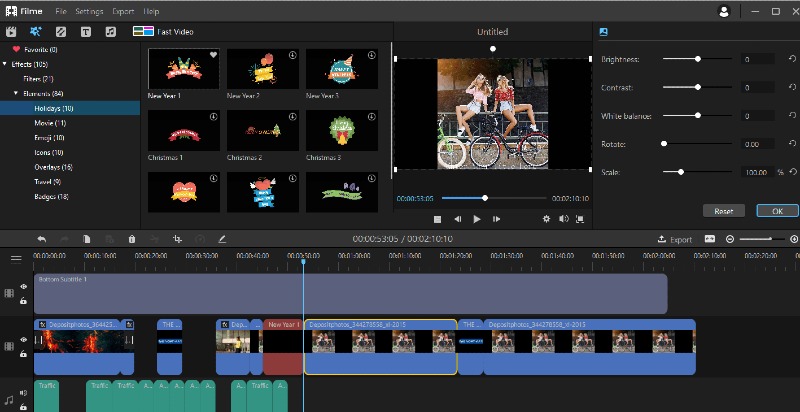 Step 2: Add effects
At the top of the toolbar, you'll see four options out there. You can click on any tab which you want to edit.
After clicking a tab, a menu will appear your way with many options to choose from. Now, you need to choose a background or an effect for adding to your vlog intro. You'll see your selected option in the timeline from where you can shrink or drag them.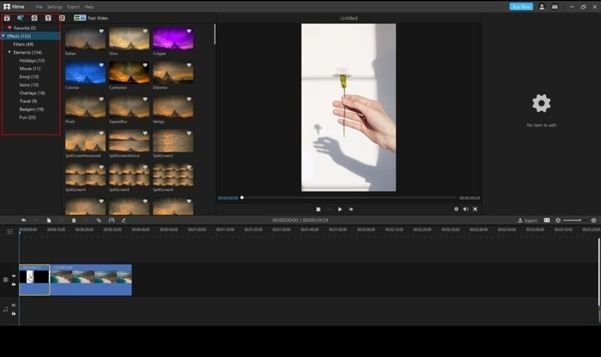 Step 3: Add relevant music to your intro content
Appealing music in the background can make your intro more appealing and exciting. Luckily, Filme allows you to add prolific music to your video's background.
You only need to press into the music icon placed at the top of the toolbar. Now, you'll be able to import any soundtrack from your computer.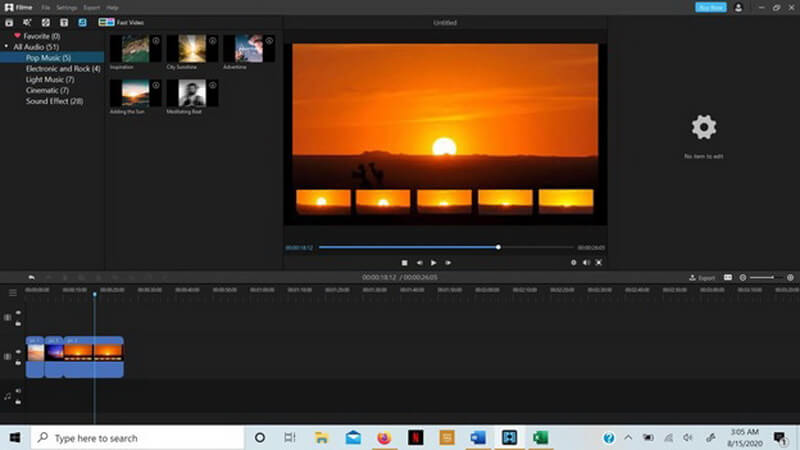 Step 4: Add a title
To make your video relevant, you'll need to add the title of your video in the first place. Select '' Titles'' and add your title by deciding a font size and position.
Tips for Making a Stunning Vlog Intro
Mastering the art of creating appealing vlogs is by no means is a piece of cake. We have some tips for you which can help you.
1. Be interesting
Finding appropriate content for vlogging can be a bit daunting task. Sometimes, vloggers become lazy and ignore vlogging requirements, and they keep on creating lengthy vlog videos.
If you think you fall into that category, you need to reduce the vlog's length and pay your focus on only appealing and compelling content.
You can make your vlog videos more exciting with:
Travel experiences

Humour

Life's failures

Sports
2. Watch for trends
To become a successful vlogger on social media, you'll need to take a close on the trends. This aspect will give insight into the popular social media vloggers.
You can see what they are doing and what kind of content they are selecting for creating a vlog. After seeing them, set your goals and make efforts to achieve them.
3. Collaborate with other vloggers
If you want to feel the art of vlogging, you should regularly collaborate with senior vloggers who have spent quite a few years in this profession.
This aspect can help you know where you are lacking and choose the right content for a vlog. Since senior vloggers offer so much experience to learn from, you can become a better and successful vlogger in the meantime.
Best Vlog Intro Songs for You
Here are the ten outstanding songs you can use on your vlog.
1. Zella Day - Compass
Zella Day's Compass is a pure classic song that can make your vlog more engaging and attractive.
2. Post Malone - I Fall Apart
Post Malone's I Fall Apart is famous for its popular lyrics and outrageous sound play. It can add another dimension to your vlog.
3. Flay - FML (Vanic Remix)
Background music plays a vital role in the success of a vlog. FML (Vanic Remix) is one music track with powerful music and effects that can make a vlog mesmerizing.
4. BIG SHAQ - MANS IS NOT HOT
MANS NOT HOT is one particular track that can emphasize your vlog due to its classic style.
5. Cash Cash - How To Love (feat. Sofia Reyes) (Boombox Cartel Remix)
The singer's voice in Cash Cash's song mesmerizes and significantly impacts your vlog on a positive note.
6. Charlie Puth - We Don't Talk Anymore
It is a fast-paced song that is perfect for your vlog intro.
7. A R I Z O N A - Oceans Away (Sam Feldt Remix)
The beats of Oceans Away are soothing and mesmerizing that can create an attractive environment for your vlog.
8. Brandon Skeie - So Bad (EDWYNN X TIKAL & Spirix Remix)
You can't find an aesthetically correct music track for your vlog other than Brandon Skeie-So Bad.
9. Camila Cabello - Havana ft. Young Thug (TULE Remix)
Havana is another music track that sounds soothing to ears with prolific music and lyrics.
10. Major Lazer - Be Together (feat. Wild Belle) (Vanic Remix)
If you want to add an energetic soundtrack to your vlog, you should opt to go for Major Lazer's Be together song.
Conclusion
Selecting a worthy vlog intro maker has always been a mystery. Most of the time, users don't get what they would have wished for.
Meanwhile, we tried our best to introduce you to reliable and user-friendly intro maker applications.
We reviewed about five best tools that can help you create a successful vlog intro. Despite the superiority of all these five tools, we recommend iMyFone Filme Vlog Editor for creating a breathtaking and memorable intro for your vlog.