The concept that a camera is good and cheap at the same time is bizarre. It is because a good camera is a combination of expensive lenses, sensors, batteries, etc.; therefore, it cannot be cheap.
However, there are some companies, which are smart enough to come around with efficient as well as cost-effective cameras. These cameras are not only budget-friendly and effective in capturing quality images and videos, but they are also suitable for different kinds of Vlogs.
If you are looking for such a camera, then this article is for you. Before going through the 5 best Vlogging cheap cameras, take a look at the content this article will enlighten you with.
The Top 5 Cheap Vlogging Cameras
Here we will discuss 5 best Cheap Vlogging cameras suitable for entry-level vlogs, travel vlogs, lifestyle vlogs, adventure vlogs, and underwater vlogs, respectively.
1. Canon EOS Rebel T6 DSLR – Best For Beginner Vloggers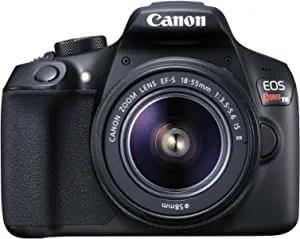 Well, if you need a DSLR camera that will capture better photos than your smartphone and a camera that will not put a dent in your pocket, then go for the Canon EOS Rebel T6 DSLR.
The Canon T6 comes with many robust features. First, it is beginner-friendly and straightforward to use. Secondly, its 9-point Autofocus system with a single cross-type AF point increases the focusing speed and accuracy of the shot. It captures excellent-quality images in low light and even with low noise, which is also a demanding asset.
The DSLR features a sensor of 18MP APS-C CMOS and an image processor of DIGIC 4+. This sensor and processor combo allows the photographer to shoot at 3fps continuously when capturing moving subjects.
Pros:

It is a budget and beginner-friendly DSLR camera.

It is easy to use because of its easy menu system with automatic settings.

It has an 18-55mm Lens, perfect for entry-level vloggers.
Cons:

Its LCD does not tilt to the side and does not have a touchscreen.

Its resolution is lower than most of the other cheap cameras.

Its dynamic range is limited.
2. Nikon Coolpix B500 – Best For Travelling Vloggers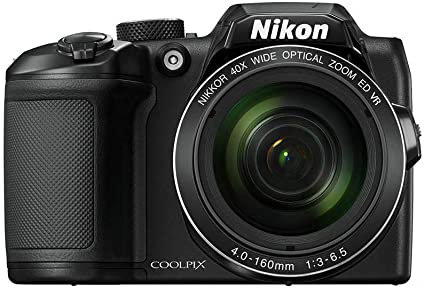 Now, suppose you're looking for an inexpensive long-zoom camera that is perfect for travel vloggers. In that case, we recommend getting the Nikon Coolpix B500. It is known to capture excellent shots of landscapes, bird sightings, sporting events, and other things that are at a distance.
Further, it works with AA batteries. You can conveniently carry spare batteries to remote locations. It has a 16MP 1/2.3 inches BSI CMOS sensor, which allows you to click vibrant shots and record full HD videos.
As a cheap camera, it has some extensive features. It has a backlight-illuminated technology that allows it to generate clear and high-quality images even in low light conditions. In addition, its 4-Axis Hybrid Vibration Reduction ensures smooth and steady video recording during handheld shootings.
Pros:

It is an affordable superzoom camera with easy-to-use controls.

It has an intelligent AF auto-focus that quickly targets the subject.

It is energy-efficient, and its regular AA battery permits you to take up to 600 shots.

It has an Android and iOS device app for remote camera control, editing, and easy file sharing.
Cons:

It is a little bulky, difficult to carry too far off places.

The LCD is fixed and does not have a touch screen.
3. Canon PowerShot G9 X Mark II– Best for Lifestyle Vlogging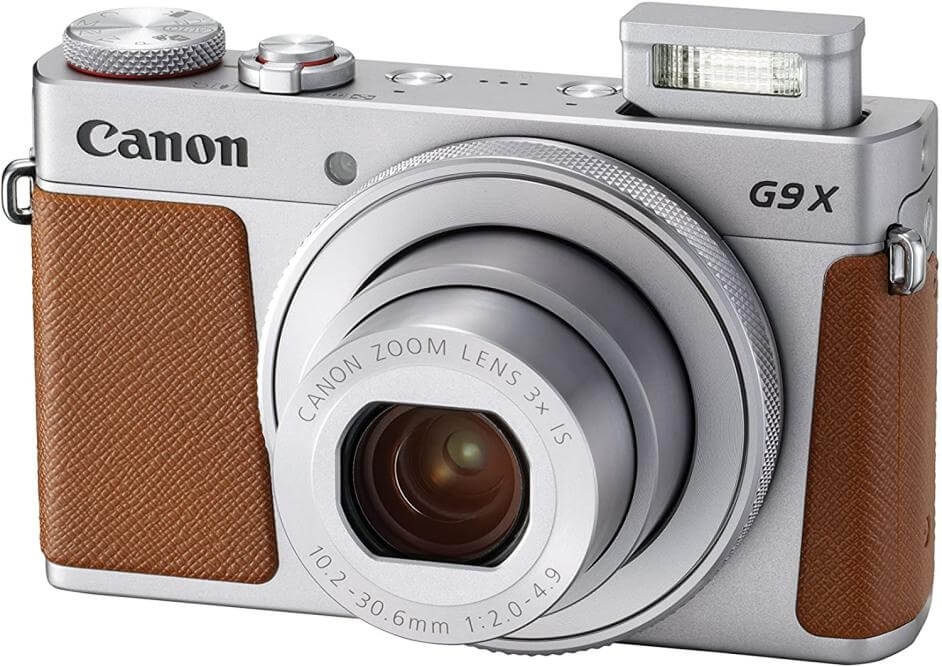 Suppose you are looking for an affordable camera that is also sleek, portable, and has advanced imaging capabilities. In that case, your search ends with Canon PowerShot G9 X Mark II.
Perfect for lifestyle Vlogging, Canon PowerShot G9 X Mark II offers a combo of a Sensor 20.1MP 1″ High-Sensitivity CMOS and an Image Processor of DIGIC 7. This combination produces lively, high-resolution images and videos.
The camera can capture impressive shots even in difficult lighting situations due to its substantial 1-inch sensor. It offers vibrant, feature-rich image quality with a resolution of 5472 x 3648 pixels.
Furthermore, the PowerShot G9 X comes with a versatile 3x optical zoom lens with an equivalent focal length range of 28-84mm, which is beneficial for its imaging capabilities.
Pros:

It is a sleek, small, and ultra-lightweight design ideal for lifestyle vloggers.

It has quick autofocus with subject tracking and an 8.2 fps burst rate.

It also has an excellent built-in stereo microphone.
Cons:

It has a fixed screen.

It has low battery life.
4. Olympus TG-6 – Best for Adventure Vloggers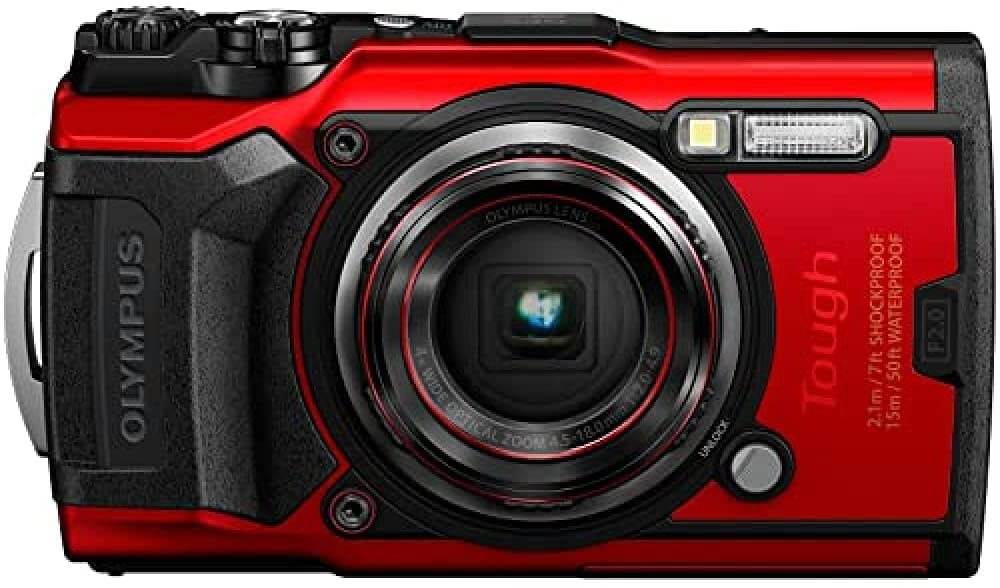 Suppose you want a specifically designed camera for extreme adventure vlogs, and it is not very expensive either. In that case, you should opt for Olympus TG-6. It is best suited for outdoor activities such as hiking, mountain climbing, off-road biking, and even underwater sports.
This camera is tough and durable and can easily withstand harsh conditions. It is virtually indestructible as it is dustproof, shockproof, crushproof, and even freezeproof.
The Olympus TG-6 is famous for capturing impressive 12MP stills and recording 4K Ultra HD footage at up to 60 fps. Its 12MP BSI CMOS sensor and a TruePic VIII image processor can efficiently deliver high-quality results even in low-light situations.
Pros:

It is a cheap, lightweight, and sturdy camera best for adventure blogging.

It comes with a multipurpose 4x optical zoom lens that ensures apt imaging capabilities in low-light situations.

It has an inbuilt GPS, thermometer, manometer, and compass.
Cons:

It does not have a touchscreen.

Its menu structure is not very user-friendly.
5. AKASO EK7000 – Best for Underwater Vlogging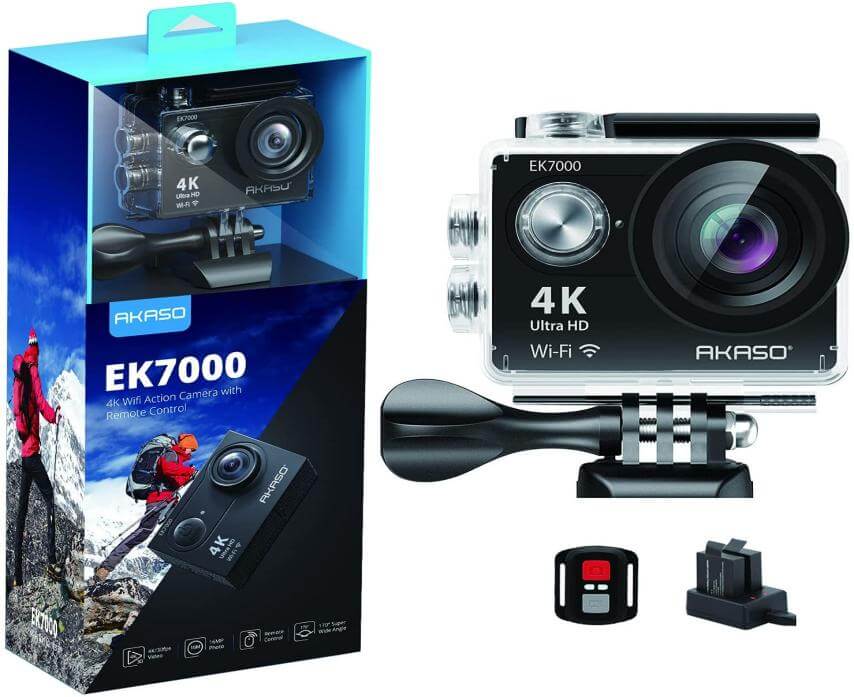 If you require a low-cost underwater action camera that looks and works almost like a pro, choose AKASO EK7000. The ultra HD underwater EK7000 consists of a waterproof housing that measures approx. Thirty meters (100 feet).
Its other features are inbuilt Wi-Fi, 4K video recording, still photos, time-lapse, and burst mode. Another standout feature of this camera is its simple control menu.
The video quality of this camera is much better than the other cameras, which come in this price range. For better results, use it in bright, clear conditions and avoid using it in lower light.
The camera's burst mode is quite helpful for fast-moving action. Hence, with this camera, you can easily capture the fleeting underwater moment.
Pros:

It is an affordable and worthy action camera with more straightforward controls.

It comes with two-1050mAh batteries and a dual dock charger.

It connects to Android and iOS devices with the iSmart DV app.
Cons:

It takes only 3 photos in 1.5 seconds in burst mode.

It offers only one field of view: a standard Wide mode.

It mutes audio when using the waterproof housing.
The Must-Have Features of a Budget-Friendly Vlogging Camera
Even the most affordable cameras are not that easy to buy or replace. Therefore, it is necessary to understand all the essential features or specifications of the budget camera before purchasing it. It would be best to consider the following main characteristics when looking for your cheap yet ideal camera for Vlogging.
Low-Light Performance:
On a budget or as a beginner, you don't want to invest in lighting equipment. Therefore, for a better Vlogging experience, always opt for the camera that performs better even in less light.
The camera that works only in bright light will try to add more light in dark areas, resulting in the reduction of frames per second (fps) and blurred footage due to image noise.
Size of Sensor:
The sensor size of the camera should be more extensive in order to capture more light. This will be beneficial for high-quality footage. The Compact cameras have an average length of sensors. In contrast, some of them come with substantial 1-inch sensors that are good for generating high-quality images and videos.
Hence, while choosing a compact camera for Vlogging, go for a compact camera with a 1-inch sensor such as Canon PowerShot G9 X Mark II. We will discuss this cheap but good quality camera in our next section.
Quality of Lens:
A high-quality lens captures more light because it has a wide aperture. The wide aperture is also suitable for your Vlogs as it allows you to get a blurry background effect. It will give your lifestyle videos a nice aesthetic feel.
Lens apertures are recognized by f-stops. f/1.8 – f/22 is the standard range of f-stops. The lesser the number of f-stops, the wider is the aperture. Therefore, for bright footage and blurry background effect, select a camera that has f/1.8 to f/5 aperture.
Video and Image Resolution:
In most cases, better resolution means better quality, but not always. The reason behind this is that resolution alone cannot achieve the perfect result. The optics and quality of 'image capture chip' also influence the quality of images and videos.
The resolution is still an essential factor because the higher resolution allows you to work with more pixels. The good-quality Vlogging camera shoot 1080p footage at 30fps. However, some of the cameras that we have listed below also shoot 1080p at up to 60fps.
Some of the other factors to consider while buying a camera for Vlogging are:
Weight and Size

Battery life

Connectivity

Audio quality

And Optical Image Stabilization
Why For Vlogging You Don't Even Need a New Camera
A new camera will surely provide you with a high-quality result; however, let me get you in on a secret. The best Vloggers do not just rely on their camera quality.
There is more to Vlogging than meets the eye. There is high competition in the market regarding Vlog content. To stay on top or just to be recognized as a Vlogger, you have to UP your game.
To beat the heat as a Vlogger, there are many frontiers to conquer. Still, the essential factor that will double up your game single-handedly is EDITING.
Believe me! It is as simple as that. To become a top-notch Vlogger, you don't need to invest in cheap cameras or time-consuming video-making tools. Start by making videos from your smartphone and edit them through a fantastic Video Editor.
And, when it comes to editing your videos, sophisticated features, user-friendliness, and ways to output your video, the best video editing software is iMyFone Filme.
Best Video Editor for Vlogging after Shooting with Camera [Win& Mac]
iMyFone Filme Vlog Editor is a powerful but easy-to-learn software for anyone who wants to make Vlog videos quickly without fussing around with complex controls. Its attractive interface offers a vast array of tools to easily edit and convert our simple smartphone videos into cool and professional ones.
So let your creative beast out, shoot with unique vlogging ideas and edit your videos through iMyFone Filme. This power pack software comes with the following video editing features:
Key Features
It comes with 110+ transitions, 170+ video effects. Allow you to turn your boring Vlogs into cool ones.

It has a One-click video editing option. You can zoom, trim, and crop your vlogs in just a few clicks.

It is easy-to-use video editing software. Trim, cut, rotate, split, slow down, or speed up a video efficiently and effectively.

It offers 20+ instant modes, 50+ audio. You can add opt for different themes and add background music while editing videos.

It has a Fast Video Mode. It enables you to use elegant, in-built templates to edit your videos in just a few minutes.

Moreover, it also has a picture-in-picture effect. It allows you to combine and display two videos or images on the same screen.
How to Edit Your Vlogs Using iMyFone Filme
We are not done yet. Let us tell you how to edit your videos in just a few steps and make the best Vlogs.
Step 1: Upload or Import Video on the Timeline to Edit it.
Either drag or drop your video that you want to edit to the timeline or click the plus button available on the timeline and add your media file from there.
Step 2: Apply changes to your Videos to Make Them Look Stunning.
Edit the video according to your need and make them splashy using numerous resources and options available on the Filme interface.
You can add filters, effects, transitions, music, texts, or apply fast video mode OR picture-in-picture effects to edit your Vlog videos efficiently.
Step 3: Preview your progress and visit the 'editing window' to edit some more.
In a preview window, you can check, do basic editing, and set project details such as ratio, resolution, and speed. Furthermore, you can open the editing window and change your video's brightness, contrast, etc.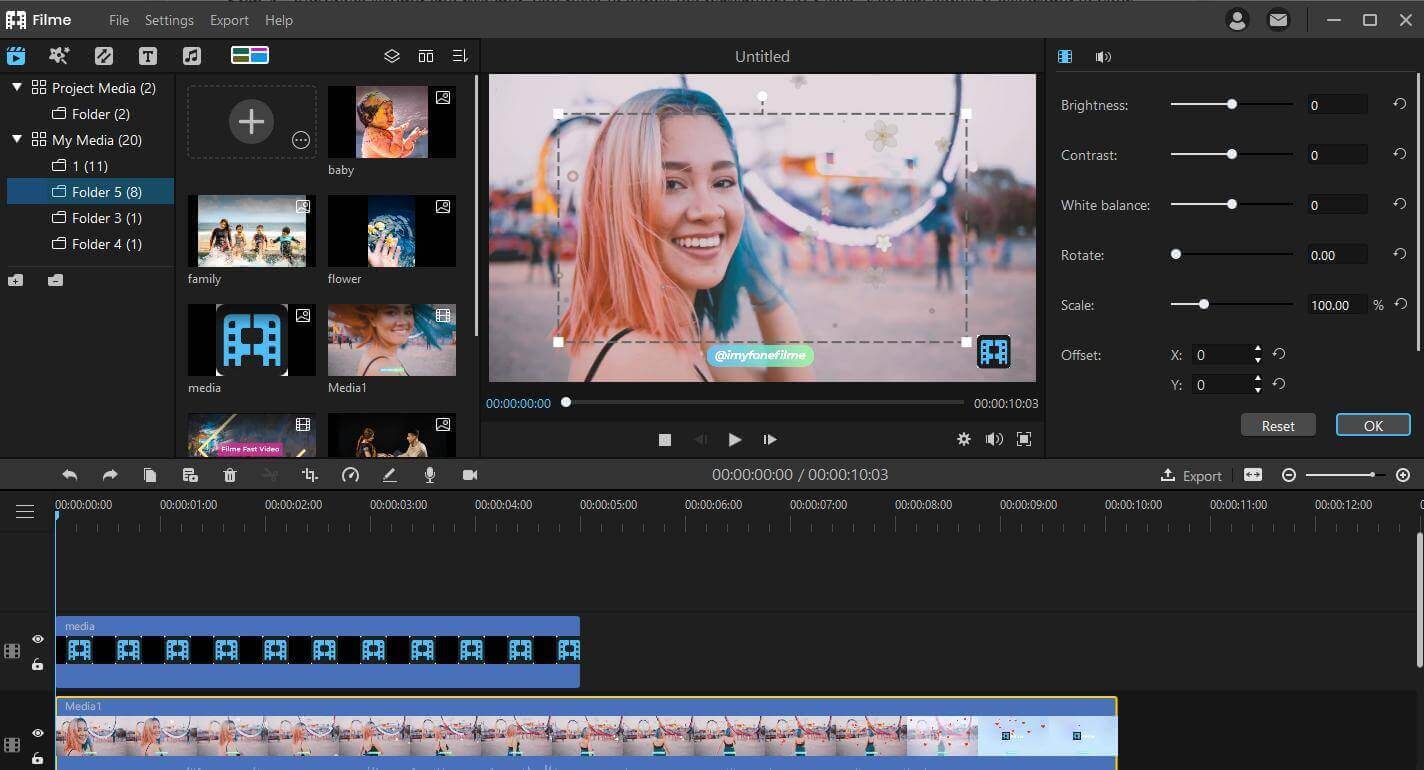 Step 4: Export and Save Your Stunning Videos.
Click on the export button available beside the timeline; save your videos on your computer or any other device.
And just like this, your video is ready for a Vlog. See! No need for a camera or any other complex strategy. Only by using iMyFone Filme can you become the best Vlogger in no time.