When it comes to vlogging, a tripod is one of the most essential pieces of equipment. It helps hold the camera in a position securely and lets you shoot professional videos, utilizing better camera angles and effects.
The tripod you choose is critical to your success as a professional vlogger. A good tripod helps vlogger produce smooth videos with cinematic shots and balanced images – and entertain your audience.
To help you out, we have handpicked the 5 best tripod for vlogging that a vlogger can use regardless of their skill level. Let's read them up.
Part 1: What to Consider when Buying a Vlogging Tripod
A vlogging tripod can be a difference between ordinary and spectacular video quality. Here are the most important things you should consider while buying a vlogging tripod:
1. Static or Motion
Depending on the type of videos you want to produce, you may have to choose a tripod with a suitable head type, i.e., Static or Motion.
Vlogger who wants to produce cinematic blogs should go for the fluid head as it balances a tripod's head and creates smooth movement. Static heads, on the other hand, are designed to keep the camera still and hence, don't create smooth pans and tilts - which are worth forgoing for a professional vlogger.
2. Weight of Camera
Before buying a tripod, make sure it can support the weight of your camera as tripods have weight limitations. Tripod cameras are not that heavy but large cameras having monitors, battery grips, and large lenses and microphones, call for the need for a robust tripod.
3. Consider Maximum Height
The height of a tripod matters a lot depending on whether you're creating videos in a seated position, at a desk, on-the-go, or while standing up. Usually, vloggers don't count in the factor of the height as they produce most of the videos in a seated position.
However, vlogs like DIY, cooking or any other type involving a top-down view require a taller tripod. Choose the tripod height according to your niche.
4. Mobility
The type and nature of your vlogs will determine how small or heavy your tripod should be. The heavier a tripod is, the more stability it offers. But it also makes it difficult to carry around while shooting traveling, adventure, or action-style vlogs.
However, portability shouldn't bar vloggers from buying a high-quality tripod to produce stellar-quality content.
Part 2: 5 Best Vlogging Tripods in 2021
Now that, you know what you should look for in a tripod, it's still a time-taking and daunting task of narrowing down the best-quality tripods.
To help you out, we have curated a list of 5
1. Joby Gorilla Pod Hybrid
Priced at $22.50, Joby Gorilla is one of the best iPhone tripod for vlogging. It is a type of compact tripod having a maximum height of 10.1 feet that sits on any surface and provides remarkable stability. What makes it a superstar in the vlogging community is its ease of use and setup, lightweight, and flexibility for taking talking heads videos.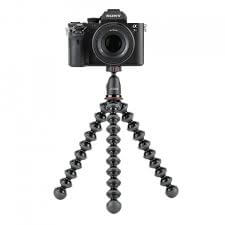 Pros:

Only 3lb weight

Highly adjustable

Made from stainless steel

Budget-friendly

Really flexible
Cons:

Legs can stretch for only one inch

Cannot be used for panning shot

Not very durable
2. Manfrotto Compact Action Tripod
A vlogging tripod for DSLR that allows users to shoot at night or in outdoor conditions with great efficiency. Having a load capacity of 3.30lbs, it features a mounting plate that provides a perfect grip to almost any type of camera.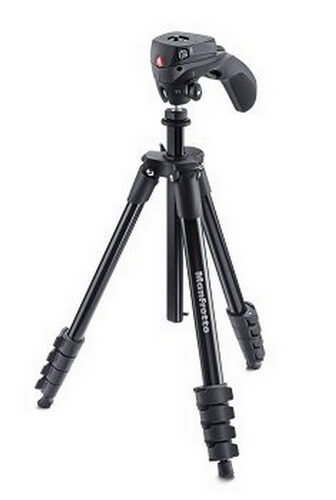 Pros:

It has a maximum height of 51.57 inches.

Suits travel, adventure, or any outdoor vlog

Perfect for both photography and video
Cons:

Low weight-bearing capacity

A bit expensive, priced $64.49
3. CamRah Smartphone Tripod
CamRah is another popular tripod that has earned the status of one of the best smartphone tripod for vlogging. Weighing only 0.6lb, it is an ideal option to hold your smartphone perfectly in place and shoot amazing content.
It has a maximum load capacity of almost 11lb, making it a viable option for mounting action cameras and DSLR, and it can stand in both smooth and irregular places.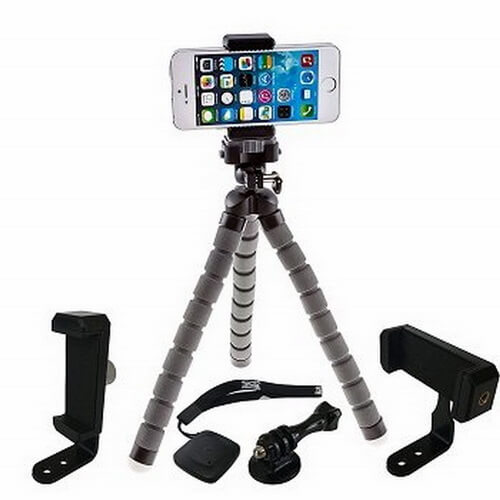 Pros:

Inexpensive; costs only $24.99.

Has flexible legs made from high-density foam.

High portability

It has jaws technology which provides an extra-strong grip on the camera
Cons:

Not a suitable option for professional cameras.
4. Magnus VT-4000 Fluid Head Tripod
Equipped with amazing panning and tilting features, this vlogging tripod for canon g7x is a perfect option for creating stable shots. It allows vloggers to move the camera freely while recording smooth shots.
This tripod is more suited to professional vloggers who want to shoot at both interior and exterior locations.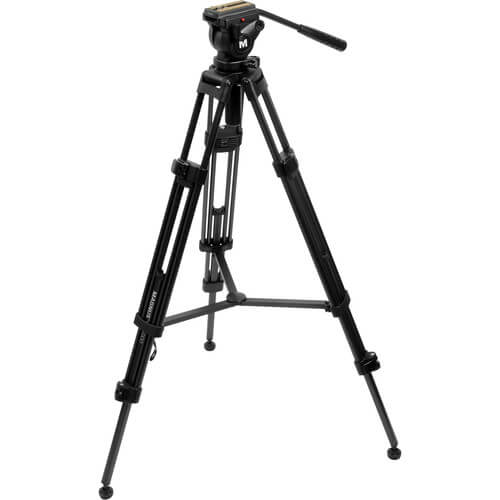 Pros:

Compatible with all cameras

Easily adjustable to any surface

Its 59-inch height is perfect for high angle shots

Has heavy-duty locks
Cons:

High-price: $159.95

Has more weight so not suitable for travel vlogs
5. Manfrotto Mini Travel Tripod
Another great vlogging tripod for iPhone for vloggers who shoot their videos with compact cameras. It weighs just 0.51lbs, making it your perfect travel companion. Adding on, it lets users shoot a video from any angle.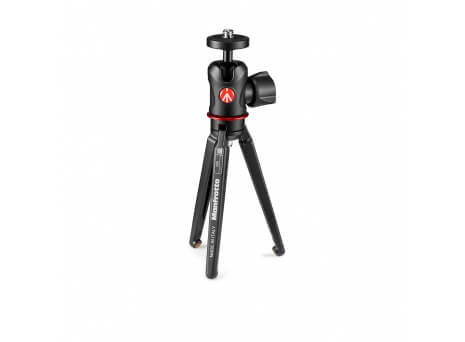 Pros:

Inexpensive; costs $34.99

Lightweight, small, and durable

Supports compact cameras
Cons:

Load capacity is only 2.2lbs

Tripod's legs can't be extended
Part 3: [How to Choose] Tips for Choosing the Best Vlogging Tripod
This section will walk you through several tips you should keep in mind to choose the best vlogging tripod.
1. Robust Functionality
Many a time, vloggers have to capture a moment instantly before it's gone. Because of this, get your hands on a tripod that has an intuitive and simple setup process that you can start using as quickly as possible and show your audience the best content.
2. Portability
If you love to produce travel and adventure vlogs, choose a lightweight tripod that you can easily carry around – but it shouldn't compromise the stability of your camera.
A lightweight tripod allows you to hold the camera most of the time and don't miss the amazing moments that your viewers love to watch.
3. High Adaptability
A professional vlogger has several cameras ranging from tiny GoPro action cameras to heavy and large DSLR to shoot spectacular content. The tripod should have the ability to attach to all kinds of your cameras out there as carrying two or more tripods isn't practical.
4. Consider Compactness
For vloggers who have to travel quite often to produce vlogs, a compact camera that should easily be fitted in your bag is the most preferable option. No vlogger would want to carry a large tripod in hands all the time – especially while traveling.
A compact tripod makes it easier for you to travel and shoot vlogs at different locations with great ease.
5. Customizable Legs
Look for a tripod that has customizable legs, which makes it convenient to set it up on any surface and take spectacular shots. Note that some tripods can only be fixed on a plain surface.
So, know your needs and vlog type while choosing a tripod.
6. Fits Your Budget
None of the aforementioned points matter if the desired tripod exceeds your budget limits. Find out the price of your favorite tripod and buy one that meets your requirements and individual preferences.
Also Read:
Part 4: The Same Essential Tool for Vlogging - Best Vlog Editor for You
For a successful vlogger, an expansive and professional video editor like iMyFone Filme is a must. Loaded with an array of basic and advanced video editing features, Filme lets users create appealing and captivating visual content to grab the viewers' attention.
It offers thousands of unique themes, transitions, effects, overlays, and other video and audio effects that you can apply with just one click
Key Features of Filme
The below features justify why iMyFone Filme is the best video editor for your vlogs.
Render videos quickly

Offers wireless import which comes in handy for larger videos

Add dozens of video overlays, effects, and themes

Unique video transitions

Amazing Fast Mode

Multi-layering of videos and audios

Easily adds cinematic tiles and text to your vlogs videos

All basic video editing features including rotate, crop, trim, split, and so on
Pros of Filme
Easy to use for

Supports all video formats

Light in weight

Instant preview of effects while editing
Here's how you edit how to edit a vlog using Filme:
Step 1
Once installed, launch iMyFone Filme on your computer.
Step 2
Click on the 'import media' option and import the vlog you want to edit.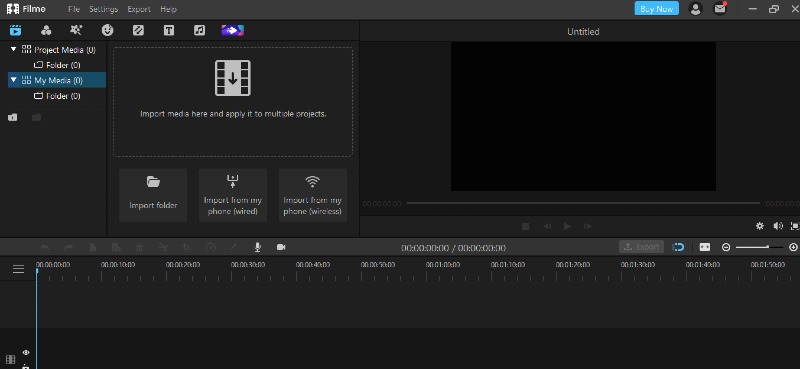 Step 3
Now, hit on the "+" sign on the vlog to move it to Filme's timeline.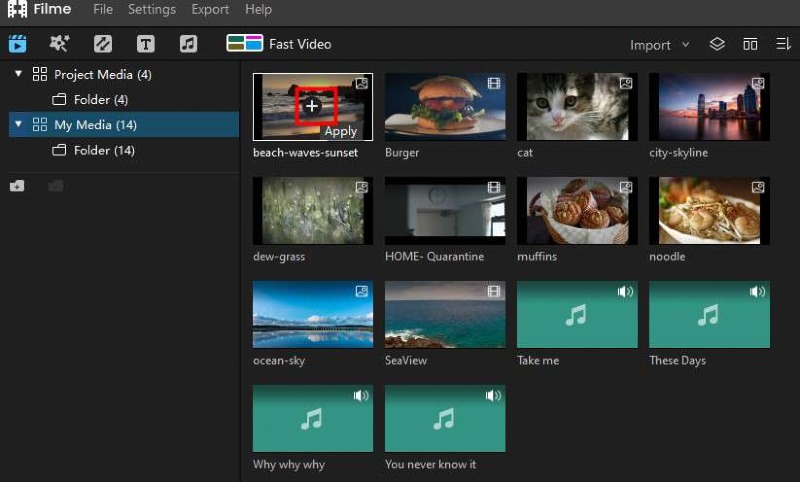 Step 4
Once the vlog is in the timeline. Filme gives you the freedom to apply unlimited video effects.
Select the filter and click on the + option to apply it to the vlog.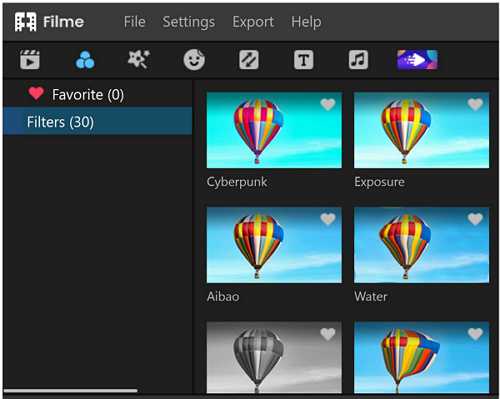 Step 5
Similarly, to apply a Transition, click on All Transitions > "+" to add it to your vlog. Follow the same procedure to apply any other video or audio effect to your vlog.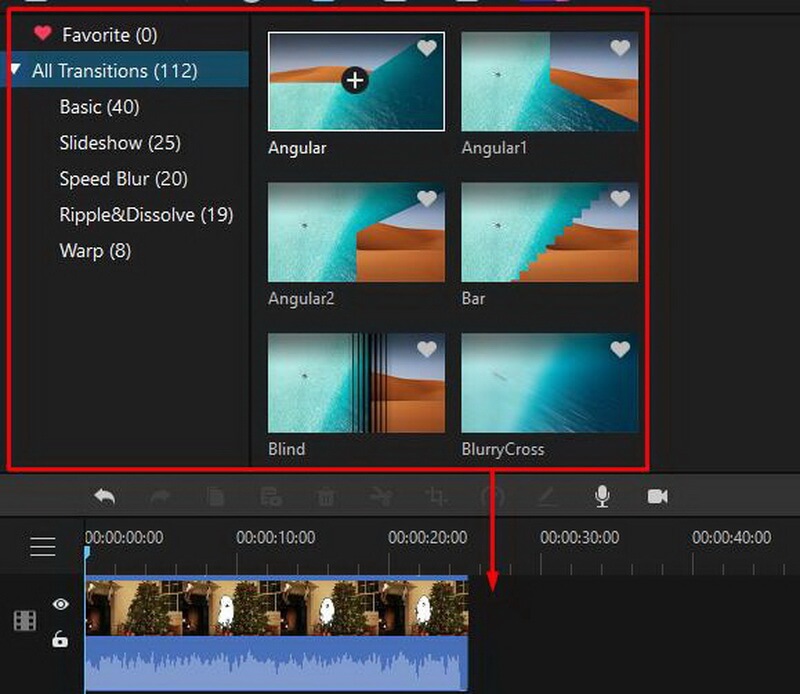 Step 6
Once you're done editing, hit on Export > Export Video at the top tab to download the final product to your computer.

Final Words
To sum it up, this article has outlined the best tripod for vlogging 2019 that you can rely on to produce captivating vlogs. These tripods come in varying qualities that cater to different budgets. Go for the tripod that fits your needs and budget.
We recommend users installing iMyFone Filme to edit and add a spectacular touch to their vlogs using unlimited effects, overlays, and animations.