A camera is not the only essential for creating a great vlog. The microphone also matters a lot when it comes to engaging more audiences. A clear and crisp sound in your vlog will make it more pleasant for the audience and your viewers.
If you want to get the best microphones for your vlogging purposes, then this is the right article. We have listed the best vlogging microphone with their pros, cons, and price. We will also show you a free vlog editor - Filme that helps you edit and create amazing vlogs.
Part 1: Top 10 Microphones for Vlogging
This microphone has the ability to connect to any smart device that can record sound. Anyone can easily connect it to a mobile and then attach it with the collar of the shirt. Thus, it is a great option for daily or travel vloggers.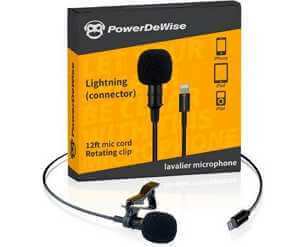 Pros:

Response frequency of 50Hz to 16 kHz

Has noise cancellation feature

It comes with a wind muff.

It comes with a long extension cord.
Cons:

Low sensitivity
Price:
From $31.06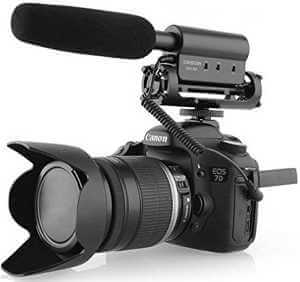 TAKSTAR offers the best mic for DSLR vlogging. When it comes to situations like moving freely and recording video and sound through cameras, this microphone works well. It comes with a shock mount, and its body is made up of aluminum to prevent any internal damage during its use.
Pros:

Solid battery time

It comes with a shock mount.

Boosts volume up to 10 dB
Cons:

Has low sensitivity
Price:
From $35.00
Rode's microphone is specially designed for iPhone and other smartphones. It is one of the easy-to-hold microphones that can easily be used for outdoor shooting while moving freely. There is a TRRR jack with an Omnidirectional capsule that captures equal sounds from all directions.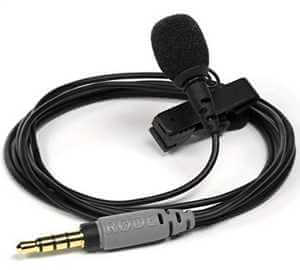 Pros:

It comes with a Kevlar-reinforced cord.

Frequency ranges from 60 Hz to 18kHz

Easy to use
Cons:

Only compatible with mobiles
Price:
From $79.00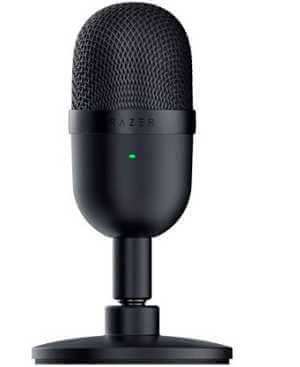 Razer's mini microphone is very suitable for smart and compact set-ups for live streaming and studio vlogging. It is designed with a specific angle and shape to capture the person's sound only. This microphone prevents background sounds like the sound of a mouse and keyboard. The 14 mm condenser capsule catches the sound clearly and sharply.
Pros:

Easy to operate

Excellent sound quality

It comes with a built-in shock mount.
Cons:

Only for PCs
Price:
From $49.99
Rode VideoMic Pro + is a perfect sound recording microphone for camera users. It has a particular shape for shielding the wind. It is an easy-to-use product; just plug it into your cameras and start recording your sound. The microphone will switch off on its own after unplugging from the camera.
Rode VideoMic Pro + is super comfortable and portable; just recharge it through the micro USB port and go out to record your vlog with the camera.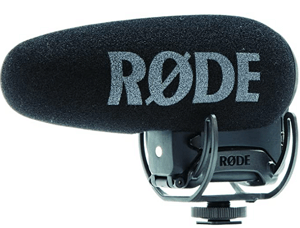 Pros:

Built-in rechargeable battery

Frequency ranges from 20Hz to 20kHz

Windshield shape
Cons:

Expensive

The only hardware support is a camera.
Price:
From $299.00
This is another on-camera sound capturing microphone from Rode with wired connectivity technology. The microphone is super lightweight and portable. You can simply attach it with your cameras through the lyre shock mount to prevent bumps and shocks.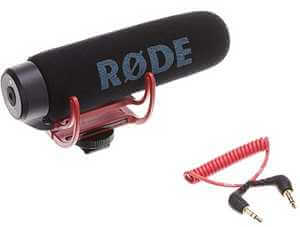 Pros:

Frequency ranges from 100 Hz to 16kHz

Directional microphone

No battery requirement
Cons:

Only for cameras
Price:
From $99.00
Movo has launched this microphone for the best sound experiences on mobile phones. It can be used with iPhones, Androids, and all other smartphones. The furry shield wind cover makes it a more amazing sound recorder for clear and crisp sound. It comes with a handle for a comfortable grip while walking, running, and doing other activities.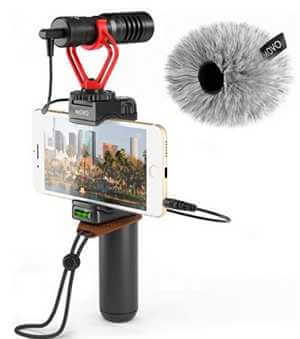 Pros:

TRS and TRRS cables

Easy to carry

Upgrades sound efficiently

It comes with a handy grip.
Cons:

Records a little bit of background noise
Price:
From $52.95
Rode Stereo VideoMic Pro provides high-quality sound recording for videography. Due to its unique and portable shape, it is very suitable to capture natural sound with great depth. Moreover, it comes with a shock mount to prevent the physical factors that can destroy your content's quality.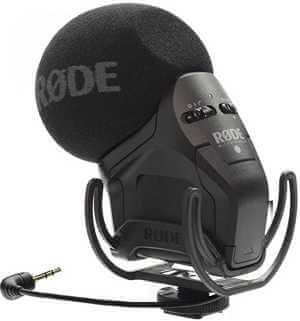 Pros:

Portable and lightweight

Unidirectional polar pattern

Frequency ranges from 40 Hz to 20 kHz.
Cons:

Battery required (Does not come with a battery)
Price:
From $299.00
This is an all-in-one vlogging kit for iOS users, which includes all the necessary things a vlogger requires. The microphone provides a great sound capturing experience with frequency ranges of 20 Hz-20 kHz and a cardioid polar pattern. There is a small rubber layer around all devices to reduce the jerks and shocks.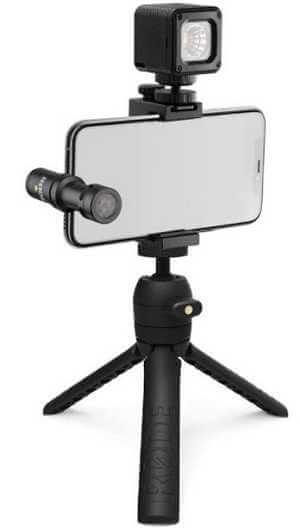 Pros:

All products are mounted with rubber

All-in-one vlogging kit

Lightning connectivity technology
Cons:

Only for iOS devices
Price:
From $149.00
For vloggers and streamers, this is a smart, compact, and versatile microphone that can easily be used on mobiles, tablets, and cameras. It is worth using due to its unidirectional polar pattern, battery power, and aluminum material.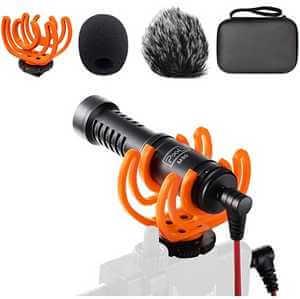 Pros:

Versatile

Lightweight

Affordable
Cons:

Not compatible with laptops

Records little buzzy sounds
Price:
From $26.59
Part 2. You Also Need a Good Tool to Edit the Audio – iMyFone Filme Vlog Editor
iMyFone Filme Vlog Editor is a beginner-friendly video editor. You can create your vlogs or any type of video by using it. It has almost every tool that can help you create a stunning video without any hassle. You can make your videos perfect by adding text, images, effects, transitions, filters, stickers, and other objects. Apart from video editing, you can also edit your audio using this tool.
Watch this video to see what Filme can do for editing your vlog:
Reasons to Use Filme
1) Audio Trimming and Splitting
You can trim your audio and adjust its duration. You can also split and remove the unwanted part with precision.
2) Volume Adjustment
The volume of the video can also be adjusted. You can set it according to your needs.
3) Voice Recording
You can record your voice with Filme. It has a voice recorder. After recording the voice, you can edit it as you like. You can also record your voice in real-time along with the screen recording.
4) Real-Time Voice Changer
The real-time voice changer of Filme can change the voice in real-time. Your voice will be changed while you speak. You can also change the voice of pre-recorded audio. There are various voices available.
Steps to Edit Audio in Filme
Step 1: Launch Filme. Go to File>New Project and select any aspect ratio.
Step 2: From the Media menu, import videos, audio, and other media. After importing them, drag them to the timeline. You can also add audio and sound effects from Filme's library.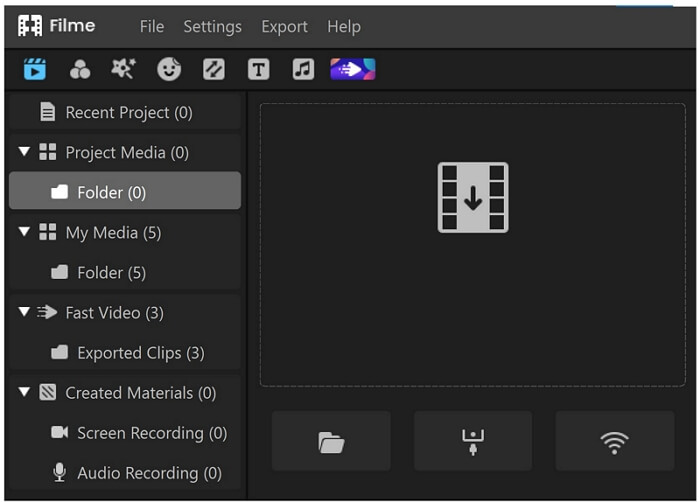 Step 3: Adjust the duration of the video and audio by dragging the ends. You can also use the split tool. If the audio is attached to the video, right-click on it. Click on Detach Audio.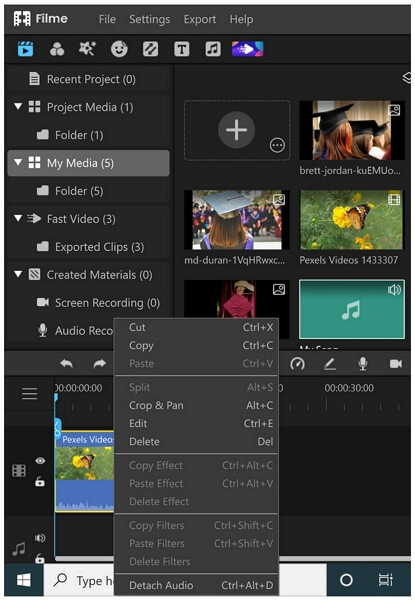 Step 4: Double-click on the audio track in the timeline. You will see some editing options on the left. Now, you can change the volume, apply the fade in/out effect, and use voice changers. After changes, click on OK.

Step 5: After audio editing, you can add effects, text, filters, or anything you like. Once your video is ready, click on the Export button. Now, you can export the video file in the desired format. Moreover, you can also upload your video to YouTube and other platforms.
Part 3: 5 Tips for Choosing a Best Vlogging Microphone for You
1) Select a perfect polar pattern
The polar pattern is actually the direction from where the mic picks the sound more clearly and sharply. There are many microphones available with different polar patterns, and you need to figure out your purpose first for a perfect microphone with a perfect polar pattern. The most picked-up option by vloggers is a cardioid microphone to record the human sound.
2) Choose a microphone with shock absorbers
A shock absorber is very important with all kinds of microphones, especially if you are going to record travel or daily vlog. Always select the microphone with a simple or lyre shock mount that can prevent jerks and shocks.
3) Compatibility:
Compatibility is very crucial to keep in mind while selecting a microphone for vlogging. A person should select a mic that is compatible with all types of devices like mobiles, cameras, and PCs. We have also listed some microphones that are compatible with all types of devices, so you can easily pick any of them.
4) Rechargeable batteries:
For vlogging, our first recommendation is to choose a microphone with rechargeable batteries. It provides the chance to go out and record voices and sounds without any problem.
5) Frequency response:
Frequency response means the range of frequency a microphone can pick up. For vlogging, we recommend choosing the microphone according to the human frequency range, which is 20Hz to 20 kHz.
Final Words
Selecting the best microphone from many options is difficult, especially for a beginner. We have listed some best microphones for vlogging in this article, and we have also added some key points that a person should keep in mind before buying a microphone for vlogging. For video editing, you can use iMyFone Filme Vlog Editor. It will help you edit the video along with the audio.