If you want to create a heart-touching kindergarten graduation slideshow, choosing the right song is important. Depending on the mood you want to share on your video, there are different options. The lyrics and meaning behind each song are also something you need to consider.
Here are the top 15 songs that you could use for your kindergarten slideshows. It includes lively songs, nostalgic tunes and ballads full of emotions. We also recommend one video editing tool that could help you through your video creation.
Part 1: Top 15 Songs for Kindergarten Slideshow
#1. We're Moving up to Kindergarten - The Orchard Enterprises
This is a cute song that brings together all the emotions the kids are going through. The lively beat will match well with this special occasion. The kids will face a new challenge in their life and move forward to a new stage in their lives. If you want a song that will speak of what they are feeling, this is a great choice for kindergarten slideshow songs.
#2. Time in a Bottle – Jim Croce
For a melancholy touch in a kindergarten slideshow, this could be a great option. There is no stopping the time and the kids growing is just a sign that life will continue. We all would love to have our time inside a bottle, but we need to appreciate each day as it is the last one.
#3. A Bright Tomorrow - Laszlo Slomovits
We all can get emotional and optimistic in these important events. The kids are facing a bright tomorrow and this song is a beautiful message to welcome them into this new phase. It talks about the hard work they have dedicated and all the beautiful results it gave.
#4. You've Got a Friend in Me – Randy Newman
This song is a classic in everyone's heart. If you use it as music for the kindergarten slideshow, you will talk about all the friendship bonds formed among the kids. The nostalgic feeling it offers is ideal to remember that nothing will separate the friendships made in our lives.
#5. A Whole New World – Lea Salonga & Brad Kane
Graduating from kindergarten feels like stepping into a whole new world. The kids will get to know new things, new people and new experiences. If you want to enhance this new experience for the children, you can use this song for your kindergarten slideshow. Another advantage is that this song is well known and full of magic.
#6. Go the Distance – Roger Bart
This song talks about surpassing yourself. The kids will start their journey and encounter higher standards. This song of one movie theater classic can bring a lot of these emotions to your kindergarten slideshow. It is an epic alternative of music to add as it has a lot of instrumental breaks.
#7. You'll Be in My Heart – Phil Collins
Disney classics are loved by the children. If you add one to your kindergarten slideshow, with no doubt all the kids will be happy and singing. This song in particular is heart-touching as it talks about how the persons we loved will always be with us in our hearts.
#8. On My Way – Phil Collins
This energetic song is perfect for a kindergarten slideshow song. With graduation, the children will start a new journey in their lives and this song welcomes this new adventure. Since it is a Disney song, even the adults may enjoy this catchy theme.
#9. Open the Fear Door – Laszlo Slomovits
If you truly want to encourage your little audience, this song is full of positive messages. Leave the fear behind and face the new and distant goals. "Open the Fear Door" is ideal for teaching how to develop personally. It is a dramatic and original touch you can add to your kindergarten slideshow.
#10. Have it All – Jason Mraz
If you want an energetic theme, then this song is full of nice vibes and energy. It wishes for all the positive things in the future you may have. It works as a lively toast we all will be offering to the children, wishing they have it all in the future regardless of the path they choose to take.
11. Building Our Own Future – The voices around the world
The education of our children is what will build the future. This beautiful song is sung by children all around the world and it talks about creating a bright tomorrow. It can be sung by the children to create a beautiful song for your kindergarten presentation.
12. Never Grow Up – Taylor Swift
Childhood is one of the most beautiful moments in our lives. This song talks about never letting our inner child die. The graduation may come, but let's not forget about the nice memories and heart-touching moments we have in our hearts. It is a slow-paced song that will add a lot of emotion to your video.
13. The Climb- Miley Cyrus
Miley's vocals are full of emotions in this song. The message about never giving up and facing new challenges is a sweet message to add to your kindergarten slideshow. This ballad full of feelings will be a great secondary complement to your video.
14. Don't Forget to Remember – The Bee Gees
Graduations can be full of mixed feelings. The excitement of getting to know new things can eclipse the nostalgia of saying goodbye to all the friends made in kindergarten. This song brings this nostalgic feeling with a slow ballad that will complement your kindergarten video. The parents may have memories of this emotional song of the 70s.
15. With a Little Help from My Friends – The Beatles
The Beatles are an excellent option for the music of a kindergarten slideshow. Their high spirits will work perfectly as background music. The children will get excited and the parents will most likely know this classic. The lyrics are not related, but it still works for sharing a kindergarten graduation slideshow.
Part 2: Best Slideshow Maker to Create Stunning Kindergarten Slideshow Video - iMyFone Filme
If you already found the ideal song for your kindergarten slideshow, the next issue is how to include it in your video. You probably want to create a high-quality video that will be kept as an invaluable memory of this event.
To achieve this quality content, you need the right video editing tool. That is why we want to recommend you iMyFone Filme. This is a premium tool you can try for free for 30 days.
It offers multiple features that would come in handy to create a superb kindergarten slideshow. Here are some of the main audio features:
How to create a slideshow using Filme
Filme has all the options to prepare it in minutes with all the transitions, pictures and music you desire to add. This functionality will save you a lot of valuable time. It just takes three easy steps to prepare your slideshow:
1. Click Fast Video mode
2. Choose templates you want and add media
3. Export and share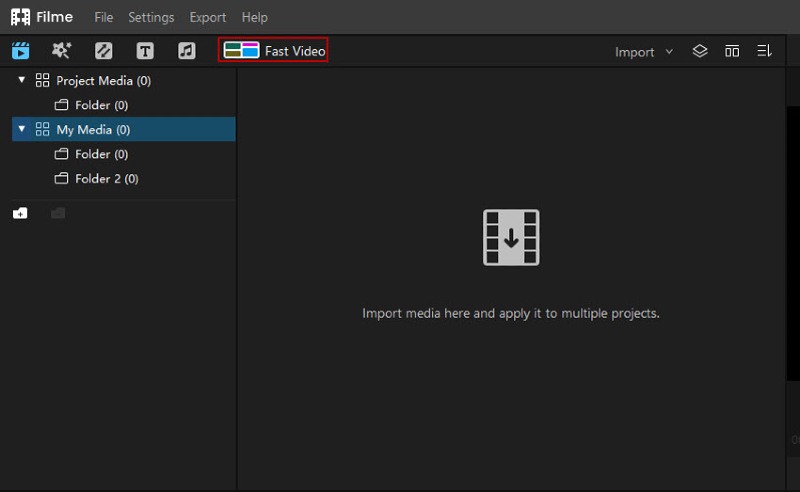 If you want to edit the slideshow video on your own, you can use basic editing features from Filme, including crop, trim, adjust speed and add the music you want. And this tool comes with a new feature - Voice Changer. That means you can change the audio of your video in various voice filters. That's so funny! You might as well personalize it by adding text, GIF, animations and filters that will give a special touch to your presentation.