If we look at the list of top social platforms that are ruling the internet in 2021, then YouTube and Snapchat are found to be dominating that list among some other sites. If you are a frequent user of these applications, you might sometimes need to share links across these platforms to let your friends and followers show something new. In this article, we are going to look at the method of sharing YouTube videos to your Snapchat.
Part 1. How to Link a YouTube Video to Snapchat
You might be a YouTuber or a user of YouTube, and you come across some videos that might be very informative or sometimes funny as well. Then there is a need to share this video with your friends and family across different platforms. On Snapchat, this is pretty easy, as you just need to follow the steps mentioned below:
Step 1: Copy the video link from YouTube:
The first step is to copy the video link of that particular YouTube video that you want to share. Just go to YouTube and then select that particular video. At the bottom of the video, there will be some options to tap on. Select the "Share" option. A window will pop up from the bottom of your screen, showing multiple places to share this video. Select "Copy Link," and the link will be copied.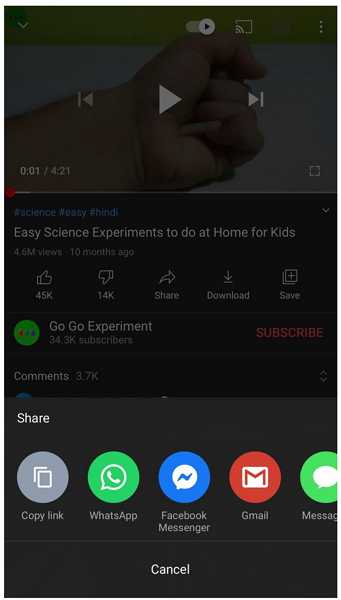 Step 2: Open Snapchat and make a Snap:
As the link is copied, it is time to share the video. Open Snapchat and make a snap. It could be a video or a picture; it all depends on you. You can even import the video or photo from your Camera Roll. To import from Camera Roll, tap on "Memories", which is just beside the Capture button on Snapchat. In the memories section, you will see your saved pictures and videos under the "Snap" heading. Select the "Camera Roll" heading from the menu. All saved photos and videos on your phone will be visible to you now. Select any from them, and you are good to go.
Step 3: Paste the Video Link:
After the snap is uploaded or captured, it is time to paste the copied link. For this, select the edit snap option on Snapchat, which is represented by a pencil icon. You will now see multiple options on the top-right corner of your screen. Select the "Add URL" option from that list which is represented by a paper clip. Now you can either paste the URL of the video that you have copied manually in the area, or you can directly tap on the video link, which is displayed under the heading "My Clipboard" which is the same link. Once you select the link, a new window will be loaded, and it will display your video. At the bottom of that window, there is an option "Attach to Snap". Tap on it, and the link has been attached to the snap.
Step 4: Add Description to Snap:
Now add text "Swipe up to see the video" or anything that relates to the link. Then send it to your friends or add it to your Story.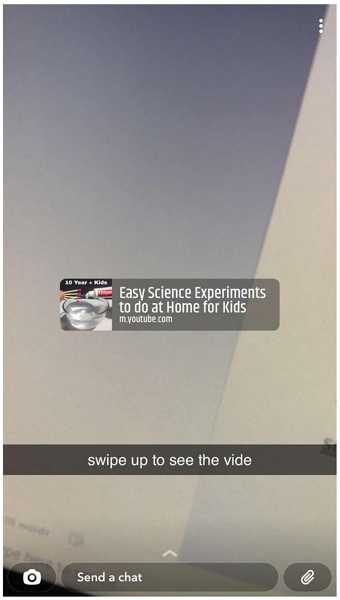 Video Link:
A simple guide to share a YouTube video on Snapchat can be seen in the video attached below. You just need to follow the steps.
Part 2. How the Shared Link Looks at the Receiving Side
Earlier, we discussed how to attach a video link to a YouTube video on your Snapchat. It must be pretty clear to you. But how does your attached video link look like to the people you have sent it to? We are also going to describe the interface that your friends will witness.
To be honest, the snap would be the same as any normal snap that you send to your friends. But this time, as you know, there would be an additional external link to your snap that is attached to it. When your friends or followers open that snap, there would be a normal snap visible to them.
Depending on the description that you have written in the snap, they will react in the same way. For example, if you have written "Swipe up to see the video", they will know that there is a video attached to this snap. So they are going to swipe up the screen to view the linked video. On swiping up, the video title will appear on their screen, and at the end of it, "– YouTube" will be written, representing that it is a YouTube video. By tapping on it, the external window of that video will open.
You Might Be Interested In This:
Why Are My Snapchat Videos Blurry >>
Back Up Your Videos, Photos and Chats in Snapchat >>
Part 3. How to Edit Video and Upload to Snapchat
1) Filme [Win and Mac]
Filme is a versatile video editor that you can use to create stunning videos for Snapchat and other social media platforms. It is perfect for beginners as it has a simple and user-friendly interface. You can easily edit your videos with a few clicks.
Steps to Use Filme for Editing Snapchat Videos
Step 1: Launch Filme on your computer. Go to File > New Project and select the 9:16 aspect ratio. There are more aspect ratios available, but for Snapchat, you should use a vertical video.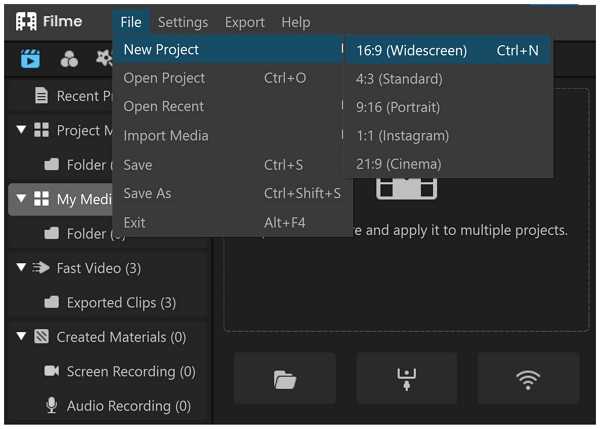 Step 2: Go to the Media menu. You need to import the file you want to edit. Click to import the videos and other files. You can also import videos from your mobile using the QR code or USB cable.
Step 3: After importing the video, drag it to the timeline. You can trim the ends of the video to delete the unnecessary part.
Step 4: Select the video. You will see a wide range of tools above the timeline. You can use them for cutting, cropping, adjusting speed, changing color, screen recording, and other purposes. Make any changes you like.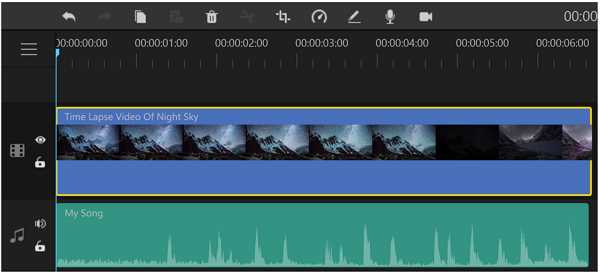 Step 5: You can add text, effects, transitions, stickers, and filters to the video. Select the video and go to the menu. You can select whatever you need and add it to the video.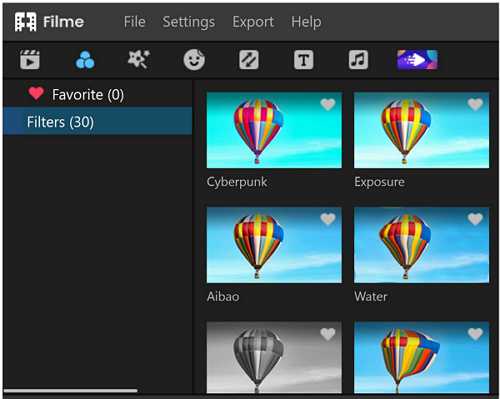 Step 6: You can also add music in Filme. Drag the music file to the timeline. Filme also has its own music library, so you can also select tracks from it. You can record your voice and change its pitch in real-time as Filme offers a voice changer.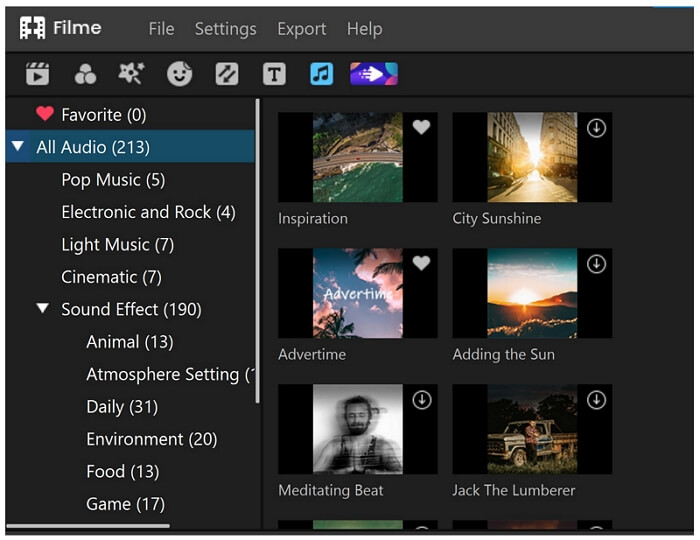 Step 7: When you are ready, click on the Export button. Select the file format and other settings for Snapchat and click on Export.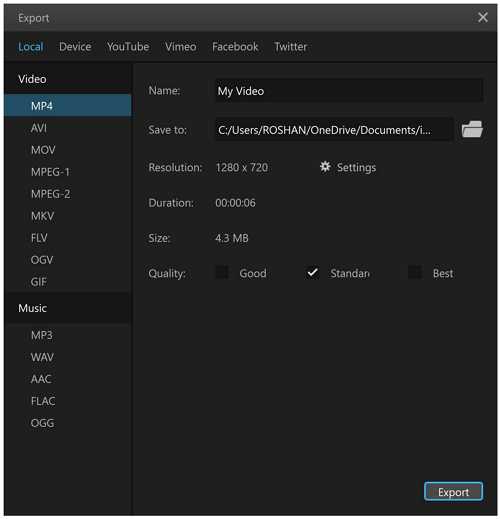 Step 8: Now, you can upload the exported video to Snapchat. You can do it using your mobile. Transfer the video to your phone and upload it using the app. You can also use an Android emulator on your PC to use the Snapchat app.
2) VideoShow [iOS & Android]
VideoShow is an excellent application available on iOS and Android for video editing. It provides you with an outcome that is relatable to professional video editing. It is perfect if you want to save time and edit your Snapchat videos without any hassle.
Steps to Edit Videos on VideoShow:
Step 1: Open VideoShow on your mobile. Tap on Edit Video.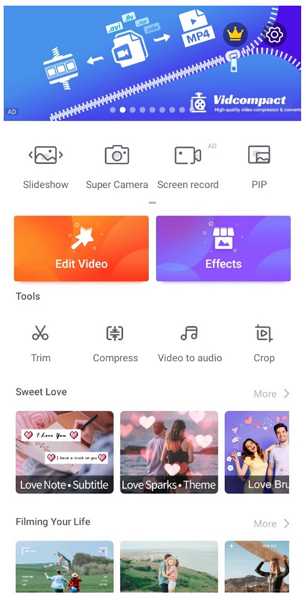 Step 2: Select the video you want to edit. Tap on Next.
Step 3: Your video will be in the video editor. You will have four tabs at the bottom. Tap on Edit. Here, you can make basic changes to the video. You can trim the video, add transitions, add filters, crop the video, add stickers, apply effects, add GIFs, create a doodle, and make many other changes.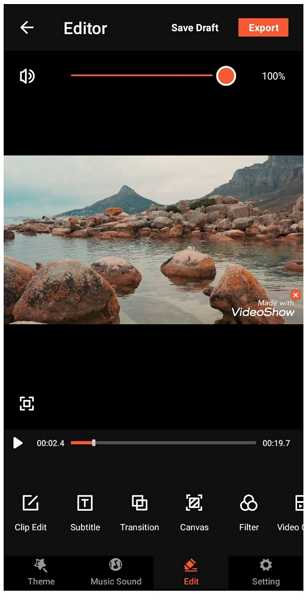 Step 4: After basic editing, you can add music. Go to the Music Sound tab. You can add music, sound effects, and voiceover. You can choose anything you like.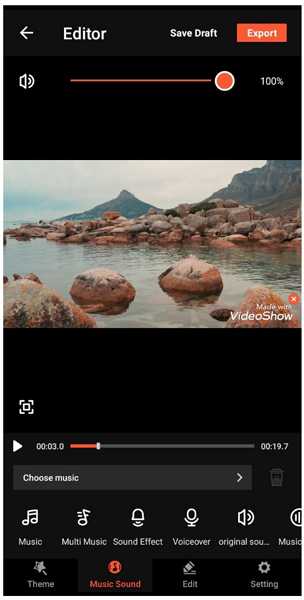 Step 5: When you are ready, tap on the Export button on the top. You can select the frame rate and resolution. Tap on Save to Gallery.
Step 6: Now, you can upload the file to Snapchat. You can upload the video directly from your mobile using the Snapchat app. Open the application and upload the video from your Camera Roll.
Final Words:
In this article, we have seen an easy way to attach a YouTube video link to your Snapchat story or to send it to your friends. You can also edit your Snapchat videos through Filme, which provides a wide range of features with ease of use. Without prior experience in editing, you can still edit your video as if you are a professional.