Snapchat is an interesting platform, where all the videos will only be available for a limited time. This is a benefit and a curse since all the media your friends share with you will disappear. How to save a Snapchat video that you liked? There are different alternatives you can use depending on the video you want to save.
We prepared a detailed guide to help you save Snapchat videos. It works for iPhone and Android users. We help you save your videos and other user videos with our step-by-step guide.
Part 1. Can You Save Snapchat Videos?
Yes, there are ways to save Snapchat videos. Yet, there are limitations depending on the source of the video you want to save. If the video was created on your account, then you can export it right away to your device. This is possible for Android and iOS users.
When the video was created by another user, then there are limitations. You can save them if the video was attached in a Snapchat. But if the video was uploaded and posted in the app itself, then you cannot save the video directly from Snapchat. That includes stories and full screen videos.
You can save Snapchat videos even with the limitations of the app. This is possible if you use a screen recorder application. The only inconvenience is that the user will receive a notification alerting them of your recording. So make sure you have the author permission, otherwise you will get into trouble.
Part 2. How to Save My Own Snapchat Videos
You can save the videos you publish on your Snapchat account. For that, you need to use the Snapchat app from a mobile device. This can be very useful if you want to record a video using the snapchat exclusive filters. Once you save the video you can use it on any other platform or edit it to use it on other videos.
This works the same way for Android and iOS since this is an option available directly from the app. You can download and save your snapchat videos right after recording them or you can search on your memories for videos you already shared. We will make a step-by-step guide to help you save your snapchat videos:
1. Open the Instagram application from your mobile device. Snapchat has an official website but it only gives a brief introduction to the application and offers the app download. You can't access the application from an internet browser.
2. If you just recorded the video, then you can save it by tapping the "Save" icon. This icon is on the left bottom corner and has an arrow going downwards. Once you choose this option, a menu will pop upside.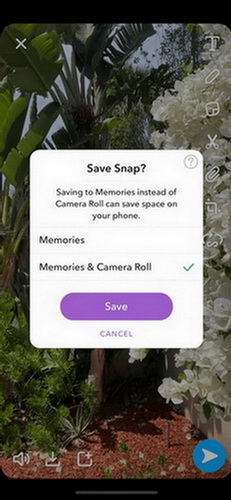 3. Choose the option "Memories and Camera roll". Then, confirm by taping "Save."
4. You will save the video on your device. You can now find it on your Photos app on iOS devices, while it will appear on your Gallery on an Android device.
5. If your video was already uploaded and shared, you can download it as well. For that, swap up to go to your "Memories" section.
6. Search the video you want to save among the entire gallery saved on your memory.
7. Choose the video you want to save. Then, open the menu by tapping the three dots option. A menu will pop up.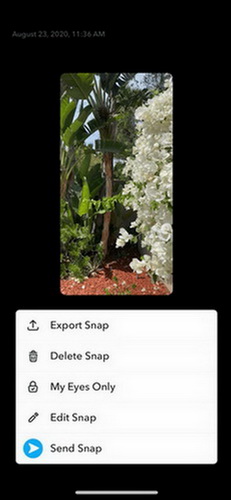 8. On this menu, choose the "Export Snap" option. Then, select the "Save Video"
9. It is done. Now you will have the video available on your device memory.
This way you can always export and save the videos you share on Snapchat. You can save your Snapchat stories as well:
1. Go to your profile by tapping the "Profile icon" at the top of the screen
2. Then, select the "Save" icon next to your Story. The icon has an arrow pointing down to a little line.
3. Now you will have the Story saved on your device and you can share it or edit it.
Part 3. How to Save Other User's Snapchat Videos
Snapchat as an application does not offer the option to download other user's videos. It is that way due to its terms of service and copyright policies. Still, you can use Screen recording tool to save the video you want. Keep in mind that this may activate the Snapchat Screenshot notification, so that person will know that you are recording their video.
If you have the user added as a friend, you can only save their stories. They will get a notification if you do. It is the only option available in the application and it works the same for Android and iPhone users.
The other situation that allows you to download videos from other users is only if they send it as an attached file on the text chat. The sender will be required to give you permission to save Snapchat video on your device.
But what happens with the full screen Snapchat videos of other users?That is when you need to use a screen recorder application outside Snapchat. As we have mentioned, start a screen recording will always alert the owner of the video and there is no way to avoid this without breaking Snapchat's terms of service. Here is a detailed guide on how to save Snapchat videos:
1. On iPhone
1. iOS users need to open their settings app.
2. There, there is the option to open the screen recorder. If you do not have this option on your settings app, here is how you can adjust it.
3. Go to Control Center and choose "Customize controls". There, search for the "Screen recorder" option.
4. Tap on the the "+" icon next to the "Screen recorder" option to add it to your Control Center menu.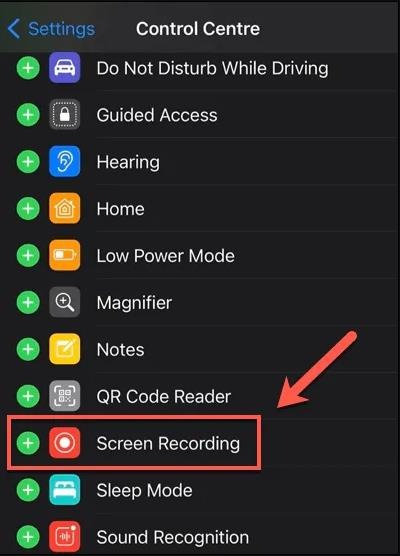 5. Now, you have the screen recording enabled. Once you find the video you want to save on Snapchat, open your control center.
6. Then, tap on the white circular icon. After that, you can start recording your screen.This works for Snapchat Stories or Snapchat videos.
7. Once you recorded the whole video, open the Control Center again and tap the red circular icon to turn off the screen recorder. The video will be saved on your device.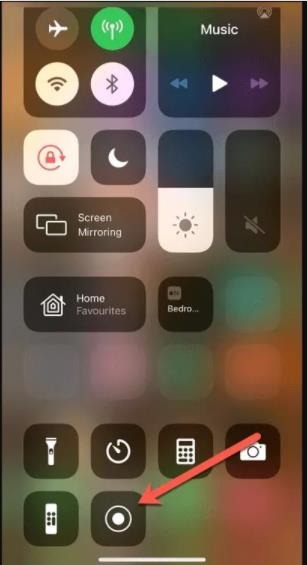 2. On Android
Android users depend on their Android versions. If you have Android 10 or higher, then you can record your screen without any other external application installed. Here is how:
1. If you have Android 10 version or higher, then you can start the screen recording by dragging down your notifications menu.
2. There, you will see the option to start Screen recording. Tap on it and your device will immediately record your screen and audio.
3. A little menu will appear on your screen, there you can stop or pause the recording. This menu will not be shown in the screen recording video.
4. Once you are done, tap on the menu option or open your notification menu again and tap on the screen recording option.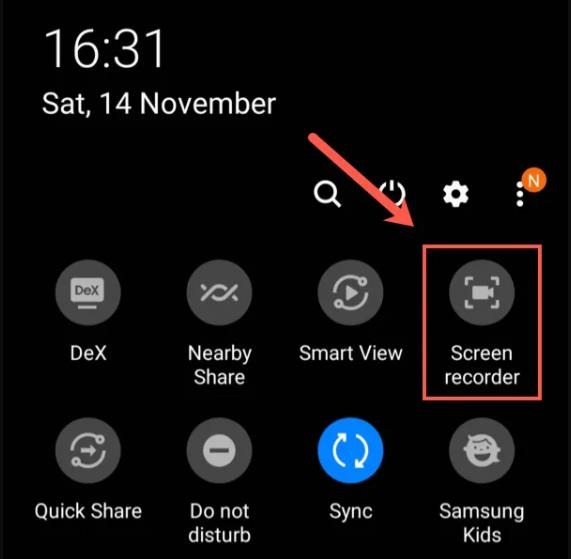 Part 4. Best Tool to Edit Saved Snapchat Videos - iMyFone Filme
If you have an Android 9 version or lower, then you will need an external application to save your snapchat videos. We want to recommend you one tool that will help you do high quality screen recordings: iMyFone Filme.
This is a premium tool that you can download directly from their official website. It has the screen recording functionality and other excellent options for you. Not only can you screen record all the snapchat videos that you want. You can also edit them and create reaction videos right away, thanks to the webcam adding feature.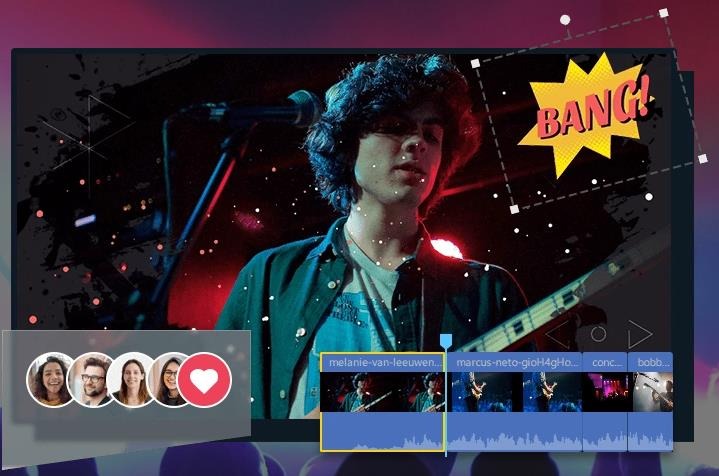 It is compatible with Windows, Mac, Android and iOS. So you can keep your video creation from any device you have at the moment. The editing functionalities are easy to use, thanks to the user-friendly interface.
You can use a vast variety of editing functionalities like copy, cut, trim, rotate, and speed adjustment. There are filter options to improve your videos. You can add text and effects as well as stickers. You can download content for your videos directly form the asset library available. It is a tool that will make your content creation smooth and precise.
You May Also Interested:
Back up video and photo on snapchat
Conclusion
Snapchat is a platform that seeks to keep all the content of their users' safe and private at all times. Using tools available outside of the app is useful to save a video without needing the other user to send you that video as an attachment. However, if you choose to save other user's snapchat video, keep in mind that you need to respect that user copyright and they will know that you recorded that video.
We hope that this guide was useful to you. Remember that there are many screen recording applications you can use to start your screen recordings. But only trust on the best options like iMyFone Filme to keep the quality of the videos and even edit them right away.