You can reverse your video using Snapchat easily. Furthermore, a user can also take the opportunity to change their TikTok video on Snapchat. In this article, we will show you step by step how to reverse video on Snapchat. Also, you can learn how to put TikTok video in reverse on Snapchat here.
Part 1. Reverse video on Snapchat using free, built-in filter
If you want to know how to reverse a video on Snapchat, don't stay away from this discussion. As you all know, it is pretty easy to record a particular video on Snapchat.
Just like recording a video, reversing is also a pretty easy one. You only need to follow some steps. All you need to do is record a video on Snapchat and then look to active the reverse filter, which will be available there.
The reverse filter would always be available on Snapchat, even if you don't have an internet connection. It will reverse your video without any trouble.
Let's discuss in detail how you can reverse Snapchat video using a free built-in filter on Snapchat.
Step 1: Start to record the video.
In the next phase, a user will need to open his Snapchat to the camera screen. Afterwards, he only has to capture a particular video clip by holding down a button present in the middle of the screen.
Step 2: Look for reverse filter effect.
After capturing a video on Snapchat, the next step for you will be to try dining a reverse filter there. By Swiping to the left, you can find that option quickly.
When you reach there, you will three arrow options pointing towards the left. Now choose the speed and press the button; your reverse will be ready after that moment.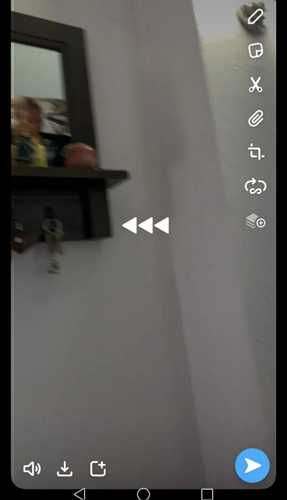 Step 3: Save the edited video.
After reversing your video, you can share it with your friends. If you want to add more effects to the video, tap the icon button, which will be on your right side.
Doing so will enable you to add the effect which you like the most. That's all you need to for reversing a video on Snapchat. After you have reversed the video's speed, you can enjoy the elegant video with pure joy.
Watch this video to learn how to reverse video on Snapchat:
Part 2. Put TikTok videos in reverse on Snapchat
Often people ask whether they can reverse their Tiktik video or not. Since Snapchat provides options for changing all kinds of videos, editing Tiktik videos is also possible there. You only need to meet some requirements to change the TikTok video on Snapchat.
Let's discuss it step by step.
Step 1: Open TikTok.
Open the TikTok app and press plus icon in the middle of your screen.
Step 2: Record the video on TikTok.
Now you can record your video there, which you want to reverse on Snapchat.
Step 3: Post the video on TikTok.
After creating the reversed video, the next step is to press the '' next'' icon and upload it in TikTok.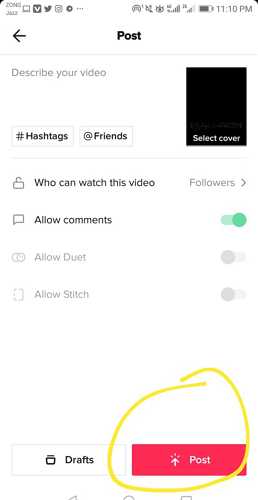 Step 4: Download the reversed video on Snapchat.
Now you can download the video to your gallery.
Step 5: Open Snapchat and upload the reversed video.
After downloading the TikTok video go to Snapchat. Now, all you need to do is go into memories and press the camera roll option.
Step 6: Select a video and reverse it.
Now you have the choice to select a TikTok video that you have just saved from there. In this phase, you are supposed to look for three dots in the front of your right side's screen. Press it, and you will see an editing option there.
Now, you need to swipe your screen on the left side. You can see three arrows in the middle of your screen. By pressing it, you can reverse your video.
Also Read:
How to Reverse a Video on TikTok >>
Check this video to see how to reverse TikTok on Snapchat:
Part 3. Best Apps to reverse Snap video[before uploading to Snapchat]
We are reviewing some of the most reliable reverse video editors in this article.
Let's get straight into all of those.
If you want to reverse your videos before uploading on Snapchat, Reverse Movie Fx can create magic. First of all, you will need to record a video.
After recording it, the next step will select the movie fragment, and then all you need to press start. Reverse Movie FX will then help your cause of reversing a video.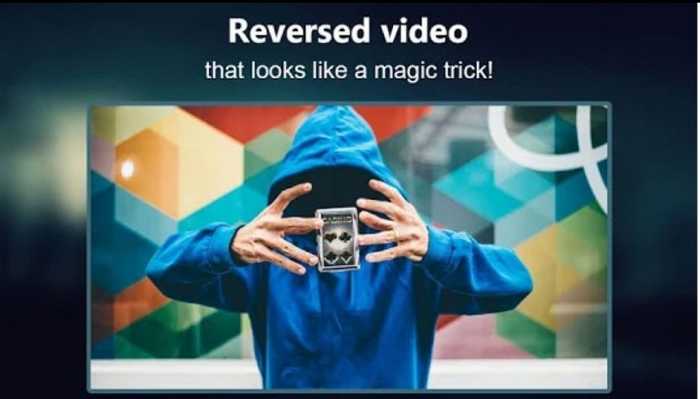 Main Features:
Reverse Movie FX carries tremendous features for reversing a video

You will find stunning animations and creative transitions in this application

It possesses a smooth editing interface and timeline.

You can add a reverse effect to your video by just tapping an option.
Latest Version Available: Version 1.4.0.36
If someone wants to reverse his video without any detraction, then there is no better option other than Reverse Vid available in the market. It is one of the best apps for reversing a video. You don't need to do a lot to reverse a video.
Just record the video, load the video into the app and choose the speed you want to reverse it. You will see the reverse option there.
By tapping a button of reverse, you will serve your purpose. Reverse Vid will reverse your video quick than you think. After that, you can upload your reversed video on Snapchat.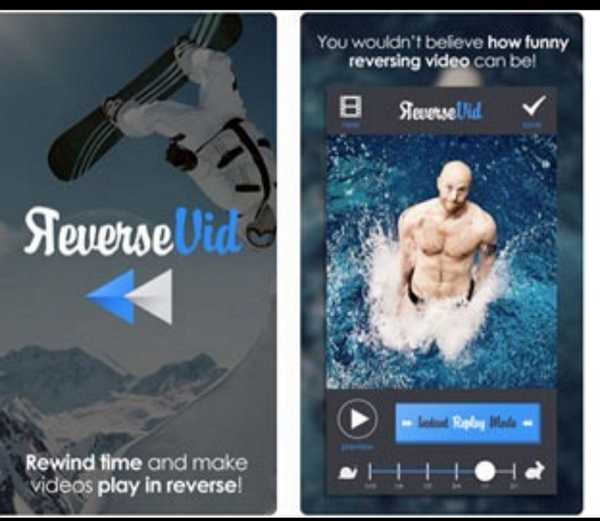 Main Features:
Reverse Vid is one of the easiest and quickest applications to reverse videos.

After reversing a video, it possesses the ability which makes you watch a video at half speed.

Many video effects will make your video's quality more attractive.
Latest Version Available: Version 2.3
If you don't know the appropriate way to reverse your video quickly, then there is a superb option available for you in the shape of a Reverse Video Master. It will provide all the necessary features which are essential to reverse your video.
Using it, you can edit and then flip a video in no time. A beginner will not find it hard to understand all its working.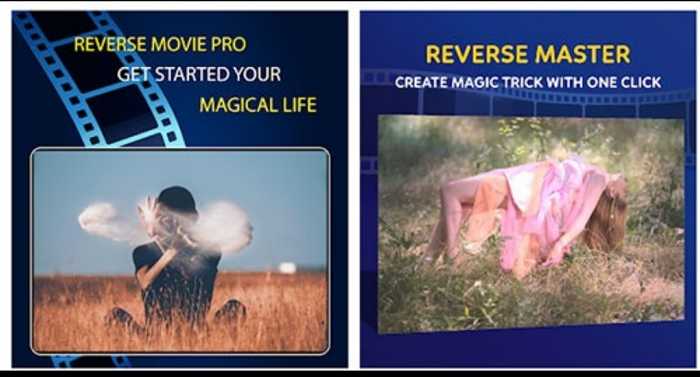 Main Features:
You can share your videos on YouTube from this application.

You can choose a part of a video and then can cut it according to preference.

It reverses a video by clicking a single button.

It is free of cost.
Latest Version Available; Version 3.0.20
Part 4. Recommended video editor for Snapchat - Filme
If you want to edit a Snapchat video, you should use a desktop for this purpose. You can get good results even from Android or iPhone, but doing it on desktop is a more reliable and worthy option for you.
First, your video quality will remain the same, and there will be no issue with your video. But the next question arises how to do the editing work on desktop and which software you should prefer in this regard? The answer is non-other iMyFone Filme.
It is a fabulous video editor that can edit a video according to your expectations. Filme possesses some unique attributes which you will not find in any other video editor
Features of iMyFone Filme:
1. Fast Video mode
If you want to create a stunning video fast and easily, use Fast Video mode in Filme, where you can select a suitable template for any occasion, such as anniversary, birthday, event, and graduation. Select the template you think the best for the video theme and all you need to do is to import images to create an awesome slideshow for Snapchat.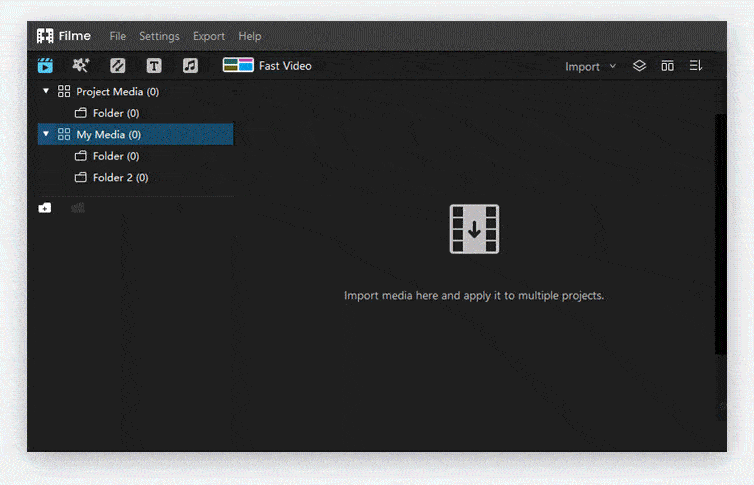 2. Rich resources for stickers, transitionand filters, etc.
You can add brilliant effects including stickers and transitions to your video with the help of Filme. Adding changes will make your video look unique and exciting.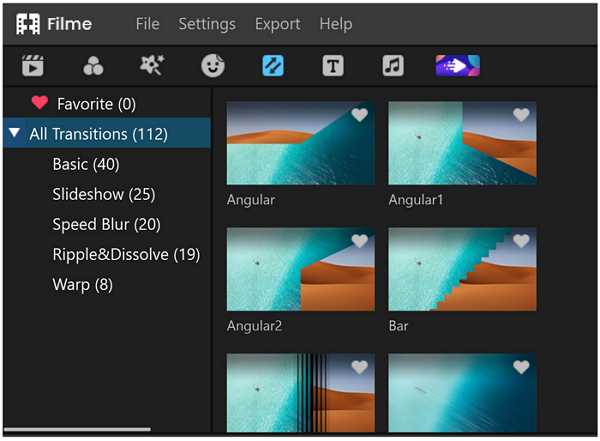 3. Audio editing
Filme also offers a lot of editing features for audio editing. You can have multiple soundtracks in the timeline and edit sound as you like. You can trim and split the sound and change its volume in whatever way you like. Besides, Filme is a software with some voice changers that can change the voice in one click.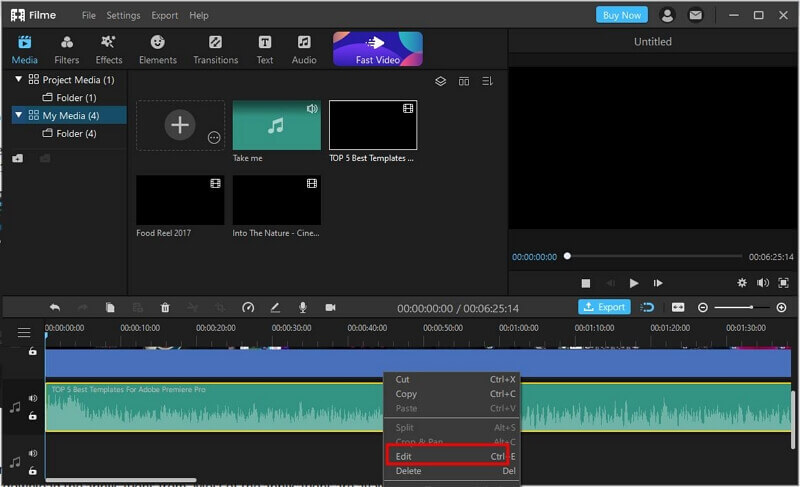 Watch this video to learn using Filme to edit and create stunning video for your Snapchat:
Final Thoughts
In this article, we tried to talk about the ways to make a reverse video on Snapchat. We also mentioned few best reverse video editors. Moreover, we introduced iMyFone Filme as the best video editing software. It is best because it possesses more elegant than all its competitors. Using a professional or suitable video editor will help a lot to make a viral Snapchat video.