TikTok recently introduced its duet feature to the application for enabling users to make videos with their favorite celebrities and friends. Duets were available via 3rd party applications but now they have been introduced into TikTok and it has created a completely new way for users to participate in online video content.
In this article, you will get to know how to do a duet on TikTok.  So keep reading to know more.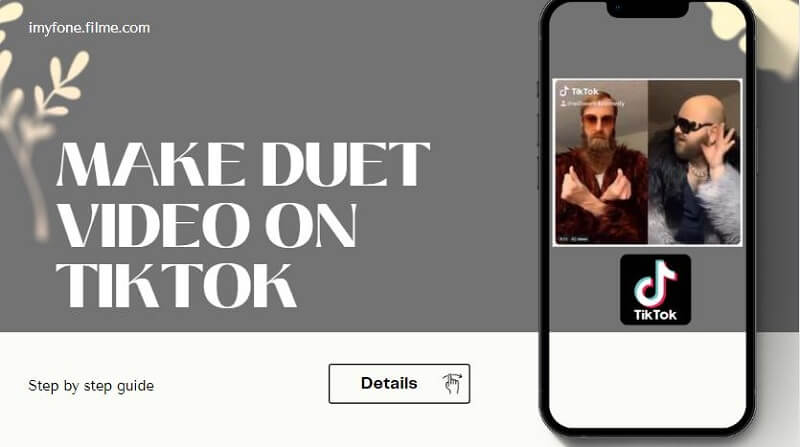 Part 1. How to Duet a Video on TikTok with Sound
There are some videos and songs that cannot be used for making duets. The owner of videos have disables the option of making duets with their content. You can also disable the option of allowing others to make a duet with your content. This feature protects the rights of a content creator.
Method 1. Enable the microphone
TikTok Duets encourage users to make videos that include an original clip with your clip. Both clips are displayed side-by-side on the display in a rectangular layout. The display is usually split into 2 sections, and you'll have your entire clip right next to the video of your favorite celebrity or brand.
Open the TikTok app on your device and select your favorite clip.

A right arrow icon will be shown on the main screen of your device.

Tap on that icon to open a navigation drawer on the screen.

Find out the tab of 'Duet' in the navigation drawer.  

Select that icon by tapping on it.

The duet icon can be blurred out by the original makers of the video. In that case, you won't be able to make a duet with that video.

After enabling the microphone, a recording screen will appear on your device.

Find out the option of the mic on the screen and tap on it to start recording. In most devices, the microphone is disabled by default.

All you have to do is simply tap on it to enable the mic.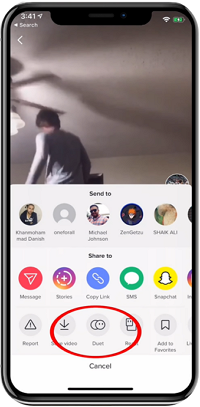 Method 2. Use the voice-over feature
This method can be used by individuals who are unable to turn on the microphone of their smartphones. In this method, you will have to record the audio to use it for the voice-over.
Follow the given steps to make due on TikTok with sound.
Open the recording screen on your device by following method 1.

After opening the recording screen, you will have to record a duet.

Now tap the 'Tick' icon.

The edit screen on your device will be opened as you tap on the tick icon. Tap on the icon of 'voiceover' to start recording your audio.

You will have to long-press on the voiceover to record the audio.

After completing the recording, tap on the save icon to complete the procedure.
Method 3. Use TikTok's 'React' feature
The React feature can also be used for making a duet on TikTok. This feature may not be available on your device if you are using the older version of TikTok.
Tap on the 'Share' icon and select the tab of 'React'

This will instantly start recording your audio and there is no need to enable the microphone to complete the procedure.

If the microphone feature is not available on your device, you can use the 'React' feature to make a duet by recording your audio and sound.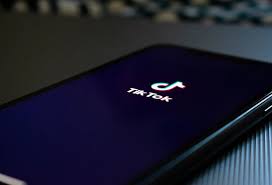 Part 2. How to Duet Yourself on TikTok?

 Duet on TikTok is easy to make and anyone can start making it by downloading the TikTok app. You will have to make the preparations before making a duet. A lot of music collection is required along with rehearsals and planning.
First of all, you have to find a video you would like to duet. After finding the video, you will have to verify if the producer of a video is allowing you to duet. Check the option of the duet, if it is greyed out or blurred, you cannot duet with that video.
If the duet button is not greyed, just tap on it and a new split-screen will appear. Now you can start recording your video along with the original video.
1. Select a video of your own to make a duet.
 2. Tap on the 'Share' button and find the option of 'Duet'.
 3. Tap on it and the screen will instantly split into two.
 4. Tap on the 'Record' tab to start recording your video.
5. Use the filters, effects, and texts to make your video look more beautiful.
Part 3. How to Duet Yourself on Computer - Filme
Although TikTok is a huge sensation and it has a lot of entertaining and interesting content but there are some possibilities that it might be get banned in your country or region. In recent years, several countries have banned TikTok due to inappropriate content. These restrictions or limitations could be imposed anywhere. Besides, edit video on TikTok could be a pain for mobile phone media editing.
So, a question may arise in your mind that are there any alternatives to make a duet video on computer? Yes, there are several apps available that can be used for making a duet video on a computer.
iMyFone Filme is a powerful video editor that can be used for making a duet. This editing tool enables you to edit your memories and customize the beautiful moments you've recorded in your artistic way. A few single clicks would be enough to make a beautiful duet effect. Do simple editing, incorporate beautiful filters, or use innovative tools to create your videos.
iMyFone Filme Key Features:
A lot of Effects. Beautiful effects for you to incorporate filters and sound effects to make colorful and interactive stories

Add texts. Use Filme to cinematic texts and select from a wide range of texts and colors

Transitions. Different transitions are available for your video content to help you create amazing content for your followers.

Audio. Use Filme to add music and audio in the background of your videos.
134524 people have Download it.
iMyFone Filme allows you to start making duets effects on your computer before you upload the video to TikTok. You can make duets with your favorite celebrities and influencers. The dual screen feature can be used for splitting the screen with 2 videos to make a duet.
Video Tutorial:  
Follow the given steps to make Dual-Screen via Filme.
Step 1: Import 2 videos and drag them to the timeline.
Step 2: Double click the videos on the timeline to open the editing menus. Yon can change the video size depending on TikTok video size.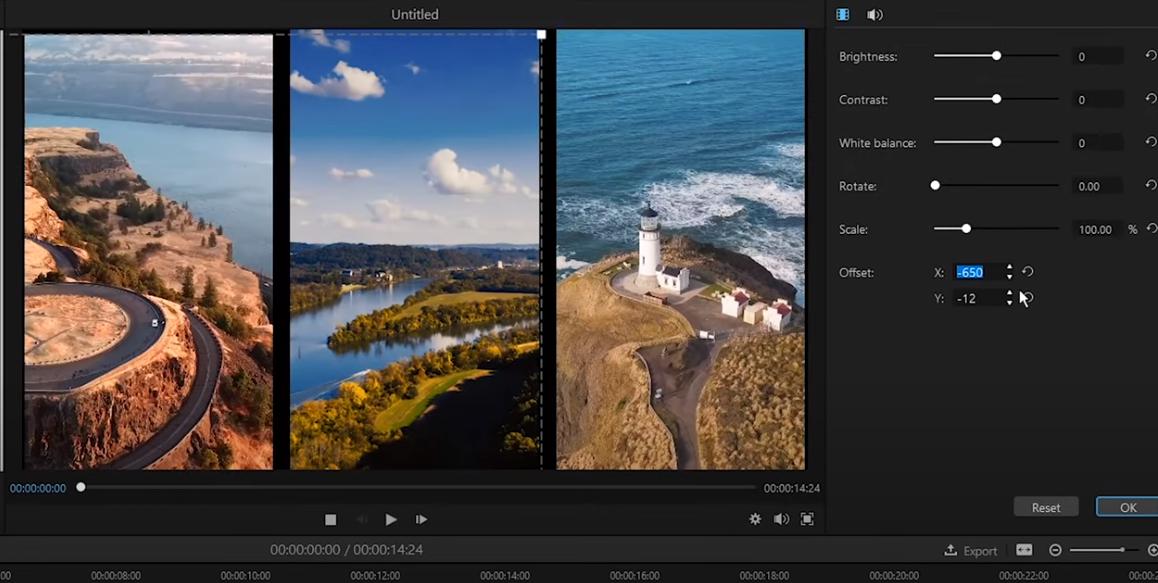 Step 3: Add music or sound in the background of the video and you can also cut the video to your music.
 Step 4: Different effects are also available. Select your favorite effect to make your videos more engaging.
 Step 5: Preview the video and export it.
Part 4. FAQs about TikTok Duet Video
01

Duet option not showing on TikTok? 
The duet option could not be available to some of the users. Select your profile icon and 3 dots will appear on the main screen. Tap on them for accessing the 'More' menu. A new window will open and you will have to go to theprivacy and safety.' Turn on the option of 'who can duet with me'. There are options of Everyone, Friends and off. These options can be used for maintaining privacy as no one will be using your video content without your permission.
Restart your device to fix the bugs. There could be some internal issues of the device that can be solved by simply resetting your smartphone. Resetting your phone will also clear the app cache.
Go to the settings of your web browser and delete/clear the app cache.
02

How to turn on or off duet on TikTok?
Open the TikTok app and tap on the 3 dots on the top corner of the screen. This will lead you to a new pop-up menu.
Find out the 'Duet/React button
Tap on this button and there will be the option of activating or deactivating duets and reactions.
03

 Why is my TikTok out of sync?
Restart or soft reset your smartphone. Now go to the settings and clear cache and data. Set up a timer while recording the video. This will significantly decrease the lag.
04

Why is my sound not working on TikTok?
Download the latest version and stay updated.

Enable the microphone by granting permission.

Uninstall TikTok and install it again.

Visit TikTok support to report the issue

Reset your device
Conclusion
Conclusion:
TikTok makes our digital life more fun. We can use it to make green screen effect or duet our friends on TikTok. Get ready to pick your duet companion online and make your clip more iconic with eye-catching effects. Start sharing your clips on several other social networking sites to make more online interaction. This is the easiest way to attract online audiences. iMyFone Filme is the best alternative to make duet videos on the computer.