Imagine yourself uploading a well-crafted video to your Instagram story or IGTV, only to find out that frustrating and most dreaded message, "Posting or Upload failed."
After reading this article, you will be able to diagnose and fix the causes behind 'Can't Upload Video' errors. It will help you successfully upload Instagram Stories next time.
Cause #1: Poor Network Connection
Poor connection. Well! That is by far the most common of all causes that will not let you upload a video.
However, fast the speed of 4G mobile internet or Wi-Fi hotspots, unfluctuating network service is still a far cry.
Primarily, the connection goes Ooh LaLa when the following things happen:
You are uploading a huge file, and your upload times out.

You are moving your link from one hotspot to another.

Your connection has degraded over time.

Or if your signals are not strong enough.
How to Fix the Network Problem Issue
1. Strong and Stable Network Service:
The first step you could take is to make sure that you have the most robust connection available. Ask your service provider for a reliable, stable, and strong network setup.
2. Restart the Connection:
Network connections are inconsistent. They can get stuck over time. Sometimes you can efficiently resolve the issue by disabling (at least 10-20) and reestablishing the connection again.
3. Re-locate yourself for better Signals:
Move to the position where you can get stronger Wi-Fi signals. Obstacles between you and the Wi-Fi signal (the invisible beam of light) can also create connection turbulence. Similarly, getting to the right spot is mandatory to receive full signals if you are using a cell service. Some areas are stumpy spots for different carriers.
4. Ask the Service Provider:
If you cannot reconnect again, call your service provider and ask if your ISP is undergoing service maintenance or is there another glitch from their side that is disrupting the link.
Cause #2: Your Video Does not meet the Instagram Standards
Each app has its own standard formats, sizes, and technical specifications to upload videos on its platform.
While all apps design their 'video aspects,' keeping in mind different aspects of different phones but not all the phones work in the same method; therefore, uploading errors occur.
Consequently, if you face a 'couldn't upload' error repeatedly, then maybe your phone does not sink with the terms of Instagram videos. And you might be recording in a different format or a different size.
Let's discuss how to create videos keeping in mind the Instagram standards to avoid future uploading errors.
How to Fix the Format/ Size/ Technical Issues for the Videos
Make your video keeping in mind the following specifications:
1. The Format of the videos:
The Videos must be MP4s encoded. Moreover, use H.264 video encoder and the AAC audio codec for better results.
2. The Framerate of the videos:
Instagram does not support 60FPS videos for posts and Stories. Therefore, kindly ensure that your video framerate should be equal to or less than 30FPS; otherwise, the video will get post-processed.
3. The Size and Resolution of the videos:
The larger the video, the longer it will take to upload and cause several loading issues. Try to keep the length of the video small. Recommended size is under 20MB-50MB. The pixels should be 1080 wide, and the resolution should be 4:5.
4. The Timeframe for the videos:
The average time duration for video posts is 3-60 seconds. However, Instagram's different videos have different time specifications. The maximum length for an Instagram Story video is 15 seconds.
Part 3: Cause #3: Your Account or Video was blocked
The other reason for 'failed uploads' might be that either your video or your account has been blocked. There are different reasons why Instagram can block you or your content. However, you cannot do anything after being blocked, but you can take the following precautions to avoid choking.
Could Not Upload Because the Video is Blocked
Instagram will not let you upload your video if it has already blocked your video. Furthermore, it will not even give you any notification or any specification.
It happens because an automated system detection decides which videos to block. And, Instagram doesn't want users to know the issue, not to baffle the automatic detection.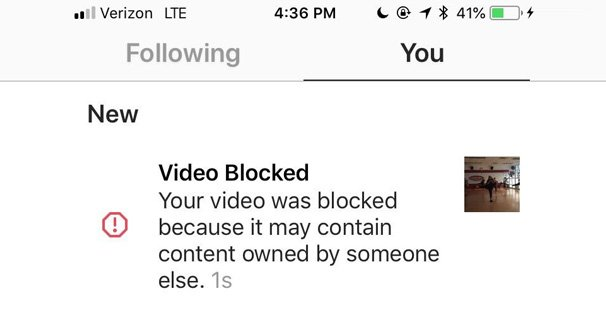 Precaution # 1: Avoid uploading banned content:
The main reason why Instagram blocks the video in the first place is the content that it does not want on its platform. Pornography or content that is defamatory, obscene, violent, or offensive breaks Instagram content terms of service.
Precaution # 2: Avoid reports and flags:
If you don't want your video to be blocked, you also have to be careful in selecting the content. The content that other users report as offensive is also stopped without any notification. Therefore, do not upload aggressive, mean, or any content that might offend other Instagrammers.
Could Not Upload Because the Account is Blocked:
The other reason behind the 'Couldn't upload video' issue could be that your account has been suspended, banned, or blocked from video posting.
The activities that can get you blocked are:
Mass following and unfollowing.

Being logged in for an intense period while posting extremely frequently.

Getting detected for posting copyrighted content.

Breaking Instagram laws and terms by posting forbidden content, especially if you do it too often.

If other Instagrammers report you too many times.
Although you cannot do much when your video is blocked, however, if Instagram blocks your account, you can appeal the issue to get your functionality restored. Once Instagram approves your request, then you will be able to post videos just fine.
Part 4: Pro Tip: Create and Edit Stunning Videos for Instagram Stories with Best Video Editor
Do you want to make your Stories unique and classy? Check out "iMyFone Filme," the online video editing software that lets you edit your IGTV videos and Instagram stories like a pro in just seconds.
Filme can let you apply effect/filters, change the playback speed, add transitions between clips, change the aspect ratio. Even more, it can quickly format long-form video into 1-minute segments suitable for Stories.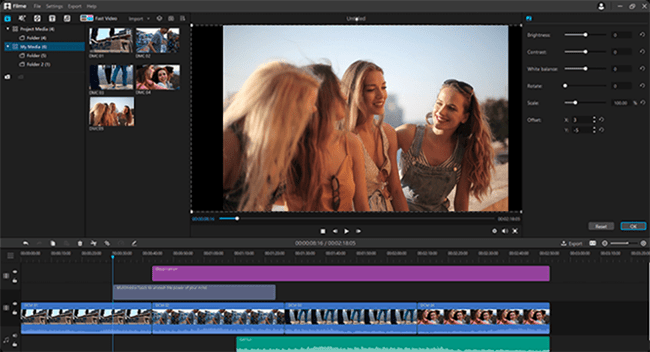 Features
The incredible feature of iMyFone Filme is its Fast Video Mode. It lets you use built–in–templates. It automatically applies effects and filters to turn your Instagram videos into magic.

It provides primary to advanced editing features. It allows you to cut/trim, crop, split, rotate, adjust speed, and put picture-in-picture effects, etc., to help you create high-quality videos.

Mind-blowing effects and filters can turn dull and boring videos into the most captivating ones. iMyFoneFilme offers a variety of extraordinary effects that can help you create attractive videos.

It also lets you put cinematic titles and texts over the images and videos to add variety. Filme has a multitude of fonts and text styles available for videos.

Moreover, it comes with 110+ transitions, 170+ filters, 50+ soundtracks that can make your Instagram videos outstanding and engaging.
How to Create or Edit Instagram Stories Using iMyFone Filme
Without further ado, let's get productive and learn how to use iMyFone Filme to create and edit Instagram Stories.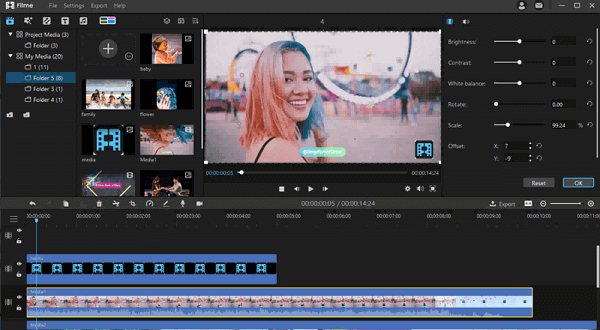 Step 1. Import your Media File:
Open Filme on your Computer. Click on the upload button to open a video that you want to edit.
Step 2. Drag it on the media pane:
Click and Drag your video into the working panel below. After that, hit the 'wand' button located in the top forum to open 'effects options.'
Step 3. Apply the filters/elements/Emojis:
Now you can add filters, elements, Emojis, and icons of your choice from the wide variety of effects available and design a well-edited Story.
Step 4. Edit as much as want:
In current editing mode, you can go to the text option to add text, the music option to add a soundtrack, and even choose a FAST VIDEO MODE to apply stunning templates in just one click. You can also make an instagram slideshow with best slideshow ideas.
Step 5. Export video and upload it on Instagram Stories:
Go to the Export menu, and click on the Export video, edit information, and save the file on your computer. Now go to Stories and upload your latest creation, post a video or slideshow on your Instagram.
Watch this video to see how to use Filme to edit stunning videos for Instagram stories: