Instagram's IGTV was perfect minus one factor - the IGTV only supported vertical video. However, Instagram surprised its users again by extraditing even that single glitch and launched IGTV horizontal video mode.
This article will discuss how to upload horizontal IGTV videos from different sources and share with you some pro tips to create unique IGTV content.
Part 1: How to Upload an IGTV Video from Instagram
Many creators and audiences liked vertical video mode; on the other hand, other people find landscape mode more effective for their purposes. For instance, for high-motion formats like dance and sports and for a frame that features a handful of people, landscape mode works best.
Here we will give you a systematic tutorial on uploading a horizontal IGTV video from Instagram App.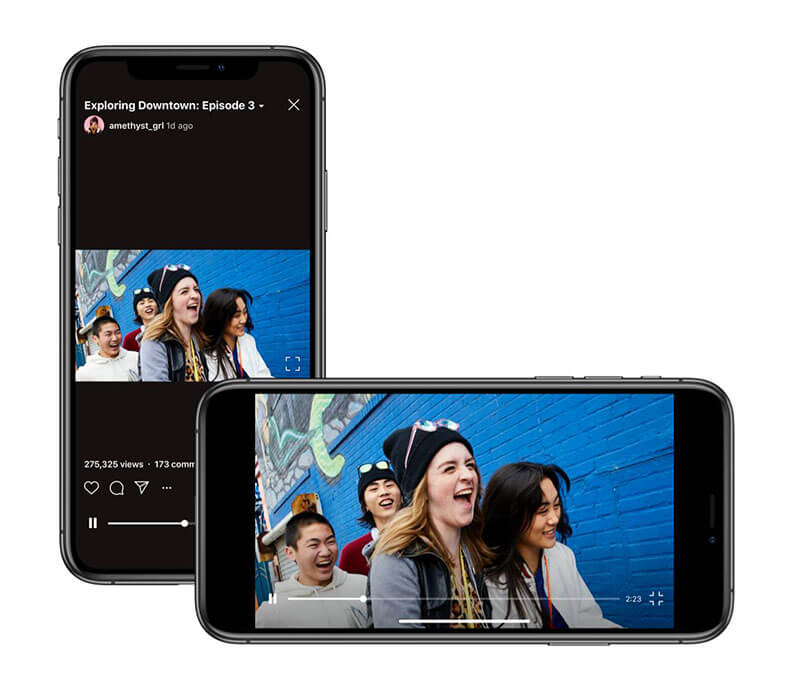 Step 1: Close all the unnecessary Apps.
Always remember to close all the unnecessary apps that are running in the background.
Step 2: Tap on "IGTV":
Firstly, open your Instagram app, tap on the IGTV button on the top right-hand side of the homepage. Click '+' to select the desired video, and then click 'Next.'
Step 3: Select a Cover Photo:
Secondly, upload a photo that suits the video from your gallery and then again hit 'Next.'
Note: Although the video can turn horizontal, the cover photo for the video will remain vertical when appearing in your profile and even on the IGTV menu.
Step 4: Add Information:
Now, add a title and description. You can also post previews or share them on Facebook.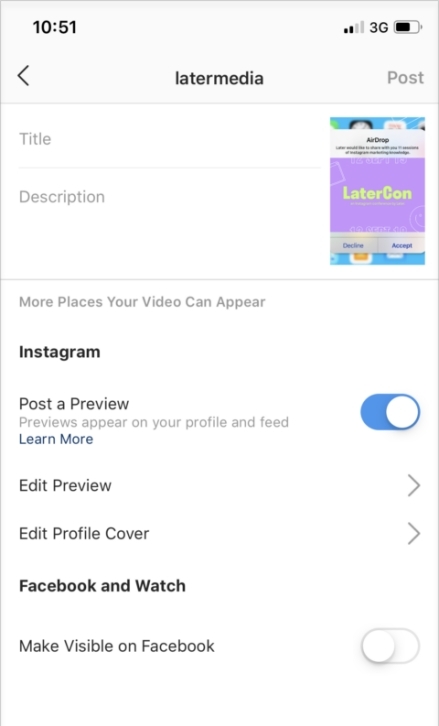 Step 5: Flip your Phone:
Get back to the video; hit the 'Watch full IGTV video' option available at the bottom-left corner of the video. Once the video starts to play, flip your phone.
Mission accomplished! Your IGTV video is ready. You can play it horizontally or vertically just by flipping your phone.
Part 2: How to Upload a Horizontal IGTV Video from IGTV
Let's move to another method to upload a horizontal mode IGTV video. We can also upload a horizontal video directly from the stand-alone IGTV app.
Step 1: Close all the Background Apps.
Again, in the beginning, always remember to shut down all the background apps to focus on the current task.
Step 2: Open your IGTV app:
Start by initiating the app, click on the '+' tab on the top right-hand side of the homepage. Select the desired video, and then click 'Next'.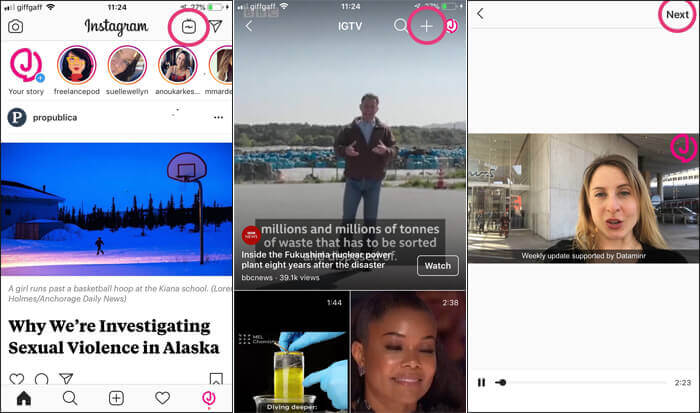 Step 3: Select a Cover Photo:
Secondly, go to your camera roll (iPhone) or visit your Gallery (Android) to upload a cover photo, and then press 'Next.'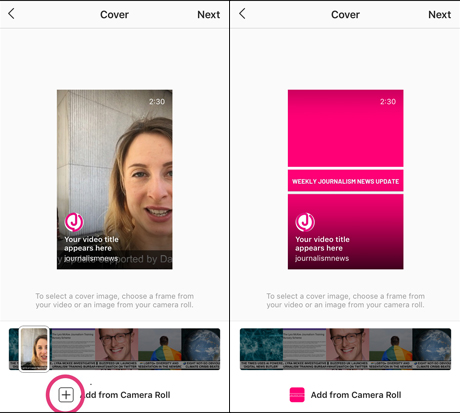 Step 4: Add Information:
Add an attractive title and description that will appear on the bottom of your cover image.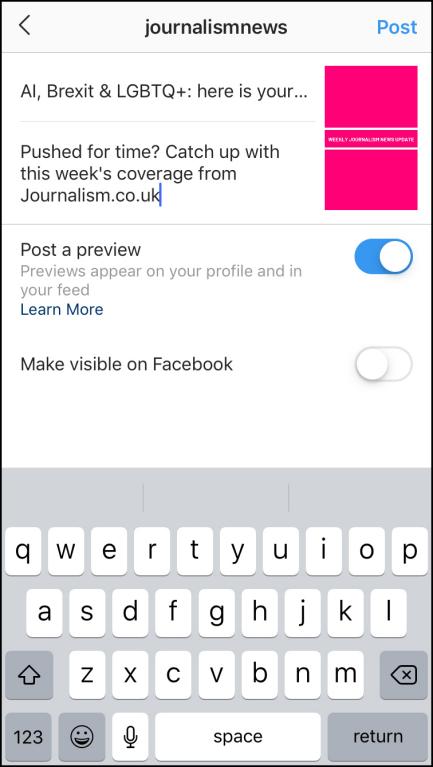 Step 5: Ready to Post:
Before posting the video, you can also opt to post a preview on your newsfeed or make your video visible on Facebook for cross-promotion. Then go for the 'Post' tab.
Note: Before hitting on 'POST,' always remember to go to 'Captions' and turn on 'Auto-Generated Captions' to increase accessibility.
Step 6: Hit Play and Rotate your Phone:
Lastly, please get back to the video and let it be uploaded. Once done, hit 'Play.'
This is it! Now just rotate your phone or tap a button to expand the video to play at full screen in landscape mode.
Part 3: Bonus Tip: How to Create and Upload an IGTV Series
IGTV series is suitable for Brands. It allows brands and creators to create series of videos and to release them on a consistent cadence, e.g., weekly, monthly, etc.
Follow the following tutorial to learn how to make and upload an IGTV series:
Step 1: Open the IGTV app:
Open your app, tap on the '+' option at the top right-hand side of the homepage. Either record a video, or you can select a video from the camera roll. Then click 'Next.'
Step 2: Choose a Cover Photo:
To upload a cover image, either select a video frame or add an image from your camera roll. And then again hit 'Next.'
Step 3: Click on 'Add to Series':
Instead of adding a title and description, click on the 'Add to Series' option that is located beneath the 'cover image.'
Step 4: Create your first series:
On this screen, select the 'Create Your First Series' tab. Next, add the series' name and description. Hit the 'blue checkmark' on the top right.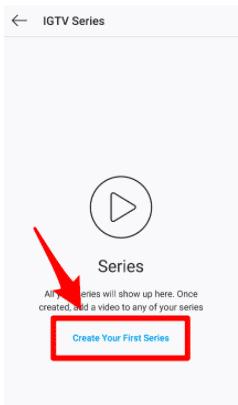 Step 5: You are almost there:
If you are sure, you have selected the video you want as part of your series, press 'Done.'
That was easy! You just created your first IGTV series. Post a preview and make it visible on Facebook to gain more traffic.
People Who Liked this Content Also Liked
A Guide to Upload to IGTV From Desktop >>
2021 Complete Guide for Post on IGTV >>
Part 4: Pro Tip: Edit your IGTV videos to make them Stunning with Best Video Editor
Before uploading your videos on IGTV, you can edit them to make them unique and outstanding. For this purpose, we bring you iMyFone Filme. This online video editing software is magnificent, user-friendly, and works best for Windows and Mac systems both.
The Striking Features of iMyFone Filme

Filme provides quick and high-quality video editing options. Basically, it is Instagrammers, Millennials, and Gen Z's cup of tea.
It has primary to advance editing features, among which the best quality for video editing is 'Picture-in-Picture' effects.
It is easy to use. Cropping, trimming, multi-layering, putting effects on videos is as easy on Filme as ever before.
Its best feature is its 20+ fast video modes. With this feature, you can create and edit stunning videos with a single click.
Moreover, it comes with 110+ transitions, 170+ filters, 50+ soundtracks that can make your Instagram videos outstanding and engaging.
How to create or edit IGTV Video using iMyFone Filme
Well, lastly, we will show you how to make or edit videos for IGTV through iMyFone Filme software: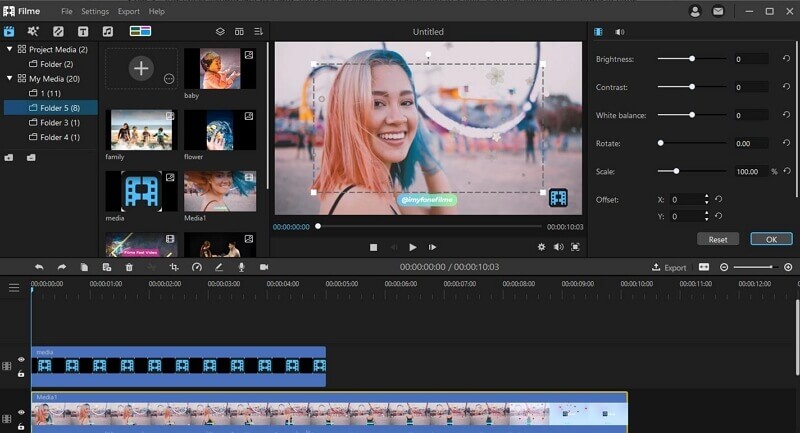 Step 1: Start a New Project:
Open Filme on your desktop. Enter the File menu, click New Project, and select Instagram 1:1 that is 1080x1080 resolution.
Note:Always select 'Instagram 1:1' ratio for IGTV videos as the ratio implies vertical format.
Step 2: Import Video:
Click on the Import option, tap on Import Files, and select the video you want to edit from the media library.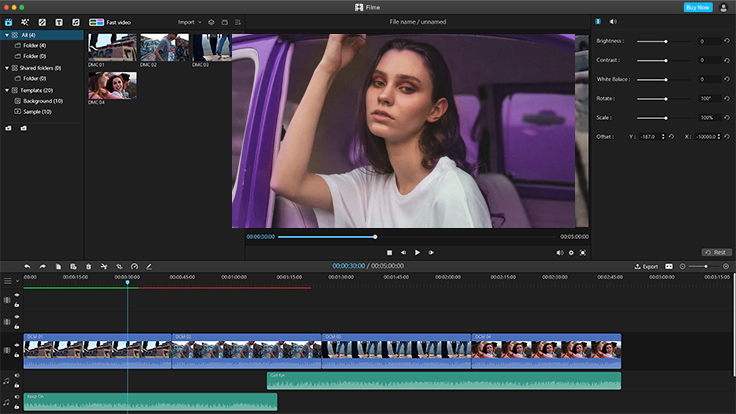 Note: Filme offers refined templates for various themes like holidays, birthdays, travel, business, etc. Select the appropriate template for your video by selecting "add your media."
Step 3: Put the Video file into the media pane:
Drag the video into the media pane via the drag and drop feature and put it at the start of the timeline.
Step 4: Edit the video:
It is time to add text, graphics, effects, audio, and much more. Just click on the 'Menu' option and edit your video to make it stunning.
Note: You can also use FAST VIDEO mode to edit your video. It allows you to use the built-in, beautiful template to create a well-edited video or slideshow quickly with music.
Step 5: Edit as much as you want:
Use Filme's numerous other videos editing options such as resizing, trimming, zooming, splitting, adjusting brightness and resolution, and cropping to make a perfect IGTV video.
Step 6: Export and upload video on IGTV:
Go to the Export menu, and click on the Export video, edit information, and save the file on your computer. Now go to IGTV and upload your latest creation.
Well, it was not that difficult to create a masterpiece video for IGTV by using iMyFone Filme, the best editor out there.

iMyFone Filme
Make Digital Storytelling on IGTV Easy with iMyFone Filme!
Download Now