Have you sent the snap to the wrong person? Do you want to delete the snap before the receiver sees your snap? If yes, you should read this article compulsorily because we will tell you how to unsend a video on Snapchat.
If you have sent an image or video snap to anyone, you cannot undo it. The only thing you can do is delete the snap before the person sees it. Nevertheless, if you are using an older version of Snapchat, you have many other options to unsend the Snap in snapchat.
Part 1. Can I Unsend a Video on Snapchat?
If you are worried whether you can unsend videos or other media on Snapchat, we will say, 'Calm down.' You can easily delete snaps in newer versions of the snapchat if the recipient hasn't opened the snap yet. However, if you are using some older version, you can unsend snap in multiple ways that we will see in this section later on.
Snapchat 2018 version has allowed users to delete the video snaps before anyone sees them. It has provided a simple delete button that helps you delete video snaps and chats from the Snapchat server. So, if you want to delete any media such as texts, images, stickers, and videos in the newer version, simply press the delete button, and you are done.
Solution: Delete Snaps in Older Versions
If you are using any older Snapchat version before 2018, you can delete the snaps in multiple ways given below!
Blocking the recipient.

Removing the sender from the friend list.

Signing out your Snapchat account.

Turning On the Airplane mode.

Uninstall the app or deactivate your account.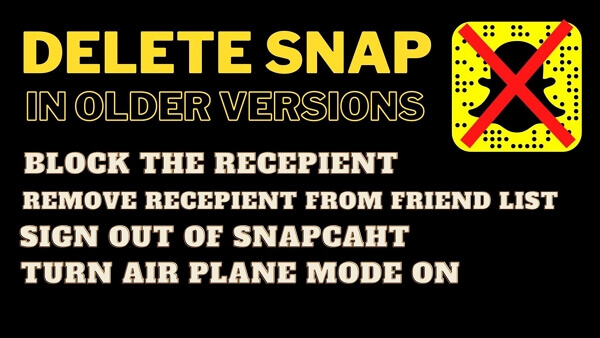 Remember that these methods don't work in newer versions of Snapchat.
Part 2. If You Do Really Need to Unsend a Video
Snapchat is a very competent app and allows you to delete the messages/snaps if you have sent them to the wrong person. However, you should always keep in mind that your photos are automatically deleted if the recipient has opened the chat. But if the recipient hasn't opened your snap yet, you have an opportunity to delete your snap.
If you are using any Snapchat version released after 2018, you should follow the steps below to unsend the snap now!
Open the chat box when you send the video wrongly.

Press and hold the video that you have sent and want to delete immediately.

After this, a pop-up box will appear on the screen. You should click on the 'Delete' button in the Pop-up window.

After that, it will show an 'Okay' button having purple color. It is used to confirm whether you are deleting the snap intentionally or mistakenly. Press the 'Okay' button. Congratulations! You have successfully deleted the snap.
Keep in mind that the delete button doesn't work well every time. If the recipient is using the spotty internet or has an old version of Snapchat, the delete button might be problematic.
Therefore, if you have sent a super-secret video to the wrong person, you should delete your account for better secrecy. We know that deleting your account is a weird idea. But it is the sole way to protect your secrets in a newer version of Snapchat.
In Short, you can rely on the delete button if the message is not your top secret. However, if you have sent a secret to the very wrong person, you should immediately delete your account to better protect your secrets.
Part 3. Bonus Tips: Fix Snapchat Waiting to Send
If you are a Snapchat user for a very long time, you might meet some problems such as snapchat videos blurry or Snapchat waiting to send. The latter problem occurs due to a problem with your internet connection. The bad part about this problem is that it doesn't allow you to send snaps and messages until the waiting message is delivered.
If you are also facing this 'Waiting to Send' problem now and don't find a way to fix it, you should necessarily read this section as we will discuss an amazing solution that will help you solve this issue in less than two minutes.
How to fix 'Waiting to send' on Snapchat:
1. Open the Snapchat app and click on your image at the top left corner.
2. After that, go to the settings by tapping the gear icon in the upper right corner of the screen.
3. You'll see a menu by clicking the setting button. Scroll down the menu, and you'll see a 'Clear Cache' button. Press this button now!
4. After that, you should follow these steps. Go to phone settings-> Apps -> Snapchat. Here, you'll find the option of 'Clear Cache' and 'Clear Data. Click on both the options now!
5. Login to your Snapchat again, and the 'Waiting to Send' message will be delivered by now.
Also Read:
How To Make Snapchat Videos Longer [2021 Snap Tips] >>
Everything You Need for Making Video on Snapchat [2021 Guide] >>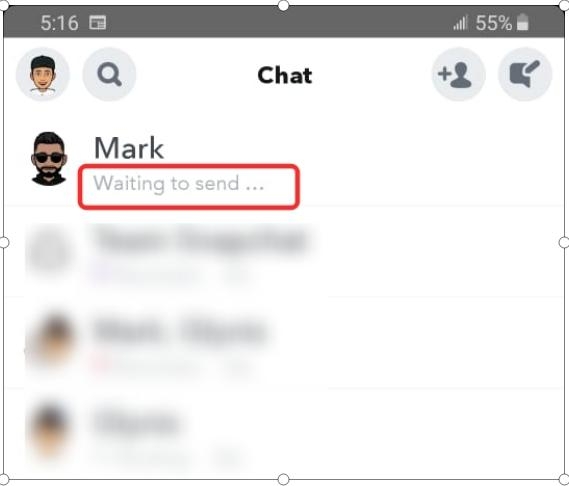 Part 4. Want to Edit Video for Snapchat on Desktop? Try Filme
Do you know that social media users show more interest in Snapchat stories and videos than any other platform? The reason is that the users only make those friends on Snapchat whom they like the most. Furthermore, Snapchat videos are small and don't cost a lot of time.
Therefore, you must edit your snap video before sharing it with your friends. We know that you must be thinking about the best video editor for Snapchat that offers multiple effects and features to make your video enjoyable. Don't you?
iMyFone Filme is the best video editor that provides all the necessary features to make your snap super amazing. It offers advanced cutting, trimming, and splitting tools with easy sharing options on Instagram, Facebook, and Snapchat.
Furthermore, it is effortless to use and provides you thousands of free effects to make the video interesting. You can run eight music tracks in your Snapchat video simultaneously if you use iMyFone Filme editor.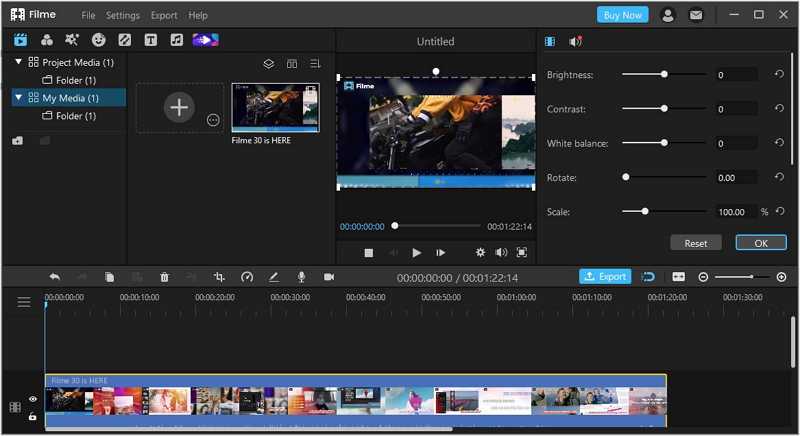 Final Words
Many people face problems in deleting the sent message on Snapchat. If you are also facing this issue, you should read the above guide. Here, we have discussed various easy ways to unsend your Snapchat videos, images, texts, and other media. Besides, we have also discussed the 'Waiting to Send' issue in Snapchat and the systematic way to solve it. In the end, we have recommended Filme to edit Snapchat video as a tip to the users.