TikTok is one of the emerging social media platforms that have taken the world by surprise. With over 600 million users, its popularity continues to increase with each passing day. Do you want to reach fame on TikTok and get your videos discovered by a much greater audience? Then, you need to make your videos more attractive.
On TikTok, the slow motion effect is a common feature that helps in raising the interest level of your videos. Don't know how to put a video in slow motion on TikTok? Don't worry because this guide will assist you in doing so.
How to Make Slow Motion Effect on TikTok?
If you're wondering how to watch a TikTok video in slow motion, then the first thing that you need to be aware of is that TikTok itself allows you to get the Slow Motion feature for your videos.
With this method, you can either slow down your video to half or one third speeds. This method is pretty simple and won't take you longer than a few minutes. The steps below illustrate how you can apply the slow motion effect on TikTok:
Step 1: Before starting, ensure that you have the latest version of TikTok installed on your device. Then, launch TikTok and hit the '+' option at bottom-mid section of the page to record a new video.
Step 2: Select 'Speed' from the toolbar on the right region of the screen.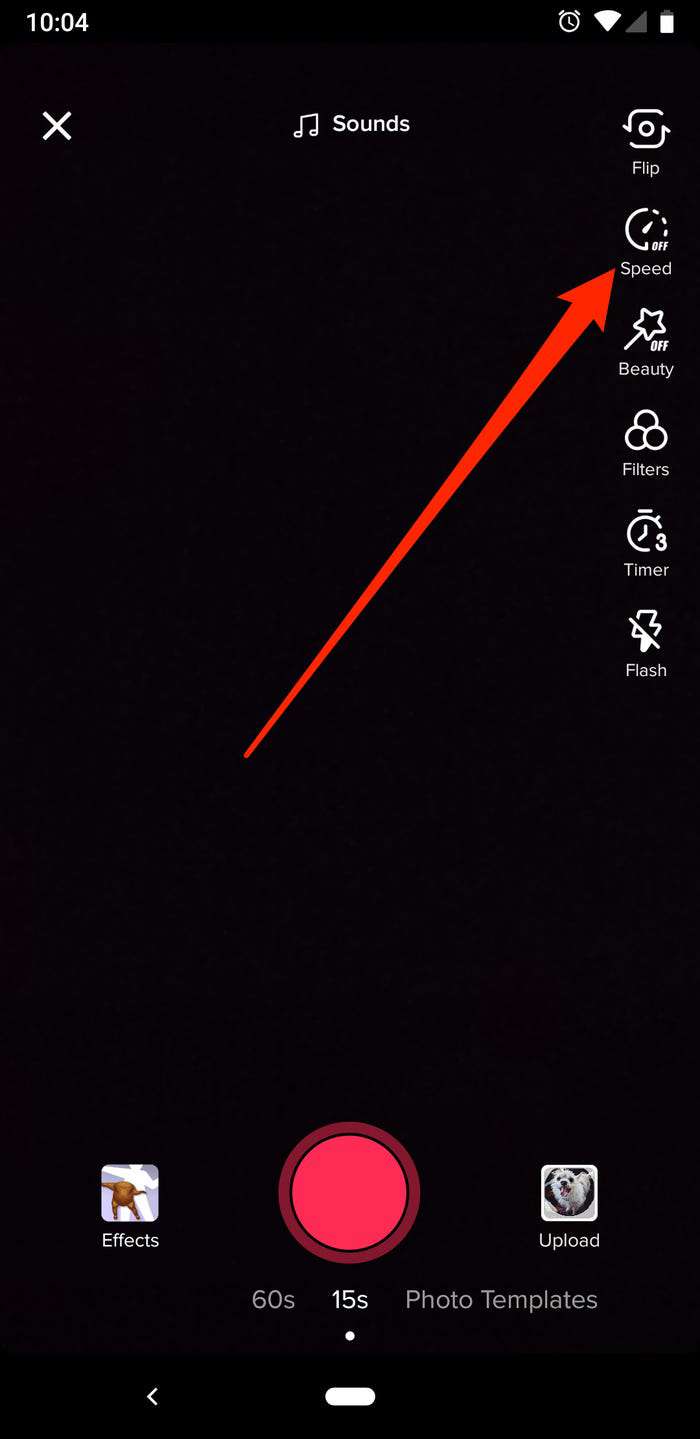 Step 3: To slow down the video and obtain the slow motion effect, either select the 0.5x speed option or the 0.3x speed option.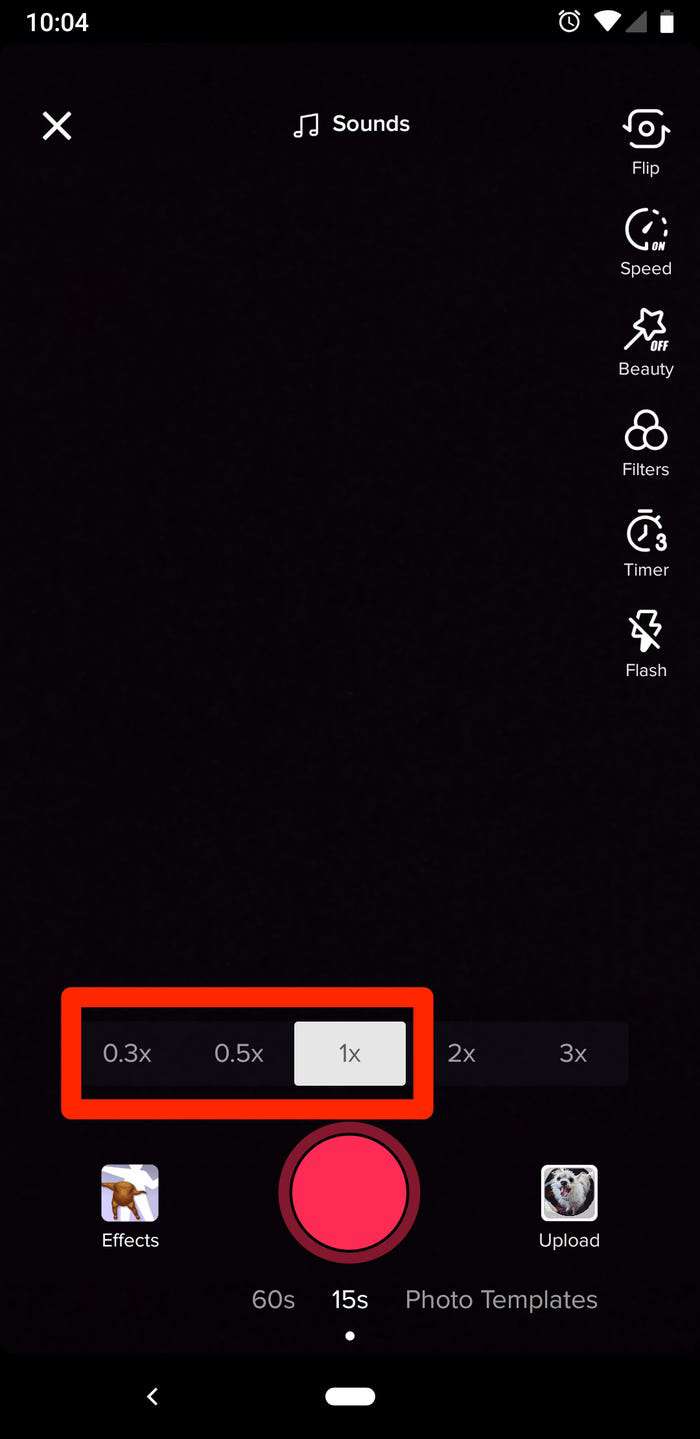 Step 4: Finally, record the video by tapping the red dot button. Tap it again where you need to stop the recording. The video will automatically be finalized and previewed in slow motion in accordance with the speed option that you selected.
However, this method is a little complex and only gives you limited options. In order to get a much better slow motion effect, you would need to utilize a suitable video editing software.
Better Way to Make Slow Motion TikTok Videos - iMyFone Filme
If you're in search of a more advanced video editing tool that can also answer your question of how to edit slow motion video on TikTok, then iMyFone Filme is your tool to use!
Filme is a perfect video editing software available for both Windows and Mac devices. It comes packed with most modern day video editing features. Moreover, it's known for its highly user-friendly interface ensuring that you face no difficulty in finding your way around the software.
How to Make Slow Motion Effect using Filme?
So how do you get the slow motion effect for you videos on TikTok? The steps listed below illustrate the complete method of doing so:
Step 1: First of all, you need to download and install iMyFone Filme on your laptop or computer. Launch Filme after the installation completes.
Step 2: Tap on the 'Import media here and apply it to multiple projects' option. Browse the video clip that you want to edit and double-tap it to import it. Drag this clip from the media library to the timeline.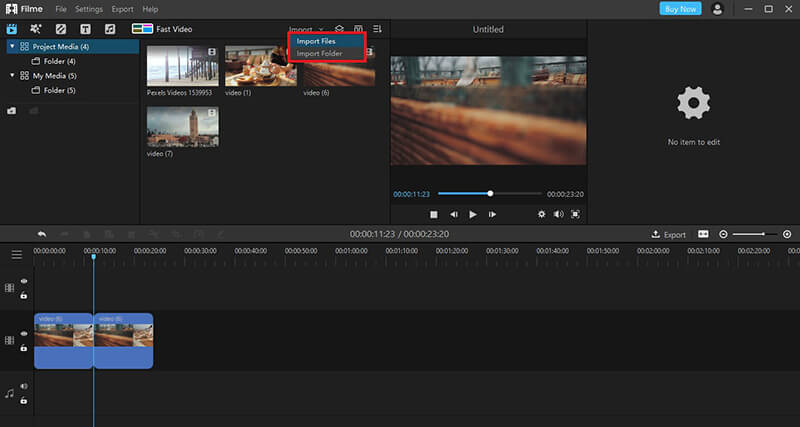 Step 3: Next, select the 'Speed' option from the toolbar at the top of the timeline. The 'Speed Settings' tab will now open up from where you can adjust the speed of the video clip. Drag the slider to the left to decrease the speed and obtain the slow motion effect.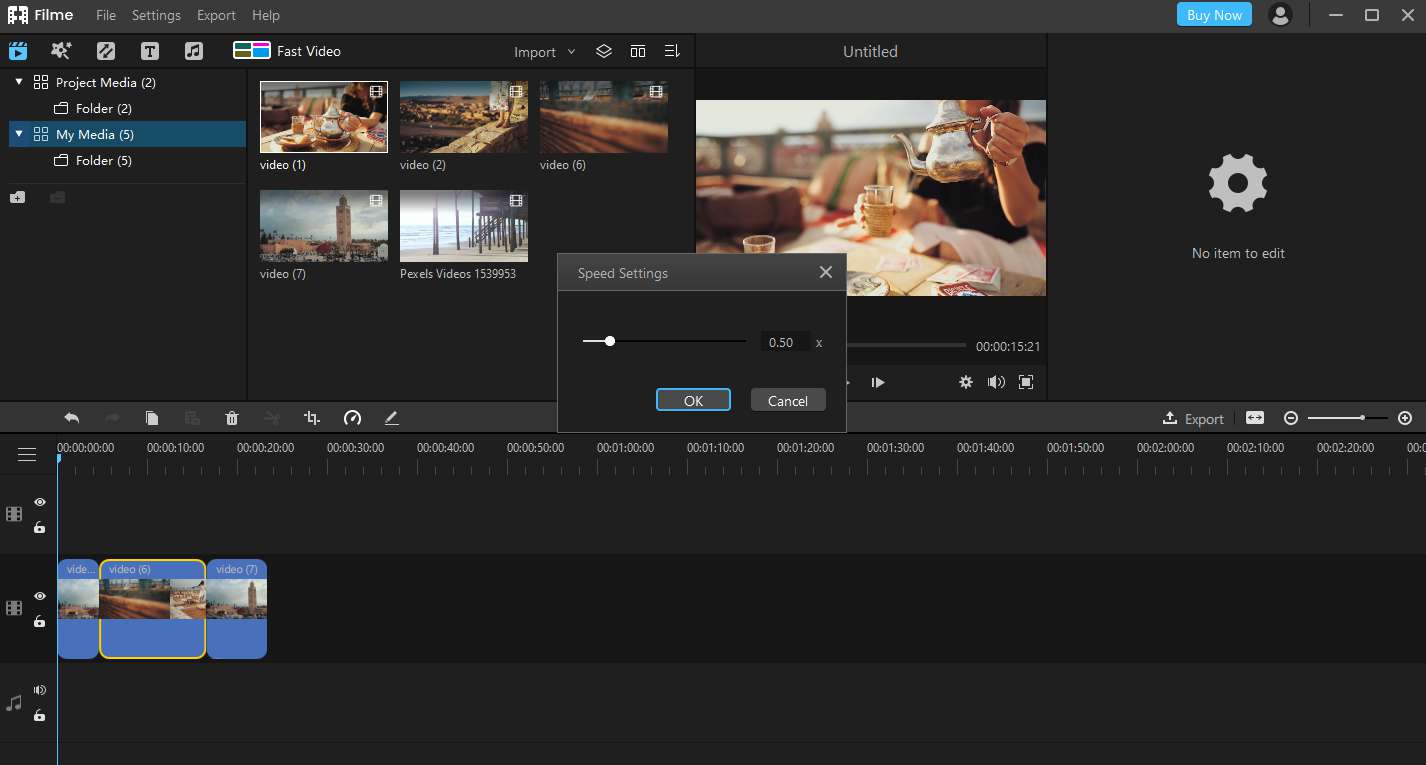 Step 4: To finalize the changes, go to 'Export' from the top menu and select 'Export Video'. Enter the necessary details for the video including name, destination, and quantity. Hit 'Export' once again.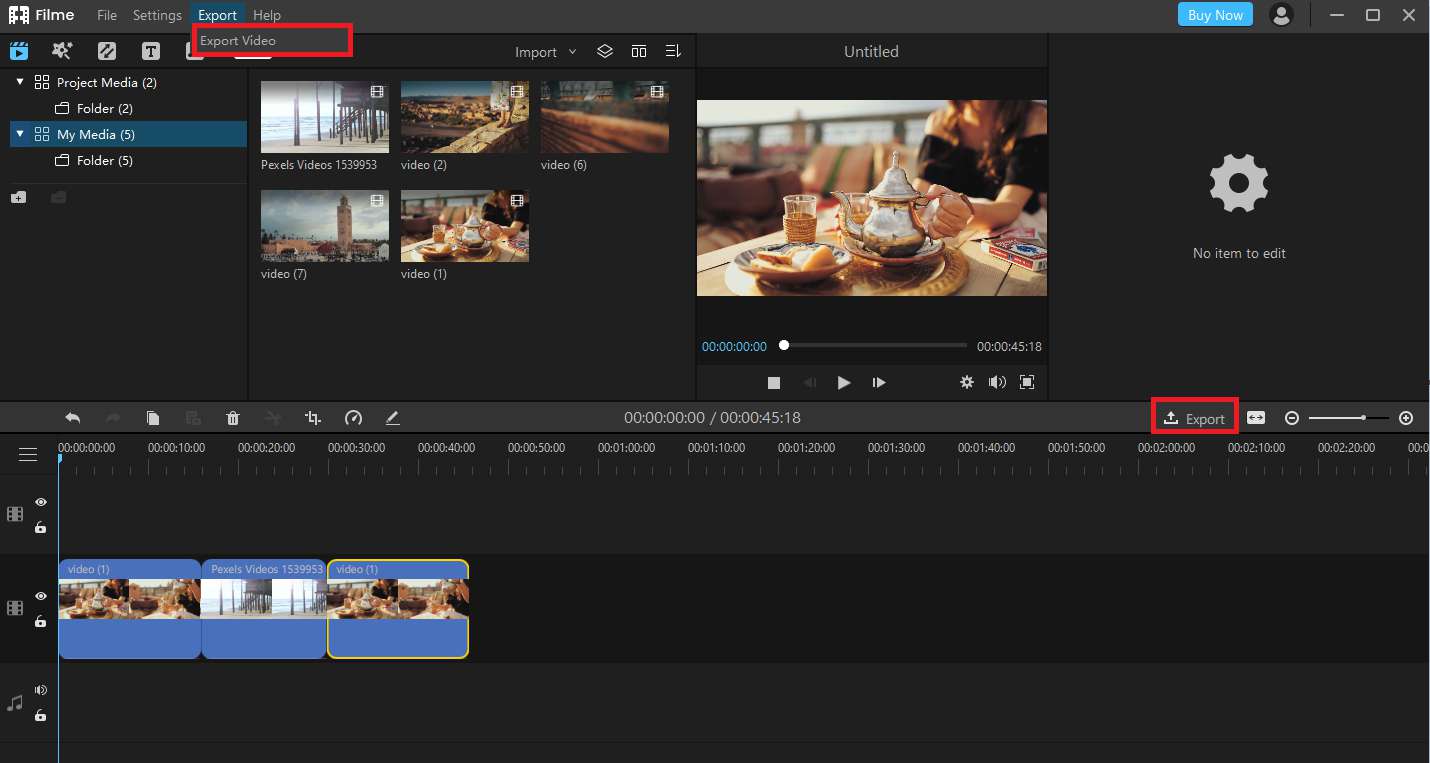 Key Features of iMyFone Filme:
Filme is a highly developed and advanced video editing software with numerous features to entertain users. These features are sure to be worth your time and won't let you get disappointed with the software. Following is a list of the key features of Filme:
Filme allows you to create and edit TikTok video instantly with just a few click with the help of its Fast Mode feature. For this feature, you also get several templates to choose from for your video and the final video is automatically edited to match it with the selected template.

Common editing features, such as cropping, trimming, speeding, slowing, rotating, splitting, and more, can be performed on Filme in just a few seconds!

You can show off your creativity in your videos by making use of multiple special effects. You can raise the overall quality of your video by including certain filters or you can make it more interesting by introducing animations.
Easier Way to Make Slow Motion Effect  on iPhone - Filme Lite
If you want to learn how to make slow motion video in TikTok with minimum effort, then this method is for you. You are best recommended to use a third-party video editing software for TikTok, such as Filme Lite, for this purpose as it is much easier to use and gives you a huge range of options to choose from. Filme Lite is perfect for this job as it offers an amazing feature to instantly create and edit slideshows within seconds!
Key Features Of Filme Lite
Filme Lite is a free video editing software for iOS users and proves to be one of the best in its kind because of the numerous features that it has to offer. Below are some of the key features of Filme Lite:
Multiple editing tasks can be performed with ease on Filme Lite. These include cropping, trimming, rotation, splitting, and more!

Filme Lite allows you to include special effects to your videos to make them much more appealing and attractive.

Filme Lite also allows you to transition from one video clip to another in the best way possible!

You can create a complete video on Filme Lite in less than a minute with its Fast Mode feature.
How to Add Slow Motion Effect to a Video on Filme Lite?
The steps below illustrate the complete process of how you can create a video on Filme Lite and also include the slow motion effect on it:
Step 1: Download and install the Filme Lite on your iOS device and launch it.
Step 2: Press 'Edit' and import your clips. Once done, click on the clip to enable editing.
Step 3: Next, select the 'Speed' option from the bottom menu as shown below.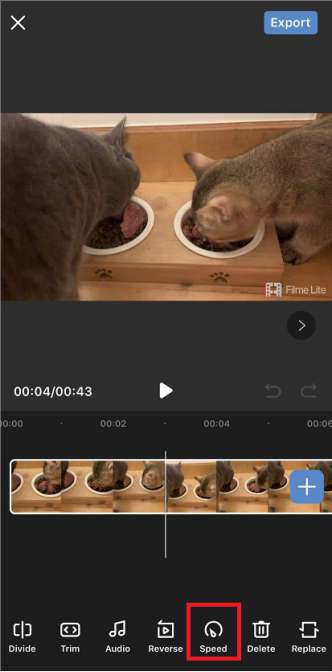 Step 4: Adjust the speed slider to change the speed of the video. Move it backwards to make the video slower and obtain the slow motion effect on your video.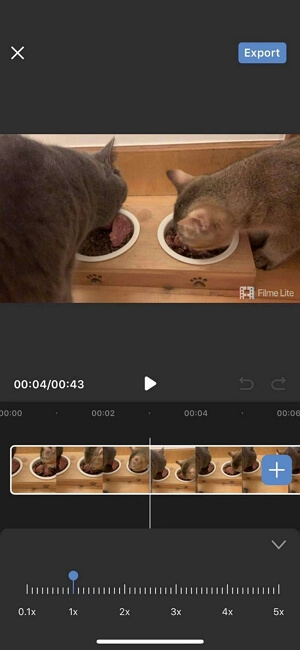 Step 5: Select 'Export' to save your changes.
Tips for Making Creative Content On TikTok that will Engage Your Followers
If you're looking to grow your follower base on TikTok, then there are a few tips which you must be aware of. These tips will help you make your TikTok videos more interesting and allow your viewers to engage with your content. These tips are listed below:
TikTok videos are known to be short clips of only a few seconds that can leave a lasting impact on the viewers. Therefore, it's always preferred to keep your video shorter. This way, it can be easier for you to maintain the quality throughout the video and make the audience engage as much as possible.

Music is what elevates TikTok clips. If you backup your video with a strong and popular song track, then you are sure to not disappoint your viewers. Furthermore, TikTok also promotes popular songs as well as the video clips using them.

Livestream as much as possible as this can help you develop a closer bond with your audience and even potentially attract a much greater audience. Whenever you begin your livestream, all your followers will receive a notification for it and most of them will become a part of it.
Conclusion
TikTok is an emerging social media platform and gaining popularity on such a platform could be huge for you. And now that you've understood how to put a TikTok video in slow motion, you should also figure out other ways by which you can make your videos more interesting. To ensure that you keep your TikTok audience growing, you need to create quality content which the viewers would want to watch. To create engaging and interesting videos, you should use a video editing software, such as Filme, to guarantee the best possible results.