With over a billion users as of 2021, TikTok is officially one of the largest social media platforms in the world, alongside Facebook and Instagram. That means you can easily reach thousands of people with a single post - more if your videos go viral. This article talks about the importance of creating your own sounds for your TikTok videos and how to create a TikTok sound byte or clip that you can add prior to posting your videos. The steps are outlined in detail, and we hope the information here will help you rapidly expand your following.
Part 1: Why Learn How to Create a Sound on TikTok?
TikTok has a large library of free music and sound that you can use to enhance your videos, but with a billion users, it's a good chance that someone - or a lot of people - will have already used those tracks in their own TikTok videos. That's the first reason to learn how to create a sound on TikTok.
The second reason is branding. Using a consistent brand for your audio, such as a specific genre of music or even your own voice, can go a long way in attracting and retaining your target audience. Once your crowd gets familiar with your sounds, they'll keep coming back for it, again and again, often subconsciously. This is especially true if you have an attractive recording voice, which not all of us are lucky enough to be blessed with.
The third reason is that when you control the sound in your videos, you control the mood of that video. You only need to look at how the music makes such a huge effect for a horror movie to see that this is true.
That's why it's a great idea to learn how to create your own sound on TikTok videos. Next, let's figure out how it's done.
Part 2: How to Create a Sound on TikTok
The first way to create a unique sound on TikTok is to use specific parts of music from tracks that are already available. TikTok doesn't allow you to upload your own tracks anymore due to potential copyright violations, but you can do the next best thing and use a unique clip from an available sound or even do a voice-over, which is even better. Let's look at both processes.
Step 1: Assuming your video currently doesn't have an audio track, let's pull it into TikTok from your phone or tablet. To do this, tap the "+" icon on the home screen and then tap Upload to see what music is available.
Step 2: We recommend that you use the search function or the Discover feature to find unique and trending songs. Once you have chosen the track, tap it to bring it under the video preview.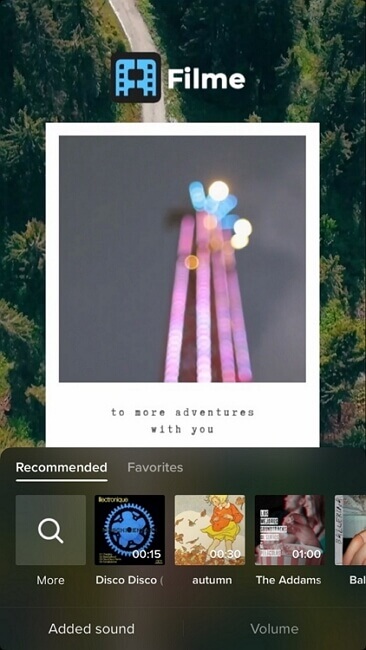 Step 3: Below the preview, you should be able to see the song as a soundwave. You can drag it left or right to choose the bit to use for your video. Try to find a unique section that you haven't heard of before on TikTok. This can be your own sound on TikTok.
Step 4: Tap the checkmark directly or tap the equalizer icon to alter the volume of the video. A nice ambient background volume should suffice unless you want the music to be upfront and on top when your viewers are watching.
Step 5: You can now proceed to edit other aspects of the video prior to posting, such as adding filters, applying effects, adding text, and so on.
To add your own voice on TikTok, you'll need to use the voice-over recording feature instead of choosing from the stock music tracks. We recommend this as the better option if you're wondering how to create your own original sound on TikTok.
Step 1: As in the previous process, import the video by uploading it from your media library. This time, instead of tapping on Next, find the Mic icon. Depending on your TikTok version, it should be either Mic or Record. You may need to give additional permission to the app to access the device microphone. Tap Allow if you see such a notification.
Step 2: Next, tap the Record button and hold it while you record your voice-over track.
Step 3: You can change the voice-over volume under Added Sounds. Proceed to the posting process or save it as a draft for posting later.
Disadvantages of Creating Sounds on TikTok
No way to upload your own tracks

You'll need to make do with finding a unique portion of an existing track

No additional audio editing to enhance the quality or change anything except the volume

Voice-over quality depends on your phone's mic, which may be unreliable unless you have something like an audio enhancement app running in the background
These reasons are enough to make you want to look elsewhere for a solution for how to create an original sound on TikTok, right? And that's what we have for you next.
Part 3: How Do You Create Your Own Sound on TikTok on a Computer?
1.Why Use a Computer?
You have access to millions of songs and audio tracks

A good video editor will allow you to add audio effects like transitions

You can control the quality of the audio by choosing the right format

A timeline editor allows you to split and trim tracks and use just what you want

Your voice usually sounds much better when recorded on a computer versus a mobile phone
There are enough reasons to use a computer to create your own original TikTok sound, so why not give it a go and make your videos sound truly professional? Here's how.
2.iMyFone Filme: A Video Editor for Beginners and Professionals
iMyFone Filme is making its mark in the video editing niche because of its simplicity of operation and its vast feature set that is 100% user-friendly whether you're a newbie or a seasoned pro. Here are some of the other reasons why you should use Filme to create your own original sound on TikTok:
iMyFone Filme Key Features:
Fast Video Mode: Fast create videos with multiple templates of different themes.
Multi-track audio editing to add background music, voice-overs, effects, etc.

Use multiple audio tracks to enrich the audio experience for your users. It will stand out as unique in TikTok because most users don't take the trouble to do this.

Built-in library of high-quality royalty-free music and sound effects tracks

Choose from an array of options to make your TikTok audio sound professional

Easy timeline editing with pro editing features like Split, Trim, etc.

Visually seeing the audio track makes it easier to edit with extensive features.

Record voice-overs directly in the Filme interface
134524 people have Download it.
The Record function lets you syn voice-overs like you're doing it in a studio!
Make use of these awesome desktop features by using Filme to create your original sound for your next TikTok video. Let's see how it's done.
3.How to Create Your Own Original Sound for TikTok Videos
Let's look at how to use a track from the audio library as well as how to record a voice-over.
Step 1: The easy-import function lets you pull your videos to your desktop either wireless or with a data cable. Use the Import option and choose one of the import methods to bring your video into the media library.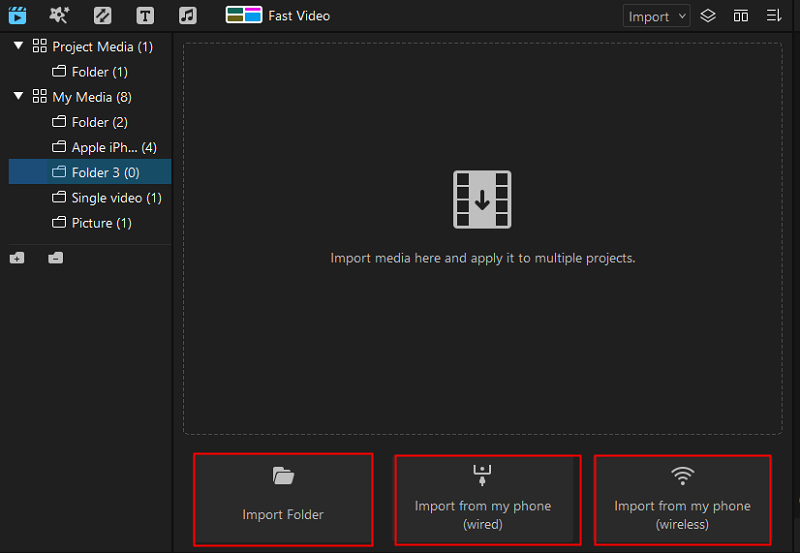 Step 2: Right-click the video thumbnail and select Add to put it on the timeline for editing. You should be able to see it as a track in the bottom half of the Filme interface.
Step 3: Next, click the Music icon in the menu on the top left of your screen and import the track you want the same way. Alternatively, you can upload your own music, voice, or effects track. The good thing is that Filme supports dozens of audio formats.
Step 4: Bring it to the timeline, where it will appear as an audio track next to the video track.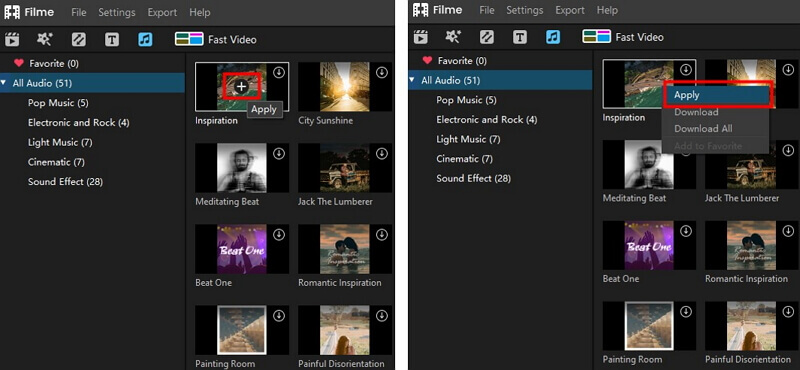 Step 5: Next, you can use the Split function to cut the audio track and use the section that you want. Right-click the unwanted bits and select Delete, then reposition the chosen bit to match the video duration.

Step 6: You can also edit the audio track by double-clicking it or right-clicking and choosing Edit. On the top-right of your screen, you'll see some editing options, such as fade-in, fade-out, and volume. Apply these to the beginning and end of the track for a more professional effect. Click OK when you're done.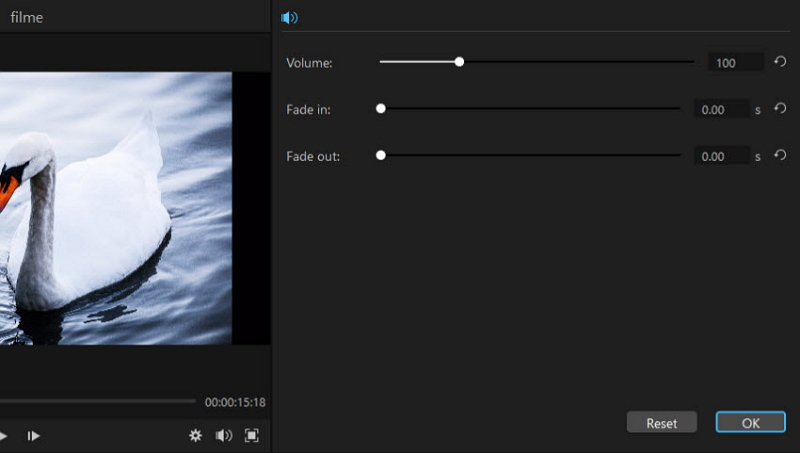 Step 7: Finally, preview the video with the new audio to check that everything is fine. When you're happy, click Export and choose your export format to save it to your desktop. You can then import it into the phone using any transfer method.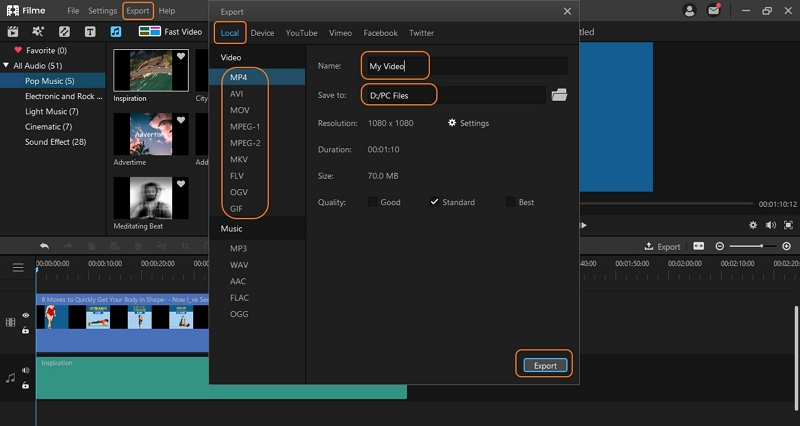 To record a voice-over track, follow the steps shown below:
Step 1: Position the timeline where you want to begin the voice-over.
Step 2: Click on the Mic icon above the timeline to open the recording window and choose an audio input device. We recommend using a good-quality PC mic or a headset mic.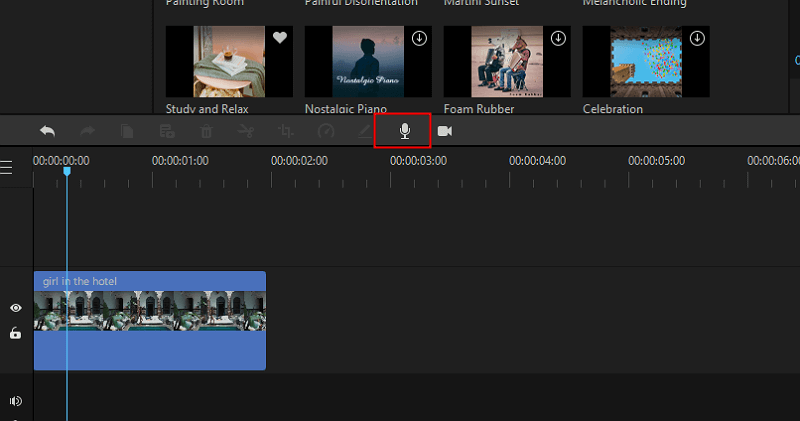 Step 3: When you're ready, click Record, and then again to stop the recording.
Step 4: The track will be added to a new audio track below the video track, after which you can edit it as shown in the previous set of steps above.
Part 4: Valuable Tips for How to Create a Viral Sound on TikTok
Create your own sounds using tools like Garage Band or Audacity. You will get access to pro-level audio effects, filters, and other processing modules that can greatly enhance the quality and uniqueness of your sound. Take the output track and import it into Filme to sync it to your video and make other edits.
Use voice effects like compression, reverb, echo, and delay when doing voice-overs. They'll sound a lot more professional and will really grab your audience's ear.
Be wary of using copyrighted materials without a proper license. The more famous you get on social media, the more exposed you are to legal risks.
Use Filme to enhance the quality of your videos as well, by adding filters, clip transitions, music, text effects. Don't forget the power of visuals when you're focusing on audio.
Test the volume level of your video on different devices and speakers/headphones to make sure it's not too loud or too soft. It takes a little time but it's well worth the extra effort because you'll have a consistent sound.
The last thing - and the most important one - to remember is that not all your videos will go viral. The trick is to constantly try new and innovative things with your sound as well as your video content. Don't give up easily. Only those who consistently keep making and posting videos succeed in the end. If you see the profiles of famous TikTok-ers, you'll see that they've posted dozens or even hundreds of videos over a period of time - just like popular YouTubers. That's the only way to real and lasting success on TikTok or any other social media platform.
Happy TikTok-ing!