As the popularity of YouTube Short videos reaches every corner of the world, many people have started to create exciting 15-to 60-second videos. But not many people know exactly how to grow YouTube Shorts content and garner more attention and views.
Keeping this in view, we have curated a couple of techniques you can follow to get more eyeballs on your videos and connect with a new and even bigger audience.
Let's cut to the chase.
Set up YouTube Shorts Channel
First things first, create a new YouTube channel dedicated to Shorts videos only. A separate channel will help you upload, organize, and manage the content easily and quickly. Plus, it makes it easy to get insights into your targeted audience and analyze the performance of each video.
Note that YouTube doesn't offer any specific type of channel for YouTube Shorts and you have to proceed with creating a regular YouTube channel. Here's how you do that:
Step 1
Sign in to YouTube from your PC or smartphone.
Step 2
Hit on your Profile Picture at the top-right corner and then, click Create a Channel.
Step 3
Now, you have the option to set up a personal channel or a channel with a business or brand name. Choose an option, create your name and other necessary details.
And that's it. You have a dedicated channel for YouTube Shorts. Now, use this channel to upload Shorts videos and try not to upload regular video content on this channel. Remember that YouTube Shorts only appear on the mobile app at the bottom of the screen.
Add YouTube Shorts as a Featured Section
One of the simplest ways to garner more views on your Short videos is by adding them to the Featured section. YouTube algorithms collect data over time and recommend "Featured videos" that they think might be useful or important for you.
For this reason, when you add a Short video as Featured, YouTube automatically suggests it to a wider audience and you get more eyeballs. This feature lets your viewers explore Short videos in a never-ending TikTok-style format.
Now, you must be wondering how to add YouTube Short videos under the Featured section. Fortunately, it's exceptionally easy for users to prioritize the videos under the Featured Section. Here's how you do it:
Step 1
From your PC's browser, sign in to your YouTube account and hit on Your Videos in the navigation bar.
Step 2
When the Studio page pops up, click on Customization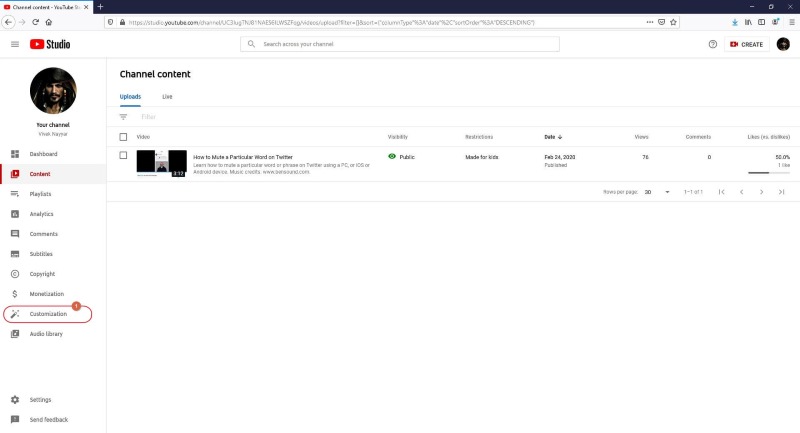 Step 3
Now, hit on Add Section in the Layout tab. Then, select the option" Short Videos" shown in the list next to the "Add the YouTube Shorts" category.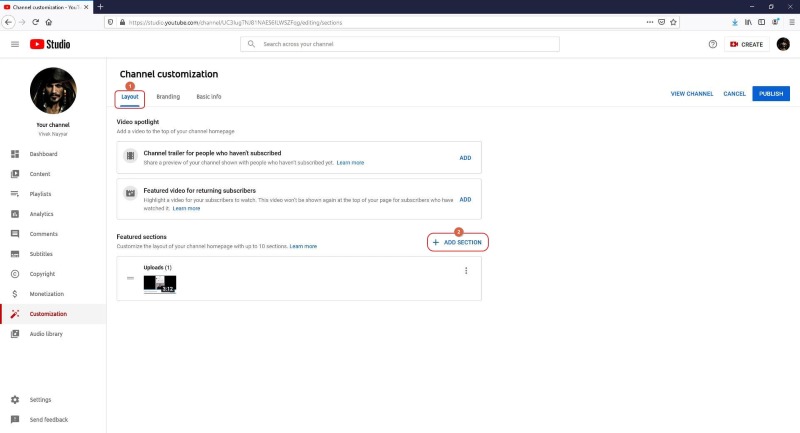 Step 4
After that, drag the Short Videos section from the moving handle at the left and place it at the top of the list just below the Featured segment.
Step 5
Finally, hit Publish to save changes.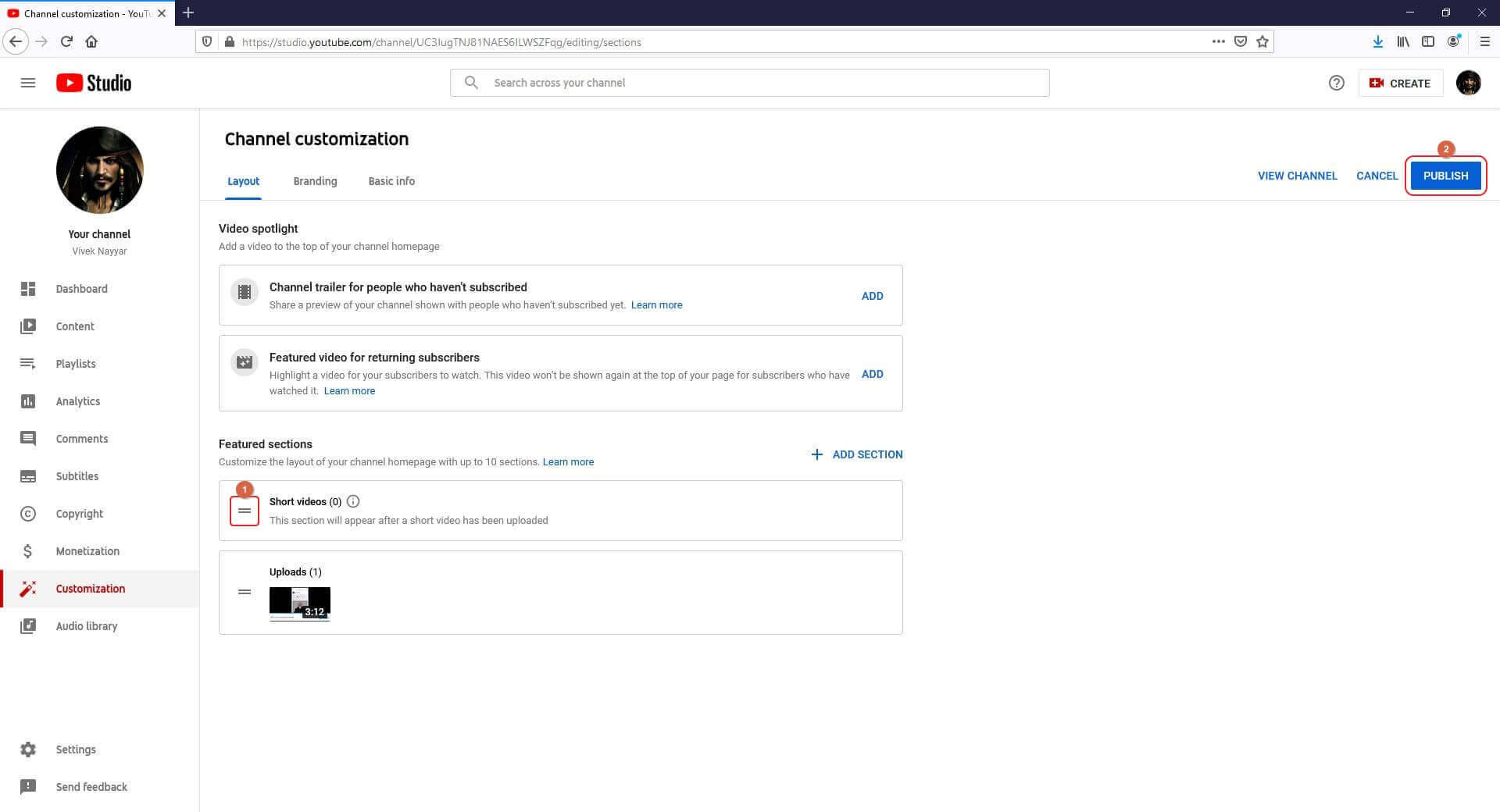 Note that there're certain other factors at play, but in general, the videos in the Featured section are recommended to your audience rather more quickly.
Also Read:
3 Ways to Fix YouTube Shorts Not Showing >>
Optimize YouTube Shorts
After setting up the Shorts videos in the Featured list, try to optimize the videos as much as possible to reach a bigger audience. Optimizing a Short video isn't much different from optimizing a regular YouTube video. The tips you follow don't impact whether your video appears Short or not.
Below are the most important variables you should consider to optimize the Short video content.
1. Attractive Thumbnail
A thumbnail is the face of the video that lets users take a quick snapshot of what your video is about – so try to add as captivating thumbnail as possible to garner more clicks. For any video you upload, YouTube adds a thumbnail by default. Take it down and include a custom, more appealing image.
Users can pick any image from within the video or use a separate photo as the thumbnail. While adding a thumbnail, make sure:
It's relevant to the content of the video.

The image should be clear, having text – if any - in large, bold letters to make it easier for the viewers to read.

Don't use incorrect thumbnails as click-baits. Your videos may get more eyeballs initially but your channel loses credulity and followers in the long term.
2. Compelling Title
It won't matter how good your Short videos are if more viewers aren't attracted to them – and that's why YouTube video titles are so important. Considered as your video's most important piece of metadata, a compelling title ensures a video gets more attention and clicks.
A good title includes a high-ranked keyword and a one-line summary of what viewers should expect in the Short video. Plus, it's better if the title resonates with the thumbnail of the video.
3. Detailed Description
A video's description is the text below each video which should include the theme, content, genre, and nature of the clip. A well-optimized description can lead your Short video to higher rankings on YouTube, boosting the number of views.
Write a relevant, complete, and captivating description to help the audience assess if the video would be helpful to them or not.
4. Short Tag
Your Short video tags are basically for YouTube algorithms to assess the video's content. Make sure to add relevant tags for each of your videos. For instance, '#Shorts' in the title and/or description shows that the video is created for YouTube Shorts.
Similarly, other tags reveal the theme and context of the video, allowing YouTube to understand its category, associate with other similar videos, and rank it higher on search volume.
Analyze YouTube Shorts Performance
Once you add YouTube Short videos as featured and also optimize each video, you're likely to witness a significant spike in the hits, views, and playtime of your channel. But what if your earnings are not as much as the number of views and playback time suggests.
The answer is that YouTube Shorts are not monetized and it isn't guaranteed if popular Shorts are responsible for this sharp increase in views on your channel or are regular videos.
To confirm that:
Navigate to your YouTube Studio

Hit on Analytics in the left bar

An Overview tab will pop up showing a graph of views, playback time, and estimated revenue.

Hit on Traffic Source at the top of the page to see the advanced analytics. Here, you can see the breakdown of your channel analytics. Check the views and watch time of your Short videos and analyze their performance.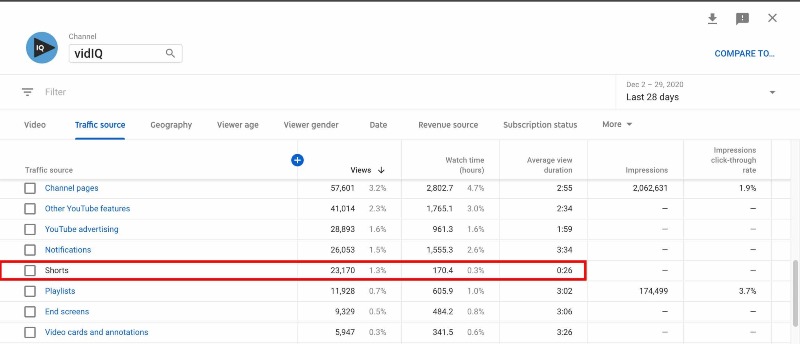 A Helpful Video Editing Tool - iMyFone Filme
Honestly speaking, none of the above tips are important unless your content is unique, amazing, and appeals to the audience. For that, you need a professional video editor like iMyFone Filme which helps transform ordinary videos into extraordinary ones.
Equipped with thousands of superior editing features, Filme is your ideal choice to create and edit less than 60 seconds videos. Thanks to its easy learning curve, both beginners and professionals can use it without any technical hassles.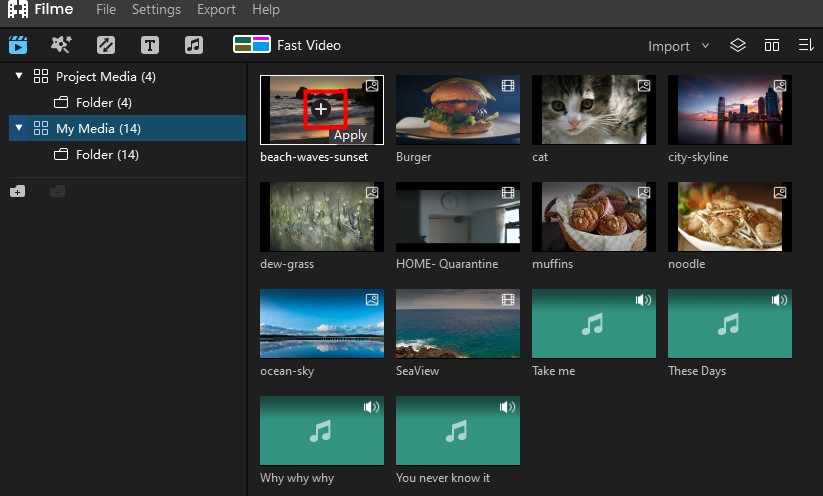 Noteworthy Features
If you're wondering why iMyFone Filme is worth buying, here are the key reasons:
Multi-layering of videos, audios, and images

Multiple editing modes

Advanced Picture in Picture effects

Detach audio from video

Adjust the speed of both audio and video clips

Advanced Fast video mode

Stunning slideshow creation

Adds cinematic titles and text to videos

And all basic video editing features including rotate, crop, trim, split, and so on.
Pros:

Easy to use even for not-so-tech-savvy users

Intuitive and simple interface

Offers the most advanced editing effects

Instant preview of effects

Multiple video and audio output formats

Easy to export and save the output

Thousands of filters, overlays, text presets

Superior audio editing capabilities
Final Words
Hopefully, this article has helped you understand how to get more views on your YouTube Shorts. The tips and tricks discussed above have proven to be very useful for promoting TikTok style Short videos on YouTube.
You should install iMyFone Filme to edit YouTube Short videos and impress your audience with amazing content.