TikTok is a platform for short videos, so video creators need to engage the audience in a short time. Transitions are very popular on TikTok because they are very attractive and engaging. Even a few seconds can attract an audience. Users like transitions and they try new transitions. They also try to create transitions through their ideas and creativity.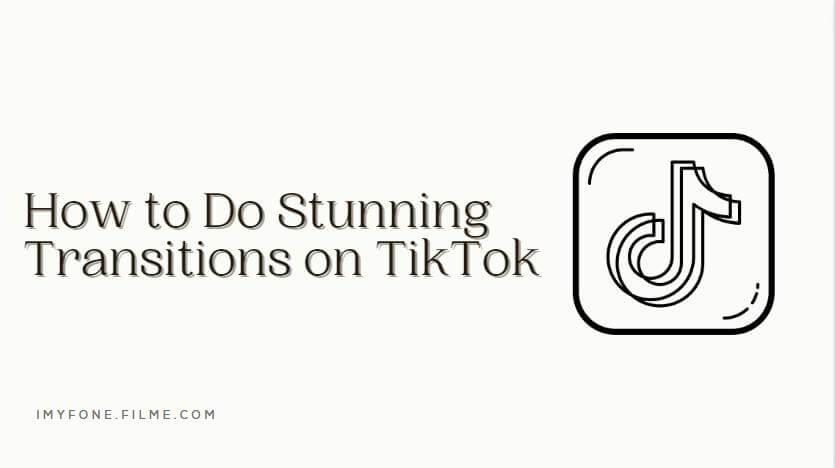 Today, we are here with a complete guide on how to do transitions on TikTok. We will tell you how you can create and use transitions in your videos. We will also share a mobile application and desktop editing tool that can help you do transitions on TikTok videos.
Part 1. 3 Ways to Add Transition on TikTok Video
There are two ways to add transitions to TikTok videos. Both methods only require the TikTok application, and you can use any of them.
Method 1: Add Transition with iMyFone Filme (Windows & Mac)
iMyFone Filme is a complete video editor tool that can help you do any edits in your videos on Windows and Mac. It has everything you need to create an awesome video for TikTok or any other platform, like YouTube, Facebook and Twitter. People prefer to edit videos on a computer because mobile tools and applications are not that advanced. You must edit your videos using a desktop application if you want to make your TikTok videos more appealing.
Watch video to learn how to add transition to video now:
Main Features of Filme Video Editor:
Filme offers various of amazing transitions for you to choose from. You can pick the best ones for your videos.

In addition to transitions, Filme also provides stunning special effects including filters, overlays, stickers, animations, text, and everything you expect.

You can join various audio tracks in Filme. You can create something new and more attractive.

You can trim, crop, adjust speed, add text, and do any edits to your videos.

There is a fast video feature on Filme, which has some premade templates. You can create awesome fast videos and slideshows for TikTok.

You can easily share the finished video directly to social media platforms, including Facebook, Twitter, YouTube and Vimeo.
Good news! You can try it out for free now! Get 1-Month Filme FREE License (Limited Time)
How to Add Transitions to TikTok Videos Using Filme?
Step 1: Open Filme and go to the Filme menu. Point over New Project and click on 9:16 (Portrait). This aspect ratio is suitable for TikTok. It is the recommended aspect ratio: however, you can also use the landscape ratio (16:9).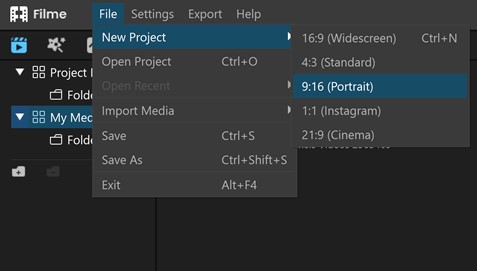 Step 2: Click on Import and import the video clips. You can import the clips from your mobile phone or computer. After importing the clips, drag them to the timeline and position them accordingly.
Step 3: In the timeline, click on the video clip to which you want to add the transition. Go to the Transitions menu at the top. Click on the center of any transition, and it will be added to the video.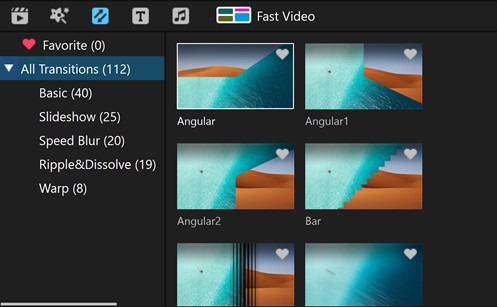 Step 4: By default, the transition is added at both ends of the video. You can also delete the transition from one end. Click on the transition you want to delete and press the delete button.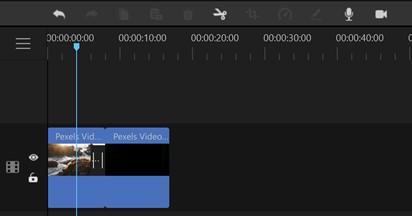 Step 5: You can add as many transitions as you need. You can also add text, stickers, effects, or anything you like. You can edit videos as you wish.
Step 6: You can also share the video on social media while exporting it. You can share on YouTube, Vimeo, Facebook, and Twitter. Click on the Export button, and you will see the tabs of social media in the export window. Select the desired settings, and click on Export.
Step 7: If you want to share on TikTok, go to the website and sign in to your account. Click on Upload Video. Enter the description and make the video ready. Click on Post.
Method 2: Using TikTok's Bulid-in Transition
This method uses the transitions that are already offered by TikTok. Let's have a look at how you can use them with perfection.
Step 1: Launch the TikTok application on your mobile phone. At the bottom center, tap on the "+" button.
Step 2: You can either record your own video or upload a video from your device. For recording a video, tap on the record button. For uploading a video, tap on the upload button. Select a few videos of your choice and tap on Next.
Step 3: TikTok will ask you to add sound to your video. You can select any track you like or choose none. After selecting, tap on Next.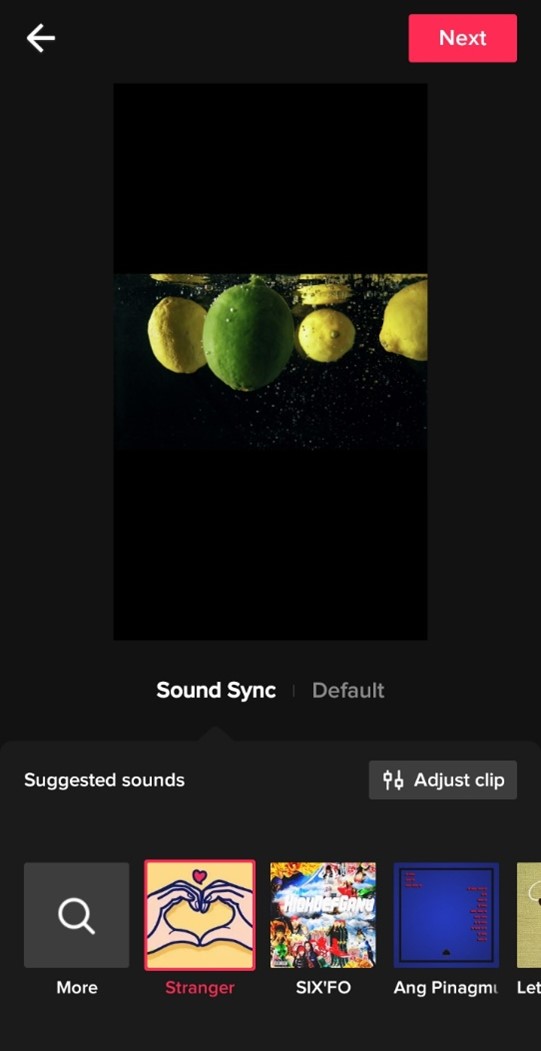 Step 4: You are now in the video editor. You will see the Effects option at the bottom; tap on it. There will be tabs for different effects: Visual, Sticker, Transition, Split, and Time. You need to go to the Transition tab.
Step 5: Move the video cursor where you want to add the transitions. Select any transition you like. You can have as many transitions as you like.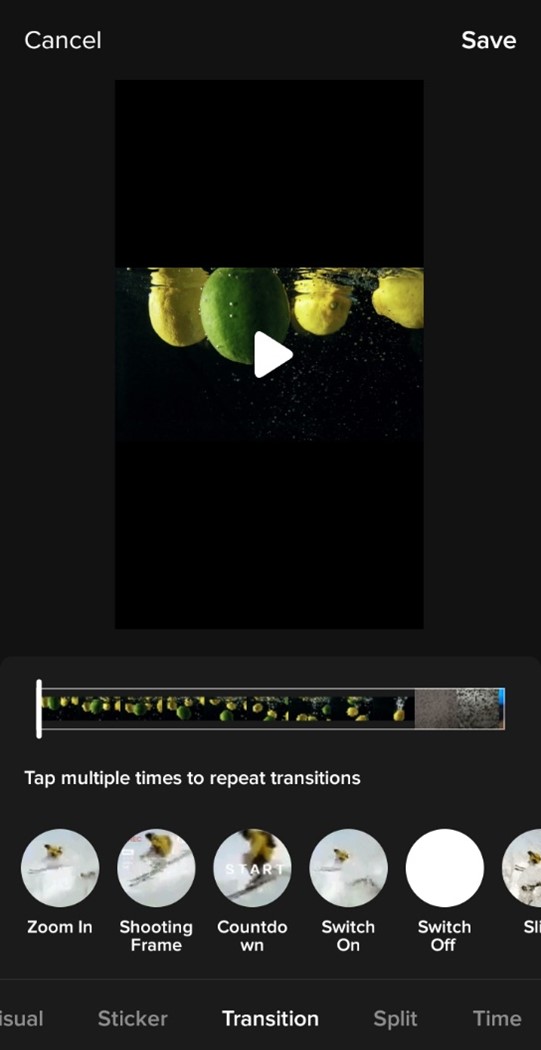 Step 6: See the preview of the video and tap on Save. Now, you can do any editing you want. You can add text, music, or whatever you want. When you are done, tap on Next.
Step 7: Describe your video and tap on Post.
Method 3: Creating Your Own Transitions with The Shooting Techniques
Freeze Transition
Tap the + symbol in TikTok and tap on Movie.
Choose your clip and tap on Create Movie
Bring the playhead to where you want the freeze transition to begin and use Split (scissors icon) to cut the video there, as well as at the end of that frame.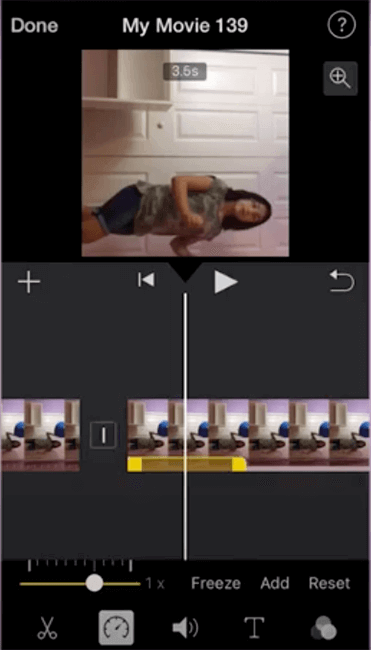 Next, choose the short clip and tap the speed change icon and choose Freeze. You can extend or reduce the duration of the freeze.
Tap Done, then the Upload icon, then tap Save Video
Head Turn Transition
The head turn transition is a little morecomplicated because it requires taking multiple clips with slightly differenthead positions.
First, record yourself on TikTok and stop it with a head turn to the right.
Rotate the camera and bring it to your right. Start recording by looking straight at the camera, then snap your head back to the left and stop recording.
For the third recording, bring the camera to your front as you look left, and continue recording.
After recording, you should have three clips. Tap on Adjust Clips, then tap the second one and shorten the end by about a second.
Now tap the last clip and shorten the beginning.
Steps 4 and 5 are meant to make the transition as smooth as possible.
Makeup Transition
The basic method of creating a single makeuptransition is shown below:
Use the Timer function to record in TikTok to give yourself enough time to prep for the shot in the right position.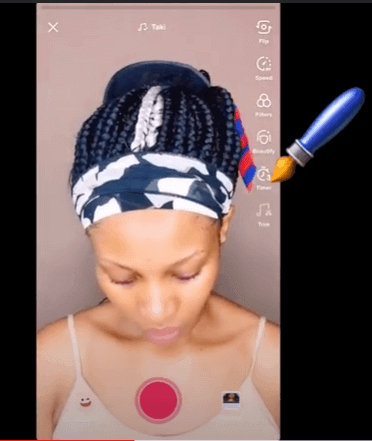 At the endof the first clip, use a transitional move like putting your head down or covering your face with your hands. The first clip can be you applying dots of foundation or concealer, then hiding your face to begin the transition to the next clip.
Before recording the next clip, apply your foundation or concealer smoothly. In the second clip, use the Timer function again. This time, start with the same position that you ended the first clip in (head down or hands in front of face), then reveal your face to show the first makeup transition.
You can do as many of these transitions as you like. After recording all the clips, use the Adjust Clips feature to trim them and make the transitions as natural-looking as possible. If you make a wrong recording in the middle, you can use the Back icon to record that bit again.
Also Read:
How To Put a TikTok Video in Slow Motion >>
Best 3 Methods to Make TikTok Videos Longer >>
How to Do Green Screen Video on TikTok >>
Part 2. Adding Smooth Transition Effects with App
If you are not satisfied with the transition effects available on TikTok, you may need to use other video-making or editing tools to get more amazing transitions. Below are our recommendations for such tools.
Videoshop - For For iPhone, iPad & Android
Videoshop is an application that can be used for basic video editing. You can add transitions on your phone using it.
How to Add Transitions to TikTok Videos Using Videoshop?
Step 1: Open the application on your mobile. You will have two options: Record and Import Clip. Tap on Import Clip. Select the videos you want to edit and tap on Done.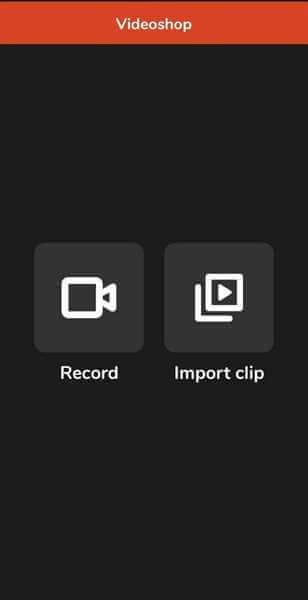 Step 2: The videos will be imported into the video editor. Under the canvas, you will have the videos that you have imported. Tap on the video, after which you want to add the transitions. You will see various tools under the video. Look for Transition and tap on it.
Step 3: You will have some transitions that you can select. Tap on anyone you like. This will add the transition to the desired place. You can add more transitions at the end and start of other videos.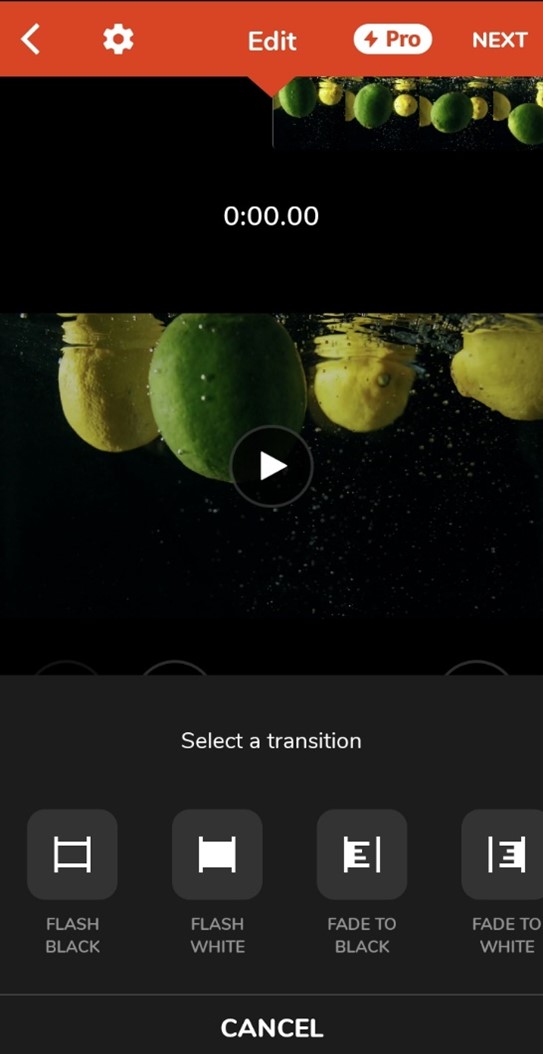 Step 4: See the preview of the video. You can also edit your video and add text or anything you like. When you are done, tap on Next.
Step 5: You can select filters or themes. Tap on the Share button at the top. Now, you can directly share the video to TikTok or save it to the Gallery.
Part 3. 5 Best TikTok Transitions Video Examples
Head Transition on TikTok
Head transition is a catchy transition on TikTok. There can be many variations of this transition. For instance, you can press your head downwards to create a transition. You can also press your head from the left or right. It is quite simple, and it can be done without the need for any extra tool.
Zoom Transition on TikTok
Zoom in and out transitions are the simplest transitions on TikTok. You only need to move the record button up and down. Just hold the record button and move it up and down to zoom in and out. You can also make gestures to make the video more interesting.
Jump Transition
In the jump transition, all you need to do is to jump, and as soon as you land on the ground, you need to stop recording. Now, you can change clothes, background, or do any change and resume recording the video.
Slow-mo Transition on TikTok
You can use TikTok's tool of changing the speed to make this transition, or you can act like doing anything in slow motion.
Clothing Transition TikTok
Clothing transition is still quite trendy on TikTok. You can use various gestures and change your clothes. Jump in the video, and as you land on the ground, stop recording. Change your clothes and jump again and start the recording.
Part 4. Hot FAQs About do Transitions on TikTok Videos
1. How do you do easy transitions on TikTok?
You can just use the build-in transitions from TikTok. There are eight different transitions available on TikTok, all you need to do is to choose the transitions you want and add it to your video.
2. How do you do good transitions on TikTok?
You can create your own transitions by shooting videos by yourself. Or just use some advanced video editors to get good transitions and add them on your TikTok videos.
3. How to do no hand transition on TikTok?
No hand transition is quite popular on TikTok. You need to record yourself without using your hands. Both hands should be visible in the video, so you have to hold your mobile phone in your mouth. We recommend using a popsocket as it would be easy to record using it.
Final Thought
Transitions are quite popular on TikTok, and we see new trends and challenges every day or every week. People try new transitions and try to make their videos unique and engaging. We have explained how you can create transitions on TikTok. You can create your own transitions, or you can use TikTok's premade transitions.
For your ease, we have also shared some of the popular transitions that people use on TikTok. For adding transitions and editing TikTok videos, we recommend iMyFone Filme. It is a complete video editor for beginners as well as experts. You can easily edit your videos like a professional.