TikTok has become one of the largest platforms for visual content. People are in high and tough competition to give their best content on TikTok. For this reason, every TikTok user is in search of using TikTok's best features to make the video more than amazing.
Out of many features, TikTok also enables its users to change the voices of their video by using many voice effects or voice filters. In this article, we are going to cover a simple method on how to change your voice on TikTok.
How to Change Your Voice on TikTok to Make It Funny
If you want to make your video funny by changing its voice, then TikTok can do this job for you. TikTok has some Voice filters that work exactly like the Snap filters. You can add these voice filters to change the tone and pitch of your recorded video's sound.
Steps on How to Use Voice Changers TikTok:
Step 1: Install Tiktok
TikTok is a popular app and is lovingly used all around the world, so the developers always try to add new and more features. Firstly, go and install the latest version, or if you already have TikTok installed, then check for updates from Play Store or App Store. If your app is not updated, then update its version by tapping on the Update button.
Step 2: Record video
Open the app and tap on the "+" button at the bottom of the home screen. You will be directed to the next screen, where you can easily record a video by tapping on the large Record button. After video recording, tap on the Voice Effects icon.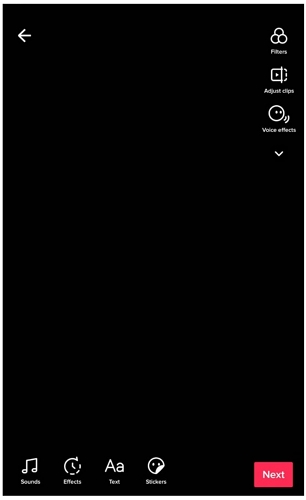 Step 3: Add Voice Effects
You will see many voice effects or filters on the next screen, tap on any voice effect and then tap on the Next button. The voice filter will be added to your video.
Step 4: Add description or Hashtags
Before posting or saving the video, TikTok will ask you to choose the options like Allow Comments, Allow Duet, and Allow Stitch. Moreover, you can add friends through "@" and add Hashtags. You can also type a little description of your video before posting it.
Step 5: Post or save
After adding description or Hashtags, you will have to select an option from Drafts or Post. Tap on Drafts to save videos in drafts or tap on Post to post the video on TikTok.
Why Voice Effects Not Working on TikTok?
TikTok is an amazing video-sharing platform used by nearly 800 million daily active users. People use its features to make their videos more interesting, captivating, or funny. One of its features is Voice Effects that is of great importance for TikTok users. But some issues related to voice effects. If you are facing such problems, then do not worry because we are going to tell you some basic problems and their solutions.
1: Pre-recorded Video:
Always keep in mind that the Voice Effects will not work on any pre-recorded video. TikTok restricts its users from using its voice effects on pre-recorded or other platform's content.
Solution:
To keep its effects limited to the platform, TikTok will only allow you to add its Voice Effects to a video only recorded by TikTok. So, if you are trying to add Voice Effects to any pre-recorded video, then stop doing this and start by recording video with the TikTok app. For pre-recorded videos, you can use other tools like Filme.
2: Cache Issues:
Sometimes, excess files in cache overload the app and make it unable to work seamlessly. The unwanted background files are automatically saved to the cache and cause hurdles for the app.
Solution:
If the cache is the problem, then the only solution is clearing it. Do not worry; clearing cache will not let you face important or personal data loss. It will just clear all unnecessary files running in the background. For clearing cache, go to the Settings of your device and then tap on the Apps/Applications. Select installed apps and then tap on TikTok. Look for the Clear Cache option and tap on it to continue clearing it. Clearing cache will help your TikTok app to show all features and work properly.
3: Update Device or app:
If your device is not updated, then it will not be able to fulfill the TikTok requirements. Similarly, the TikTok app itself needs to be updated. Outdated devices or apps can show various problems.
Solution:
Update your device or app if needed. To update the TikTok app, follow the same process described in Part 1 (Step 1). To update your device, go to the Settings of your device and then tap on the About Device or My Device option. Now, tap on Software Update and wait. Once your device is up-to-date, go and again use the TikTok app to enjoy Voice Effects.
How to Change Text to Speech Voice on TikTok
TikTok has many mind-blowing features, and one of them is the text-to-speech feature. It is used to change text into speech or recorded voice; thus, it is a very unique and simple way to convey the right message even if you don't want to speak or talk in the video.
Steps on How to Change Text to Speech Voice on TikTok
Step 1: Install and open the app
Install the latest version of TikTok on your device and then open it. Make sure to use the updated TikTok app on the device.
Step 2: Record video
Now tap on the small + icon on the bottom of the screen and record your video. You can also do it by using someone's video sound by tapping on the small profile type icon on the right bottom corner of the screen over the Me option.
Step 3: Add text to your video
After recording the video, tap on the tick at the bottom right of the screen and then tap on the Text option at the bottom. Write down the text of your own choice.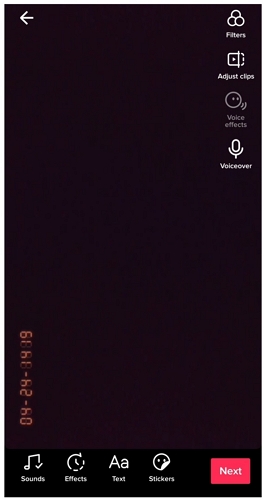 Step 4: Use the Text-to-speech feature
Now tap on the text box and hold it for a second; you will see an option with the name Text-to-speech; tap on it. After a few seconds, your text will be automatically played in your video.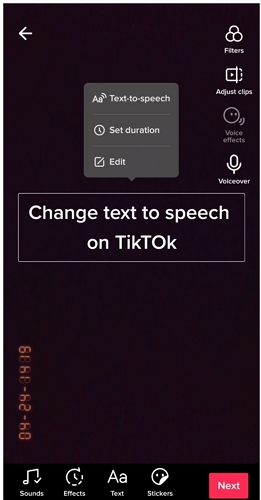 Step 5: Save the changes:
Now, tap on the Next button and save your video in the draft or post it on TikTok.
Also Read:
Awesome Ways to Remove Watermarks for TikTok Video >>
Best Real-time Voice Changer Software Tools >>
Change Voice before Uploading to TikTok
TikTok allows you to change voices on the app but if you want to try some additional voice-changing features than voice filters, then try out these two best video editors on our list. Without wasting time, let's see how they work.
Filme is a user-friendly video editor. It has all the basic and advanced tools to edit videos professionally for any platform or purpose. It also has multiple voice changers that can change the voice of recorded audio or record audio in a different voice.
Steps to Use Filme for Voice Change
Step 1: Launch Filme on your device. Go to File and screate a new project.
Step 2: If you want to change the voice of recorded audio, you need to import the audio file. From the Media menu, you can import files from your computer or mobile. You can also import videos and other files you need for the project.
Step 3: After importing files, move them to the timeline. Double-click on the audio file, and you will have the editing tools on the right. You can select a voice from the voice changer. Click on OK.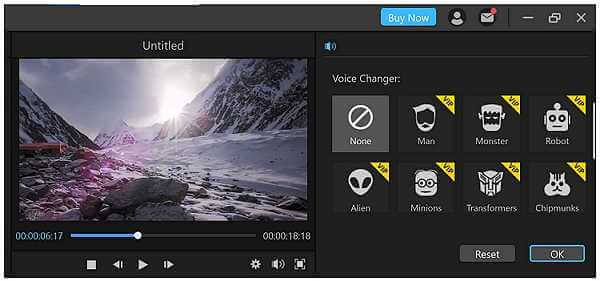 Step 4: If you want to record your voice in a different voice/pitch, click on the microphone icon above the timeline. Select the input device and the voice you need. Now, you can record the voice using the record button.
Step 5: Click on the Export button. Select the file format and other settings. Click on Export.
Available System:
Windows 7, 8, 8.1, and 10 and macOS 10.10-10.15.
Price:
Plan
Price (Limited Time Offer)
1-month Plan
$29.95 ($

49.95

)
1-year Plan
$39.95 ($

69.95

)
Lifetime Plan
$59.95 ($

109.95

)
Wavechat is used to voice over and to make mini podcasts on mobile phones. It is one of the best voice changing tools for iOS. It has a tool named Wavechat: Voice Messenger, which is used for changing the voices of TikTok videos and Instagram stories to make them interesting or funny. Moreover, there are many voice-changing filters that can completely convert your video's voice tone and pitch. Moreover, you can record voice through it, talk over memes, and add different captions.
Steps on How to Use Wavechat:
Step 1: Install WaveChat and open it. You will see a record button at the start, tap on that and start talking whatever you want.
Step 2: Now, press the record button again to stop recording, and then tap on any filter you want to add for changing your video's voice.
Step 3: Once you select any filter and are happy with it, tap on the Save button and then share it to TikTok.
Available System:
This tool/Software works for iOS devices.
Price:
Wavechat is totally free to download and install. You can use it free of cost to make changes to your voices.
Final Words:
TikTok is a great platform to share visual/video content. People make their best videos by making many changes to the videos. One of the main concerns while editing is voice editing. Luckily, TikTok itself allows its users to add different voice effects and text-to-speech features. But if you want to go the extra mile, you can try other editing software like Filme and Wavechat. Filme is a desktop application; therefore, it has almost every tool you need for video editing. It is a professional video editor that can help you edit your videos as well as sound.