People love to have fun by changing their voices while chatting, streaming, and creating videos for their audience. There are dozens of tools and programs available that can change your voice without any hassle.
Celebrity Voice Changer is also a popular tool, and we will take an in-depth look at it. We will also share some alternatives to this tool if you want something better.
Part 1. Celebrity Voice Changer Full Review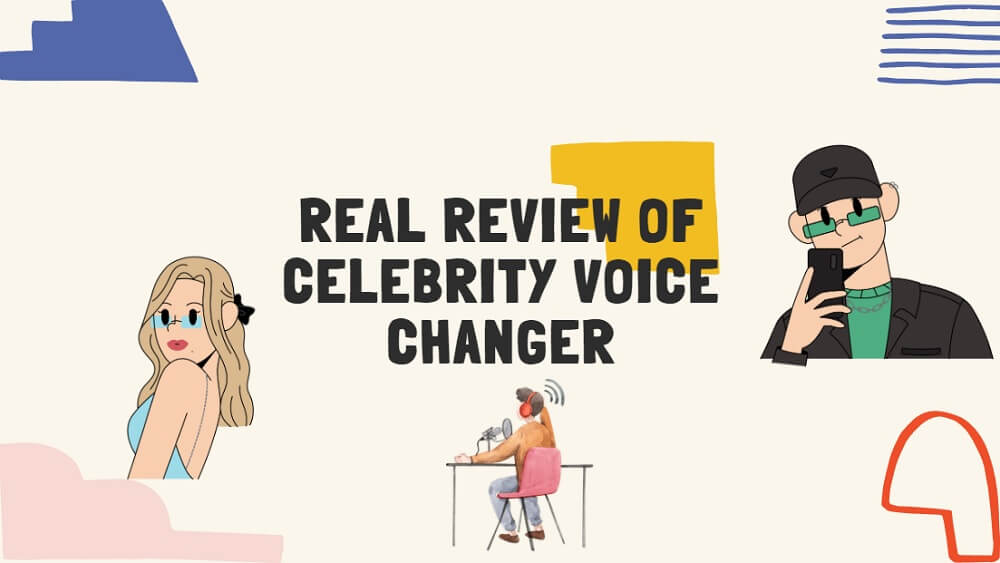 1.1. Key Features
Celebrity Voice Changer is one of its kind because it uses deep learning technology to provide the smoothest transition of your voice to your favorite celebrity. It is developed by HatsOfApps Inc., and it is based on Artificial Intelligence (AI).
It is far more advanced than other applications available on the internet because it keeps updating itself regularly with the use of Deep Learning.
a) Wide range of Celebrities:
There are many celebrity voices available on the application. The whole list of celebrities can be seen on the home screen, and you have new voices regularly as this app comes with regular updates.
The celebrities are also listed on the website but to get the full features, including all the celebrities, you need to download the mobile application.
b) Frequent Updates:
One of the most interesting features of Celebrity Voice Changer is that it keeps updating the application so that the users are satisfied with the options available. Moreover, the bugs are also fixed in every update, so in the end, there is a better version of the application each time.
c) Immediate transformation:
The transformation of your voice to a celebrity voice is very quick, and there is no such delay. Once you record your voice, it is just a matter of seconds, and you can listen to yourself as any celebrity of your choice.
The reason it is so quick as compared to others is that there is no such voice tuner program that runs and transforms your voice, as seen in other applications; it is completely based on AI.
d) Request for New Celebrities:
What if there is any celebrity that you would like to try and it is not available on the application? You can simply put in your request for your favorite celebrity if it isn't available. The application team makes sure that they respond to highly anticipated celebrities' requests as soon as possible.
Cons of Celebrity Voice Changer: Not So Realistic Voice
The overall outcome may not be really like the original celebrity. A person can easily differentiate between the real and modified voice.
1.2. Operating System
Celebrity Voice Changer Application is compatible with both iOS and Android. The latest version is available on Google Play for Android users and the App Store for iOS users. It is also simple to download, and the setup is pretty simple as well.
Moreover, you can also download Celebrity Voice Changer on your laptop or PC as it is compatible with both Mac and Windows. You can do it by adding Celebrity Voice Changer as an extension to your browser and can enjoy it on your laptop or PC.
1.3. User Interface
The interface of the Celebrity Voice Changer application is simple and user-friendly. It is extremely simple to use as the celebrity icons are visible on your screen, and you just have to tap on them to use that celebrity's voice.
The application will guide you very well from the instance you download the application. Once the application is downloaded and you open the app, there will be many celebrity icons on your screen from which you can select any to transform your voice. Once you select any, the process of recording is straightforward.
Just tap and hold the icon, where the selected celebrity is shown. The recording will start, and your voice will be transformed and played for you after its completion.
Keep in mind to allow the camera access to the application at the start, as it uses your mobile's front camera to lip-sync your voice into the celebrity's voice.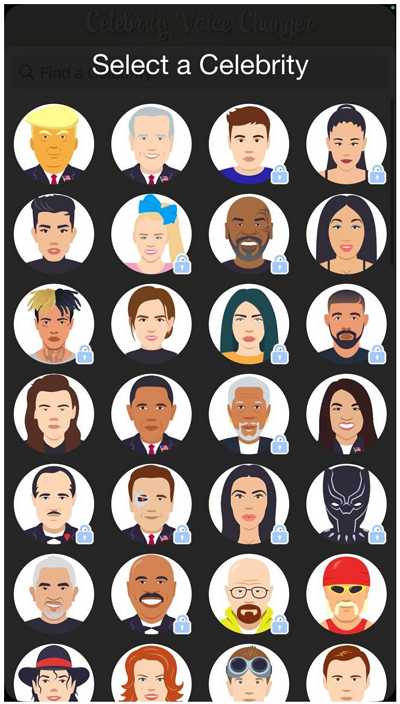 1.4. Usability
The Celebrity Voice Changer application is one of the easiest to use in terms of usability. From downloading the application to recording the short clip with this application, all of it is very simplified for the users. Select any celebrity from the list.
There are different icons for different celebrities that depict their faces. You can select anyone according to your choice. Now you just have to tap and hold the screen to let the application do its job. Say whatever you like, and the application would then listen to it and display it on the screen.
When the clip is being recorded, there is a message that says "Changing Voice"; here, lip-syncing is done to your recorded video. After that, your clip will be played with the celebrity's voice instead of yours. You can also save the video and share it with your friends and family.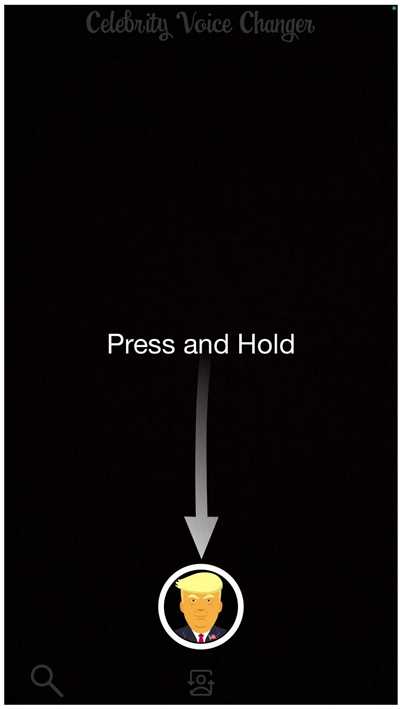 1.5. Price
Celebrity Voice Changer is a paid application; however, it also has a free version. You can download the application for free from Play Store or App Store.
There will be some limited features you can use. For instance, you will have access to the voices of some selected celebrities. If you need more voices, you have to purchase the premium application.
You can buy each item in In-App Purchases for $9.99. As almost every voice is available and you can also request a new voice, the application is worth it.
Part 2. Best 3 Alternatives to Celebrity Voice Changer
Some top alternatives for Celebrity Voice Changer are as follows:
iMyFone MagicMic is a dedicated voice changer by iMyFone, giving you more than 100+ different voice-changing effects, including the ones related to the scariest festival on the planet.MagicMic's real-time voice changing system lets you change your voice while playing games like PUBG, Fortnite, and more.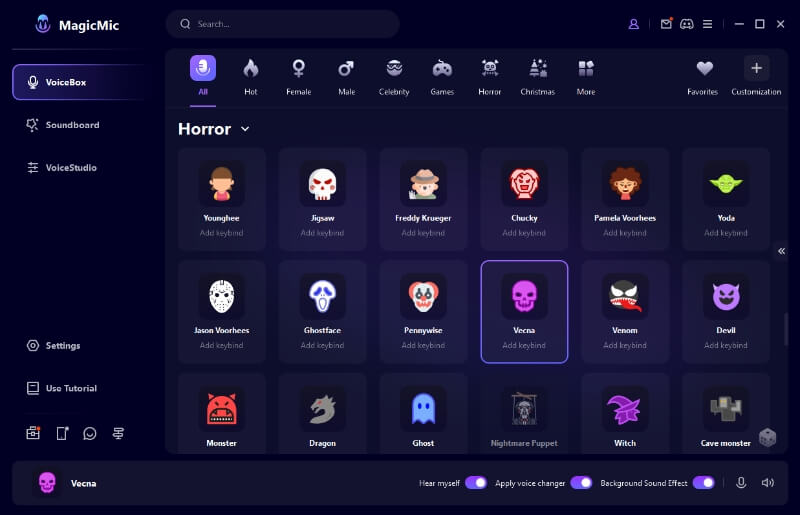 Key Features of MagicMic
Change your voice in real-time. You can also set the keybind and switch your voice with 1 click.

Can be used on Discord, PUBG, Second Life, Fortnite, CSGO and many other platforms.

Comes with various popular voice-changing effects, such as: Woman to Man, Monster, Devil, Chipmunks, Robot, etc.

500+ sound effects imitating people, animals, the environment, and so on.
Pros:

MagicMic offers you extensive support for troubleshooting the software.

It has support for a wide range of third-party applications giving you complete control over your voice and sound effects.

Voice custom function allows you to create your own voice.

It is available for Windows and Mac, Android and iOS.
Cons:

At present, MagicMic voice changer app for iOS and Android comes without real-time voice change, only voice change for voice record and audio.
Voice Changer with Effects is another excellent application that is simple to use. You can record the speech, and once it is recorded, you can apply any effect according to your choice. You can also save the speech, and it can be used as a ringtone, or you can send it to your friends or family.
Similar to Celebrity Voice Changer, you can add effects of different characters and celebrities, for example, Bane from Dark Knight and Optimus Prime from Transformers. Other than famous figures, you can add the voices of a robot, demons, and many others.
Compatibility: It is available on both iOS and Android.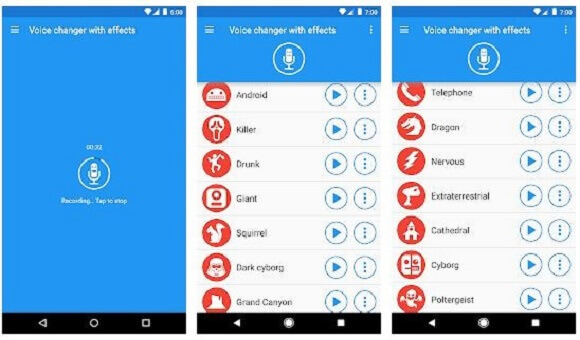 Voice Changer Plus is another exceptional application that comes with many options and effects. You can also try to sing in a bad melodious voice just for fun.
Similar to previous applications, you have to record your voice first, and then you can add any effect you like. There are more than 55 voice effects that you can try. Also, you can trim the recording according to your desire.
Compatibility: It is available on both iOS and Android.
Also Read:
10 Best Real-time Voice Changer Software Tools >>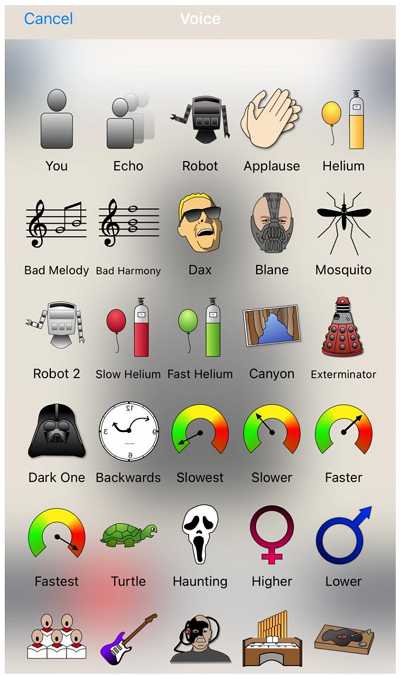 Celebrity Voice Changer is a commendable application that provides good features and tons of voices. However, there is a limitation in the free version; you can only try out a few voices. Moreover. We have discussed some of the alternatives that you can use. We recommend iMyFone MagicMic as it is an all-in-one voice changer that can really satisfy your needs.
Conclusion: