Looking for a free slow motion video editor to showcase your sporting skills or action sequences? The slo-mo feature is meant to let you slow down fast-action videos so the viewers get a detailed perspective of what's going on in the video. Today, there is an extensive collection of desktop applications, mobile apps, and even
online video editors
offering this feature, which is what this article covers.
Category 1: Best 6 Slow Motion Video Editors for Desktop
This segment showcases desktop applications for PC, Mac, and other platforms with the best slow-motion feature. These apps can be downloaded and installed on your desktop computer, laptop, or 2-in-1 convertible device.
1

iMyFone Filme -  Best Slow Motion Video Editor for Professionals
iMyFone Filme is a premium slow motion and all-around video editor that's available absolutely free. It supports professional-grade features that include one of the most powerful speed control capabilities on the market. Slow motion with Filme equals no frame drops and absolutely no stutter. The process is also very simple. In the Filme interface, select your clip in the preview panel on the left side, followed by the speed icon in the bottom toolbar. In the pop-up window, use the slider to control the speed of your video clip or use the drop-down to choose a preset speed. Click OK to confirm the action.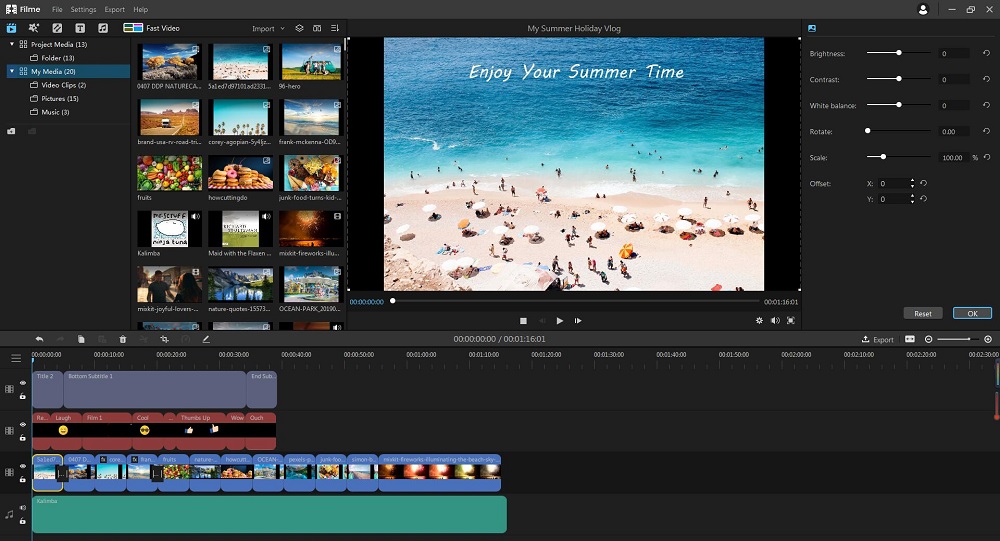 iMyFone Filme Key Features:
Stutter-free, zero-frame-drop slow motion

Handles complex video, audio, and image editing tasks

Wide range of templates, transitions, and effects to choose from

Clean interface with a near-zero learning curve for beginners

Power editing features for professionals
Pros:
Granular control over slow motion and other speed changes

Fast Video mode to create stunning video slideshows from existing media

Bundles of templates to get you started

Easy user interface, highly intuitive
Cons:
Not a very well-known software application
2

slowmoVideo - Best Slow Motion Video Editor for Technical Experts
This free, open-source application for Windows and Linux offers an advanced feature-set for creating a slow-motion effect on your videos. Not only can it slow down a section of your clip, but it also uses Optical Flow and leverages the power of the FFmpeg multimedia framework to give you smooth slow motion, motion blurring, and other pro-caliber features. You can also slow down or speed up specific sections of a video instead of having to apply it to the entire clip.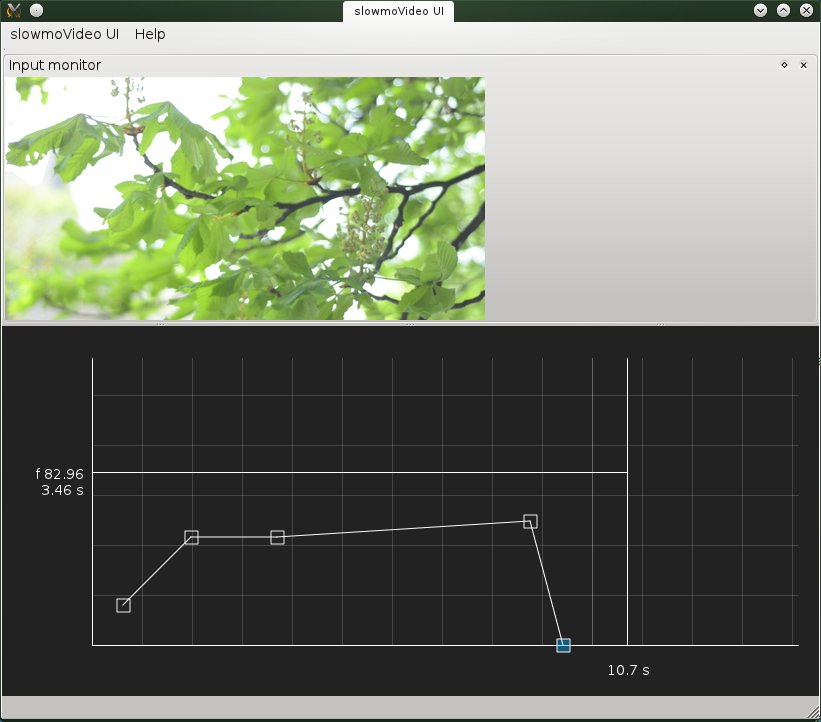 Key Features:
All FFmpeg video formats are supported

Image sequences can also be uploaded

Allows arbitrary speed control

Shortcut keys to simplify the editing process
Pros:
A dedicated tool for slow-motion and other speed-based video effects

Time-lapse photos can be converted into slow-motion video clips even if you don't have enough shots

100% free
Cons:
No macOS version

You might see morphing edge artifacts after processing your video clip
3

AviSynth - Excellent Tool to Add Minute Slow Motion Effects
This amazing free slow motion video editor for PC uses filters for various functions and acts as a frameserver. It is a script-based utility, which means there's no graphic user interface (GUI). You will need to write a script to create a slow-motion effect on your videos. However, it is a very powerful tool that gives you granular control over how you 'ease in' and 'ease out' of slow motion. Generates stutter-free slow-motion segments.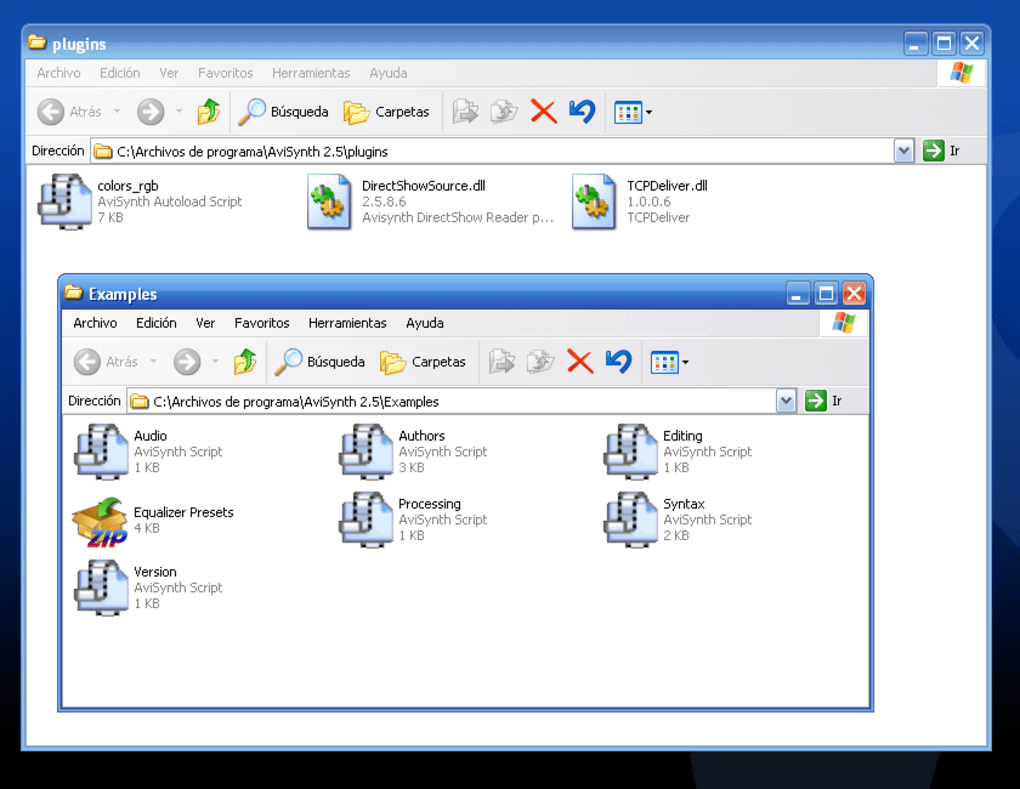 Key Features:
Script-based tool

Extensive effects capabilities

Allows arbitrary speed control

Primarily for video post-production
Pros:
100% free to use for any purpose - GNU GPL

Highly advanced utility for smooth slow motion

Minute control over various aspects of video editing
Cons:
No GUI, hard for new users without any scripting experience

Multiple forks make it hard to decide which one to use
4

VSDC Free Video Editor - Ideal Video Editor for Beginners on Windows
TThis free slow motion video editor for PC works really well with smaller video clips where you want the entire shot to be in slow motion. If you want to apply the effect to a smaller portion within the video, you'll need to use a workaround method - clip the video into smaller bits, apply slow motion to the ones you want, then merge them back together. The effect is seamless and quite professional-looking.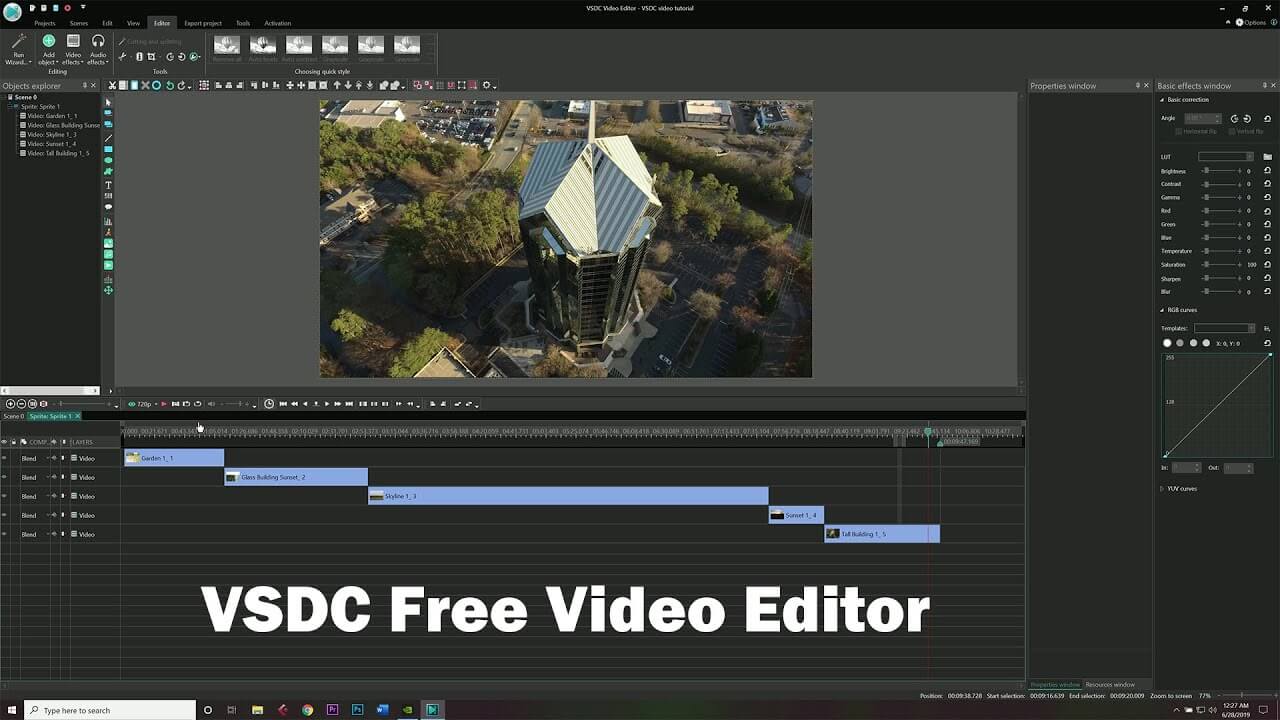 Key Features:
Extensive free video editing tools

Multimedia support

Free effects for video and audio

Speed control
Pros:
Simple UI, easy for first-timers

Includes file conversion and DVD authoring features

Non-linear editing
Cons:
Creating a slow-motion effect to a particular scene can only be done by splitting or fragmenting the video

No macOS version
5

Vidiot - Best Slow Motion Video Editor for Simple Editing Tasks
Another freeware option for Windows desktop PCs is Vidiot, a non-linear video editing tool with simple editing tools like trimming, cutting, etc. The difference here is that you can add slow motion and do other edits while the video is playing. The speed control feature is easy to use but you will have to apply slow motion to the entire video. There's no option to select a portion and slow it down.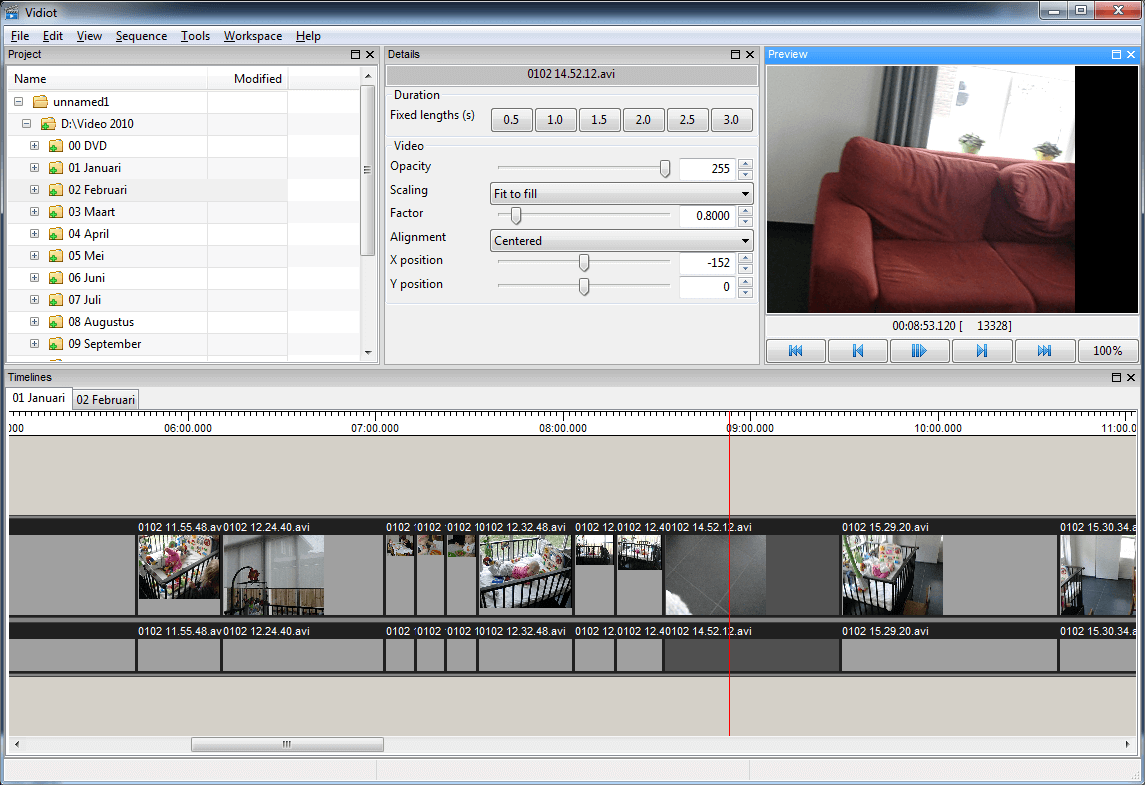 Key Features:
Compositing and scaling

Video conversiont

Non-linear editing, titling

Transition effects and speed control
Pros:
Well-designed and user-friendly UI

Available as a portable version that can run off a USB stick
Cons:
Sometimes crashes with longer videos

Video timelines are sometimes wrong
6

Filmora - Perfect Slow Motion Editing Tool for Passionate Amateurs
This desktop video editor comes with a range of features for beginners but has a robust slow-motion feature. It also includes online resources for getting amazing-looking slow-mo, such as doubling the initial shutter speed and even advice on what kind of objects and actions are good for slowing down later. As such, if you use slow motion a lot, this software can intelligently show you what to slow down for the best final effect.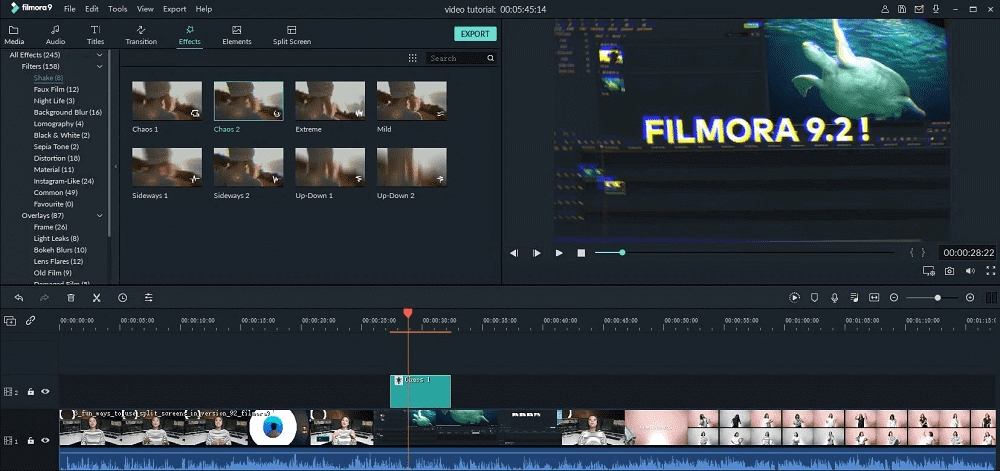 Key Features:
Full editing suite

Rotate, merge, trim, split, crop, etc.

Multiple editing modes

Keyframing

Music and sound effects
Pros:
Ideal for beginners and amateurs (intermediate level)

Slick interface

Vast feature-set

Easy application of slow-motion effects
Cons:
Advanced options are only available after upgrading to the paid version, which is different from FilmoraPro

Need to log in for each effect that is applied
Category 2: Top 5 Online Slow Motion Video Editors
This category covers web-based tools or web applications that can be accessed through supported browsers. You can access any slow motion video editor online free of cost and opt for paid upgrades if you need them. All of them need a robust Internet connection to work properly and process your videos quickly.
1

Clideo - The Online Slow Motion Video Editor with a Slick Interface
This online slow motion effect module from Clideo is part of a larger family of online video editing tools for merging, compressing, slideshow creation, and so on. All the tools are web-based applications and offer advanced features when you upgrade to a Clideo Pro subscription or a lifetime license. The slow motion module allows you to slow down video clips to a maximum of 0.25x, or quarter-speed. There is also an option for YouTube Speed Controller, which lets you import from a YouTube video URL.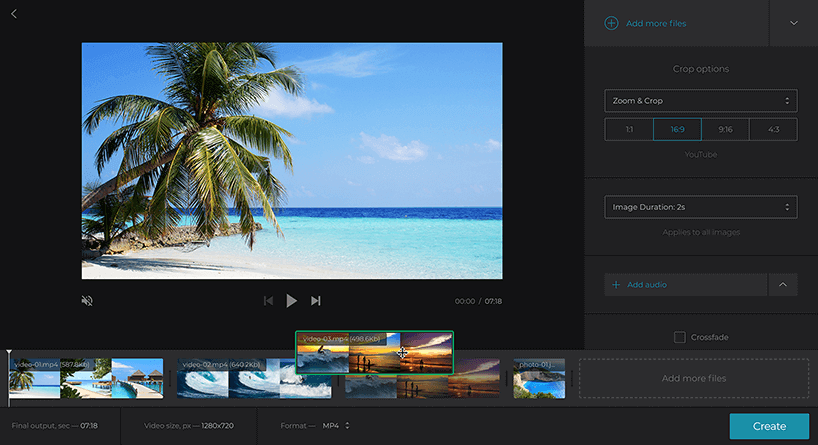 Key functions:
6 preset speeds and a slider for more control over slow motion

Resolution converter to change the DPI of your videos

Supports all the latest video input formats like MP4, AVI, MOV, WMV, etc.
Pros
No need to install anything

Strong site encryption to protect your uploaded content

Access from desktops and mobile devices

Mute video in the slow-motion tool

Wide range of output formats
Cons
Needs a fast and stable Internet connection to work properly

Limited videos can be processed in the free version
2

Kapwing - An Essential Video Speed Changer for Online Access
This comprehensive set of online video editing tools includes a robust video speed changing service. The platform works on a freemium model with limits on the free version. The advantage here is that several features are interlinked so you can access multiple tools from a single one. In addition to video speed, you can change the speed of the audio track so it doesn't give a "Devil Voice" or "Chipmunk Voice" effect when slowed down or sped up.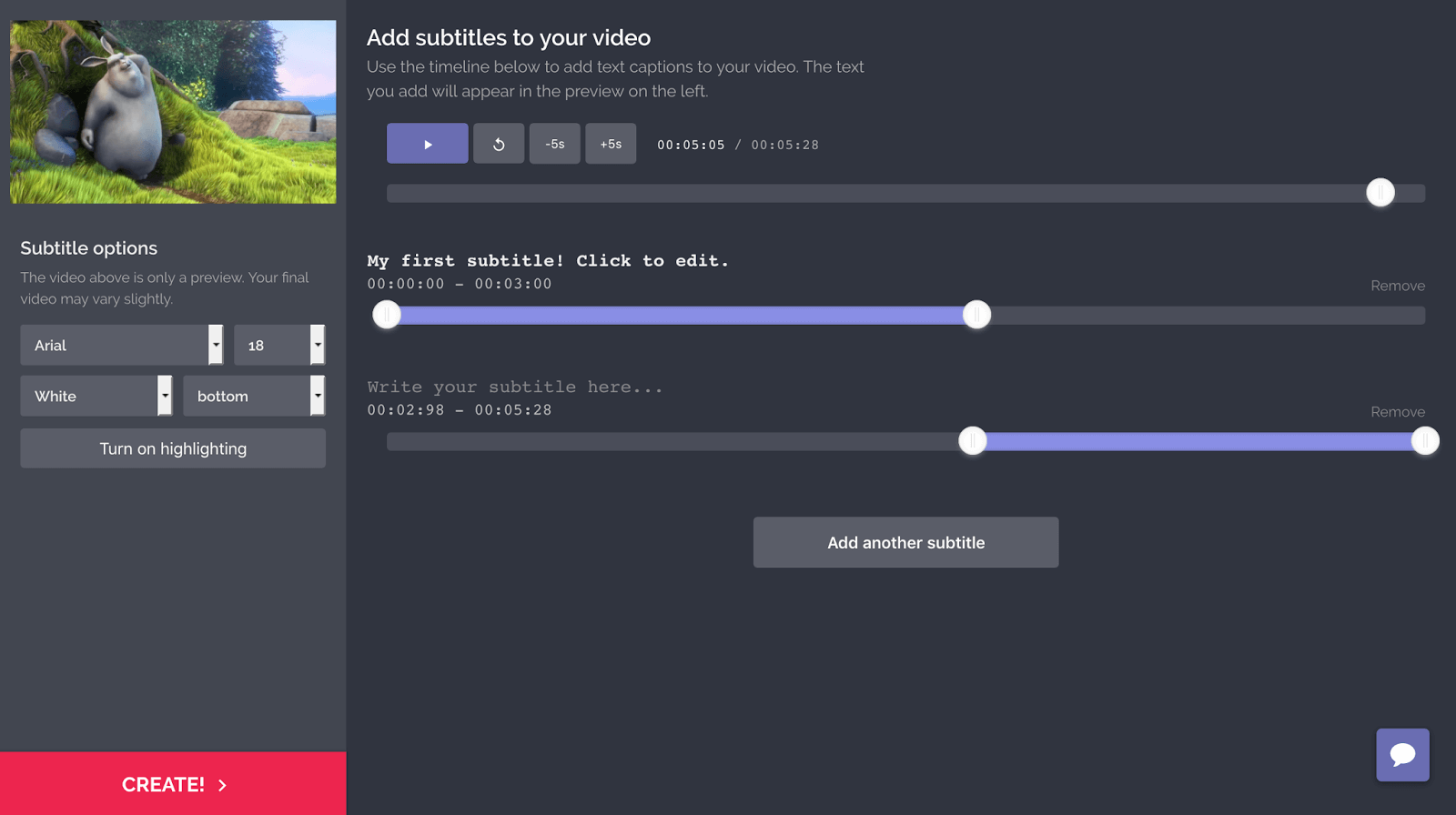 Key functions:
6 presets to change video playback speed

Trim option within the slow motion tool

Simple interface
Pros
Easy to use

Wide input format support

Real-time report of progress

Embed code and direct social media sharing available for output
Cons
Free version limited to 7 minutes per clip, 3 hours per month, and 250MB file size per upload

Need to sign in to remove the watermark on the free version

40-minute video duration limit even in the Pro version
3

EZGif - A Popular GIF Creator with Robust Slow Motion Video Editing Features
You probably know EZGif as a great tool for creating GIF files from images, but it also offers an online slow motion video editor functionality on its website. It's a free online service but the downside is the 100MB size limit for uploads. The slow motion function is a little limited but you do get to choose specific custom slow motion speeds, which can be an advantage if you don't like to go with presets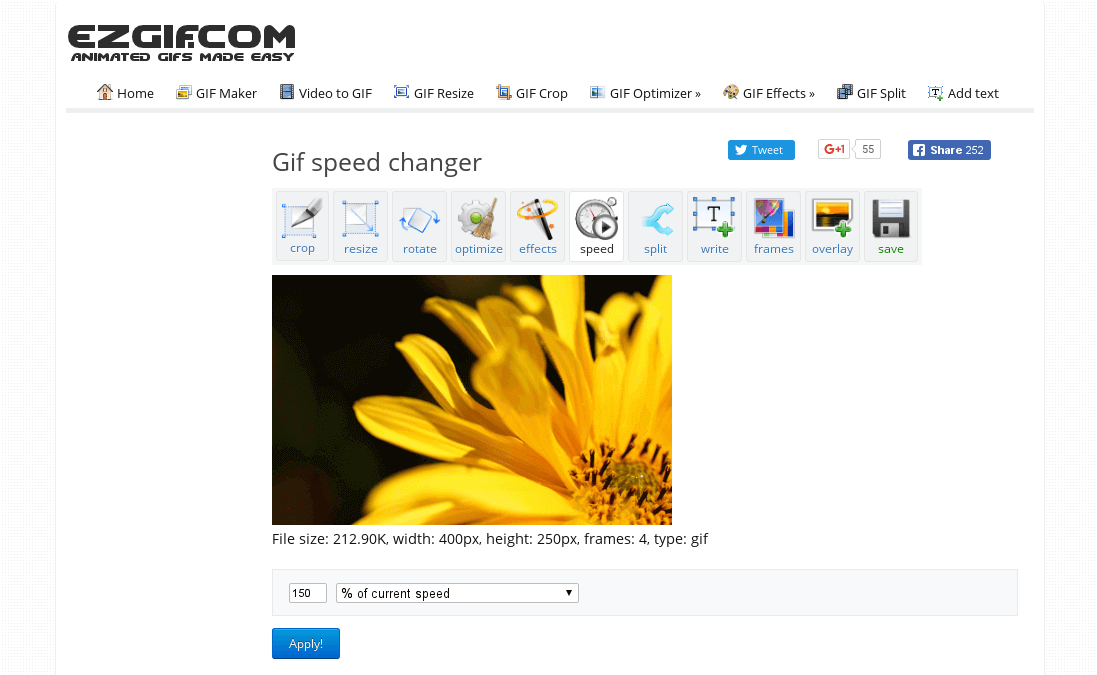 Key functions:
Supports all the latest video formats

Custom video speeds

Keep same speed for audio
Pros
Access all the other tools on the same page

Remove audio when changing to slow motion or faster playback

Set any slow motion speed you want
Cons
Outdated interface

100MB file upload limit - not suitable for longer videos or rich formats
4

Veed - A Robust Cross-platform Slow Motion Video Editor
Veed offers a free plan with limited features and output quality along with paid plans for teams of various sizes. The slow motion effect is limited to half-speed (0.5x) but the interface allows you to add subtitles, text, audio, apply filters, and so on without having to upload the video multiple times. As with other online services, simply upload your video, choose the slow motion speed you want, process it, and download the file.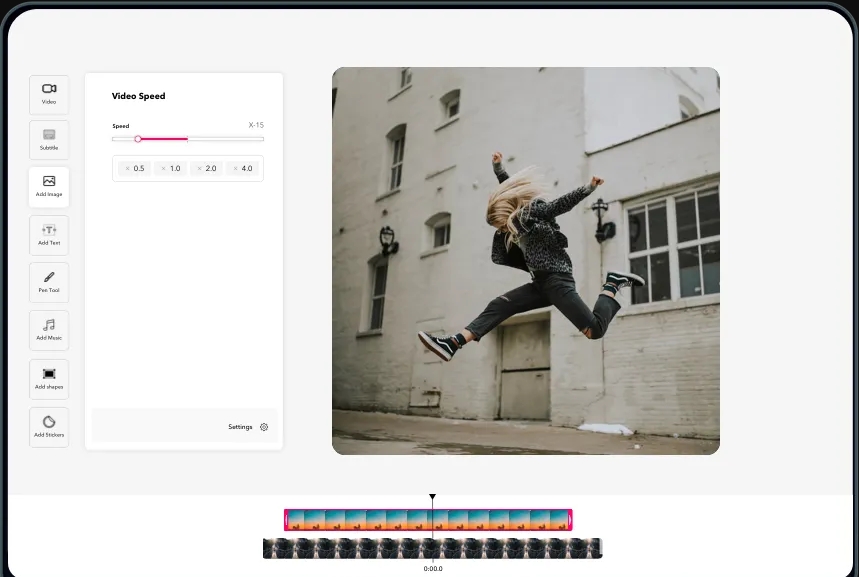 Key functions:
4 preset speeds (2 for slow motion)

Integrated features like adding graphic elements, images, emoji, text, etc.

Control canvas size for various output requirements
Pros
Get your output in any aspect ratio (canvas) requirement

Control multiple video attributes after uploading

User-friendly interface

Multiple upload methods (Camera, Dropbox, Local, etc.)
Cons
Paid version is a little more expensive than many other Pro options

Can't return to the main page after editing or applying slow-motion effects

Limited slow motion presets (one) and range (0.5 to 0.99 in steps of 0.01)
5

MP3Care - The Simple Online Slow Motion Video Tool for Beginners
MP3Care is a relatively simple tool with just a couple of functions, but if you want your video clip to be converted into a slow motion video, the service is very easy to use. Don't expect a flashy website because it looks quite primitive. There are two preset speeds for slow motion and two for speeding up your video, but that's about it. It's quite limited but it can help if you only need half-speed.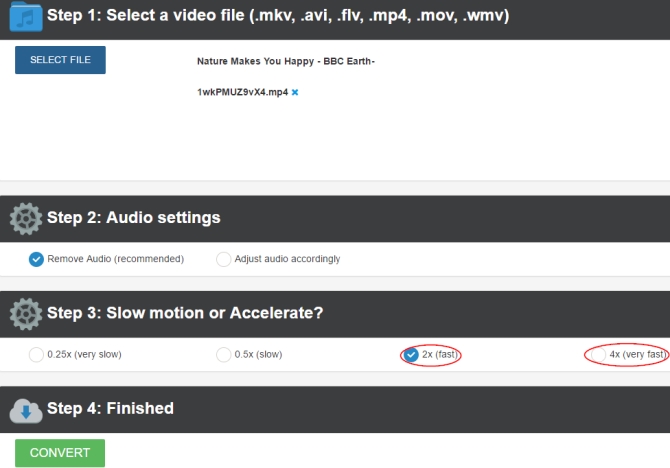 Key functions:
Create slow motion and acceleration effects

4 preset speeds (2 slow and 2 fast)

Supports AVI, MP4, MOV, MKV, WMV, and FLV video input formats
Pros
Simple interface, easy for new users

Remove audio or adjust audio speed to video speed
Cons
Only preset speeds can be used

Just one type of file upload available
Category 3: Best Mobile Apps for Slow Motion Effects
The final category of slow motion video editors is mobile apps for iOS and Android. You can install them on your mobile devices like smartphones or tablets and directly add slow motion effects to media in your local device memory. Here are some of the best tools in this category.
1

Vlogit - The Best Free Slow Motion Video Editor App for Vloggers
As the name suggests, Vlogit from Wondershare, the makers of Filmora, is one of the best options for vloggers looking for that "oomph" effect that only slow motion clips can provide. It is a robust video editing tool for smartphones and tablets and offers a rich feature-set apart from the slow motion function. Unfortunately, the updated version of the app no longer allows you to select a specific portion of your video to slow down, which used to be available in the Filmora app but was deprecated in Vlogit.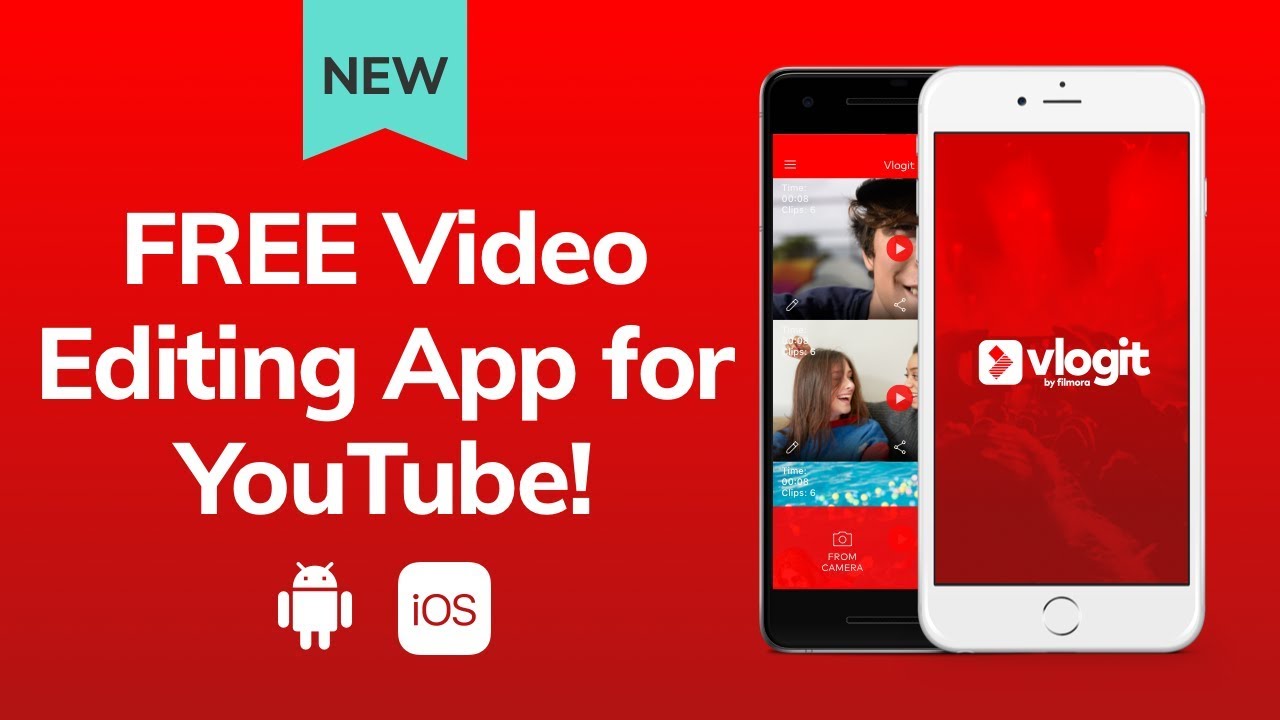 Key functions:
Slow motion and fast motion control

Play clips in reverse

Animated intro/outro options

Export in 1080p losslessly
Pros
Full HD output

Edit your videos or clean them up before applying the slow motion effect

Rich selection of templates

Add media like voice-overs, music, and sound effects
Cons
Advanced functions may require in-app purchases

No exit option when editing sound levels
2

Quik - The Preferred Slow Motion Video Editor for GoPro Users
Quik is GoPro's video editing software specially designed for action videography captured on the company's hardware. The features are extensive and the app itself is easy to use on both iOS and Android smartphones and tablets and is perfect for GoPro hardware users looking for a compatible video editor for slow motion and other effects, and editing tools for mobile. Slow motion is a little complex because you first have to set up the range for the slo-mo zone in the Photos app before you can see it in the preview. However, you still can't see it in the trim view.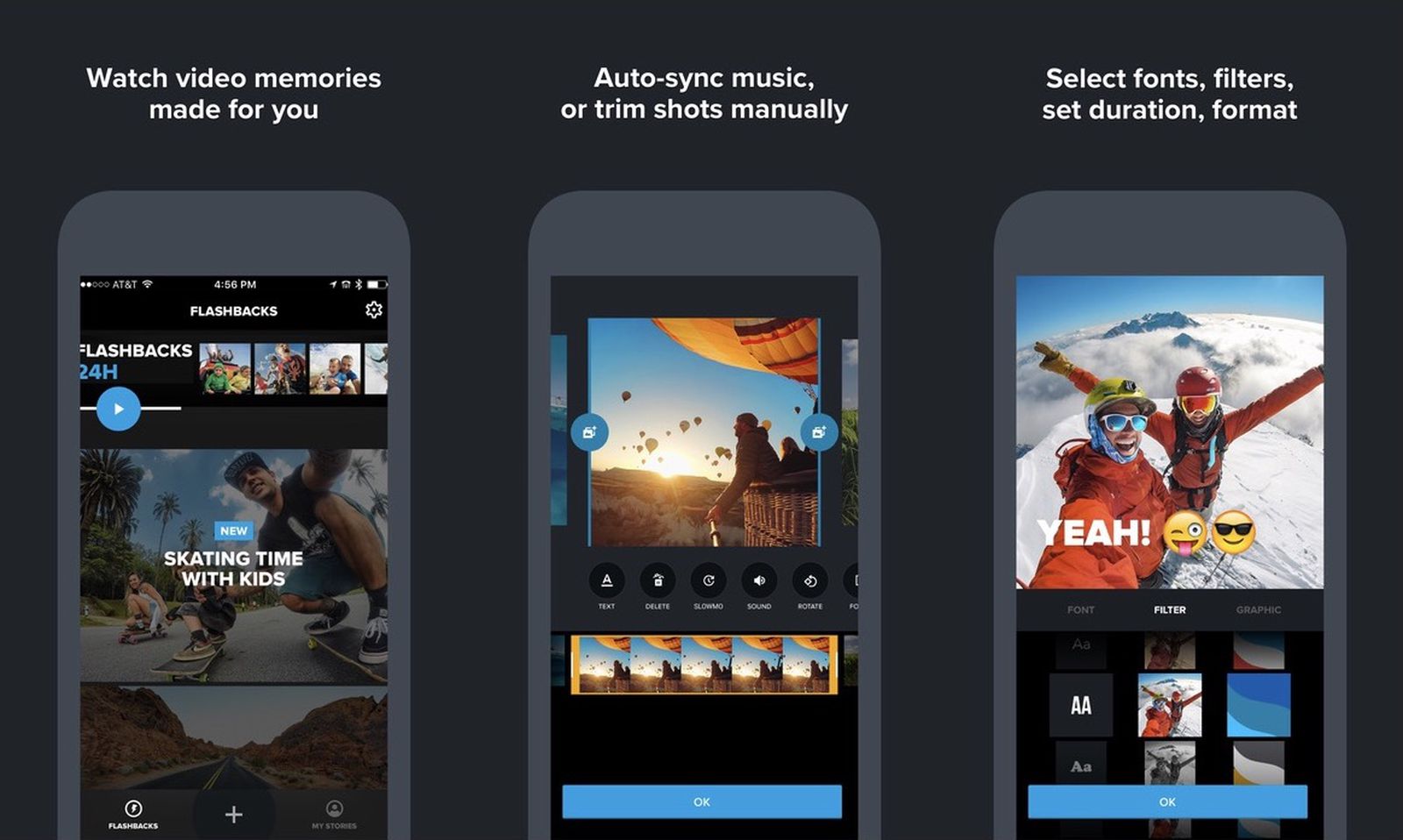 Key functions:
Works with Live Photos (iOS) and Motion Photos (Android)

Preset theme options

Extensive editing features

Various slow motion effect settings
Pros
Good compatibility with GoPro hardware

Feature-rich app

Free music and other soundtracks

Compatible with the GoPro app
Cons
60-second limit for videos

No option to capture content directly from the app itself
3

Slow Fast Slow - Best Slow Motion Video Editor for iOS Device Users
The app is designed especially for slow motion effects on videos shot by your iPhone. The stand-out feature is that you can have different speeds within the same video, something that most other slow motion video editors don't have. Probably the best feature is the 1/16th speed level that gives you 240 frames per second without any frame drops or noticeable stutter. Slow motion editing is also very user-friendly.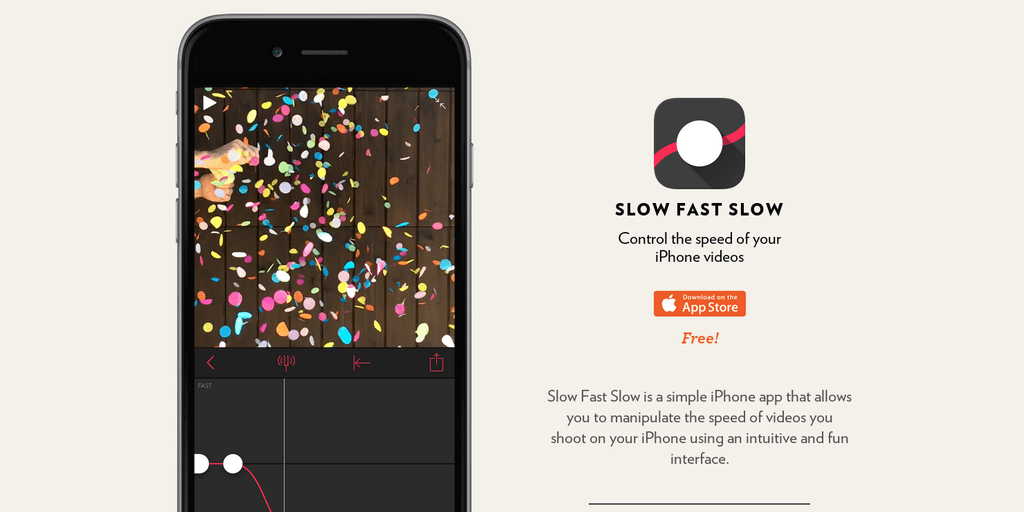 Key functions:
Supports 1/16th speed slow motion for 240 fps videos

Pitch control to sync audio/video speed

Edit speed on a timeline with movable points
Pros
Perfect for extra-slow-motion effects

Play videos backwards

Export in 1:1 canvas for sites like Instagram and Facebook
Cons
No Android version

Upper limit for speeding up videos is only 8x
4

Slow Motion Video FX - Best Frame-level Slow Motion Video Editing App
Another great mobile app that offers frame-level speed control for slow motion and fast motion effects is Slow Motion Video FX. Available for Android and iOS, this powerful tool gives you up to 1/12th slow motion or fast motion and high-resolution output files. This app is all about control over minute sections of your video so even if you have a half-second section that you want to slow down and then resume normal speed, it's easy to edit the video.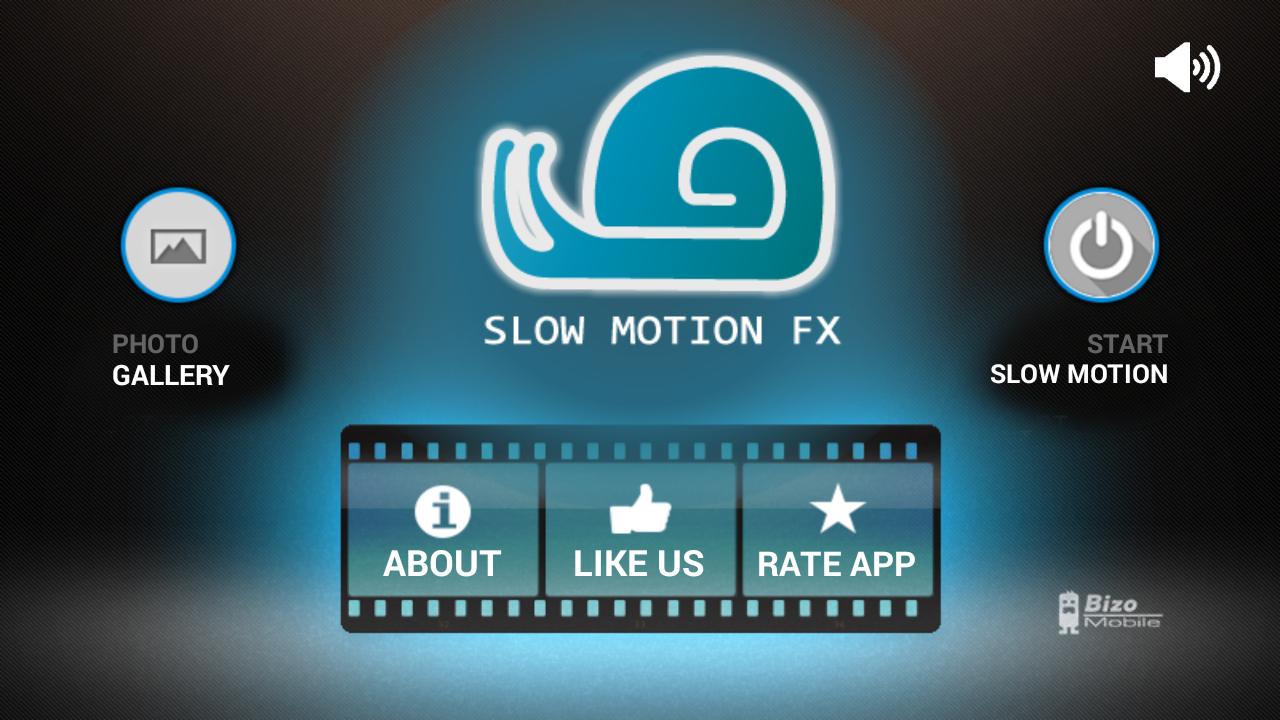 Key functions:
Choose specific frames to add slow motion effects

Record live video with speed control

Record time-lapse photos to create slow motion videos
Pros
User-friendly interface

Direct social media sharing

Flexible slow motion effect for any portion of the video
Cons
No free version - 3-day free trial only

Some users experience app crashes and other issues
This is an ad-supported free slow motion video editor for Android only. It's easy to share your processed videos directly to popular social media sites or even email them. There are several preset options for slow motion and fast motion, and all it takes is a couple of taps to get the speed you want.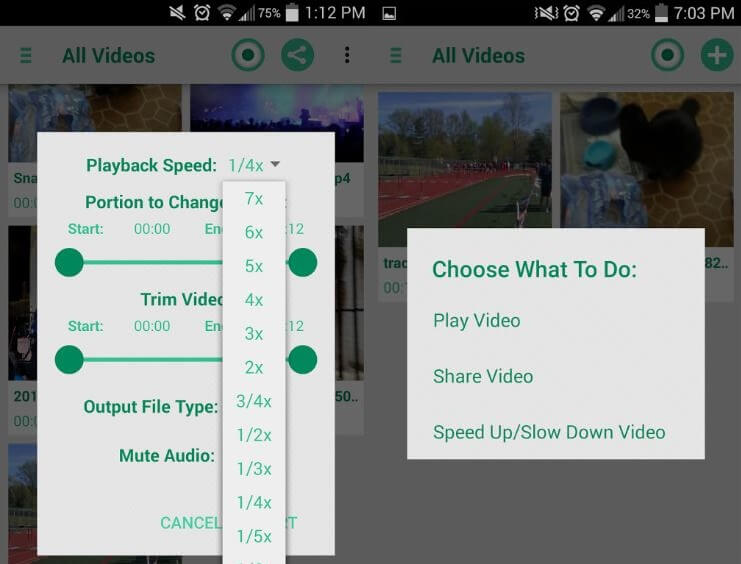 Key functions:
Multiple slow motion and fast motion options

Add music tracks

Save and share
Pros
Simple interface

Trimming option included

Fast conversion
Cons
Video quality of output files might not be high-resolution

Too many intrusive ads
Also Read:
How To Put a TikTok Video in Slow Motion >>
How to Speed Up Snapchat Videos >>
Conclusions
Now that we've reviewed 15 of the top slow motion video editors for various platforms, how about considering a pro alternative for Windows that allows you to create crisp and stunning videos and includes a host of rich features and effects of its own. We're talking about iMyFone Filme , a 100% free Windows download that sports the following capabilities:
iMyFone Filme Key Features:

Extensive input file formats supported for videos, audio, and images

Free music collection to add to your personal or business videos

High-resolution output of up to 4K

Animations, filters, transitions, music, and all the resources you need to create eye-catching videos of any length

Fast Video Mode to create powerful video slideshows