OpenShot video editor is an open-source editor for Windows as it takes your music, videos, and photos to create classy films. Moreover, users can easily add subtitles, effects, transitions, and export their videos to YouTube, Xbox 360, DVD, and many other formats. The software is specifically designed to help businesses in professional video editing. Therefore, if you are looking for some creative and exclusive video editing software, OpenShot crop video is an ideal platform. In this blog, you will learn about different features and alternatives of the OpenShot video editor. So keep reading if you want to explore more about this tool.
Many of us may think is OpenShot safe, and how can we download it? So, keep in mind that it's easy to use software, and you can download it from OpenShot's official website. Moreover, users can find the OpenShot tutorial on the homepage to learn installation process. Though it's open-source software, users can modify it under the terms of general public license. OpenShot Chromebook is not a lightweight video editing tool, and it requires a high-end PC for perfect work execution. You should keep in mind that OpenShot works for following system requirements.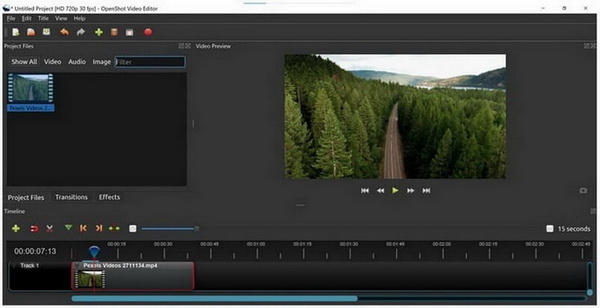 64-bit operating system ( windows 7/8/10, Linux)

Multicore processor

4GB to 16GB of RAM
OpenShot is simply an easy-to-learn software, but it is powerful enough to edit high-quality videos. The software contains all the necessary tools a user needs to create exclusive videos for online sharing channels like YouTube. It is an award-winning video editor that is available on Windows, Mac, and Linux. You can create classy films, animations, and videos with a rich interface and easy-to-use software.
Part 2. Pros and Cons of OpenShot
The OpenShot video editor is the first choice for many users, but you need to know its pros and cons in detail.
Pros:

The most important thing to consider about the OpenShot video editor is it's completely free and easy to use. Therefore, you don't need to pay if you want to get it.

It's an exclusive video editor tool which lets users trim, cut, merge, and split video clips.

The software offers multiple video effects and transitions including color filters, Chroma key, and audio tools.

OpenShot Linux supports more than seventy languages, and you can also translate different languages with the help of Launchpad

It lets you export your videos in 2.5k QHD 60 fps and 4k UHD 60 fps without a watermark.

It is a highly recommended tool with OpenShot effects and advanced features.
Cons:

When you are editing videos on a laptop, the program crashes very often.

It's hard to control OpenShot effects after adding them to the clips.

It's hard to control OpenShot effects after adding them to the clips.

OpenShot may be difficult for some users in the beginning.

It takes a little bit more editing time than other tools.
Part 3. Is OpenShot Video Editor Free and Safe?
If you want to know is OpenShot safe, it is recommended to download this tool for Windows 7 from the official website. Since OpenShot is an open-source tool, anybody can change the software structure. However, if you choose the application from the repository, you will not face any problems. Therefore, the software is safe to use, and you can also get hold of source code. If you have downloaded an older version of OpenShot Linux, the system will not check it for malicious software. You might face the same OpenShot problems in CentOS Linux, where OpenShot might not properly install.
Part 4. Interface and Features
Many people want to know is OpenShot free and open source? Well, it is free software created by Jonathan Thomas for Linux, Windows, and macOS. Here are some features of the OpenShot crop video that will be helpful for you to know more about this tool.
Cross-Platform Support:
Cross-platform is a much-needed platform because editors/creators need to have flexibility while creating and editing videos. OpenShot is cross-platform, and it is worth noting that saved files are also cross-platform.
Unlimited Tracks:
Some video editing tools are in use to limit the layers/tracks, but with OpenShot blender, you can add as many tracks as you want.
Drag and Drop Support:
Being able to drop and interact files from desktop to timeline is a plus point. So with OpenShot speed-up video, you can easily do this task.
Support for Video/Audio/Image Formats:
You can add text to video in OpenShot by the FFmpeg library because it can work with audio, video, and image formats.
Real-Time Preview:
You do not have to play or render video separately with OpenShot transitions, and you can preview that in real-time.
Basic Video Manipulation:
The OpenShot video editor can let you clip, trim, snap, resize, cut, and rotate the video.
Audio Editing and Mixing:
OpenShot supports audio editing features such as audio split and waveform display.
Advanced Timeline:
One of the best things to consider about OpenShot text overlay is you can easily drop, drag, pan, zoom, and control the content in the timeline.
3D Effects and Animated Texts:
Along with video effects and a generic text editor, you can add text to video in OpenShot along with 3D effects.
Trim and Slice:
OpenShot easily trim down your videos, and you can cut your videos to find the perfect moments.
Keyframe and Animations:
Using this powerful animation framework, you can slide, animate, fade, and bounce anything in your video projects.
Audio Waveform:
Users can visualize their audio files as waveforms. So with OpenShot speed up video, you can even output the waveforms as part of your video.
Title Editor:
Editing videos titles has never been easy, but with OpenShot text overlay, you can easily add titles and intros to your videos.
Times Effects and Slow-Motion:
OpenShot effects allow users to control speeding up, reversing, and slowing down the video. You can use animate or preset to playback speed and direction.
70+ Languages:
OpenShot is available in seventy plus languages that can be translated with Launchpad.
Desktop Integration:
You can drop and drag video, images, or audio directly from the file manager into OpenShot.
Simple User Interface:
OpenShot video editor has a simple user interface, and you should need to give it a try.
Part 5. Best OpenShot Video Editor Alternatives
iMyFone Filme is an advanced video editing program that allows users to edit their precious memories creatively. You can do basic edits by adding stunning effects and using advanced features to make classy videos. Its fast video mode is ideal to make graceful videos for festivals, weddings, travels, birthdays, social media ads, and more. Moreover, Filme for windows PC is the best alternative to OpenShot Chromebook that helps users to discover a new way to create videos smoothly.

iMyFone Filme
Release Your Creativity with Best Video Editor iMyFone Filme!
Download Now
Features:
Effects:

Filme offers its users plenty of effects to add animation and filters in their refined digital videos.

Transition:

Users can add different transitions in videos for social media audiences.

Text Option:

Quickly create cinematic text and titles with all kinds of colors and fonts.

Audio:

You can easily add music and voice records while editing your videos with iMyFone Filme.
Pros
Exclusive layout features

Premium and advanced editing

Easy to use for beginners

Fast video export
Also Read:
Adobe premiere pro is a video editing software specially designed for creators and editors to work creatively. The tool is the best alternative to OpenShot blender that lets its users showcase their creativity. The exclusive features of this software allow users to adjust the colors and fine-tune the audio to create professional-looking videos. Moreover, the software is integrated with adobe products that permit users to transfer their work from one to another software. Therefore, you can create appealing videos by using adobe premiere pro.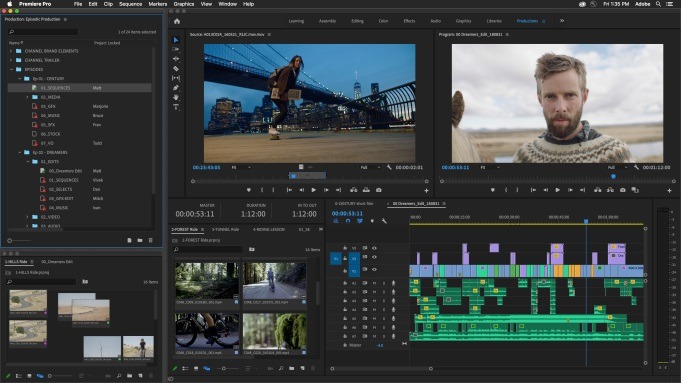 Features:
Responsive Interface:

Adobe premiere pro has an interface that permits its users to work with effectiveness, efficiency, and productivity.

Virtual Reality Support:

Immersive virtual reality has become a trend, and many video editors require software that lets their creation become immersive.

Integrated Work Process:

Adobe premiere pro work with other products for smooth workflows with fewer interruptions in the process. So the users can share their opinions about projects, and managers can monitor everyone's work.
Pros
Multiple formats support

Lumetri support

Multiple video types

Direct publishing

Graphics and video titling

VR audio editing

VR rotate sphere

Motion graphics templates

Simultaneous and shared projects
CyberLink PowerDirector is one of the ideal choice if you are looking for an alternative to OpenShot video editor. The CyberLink PowerDirector offers action camera tools to its user with 360-degree footage rotation. Its amazing editing features make the editing process easy and fun for editors.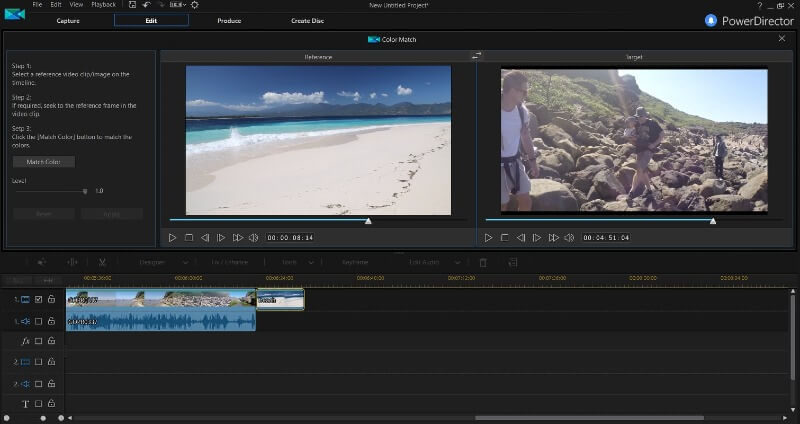 Features:
Action camera tools

Exporting and encoding

3D and 4k capability

Express project module

Motion tracking

Magic movie wizard

True theater color

Fill feature editor
Pros
Motion tracking

Fastest rendering

Loads of effects

Clear interface

Screen recording

Multicam editing
Final Words:
OpenShot video editor has classy features with keyframe titles as well as 3D animations. In this article, we have shared a complete OpenShot review that will be helpful for you to know about this program.