What is Boomerang editor?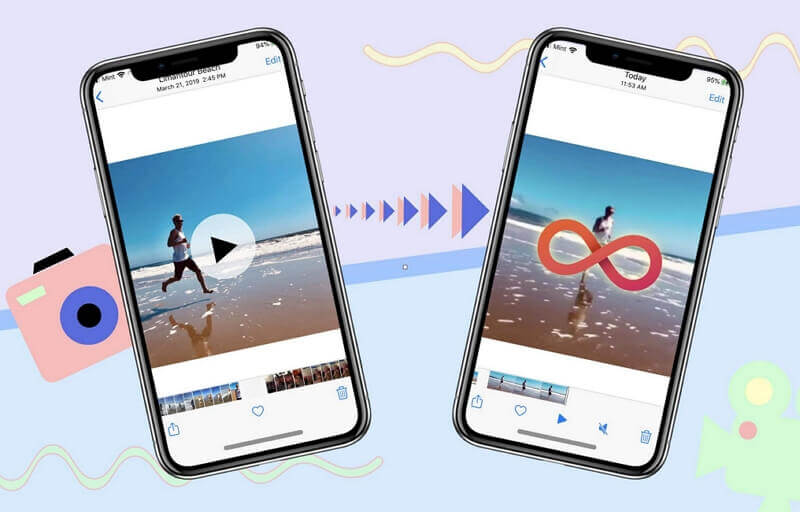 Boomerang is an app-based video editor that you can use on Instagram. Since the app doesn't have its own feed, you can share the created videos on Instagram and other social apps. You can save the created videos in your camera roll to share them with whoever you want.
The app uses a stream of images to create a 6-second video clip that appears like a GIF. Initially, the app did not support audio editing, but the current version allows users to add music clips to the videos.
The video editor is extensively used by personal and business accounts on Instagram for making and sharing video stories. Let's see how the app works:
How to Make an Instagram Story Using Boomerang Editor?
Previously, Instagram did not have the option of directly making a Boomerang, instead, the user had to go on the app to create one. Now, you can use the Boomerang editing feature on your Instagram stories.
To create fun short clips, there are a few simple steps to follow:
Step 1: Open the Instagram app on your phone.
Step 2: In the upper right-hand corner, press the '+' button.
Step 3: At the bottom of the page, scroll down to 'Story.'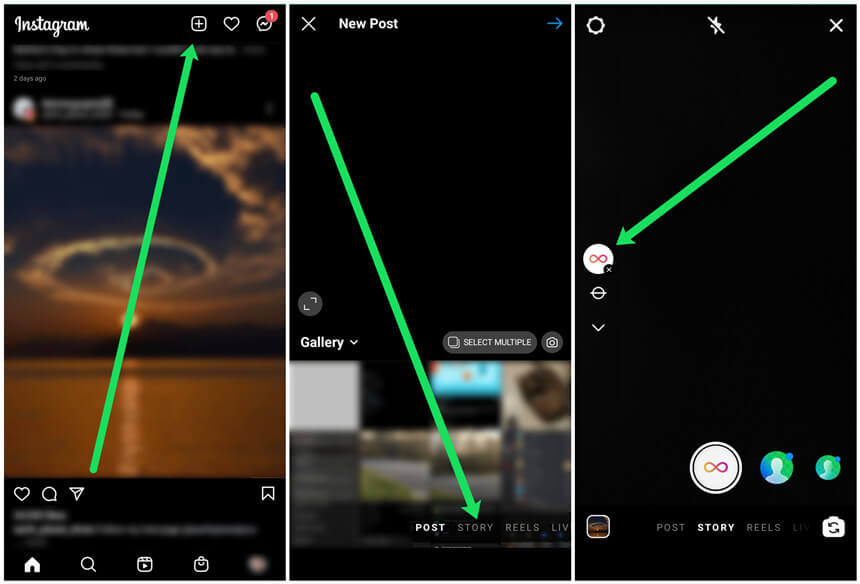 Step 4: On the menu on the left, select the "Boomerang" icon.
Step 5: Choose to upload photos or create fresh content by pressing the record button in the center.
Step 6: Boomerang will allow you to do some rudimentary tweaking once it's finished. You can draw, type text, and turn the sound on or off.
Step 7: In the upper right corner of the screen, you'll find the Sound, Draw, and Text icons.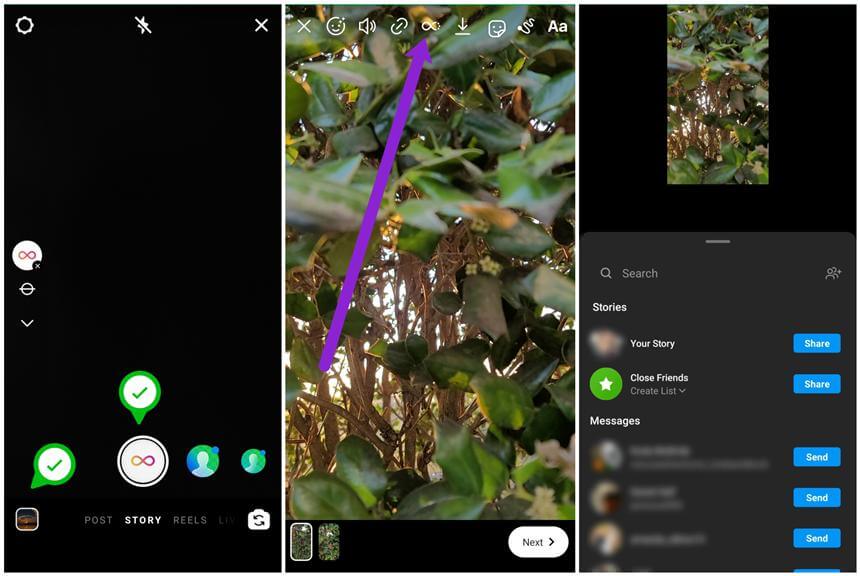 Step 8: You can alter the text or design a form after you've input it before publishing your Boomerang story.
Step 9: Select where you want your Boomerang to be posted or sent by clicking 'Next.'
People Who Liked this Content Also Liked
How to Make Boomerang Video on Snapchat >>
How to Fix Can't Upload Video To Instagram Stories? >>
4 Boomerang Effects You Don't Want to Miss
There are four effects that Boomerang editor offers to its users. They are slowmo, echo, duo, and trimming. Let's see what these effect allow you to do:
SlowMo
If you want your videos to get in the classic slow-motion effect, use this filter. It slows down the speed of your video to half the original speed. The video plays two seconds forward and two seconds backward.
Echo
You can blur the moving parts of your video by using this echo effect. The effect gives double vision to your video, making it more artistic.
Duo
It is an effect that rapidly rewinds your clip to the beginning, giving it a digital look. If you choose the proper theme, it may be quite creative, and many Instagram users enjoy it.
Trimming
You may quickly trim your clip to choose where your boomerang loop begins and ends.
Adding Music to a Boomerang Video
Instagram updates included adding music to the stories. This includes the boomerang videos as well. However, to add music to the Boomerangs, you need to have your app updated to the latest version. After that, you can follow these steps to get going:
Step 1: Open the Instagram app on your phone.
Step 2: Select the Boomerang video to which you wish to add music.
Step 3: Select the "Music" sticker and tap it. The sticker tray is where you'll find it.
Step 4: Look through the available tracks and select one to use in your video. Moods, Popular, and Genres are among the categories. Choose a category and a song to listen to. You won't need to log in to a music app to listen to any of the songs on the list because they're all available on Instagram.
Step 5: Rewind and fast-forward through the song until you find and select the appropriate section of the song to add to the video.
Step 6: Save the video to your smartphone, add it to your story, or send it to a friend.
Additional Boomerang Settings for IPhone Users
IPhone users can access some extra settings on the Boomerang editor. Here's how to access a hidden menu on the Boomerang app:
Open the app and tap the display four times with four fingers to reach the Boomerang Settings. It's crucial to get the timing right; simply tap it again and again until you get it. The menu allows you to customise a variety of quality and look options, which we'll go over in more detail below.
Step 1: You can also change the animation's look and feel by making it go back and forth (the default), halt in between motions, or only move forwards or backwards.
Step 2: You may manage the size and quality of the video by adjusting the recording resolution. For the highest quality, choose 1080p, and 720p for the smallest download size.
Step 3: Other settings include the number of shots taken for an animation (3 to 10 distinct photos) and the speed at which these photos are taken or played back.
Step 4: Last but not least, you might start by adjusting the default camera. This gives you a great deal of creative leeway.
Tips For Creating Boomerang Videos
1. Make sure your phone is steady
Grab a tripod or anything to keep your hand steady on if you're holding the phone in position, so your unsteady hands don't ruin the photo.
2. Don't try to make a GIF out of it
A GIF is a small video that loops over and over again. A Boomerang, on the other hand, loops a video by playing it forward and then reverse. This may appear to be a minor distinction, but it will create a huge difference in how you want to capture a shot: You want to end up in the same position as you started for a flawless looping GIF. For the greatest dramatic effect, your Boomerang film should end at a completely different point than where it began. At the peak of the action, you want to release the shutter button on the app (whatever that may be).
3. Keep Experimenting to Master It
Though it may seem absurd to plan things out for a single social media post, it's the attention to detail that distinguishes Instagrammers with a few hundred followers from those with thousands.
If you have a fantastic Boomerang concept but realize it's a little more complicated or extravagant, there's no shame in practicing and mastering it.
You can keep experimenting with your shots in different situations and with various lenses to get interesting Boomerangs every time.
4. It's fine to keep things simple
Some of the Boomerangs you'll see on Instagram are truly spectacular. However, you may not always have the time to plan something outrageous. So don't be afraid to keep things simple. Even the most mundane actions may be entertaining. Slicing a cake can even turn into a catchy Boomerang and it's also quite simple to loop but, of course, if you have the ability to accomplish something completely out of the ordinary, go for it.
5. Don't overlook the loop
You must remember that the Boomerang plays in a loop — forward, backward, and forward again – for it to be flawless. To make a Boomerang loop perfectly, you must end your movement somewhere other than where you started it.
Best Alternative Video Editor for Your Videos &Vlogs
If you're a vlogger who loves to explore life at every layer, Filme is another great video editor for you to try. You can inspire your audience through crisp videos, and exceptional filters that make day-to-day video editing much more fun and easy.
Key Features
One Click Editing: By using the app, you can master video editing in a snap. The app allows you to use features such as import, crop, split, rotate, adjust speed and pan, and zoom.

Effects and Filters: The app allows you to use cool features for your vlogs such as 20+ fast video mode, 110+ transitions, 170+ filters, and 50+ audio from the app resources.

Make single-click fast videos: The app allows you to make high-speed videos with a single click.

Instant Preview: Every vlogger knows the urge to see what they're editing and how the results are. For that, the app allows you to see instant previews without waiting to reach the end of editing.
How to Edit your vlog using iMyFone Filme?
The process of video editing for a social media platform using Filme is pretty smooth. You need to:
1. Open the App and Upload:
Open the Filme app on your PC and import the videos or images you want to edit to the Filme Library.
2. Drag and Drop the Videos you Want to Edit:
Drag the videos down, and trim their duration according to your requirements.
3. Adjust Your Video Settings:
Adjust the settings such as brightness, contrast, etc to make your vlog natural.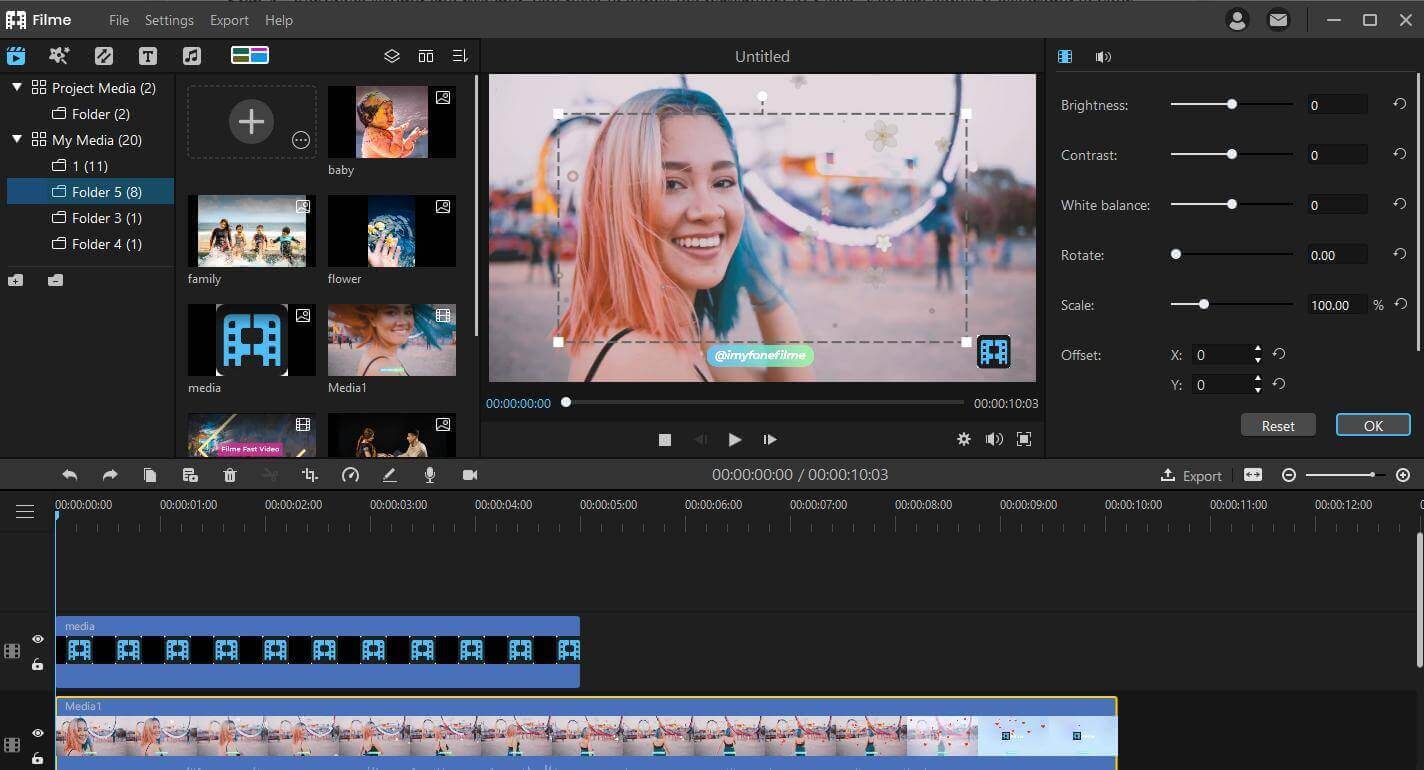 4. Add Sound Effects or Text:
You can add sound clips and text to your videos through the available resources.
5. Add Filters and Transitions:
You can choose from more than hundred filters and more than 150 transitions to make an impactful vlog.
6. Export Your Vlog:
Now that you have edited your vlog with the variety of available resources on Filme, you can export it to your social media platforms such as Facebook, Instagram, Twitter, etc.
Bottom line:
Boomerang is an interesting video editor that can have many implications. You can tailor-make videos for your personal profile or even for your business profile to keep your customers hooked on your Instagram stories. On the other hand, iMyFone Filme is another great app to edit vlogs with multiple features and tools.