The rapid development of YouTube has made it a trove for video uploads. Whether uploading the videos for fun or from a professional perspective, you must edit them to get the desired traction. Thus, using a great video editing software is the ultimate differentiation between a video that gains more views and that which fails to meet its purpose. If you are looking for any free video editing software for YouTube, you are at the right place.
Built-in Free Video Editor for YouTube - YouTube Studio
To enhance your experience on the platform, YouTube has its video editor – YouTube Studio. Incorporated after seeing an increased demand for the service, the built-in YouTube video editor provides access to basic features that can make the video more interesting.
To use it, first sign in the browser with your Google/YouTube account. Then go directly to the YouTube Studio page. Alternatively, from the YouTube homepage, click on the Avatar icon and choose YouTube Studio. Unfortunately, you cannot download this editor to any operating system. Some of its features are highlighted below: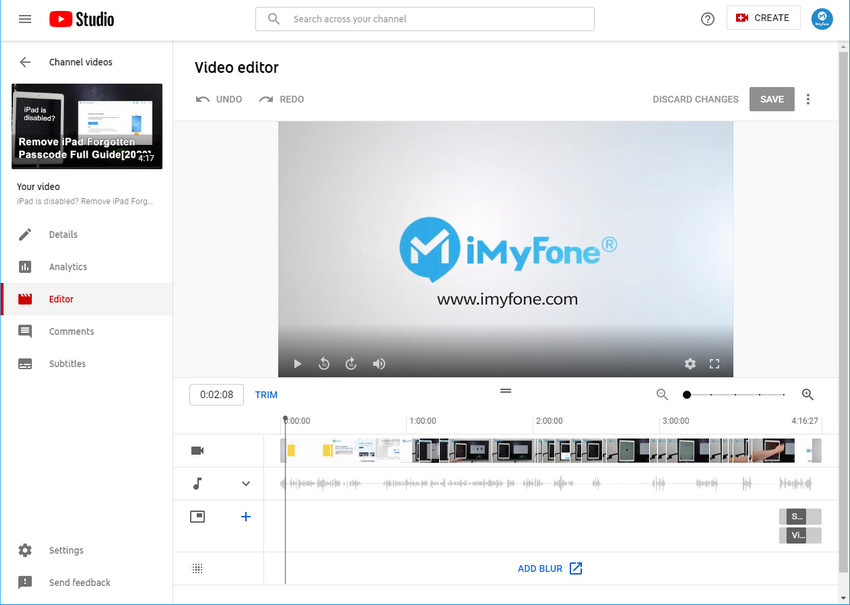 Features:

Trim – Cut your videos into pieces so that you are left with only desired parts.

Audio – Use YouTube Studio to perform 'quick fixes' on the audio quality. Additionally, other fixes available include brightness, color, as well as contrast.

End screen – The editor gives you the ability to add end screens to the last 5 to 20 seconds of your video. Use the end screen as a way of promoting other videos or even get more subscriptions.

Blur – If there are parts of your videos that you need to blur, the editor can do so. It automatically blurs the object as it moves.
Despite providing access to some decent features, YouTube's built-in video editor has a set of limitations.
Limitations:

It is a basic platform, hindering you from accomplishing fancy things.

You cannot add your music. Hence, you are limited to using YouTube's soundtrack.

The absence of advanced features like effects, transitions, titles, among others, is also limiting.
Best Free Video Editing Software for YouTube on Windows
1

iMyFone Filme
If you are looking for a free video editing software for YouTube to create stunning videos, iMyFone Filme is the best alternative. Whether you are a beginner or semi-pro, iMyFone Filme makes it easy to edit the videos to your satisfaction. It lets you create professional-looking videos with countless presets such as transitions, overlays, filters, and multilayer effects that tell a powerful story. Therefore, it is not surprising that iMyFone Filme lists as a leading YouTube video editor for PC.
iMyFone Filme Key Features:

Do Basic Editing with Ease - iMyFone Filme gives you access to advanced editing features including Split, Crop, Rotate, Adjust Video Speed, Edit and Picture-in-picture effects.

Abundant effects and resources - iMyFone Filme has plentiful cool effects resources. Simply add filters and animations to tell a well-refined story. Also, take advantage of the ability to edit transitions, text options, and audio.

One-click fast video mode – Use the fast video mode to quickly create graceful videos for your special events in one click.

Instant Preview – Do not wait to edit until the end to preview your work. Despite trusting your editing skills, constantly remain updated on the effects of any changes made using the instant preview feature.

Free & easy to use – Freely download the software on your Windows 10, 8.1, 8, and 7. Given that iMyFone Filme is built with a user-friendly platform, you will find it easy to use.
Here's an easy step-to-step guide to add a transition for your video.
Step 1. Choose – From the Media Library, click on the Transition option.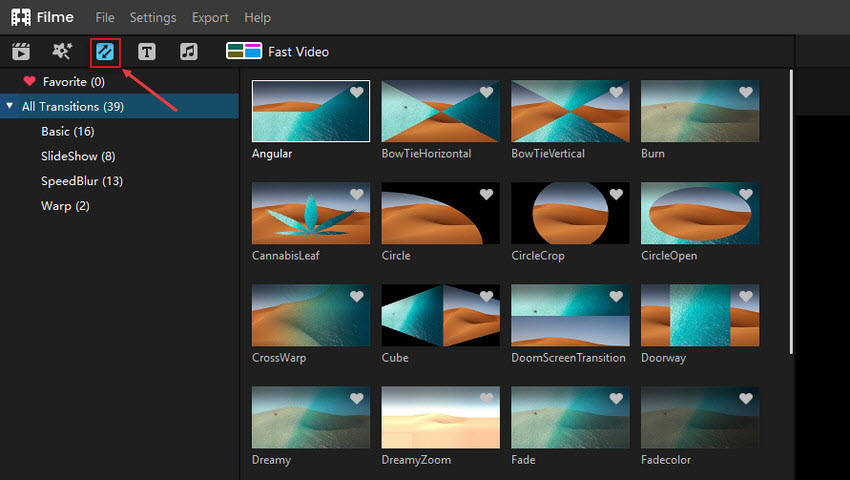 Step 2. Apply – Look for the preferred transition, then right-click on it and choose to Apply.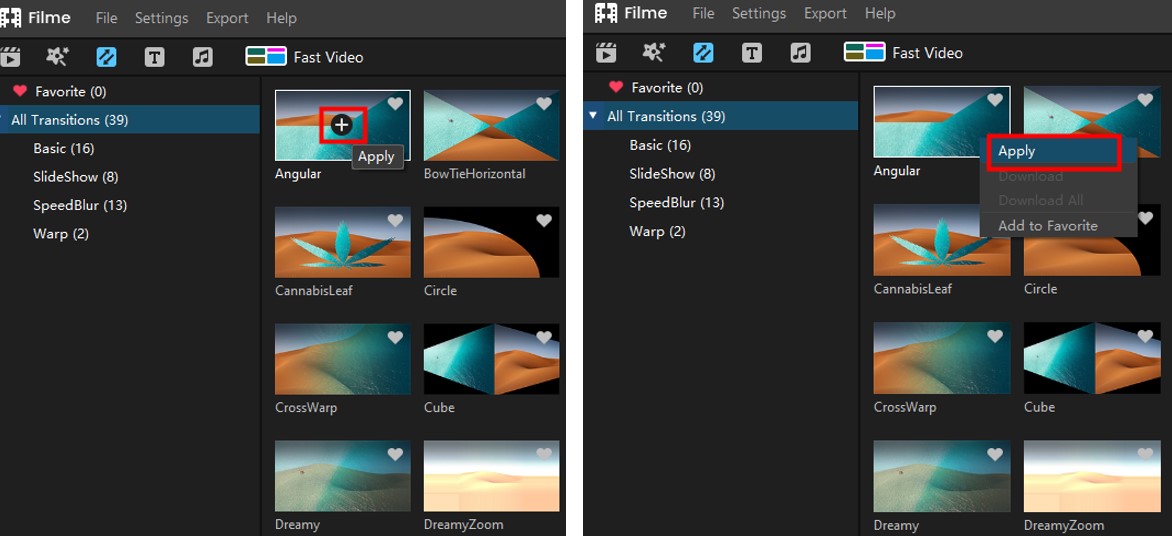 Step 3. Preview – Then preview your changes.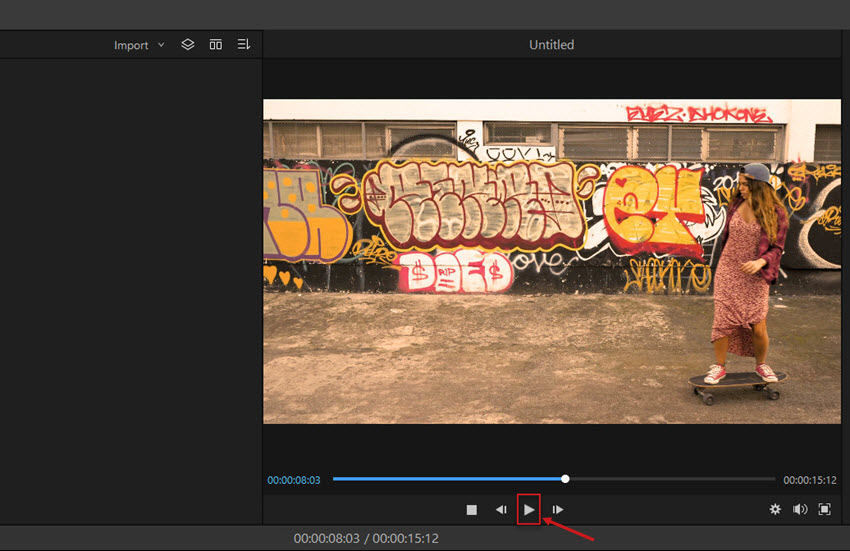 Step 4. Export – Finally, if you like the changes made, export.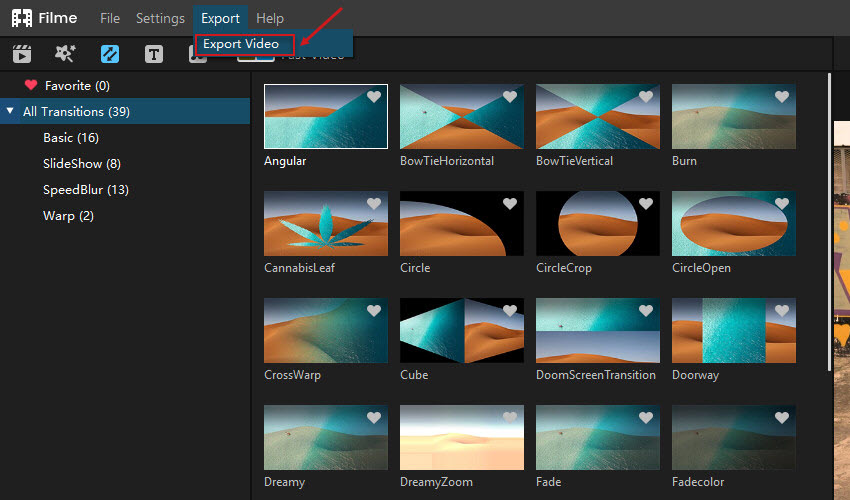 2

Windows Movie Maker
The Windows Movie Maker is available as free trial software, after which you decide whether or not to buy. You can use the tool as an alternative software to create eye-catching movies from video clips. However, some users might find the features less user-friendly and might even feel stuck over what to do in some parts. With technological advancement, it is not enough to settle for less when you can get more.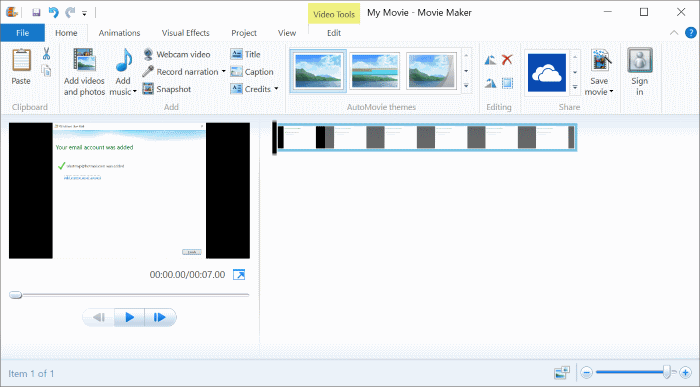 Pros:

Customer support available on both phone and online.

Can create amateur movies to view the edits and effects applied in previews.

Pick several themes to enhance your film.

Choose from several transitions.
Cons:

The program suffers from regular crashes and may even crash in the middle of an important editing job.

Regular freezing which could get to your nerves.

Windows Movie Maker is not able to execute complex editing as iMyFone Filme does.
Best Free Video Editing Software for YouTube on Mac
1

iMovie
You can use iMovie for macOS and iOS to create stunning YouTube videos. The software is built with a user-friendly interface to `easily browse clips. Its synchronization feature is a big plus. With this feature, you can start editing on your iPad or iPhone then finish off on the Mac. Furthermore, iMovie has studio-quality titles, allowing you to change text size, font, color, and formatting. The software supports 4K video resolution. After you finally finish editing, play the video directly from the Mac/iPhone/iPad or share it on social media platforms.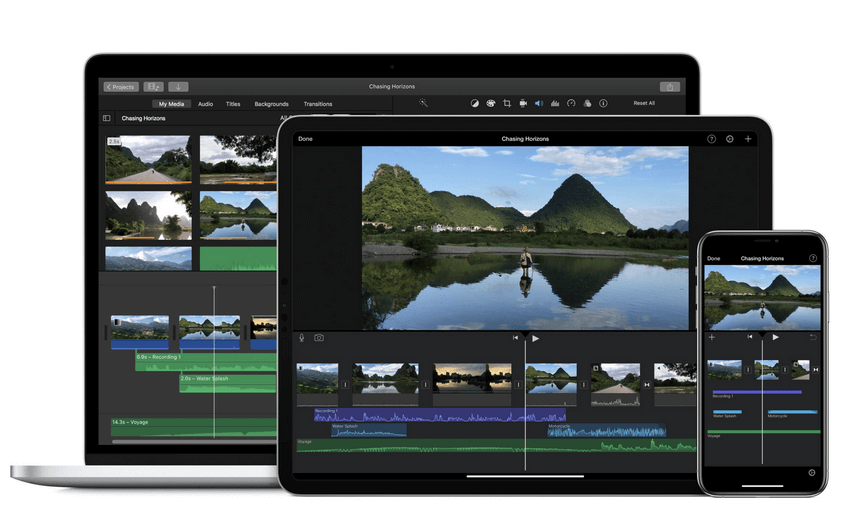 Pros:

Easy sharing on preferred platforms, including iCloud Drive, AirDrop, video sharing channels, and social media.

Access to special effects and enhancements to create professional-looking videos.

Create cinema-like movies using customization elements like credit rolls, cast names, and custom studio logos.
Cons:

It takes a lot of time to export longer projects.

It is limited only to macOS and iOS.

After exporting a project, you cannot change it.

iMovie is currently limited to only 18 clips.
2

Blender
Blender is an alternative video editing software for YouTube on Mac. It lets you complete basic actions such as splicing and trimming your YouTube videos. Similarly, you can accomplish complex editing, including color grading or masking. The video editor can accommodate up to 32 clips. You can also control speed, add filters, transitions, adjustment layers, keyframes, and much more. The tool's syncing capability gives you better control over which device is used to edit.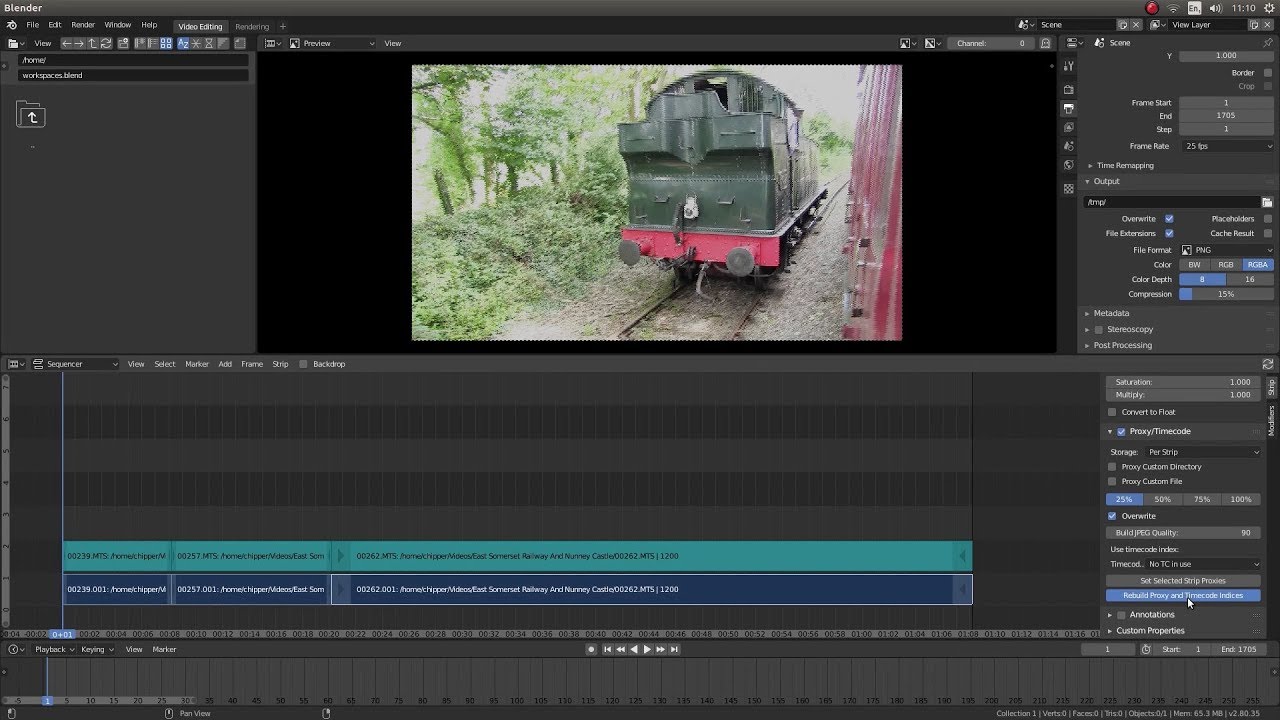 Pros:

Apply creative effects to your videos.

Take advantage of compositing tools like layering video clips.

Live previews to keep track of changes and their effects.
Cons:

Lacks audio equalizer capabilities.

Does not have background removal features.

Its popularity is relatively low, meaning support for the software is not guaranteed when stuck.
Conclusion
To sum up, you cannot afford to compromise on the software used to edit your videos in this digital era. Now that technology is progressing so fast, access to the best video editing software for YouTube helps create stunning videos. Consequently, these professionally created videos gain popularity, proving worth for the time spent creating them. iMyFone Filme stands out as the best free video editing software for YouTube on Windows. It gives you access to all the basic and advanced features needed to successfully create videos without limits. Therefore, we recommend that you give it a try.