Looking to edit or create a fancy music video on your own? You will be glad to know that it is easy to achieve with a free music video editing software. There are a number of such software available on the market that can help you whether you are creating a full feature film or a short clip for social media.
Choosing the right tool can make the difference between failure or success of your music video. With so many options available, it can be difficult to make a decision. Don't worry; this article will help you in this regard. Read on to learn about the best free music video editing software you can choose.
Part 1: The Best Free Music Video Editing Software – For Beginners
If you are new to video editing, then there are several free music video editing softwares that can help you get started. Each of these software have their own unique features as well as pros and cons. Here are some recommendations:
Best for creating personal Vlog videos and music videos!
Adobe Spark is a free beginner-friendly music video editing tool provided by Adobe. This software has been designed to help users creating custom music videos in minutes. Since its a beginner-friendly online tool, using it requires little to no skills.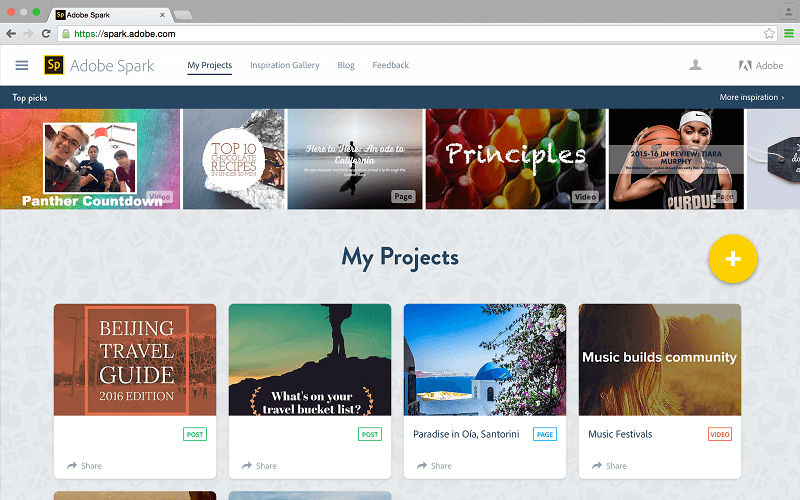 Pros:
Beginner-friendly and easy-to-use

Support for thousands of free icons and images

Stylish font support

Ability to personalize each music video project with theme editing

Ability to sync projects on different devices
Cons:
Features are somewhat limited as compared to other free music video editing tools available on the market
Available for: a number of different platforms, including Windows, Chromebook, Mac OS X, and more.
Best for creating 2D animation videos, commercial videos, slideshows.
MotionDen is another free music video editing software that is similar to Adobe Spark. It is an online video editing tool that specializes in helping inexperienced users create quality music videos with the help of its various templates.  It is suitable for beginners who are looking to create stylish music videos.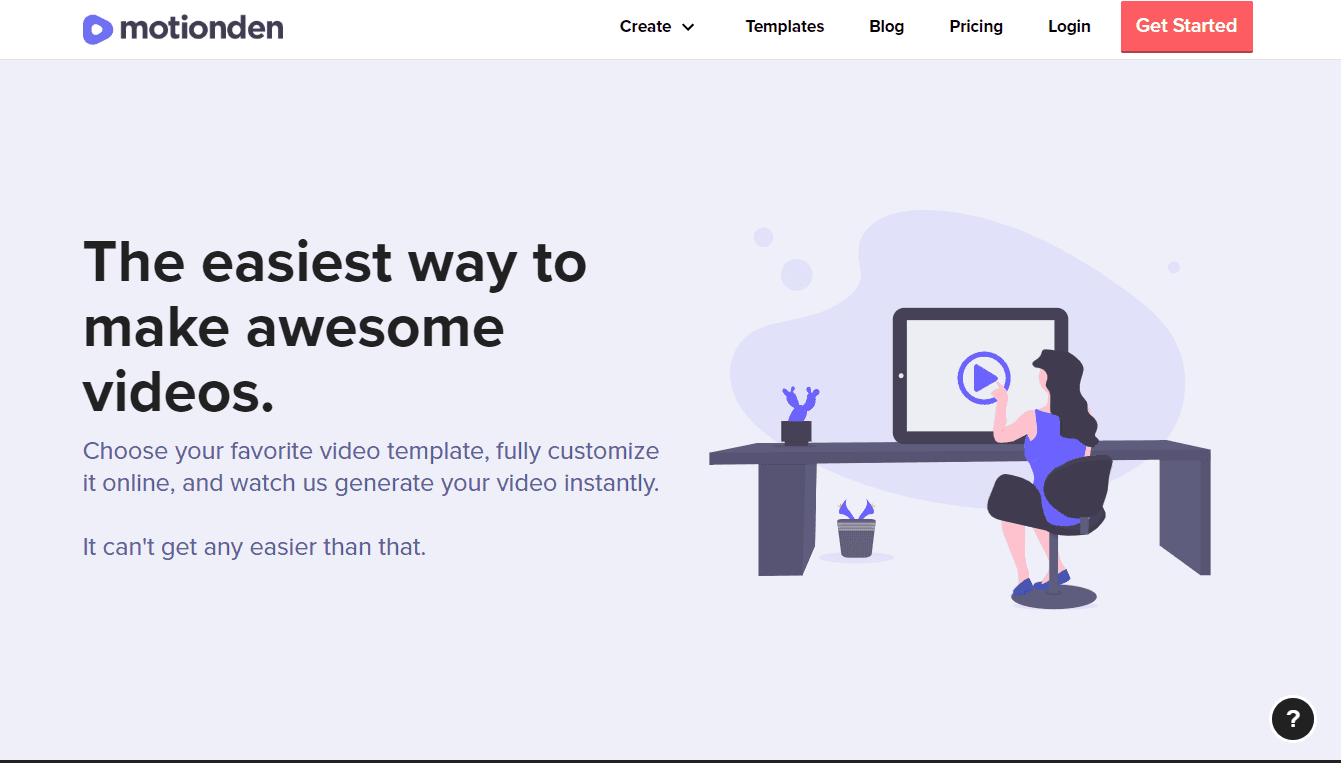 Pros:
User-friendly interface

Easy-to-follow operations

Ability to set video duration

Support for adding music, animations, and text to videos

Support for creating and editing up to 5 videos for free every month

20+ themes and 140+ templates for high quality video making

Top quality templates and themes for enhanced video editing experience
Cons:
Free version only allows you to create/edit 5 videos per month

Watermark is added to each video you create or edit via this tool
Available for: Mac OS X and Windows.
Suitable for anyone who wants to create personal, business, or marketing videos.
FlexClip is a free music video making tool that comes with its own set of templates. In order to easily customize a video via this software, all you need is a Google or Facebook account. You can also sign up via your email address and starting editing videos.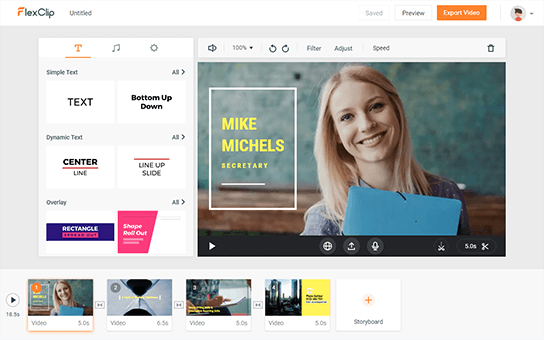 Pros:
Easy-to-use and beginner-friendly

Basic user-interface and easy-to-follow operations

Include 150+ templates for adding high quality visual effects

Compatibility with HD videos

Real-time preview support

Text animation support
Cons:
The tool requires you to sign up first via Facebook, Google account, or email address

No transition effects and filters
Available for: Mac OS X and Windows.
4

Music Video Maker
Save and share your edited videos directly on Twitter, Facebook, or Instagram.
Music Video Maker is free but one of the best free music video editing software that you can download from Microsoft store. The tool specializes in creating a fast slideshow with selected music and photos. Unlike most other video editors, Music Video Maker provides pre-installed music clips which you can use to create brief music videos with the photos of your choice.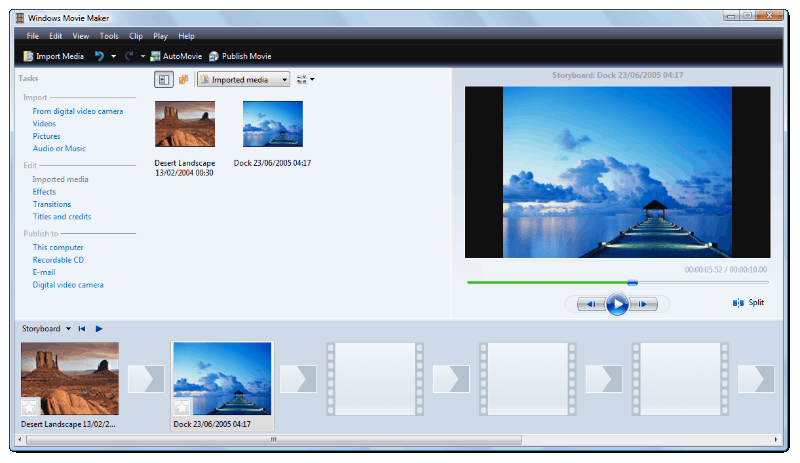 Pros:
Simple but useful features

Pre-installed music clips

Flexible controls and user-friendly interface

Ability to set the video duration

Text and frame support

Offer basic filters and visual effects
Cons:
Only available for certain builds of Windows

Lacks certain key video editing features
Available for: Windows.
Part 2: The Best Free Music Video Editing Software – For Beginners to Advanced
For new to music video editing but also look for something a little more advanced.
The above-listed tools are catered toward beginners and they have their own set of limitations. If you want something different and more creative, then it is recommended that you give iMyFone Filme a try.
This free music video editing software comes with 20 free video templates with music and it has been designed for beginners to advanced users. It's Fast Video mode allows you to quickly make a high-quality, well-edited slideshow or video with music by using a refined, built-in template of your choice. All of the software's features are easy to understand and use.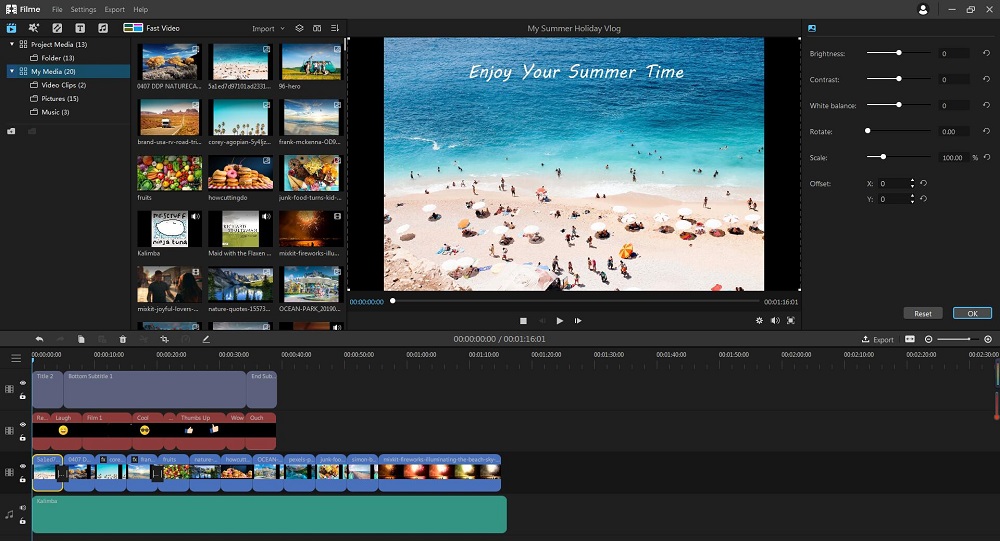 Following are the top features of Filme:
High quality templates for making stunning music videos in different styles as you want.

Fast Video mode allows you to create magnificent slideshow videos with just one click.

Several powerful resources and effects, including transitions, animations, titles, filters, and more.

Several useful video editing utilities, such as adjust speed, rotate, split, crop, add text, etc.

User-friendly, intuitive software interface.
Steps to Use the Fast Video Mode of Filme to Create Music Video
Launch Filme on your PC and click on the Fast Video option. It will be located in the Media Library section.

Select a template or theme for your music video from the list of preset options in the software. There are seventh themes and 20+ templates to choose from. After choosing one, click on 'Add your media' button.

Next, add your desired video file to the software's window. You can also use the Import option for this purpose.

Click on the Preview button to preview your video with your selected template. If you want to adjust the video duration, use the clock icon.

Once you have configured everything, use the Export button to save the video.
If you want to make it more stunning with more effects like titles, filters or elements, then you can try the editing mode of Filme. Even you are a beginner you can edit your video as a pro using Filme.
For more editing steps of Filme, please check the detailed video guide here.
Part 3: The Best Free Music Video Editing Software – For Advanced
If you are looking for a free music video editing software with advanced features, there are several options available. The softwares listed below are some of the best in the advanced video editing category.
Best industry grade music video editing tool suited for professionals and enthusiasts.
Adobe Premiere Pro is arguably one of the best advanced video editing tools available on the market. This is a very powerful software that is equipped with virtually unparalleled suite of features. It is used by creative professionals around the world thanks to its powerful video editing capabilities.
Adobe Premiere Pro can handle any number of video tracks which you can import from virtually any source e.g. VR, all types of cameras, tapes, digital files, etc. Its fine-tuning tools are great when it comes to creating/editing music videos as they really help make your video stand out.
Pros:
Loading multiple projects simultaneously

Excellent automatic functions

Free trial available

Numerous preset effects, transitions, and templates

High-quality video output

Tons of transitions, labels, and effects

Compatibility with wide range of video formats, VR editing, 3D editing
Cons:
Trial version has limited functionality

Expensive as compared to other video editing tools available on the market
Don't miss:
Brighten Video in Adobe Premiere Pro: A Complete Hack >>
2

Final Cut Pro
Designed specifically for Mac platform for professional users.
Final Cut Pro is another advanced video editing software. It is very easy to use despite having tons of advanced features that can enhance your music video editing experience. With Final Cut Pro, you can add and edit audio to any video or slideshow, add effects, or use grouping tools to merge various elements of your choice.
All of these operations are pretty straightforward. Furthermore, if you are a seasoned Mac user, then you will surely appreciate the overall design of this software.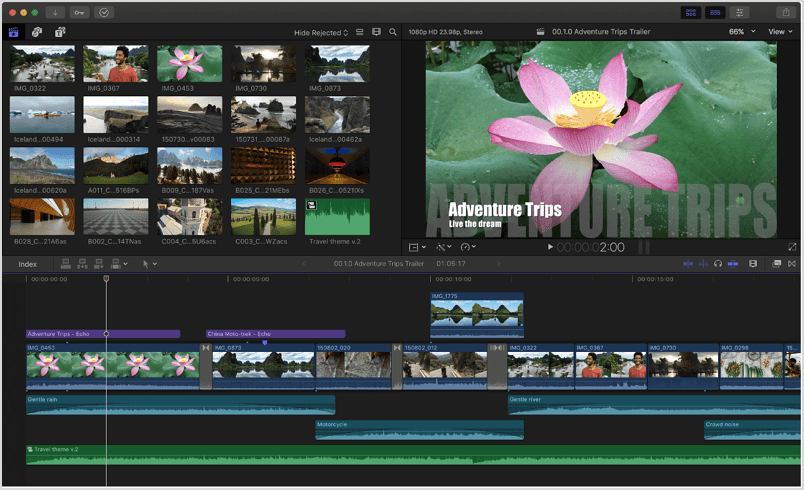 Pros:
Powerful and versatile music video editor

Minimalistic user-interface suitable for Mac users

Coordinates with your iTunes collections and Photos

Compatibility with HD videos

HDR video support

Motion graphics templates

VR headset playback

Trimming and moving clips, multi-cam editing

Advanced color grading and balancing

Edit multiple videos and elements simultaneously without much hassle
Cons:
Sometimes, audio added to the slideshow/video doesn't work correctly with transitions

Clipping is sometimes less-than-ideal

Expensive
3

Filmora
Popular advanced video editing software for professionals and enthusiasts.
Filmora is also a free music video editing software suitable for those who are just getting started with music video editing. Its user-friendly interface makes it easy to get started with and its built-in filters, effects, and titles are ideal for YouTubers.
The software also comes with a royalty-free music and sound effects which you can use to make your slideshows/videos really stand out. Furthermore, Filmora also allows you to record your own media to include in your video in real time.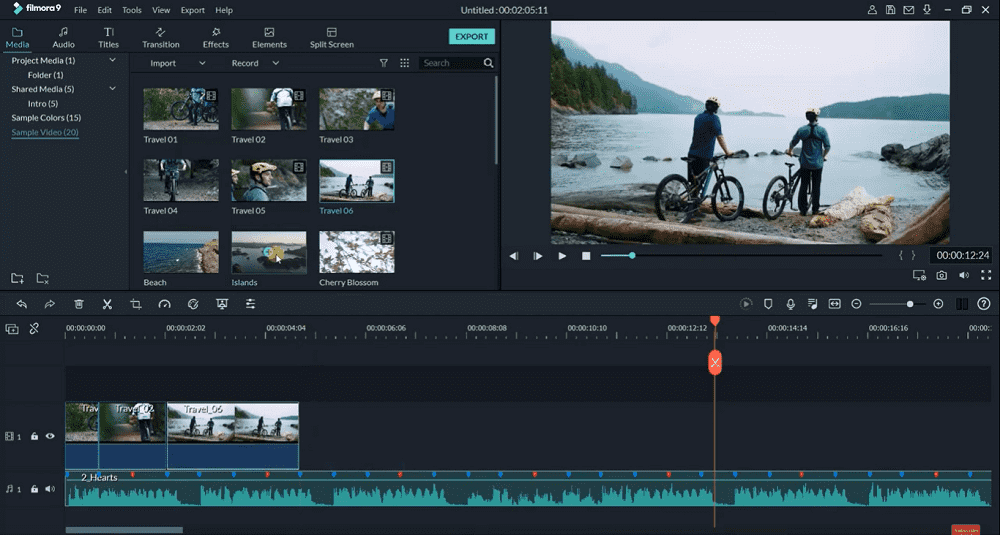 Pros:
Create special effects in the video by changing backgrounds

Built-in library of sound effects and music

4K support

Picture-in-picture mode for layering multiple videos

Add up to 10 music tracks and 5 text tracks to the timeline

Remove unwanted background noise from videos

Add zooming and panning movements to still footage
Cons:
Videos edited via the free trial version contain watermark

Some transition effects are cartoony and unprofessional

Lacks some shortcuts to help maneuver and navigate the timeline more efficiently
Also Read:
Make a Music Video on iMovie >>
Best Free 4K Video Editing Software >>
Tips: 5 Best Places to Find Free Music for Music Video Editing
There are many places where you can find free music to add to your videos in order to make them more engaging. Here are some recommendations:
Founded by WFMU, Free Music Archive (FMA) offers a huge selection of free music. It has 16 main genres that include blues, rock, instrumental, and more. Each genre has many subgenres which means you will surely find what you are looking for.
ccMixter is a place where you can create your own mixes for free. It contains a huge library of tracks uploaded by vocalists and musicians. You can choose the tracks of your choice and mix them as you see fit.
There is a lot of free music to be found on FreeSound. Apart from music, it also contains libraries full of natural sounds, people talking, noise, sound effects, and more. Use the site's tag list to find what you are looking for.
Although the library of Incompetech is not as huge as ccMixter and FMA, it is a great place to easily find unique free music from a variety of genres. The filtering tool of Incompetech is a great way to narrow your selection.
Cctrax is the home of free electronic music although it also offers a bit of modern classical, jazz, and rock music. The interface of Cctrax is a bit outdated, so you might have to spend some time looking for the track you want.
Conclusion
No matter whether you are a professional looking for an advanced video editing tool or a beginner who wants to get in the music video editing game, the above list of best free music video editing software will help you. If you are not sure which tool to use, then it is recommended that you choose iMyFone Filme is a relatively small software package that packs a punch of video and image functionality and capability. The simple menu structure and easy layout make using Filme for your video creation a breeze. The loads of transitions and video effects that Filme offers make it the logical choice for all types of users from beginners to professional video makers.