Video content has gained huge popularity in the last few years. Different video platforms are attracting a lot of fans on Snapchat and TikTok. The demand for video editing tools is also increasing and finding the best Snapchat video editor app seems to be a frustrating task. In this article, we have discussed the best Snapchat photo editor video apps for android and iPhone. Keep reading to know more.
2 Best Snapchat video editors for iPhone
There are huge chances of ignoring the already installed applications like Apple's Clips, however, this video processing tool has lots of impressive functions to enjoy, thanks to the heft of the technological titan's greatest minds behind it. Consider their active tiles settings. Use this to generate dynamic captions and titles to emerge as someone interacts.
Apple clips are the best Snapchat video editor app that helps you create stunning content for your followers. To make it more interesting, you may include colorful emojis and backdrops, and audio files dynamically match the duration of your clip. Moreover, Selfie Scenes lets you choose from a variety of 360º settings, and Clips identifies who is in the clip and offers them distribution choices.
Clips excels in terms of usability. Apple has mastered the art of creating a relatively straightforward User interface. Clips were designed from the bottom up to be a smartphone app. That implies no loading, no cramming big darts into round spaces, and also no repurposing stock stuff. The corporation began with one of the most essential parts of the journey and therefore only introduced one that really seemed important.
Price
It is free to use video editor application.
Features:
Includes a feature of adding live titles in your videos

Simple UI makes it easy to use for everyone.

Owned by Apple
Splice is more polished than iMovie, with smoother transitioning and a larger library of soundtrack and audio enhancements. Because of its easy User interface, this software from the developers of GoPro is easy to use.
You may splice multiple video pieces altogether with only a few simple clicks to achieve a captivating outcome, as the title indicates. You may cut and alter the various segments in your film, as well as adjust effects, with this software.
Splice also comes with a vast built-in playlist, allowing you to offer your clip a quality boost right away. These features make it one of the best Snapchat video editor apps.
Price
$2.99/week
Features:
This user-friendly application is simple to use

Includes a wide range of exciting features for your Snapchat video content

Different music options are also included to add in the background

Helps you control the saturation, brightness, contrast, sharpness, and other elements of videos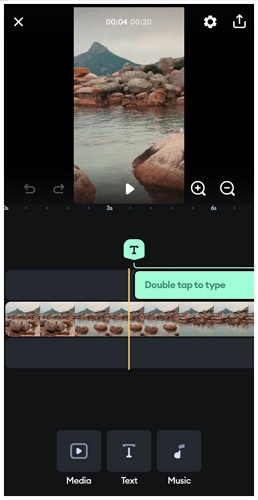 Top 3 Snapchat video editors for Android
It is one of the best video editing applications to create slide shows, movies, videos, and small clips for different platforms. This free-to-use video editing application is also a good option for editing your Snapchat videos. It is a user-friendly app that allows you to select and add music, song, and photos to the videos. You can also add different filters and effects to make your content look more professional and appealing.
Make beautiful videos and share them with your friends, family members, and fans. Snap Video Maker also includes an option of adding music from your device. You can make stunning slideshow videos on your device with this Snapchat photo editor video application.
Price
It is a free-to-use video editing app.
Pros:

One of the most powerful android video editor app that works with Snapchat

Simple to use

Perfect for newbies and beginners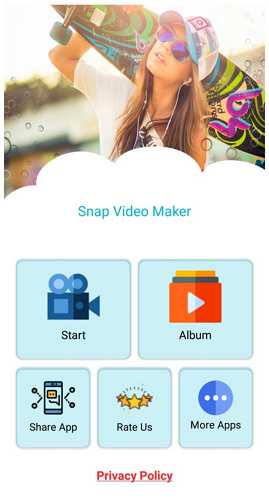 The InShot app is a creative video editing software that will do everything. You may use it to make clips, edit images, and put together visual collages. The tool also includes a lot of functionalities. Edit videos, adjust the length of your movie and add filters, audio, and caption to your film. You could also twist and tilt film, which would be a useful function not seen in several other applications.
InShot, on the other hand, is easy to manage and comes with anything you need. This software is ideal for those who seek a simple smartphone video editor that handles everything.
Price
$2.99 per month
Features:
Professional Photo Editor & Collage

A wide range of features

Best Snapchat video editor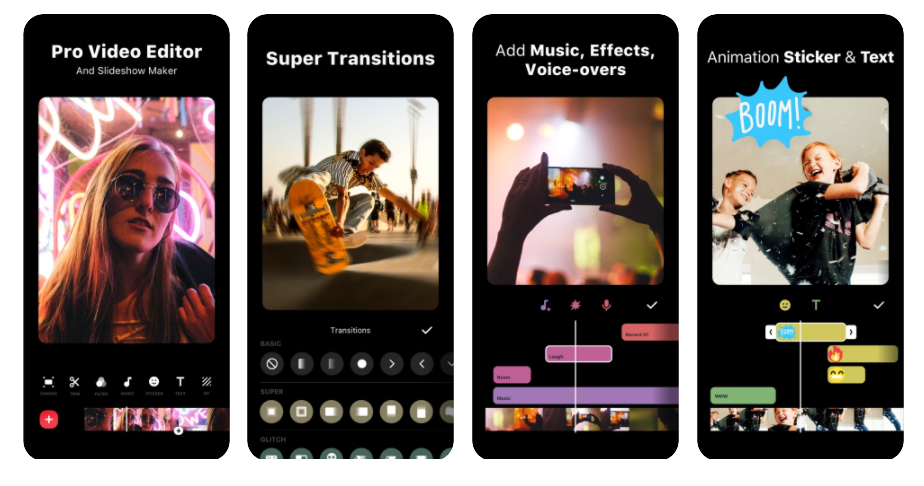 It's perfect for those who want photos and movies piled high everywhere on their devices. It is, after all, always about making films quickly. You make a choice, choose a style, and start making stunning content!
The options of changing design, speed, text, titles, filters and trimmings are also available. Most of the time, however, it's about allowing an application to handle the real work, such as converting a stack of photographs into beautiful video content for social media platforms like Tiktok and Snapchat.
Price
Free to use
Features:
AI editing assistance

Advanced tools for creating awesome content

100+ free songs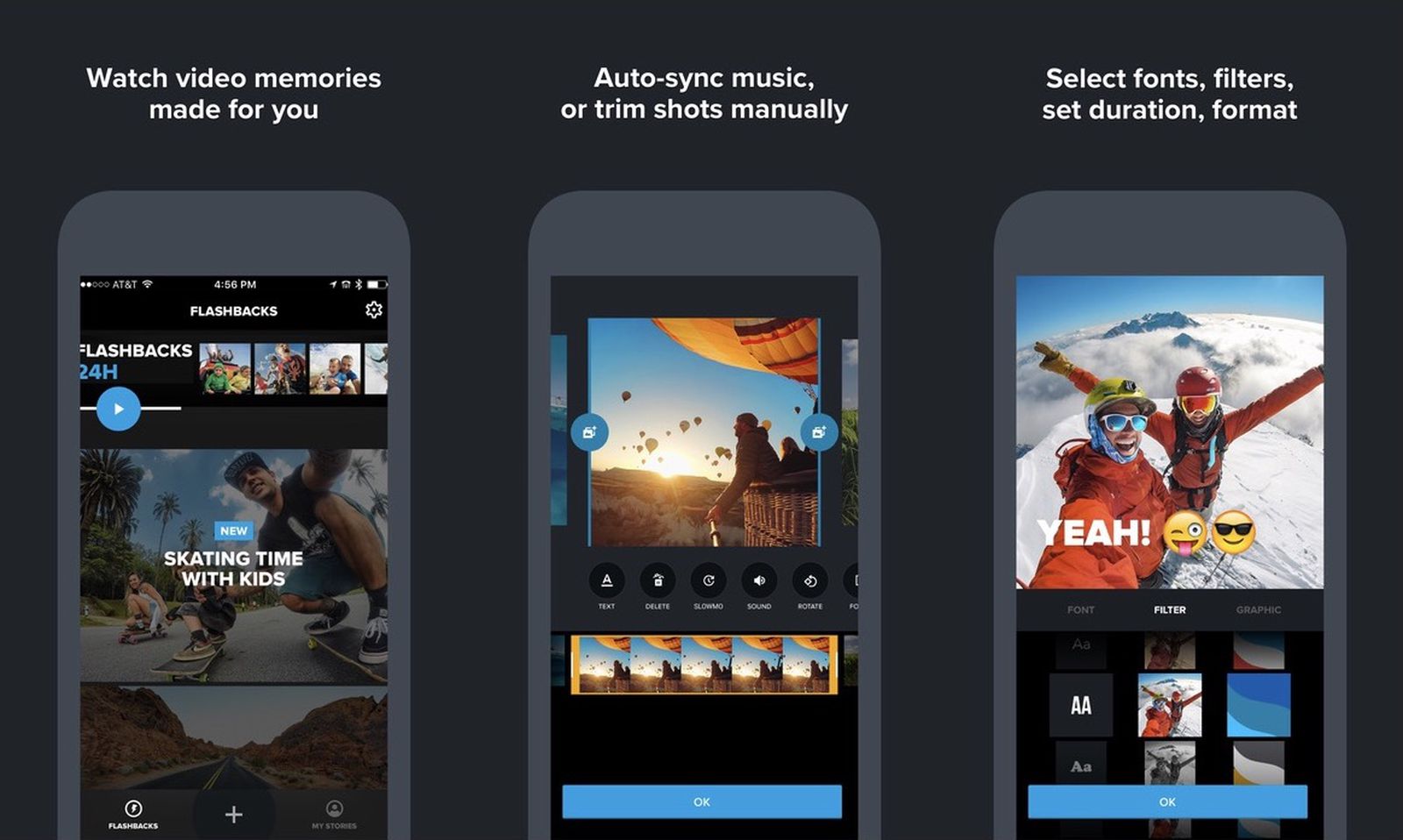 3 Best video editing apps for combining Snapchat videos
It is a video editing software that allows you to combine and mix different video clips. Combining, cutting, sound extraction, and screen capturing are just a few of the editing capabilities you'll love practicing. VidTrim promotes itself as the best editor for combining Snapchat videos. It excels in video cutting, video converting, frame grabbing, and many other activities.
It consumes a lot of effort to post a high-resolution clip to any preferred social networking platform. Alternatively, you may use VidTrim to minimize the size of your clip by scaling it down in quality and size.
Price
Free to use with in-app advertisement.

$2.49 per month for an ad-free version
Features:
Easy to use video editor for combining different video clips

Enables you to share content on social media platforms

Offers basic one-touch filters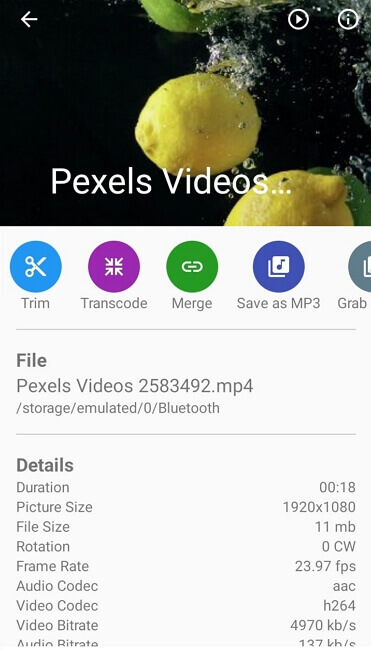 This video editing application also allows you to combine and mix different video clips for social media platforms. You can use this tool to apply overlaying to your modified footage and a variety of complementary filters.
Video merger is a sophisticated video combining application or video joiner that allows you to combine your preferred clips into a massive clip with the addition of your chosen sound effects. This video editing tool, often known as a video combiner application, offers a variety of choices for combining videos and applying soundtrack to the background.
Price
It is also a free editor for combining Snapchat videos
Pros:

User-friendly interface

Supports the major formats including mp4 and 3gp

Allows you to share your video content on Facebook, WhatsApp, and Gmail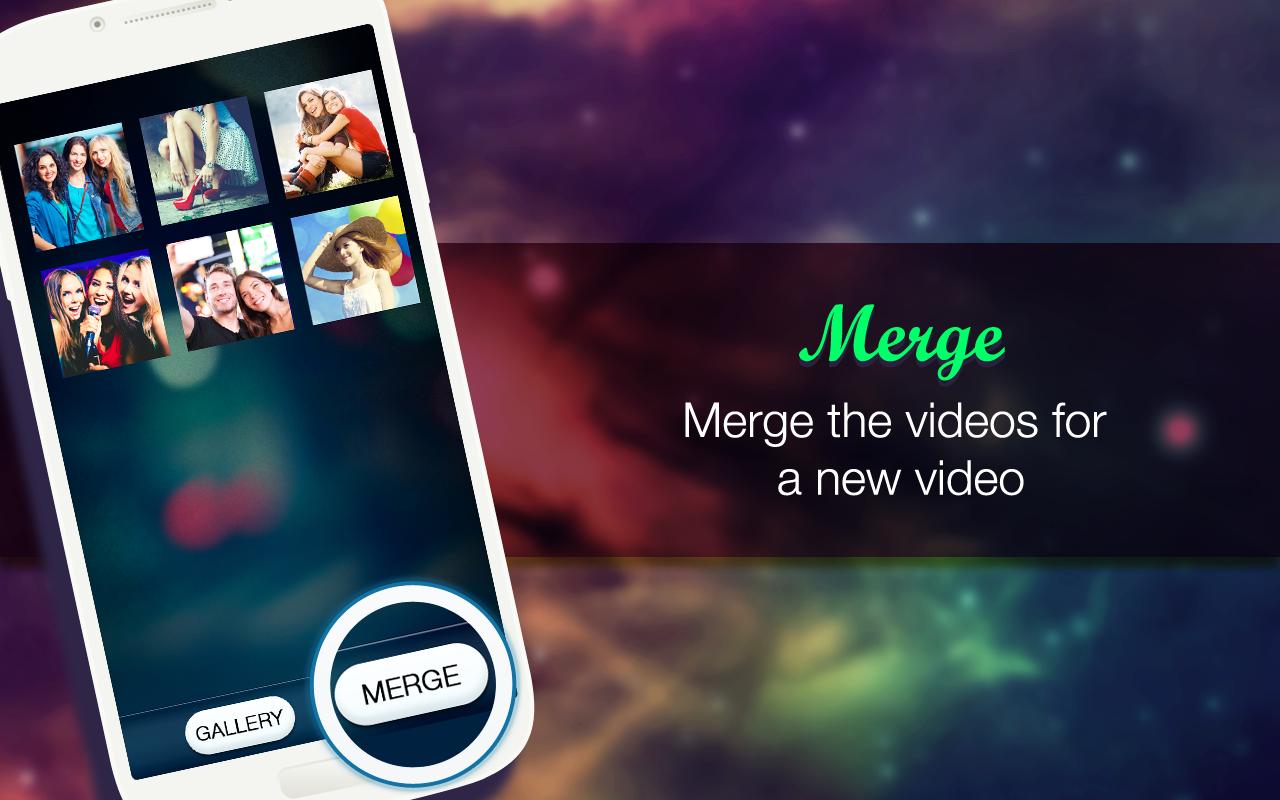 It is the best video editing application that offers a wide range of exciting features like video effects, transitions, filters, and designs. You can combine different clips to make a single video for your social media pages.
You can shoot your personal clips within the software on smartphones. Different photographs and short videos can still be added to the latest video you're creating. The option to edit the sections of other videos together and numerous various transitioning could be used to transfer the film from one picture to another. These are just a few of the tools that assist users to combine Snapchat videos.
Price
It is free to use editor for combining Snapchat videos
Features:
Enables you to make videos content on your smartphones

Helps you make new video clips

The best tool for newbies and professionals

Includes the option of sharing videos on different platforms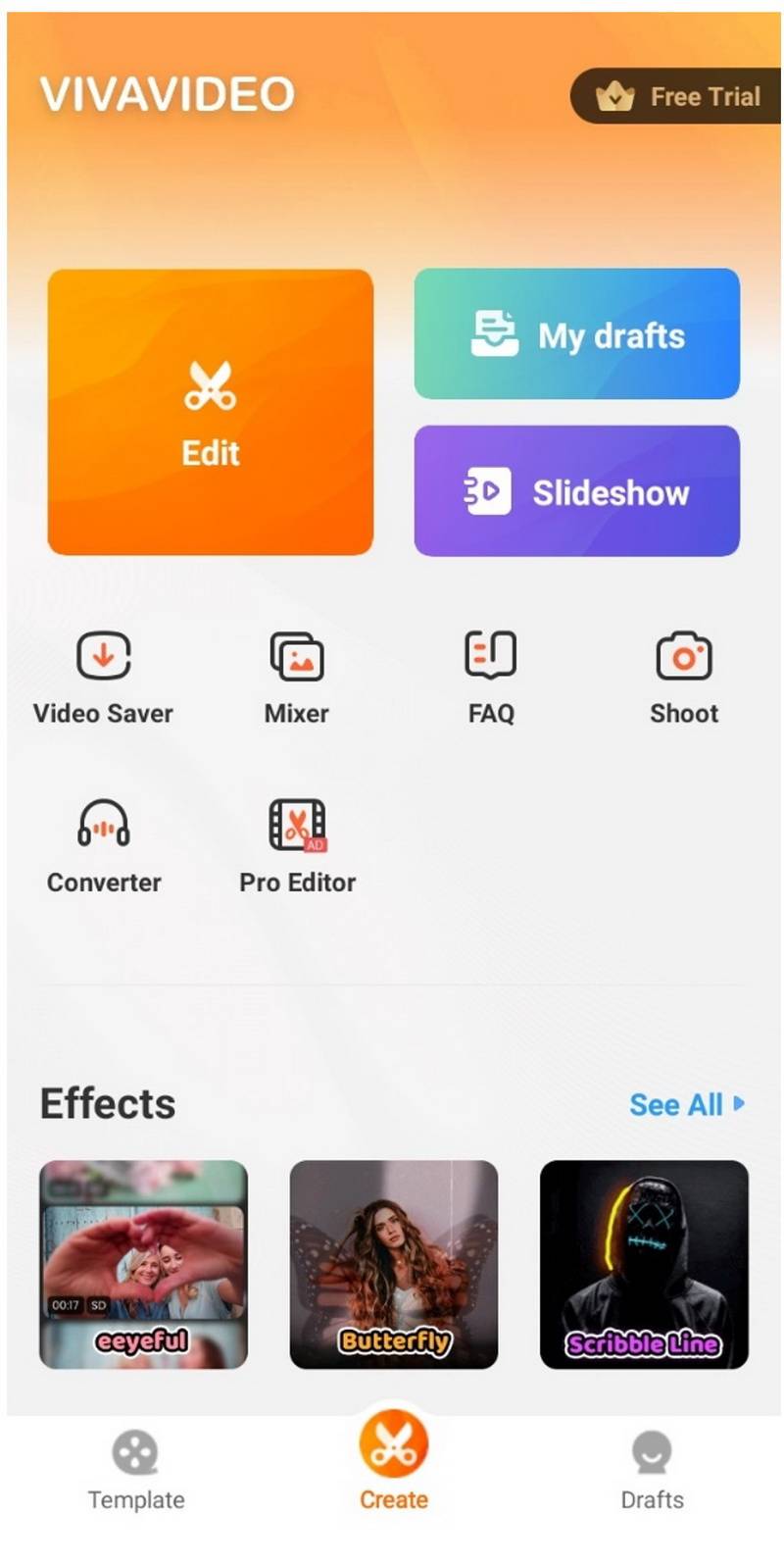 Recommended video editor on desktop - iMyFone Filme
iMyFone Filme is indeed a package of applications that lets you create clips and slideshows without any prior experience with video processing. The application has a user-friendly interface that allows users to click and drag elements to create stunning videos in a short time.
Unlike many sophisticated video editors, Filme provides the flexibility to modify films without the need for complicated technologies, specially designed for newcomers. It is also considered one of the best Snapchat video editors for creating engaging and stunning video content.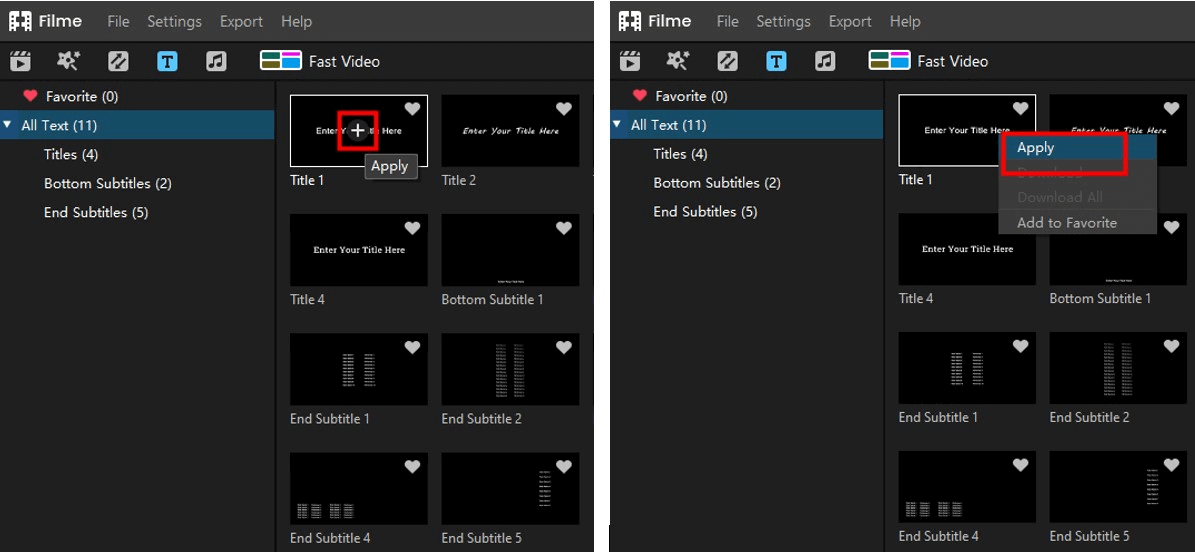 Features
The application also comes with several helpful features that you can use to spice up your somber recordings. Select from numerous different styles.

The software allows you to create great video slideshows without the need for complicated video editing.

iMyFone Filme has been the best Snapchat video editor, with practically all of the essential tools and features.

The tool is designed to help you produce competent video content and slideshows.
Final words
You can get the finest techniques to create your Snapchat videos attractive by using creative filters. It is not challenging to find the best video editing software if you are aware of all the factors to consider before making a purchase. iMyFone Filme is among the most user-friendly video editing applications available for your PC.