To help you choose the best free gaming video editor we have shortlisted some software after careful research. Let us have a look.
Best Free Editing Software for Gaming
Filme is a video editor by iMyFone made especially for people who don't want to get into the technical stuff for editing their videos. It helps you edit your gaming videos in a creative and unorthodox way.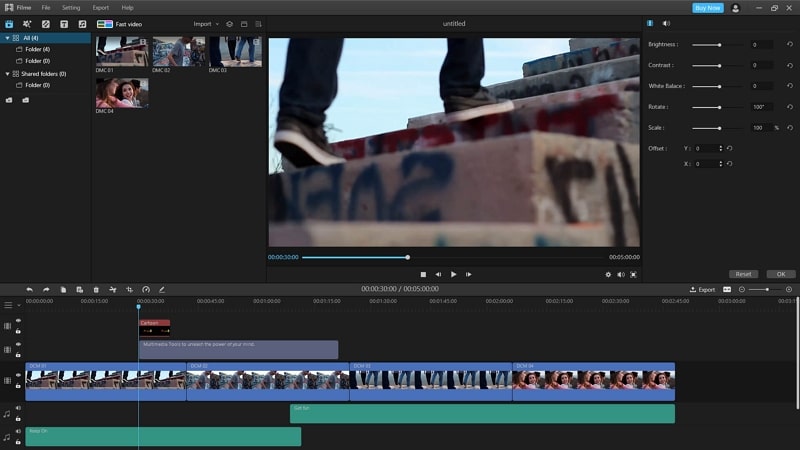 Features

Ease of Use

One of the features of Filme is its ease of use. This means that even if you're a beginner in game video editing, you don't require any prior technical skills to use this software. Anybody can use it anytime to edit videos simply and smoothly.

Fast Video Mode

For a game video editor, the Fast Video Mode really helps a lot. With Fast Video Mode, you can upload highlights from your game and create a cool slideshow video with only one click. Start editing and amaze your audiences!

Filters

Filme has tons of filters that can be applied to the game videos to make them interesting. It is proved that the cinematic effect is the most popular filter used by gamers to create a high-quality video. You can also enjoy it for free!

Text Options

One of the best features of Filme is that you can add text to your game video in any font you want in your desired color. This makes your game video interactive and colorful, which will draw audiences towards it and keep the audiences.
Pros

Fast Video Mode with one click

Ample variety of filters and animations

Various cool transitions

Multi-track option ideal for gaming videos

Very basic to use even if you're a beginner
Cons

Relatively new product on the market
Tips
iMyFone Filme is compatible with Windows 7, Windows 8, Windows 8.1 and Windows 10.
Filme has limited-time activities that can be shared for1-month free license!
If you want a software that provides a wide variety of features for free, then ShotCut is the best free video editing software for you.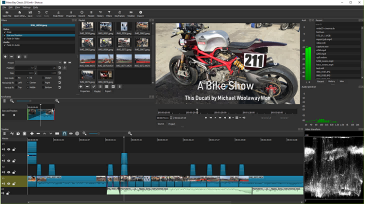 Features

Interface

When you start using ShotCut, you might feel that it doesn't have a lot of options, but once you check out the top bar, you will be surprised to see what it has to offer. The panels are resizable, making the interface easy to use even by beginners in game video editing.

Filters

This software is quite old as compared to the others we have included in this article, so it has a lot of experience in video editing. It offers a huge library of audio and video filters which can be used to customize your gaming video just like you want it to be.

What's more, some new cool filters have been added to the library recently, including earthquake, trails, choppy, nervous, glitch, dither, vertigo, halftone and many more. The most popular filter among gamers is the earthquake effect which makes the video shake and jitter. They use this filter when shooting a target or showing an explosion which makes the game video exciting to watch.

Easy to Use

One of the reasons why people choose one software over the other is that it's easy to use. ShotCut is a user-friendly software which enables the users to import game video clips, split and trim them and add filters and transitions without going through complex steps. Everything can be done with a simple click.
Pros

Customizable filters

Well-designed interface

Absolutely free to use
Cons

No 3D support

No built-in sharing option

Limited transitions
Tips
ShotCut is compatible with Windows (both 32- and 64-bit), Mac, and Linux systems.
ShotCut is a free software and doesn't require any payment whatsoever.
If you want to edit your gaming videos by giving it a professional touch, the best free editing software for gaming that we would recommend is VSDC.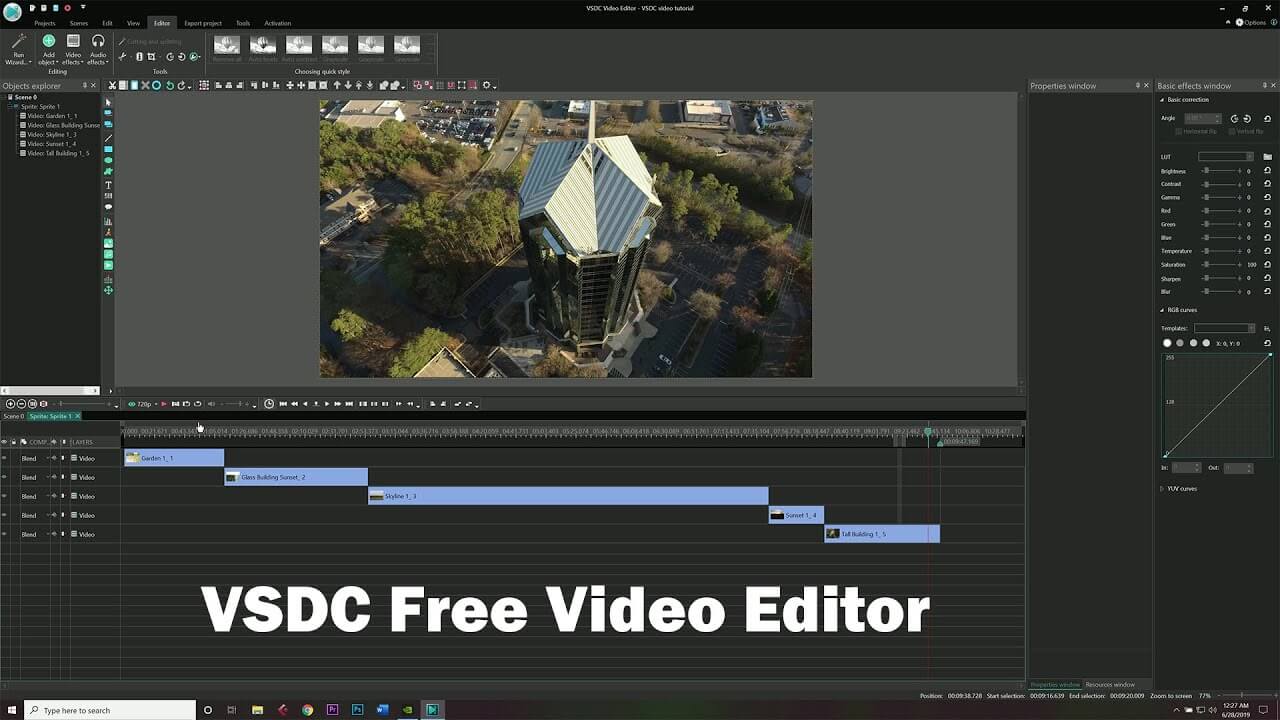 Features

Customizable Interface

VSDC has a highly customizable interface which means that you can move around the panels, undock them, and choose which options you want to see on the toolbar. This feature is very useful for professional game video editors, making all options available at your fingertips.

Drag and Drop

The drag-and-drop option makes video editing easier than before. You can drag and drop your game video clips into the window and move them back and forth within their tracks.

Preview Option

Another standout feature is the preview option. This feature enables you to preview your edited game videos without opening the Windows Media Player. The insertion point keeps up with what you're watching so you can edit then and there without having to move back and forth on the timeline.

Filters

VSDC has a wide range of filters for blurring, sharpening, pixelating, diffusing, and embossing the video. You also have the option of creating customized filters! The new gaussian and stack blur are the most-used filters by gamers in VSDC to imitate a moving pile of colors which is great for sports games.
Pros

Light on the pocket

Non-linear editing

Powerful features like 360 VR, 4K, chroma-key, color wheel, and PiP

Easily understandable
Cons

Many functions are hidden in the properties panel

Some users have complained of the software crashing when using keyframes

Need to pay to access premium features
Tips
VSDC is compatible with Windows XP SP3 through Windows 10.
This software is free, but you can upgrade to VSDC Pro by paying $19.99. The pro edition gives you access to advanced settings, hardware acceleration, sub-pixel resolution, and audio waveform editing.
Windows Movie Maker must be the very first best free video editor for gaming used by people to edit their videos. This is mainly because it comes free with Windows.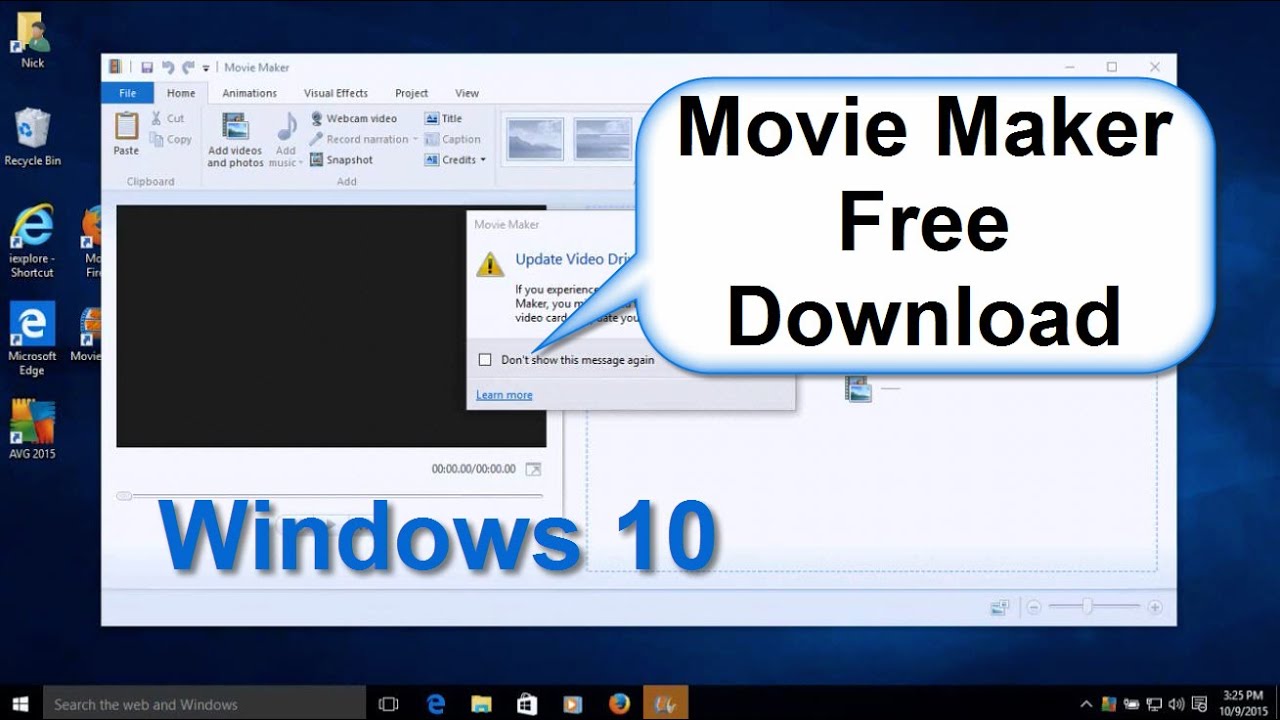 Features

Automatic Preview

The automatic preview feature enables you to see the effects that you have applied in your gaming video by simply hovering the cursor over it.

Themes and Effects

Windows Movie Maker includes an assortment of themes and tools like sepia toning options, fade effects, and contemporary themes. Adding these effects in your game video can make it popular among the audiences. The best part is that all this can be done with a single click. Moreover, the cinematic overlay filter is proved to be used by most gamers to add a dynamic effect to their gaming videos.
Pros

Simple and easy to use

Diverse transitions

Automatic preview option

Multiple audio features
Cons

Effects cannot be adjusted

There aren't many updates

It doesn't include many features that are available in paid version
Tips
Windows Movie Maker's latest version is compatible with Windows 10 or higher.
This software is a free software that comes by default with Windows.
DaVinci Resolve is a feature-rich, high-end video editing/post-production software program designed for professional game video editors.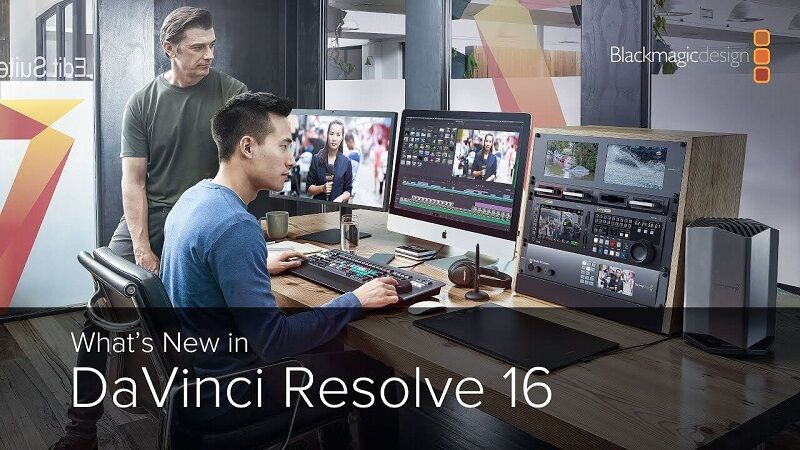 Features

Fusion Integration

Fusion was previously a separate visual effects and motion graphics application, but now it has been integrated in DaVinci Resolve and provides many exciting tools like painting, particle effects, text animation etc. which can give an edge to your amazing game videos.

Audio Effects

The newest version of DaVinci Resolve has around a dozen new audio effects which have plug-ins for repairing audio, adding effects and venue simulation. This feature makes the audience feel as if they are in your game video.

Filters

Like all other video editors, DaVinci Resolve also has a variety of video filters to choose from. It has tons of blurring and color effects which enhance the quality of the video. Most gamers color grade their videos to make the background colors pop out and to make the visuals seem better to attract the audiences.
Pros

Decent hardware requirement

Everyone can manage routine functions

The free version works for most users
Cons

A powerful computer is required for graphics functions

Advanced features require some learning to edit gaming videos

Doesn't enable direct share option to social media
Tips
The DaVinci Resolve is compatible with Windows, Mac and Linux systems which is a plus point.
It is free to download and use as most features are available for free. But if you want to try the upgraded version known as Resolve Studio, you have to pay $299.
iMovie is one of the best free editing software for gaming by Apple. It provides plenty of features to the users which results in impressive productions.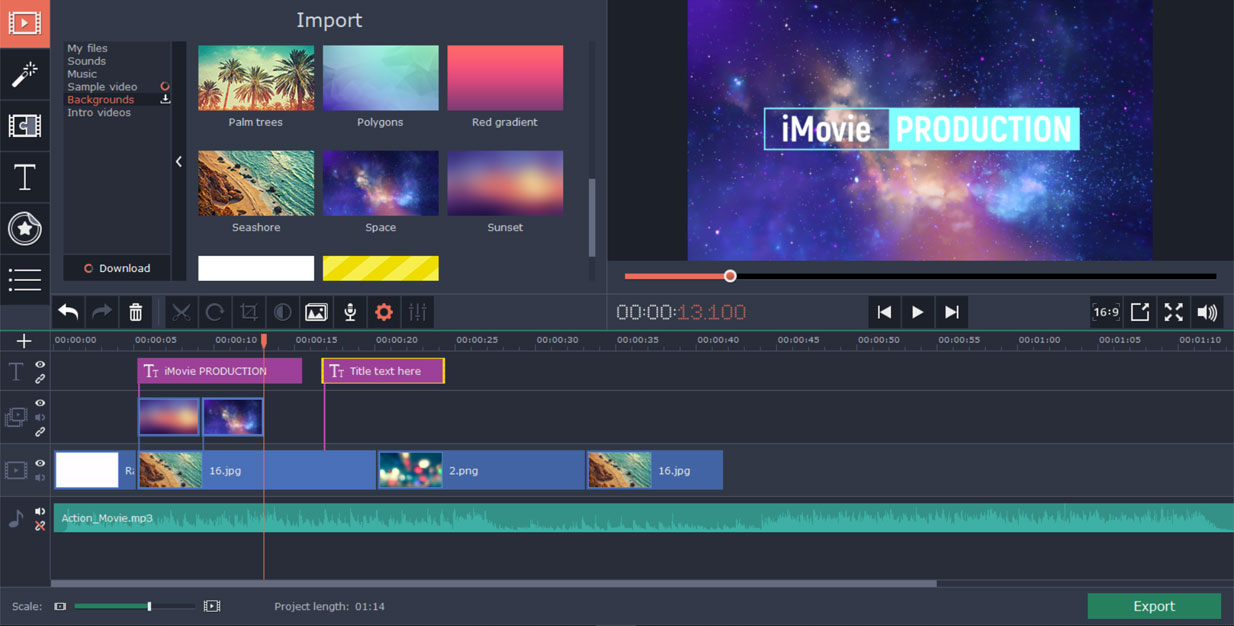 Features

Premium-quality Titles

Apple iMovie comes with a wide range of creatively styled titles. You can also edit the font, size, and text color according to your preference and make your gaming video unique and attractive.

Video Filters

iMovie consists of 10 amazing video filters to give a professional look to your gaming videos. You can apply filters to each clip separately or the whole video at once. Some of the most famous video filters in iMovie are the bounce effect and cinematic effect. The blue/green screen effect is popular among gamers to edit their videos.

Video Sharing

Most video editors do not support sharing to social media or other platforms, but that's not the case with iMovie! Once you have edited your gaming video, you can easily share it to your game channel via Messages or popular social platforms in 4K resolution.
Pros

Easy interface for game video beginners

High-quality effects and titles for impressive gaming videos

Classy themes

Lots of audio tools
Cons

Motion tracking feature is lacking

No 360-degree video editing

Interface is not customizable
Tips
iMovie is a free video editor by Apple and is compatible with Mac and all iOS devices.
If you want to use a video editor that is affordable and easy to use, then VideoPad Video Editor is a good choice.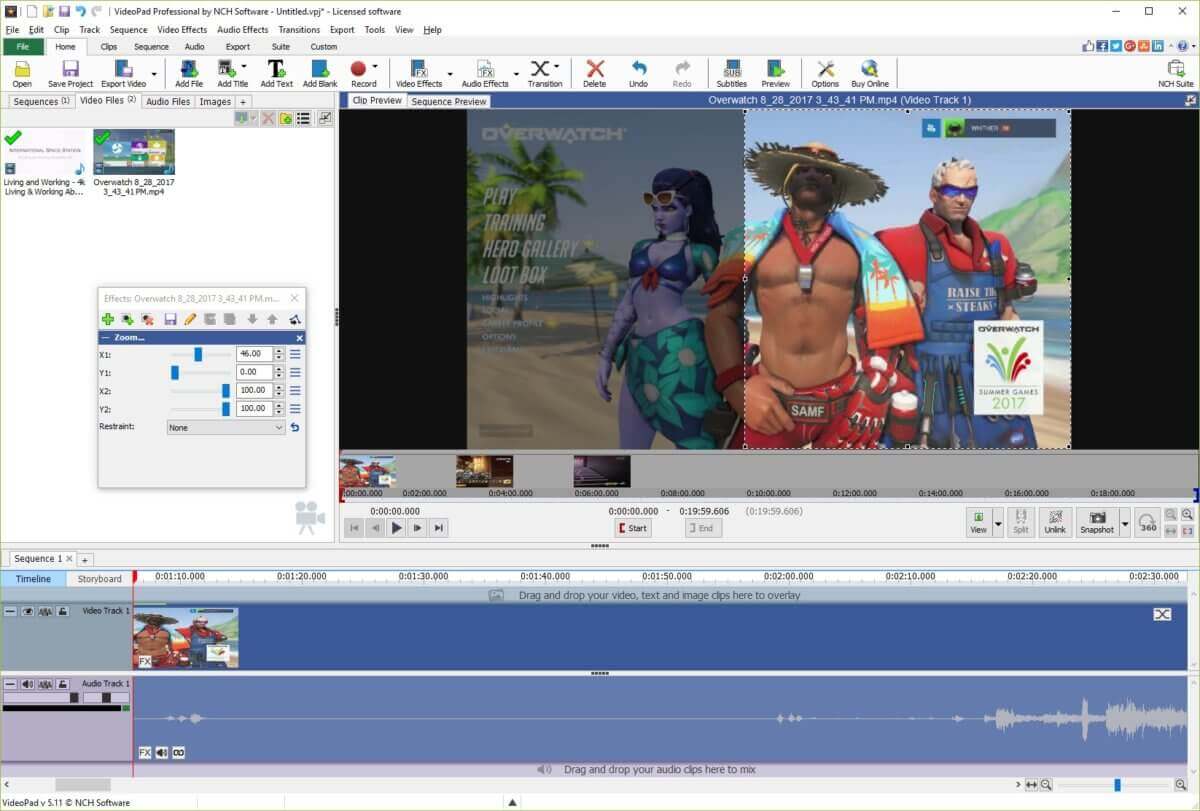 Features

User-friendly Interface

VideoPad is popular for its cool and calming color themed interface. It can offer the game video editors a simple and less-complex set of options which make it easy to use and understand.

Direct Export to Social Media

Sometimes it can be a hassle to upload a video on YouTube or other social media platforms. With VideoPad, you can do it directly from the software's drop-down menu which gives you the option of sharing your edited game video to YouTube, Facebook, Google Drive, Flickr and many more.

Filters

VideoPad has video editing filters to add to the quality of your gaming video and make it popular among the viewers. It has quite a few motion-transformation options, as well as color correction and blending filters. But the pan and zoom effect is most-used by gamers in VideoPad.
Pros

Direct export to YouTube

360-video editing available

Easy to learn
Cons

You may have to get a paid version to access some features

Some advanced features like motion-tracking are missing
Tips
VideoPad is compatible with Windows and Mac systems.
It comes in a free and trial version. Once the trial period is over, you need to pay $39.95 to get the premium version.
Some Useful Tips for Editing Game Videos
As promised, here are some tips for editing game videos for fine and highly customized results.

1. Make the right setting when recording
If a game is running at a bad quality on your system, the video you make out of it will be worse. Therefore, always make sure that your computer is working fine and can handle 1080p resolution with almost 60 frames per second.
2. Make color adjustments
To make your videos more appealing always increase the saturation while editing the video. Use proper brightness and contrast ratio for a finer look.
3. Clip game videos
Always remember to trim your gaming videos into small sections instead of recording lengthy videos. This way, it will be easy to upload them and the audience will not get bored.
4. Effects and transitions
By adding interesting effects and transitions between each section of your video, you can give it an eye-catching appearance.
5. Add proper audio
Nobody would be interested in watching a gaming video without audio; therefore, it is suggested to add catchy music, commentary, or a story to your video to maintain the interest of the audience.
Conclusion
With the best free editing software for gaming and proper editing, you can produce an amazing gaming video and get plenty of views. Remember that people are attracted towards engaging and unique videos, so throw in some effects and transitions, add colorful text and compelling audio and your video will get millions of views in no time.