Do you know what sucks? A video recorded at a friend's party gone wrong because of wrong orientation. Or a beautiful video recorded on a smartphone turned sideways when opened on a laptop. Sucks!
How often do you turn your camera on its side to take a video? Well, I was astonished to discover that this frequently occurs, especially when considering cell phone cameras, flip cameras, digital cameras, and so on... When shooting video, all of these devices demand to be held sideways, which ruins the perfection of the clip. Sad! Right?
But let's say we introduce you to a new app and 2 of its alternatives that can correct the orientation of your video quickly and free of cost. Find it astonishing? Read the complete article to learn more.
Part 1: iMyFone Filme – Most Popular Video Editor to Flip Video Sideways Quickly [Win/ Mac]
New apps are often not that stable. The best alternative to new apps is Filme, a product of iMyFone software. The software came into the market in 2015, and it is available online. It's one of the phenomenal video editors because of its numerous functionalities and ease of use.
Its interface is much better and user-friendly than the other applications. Both dummies and experts can utilize contemporary features of Filme to edit their videos and give them a unique effect.
Moreover, it supports all audio and video formats primarily. Let us look at many powerful elements of Filme, which makes it stand out among other video editors.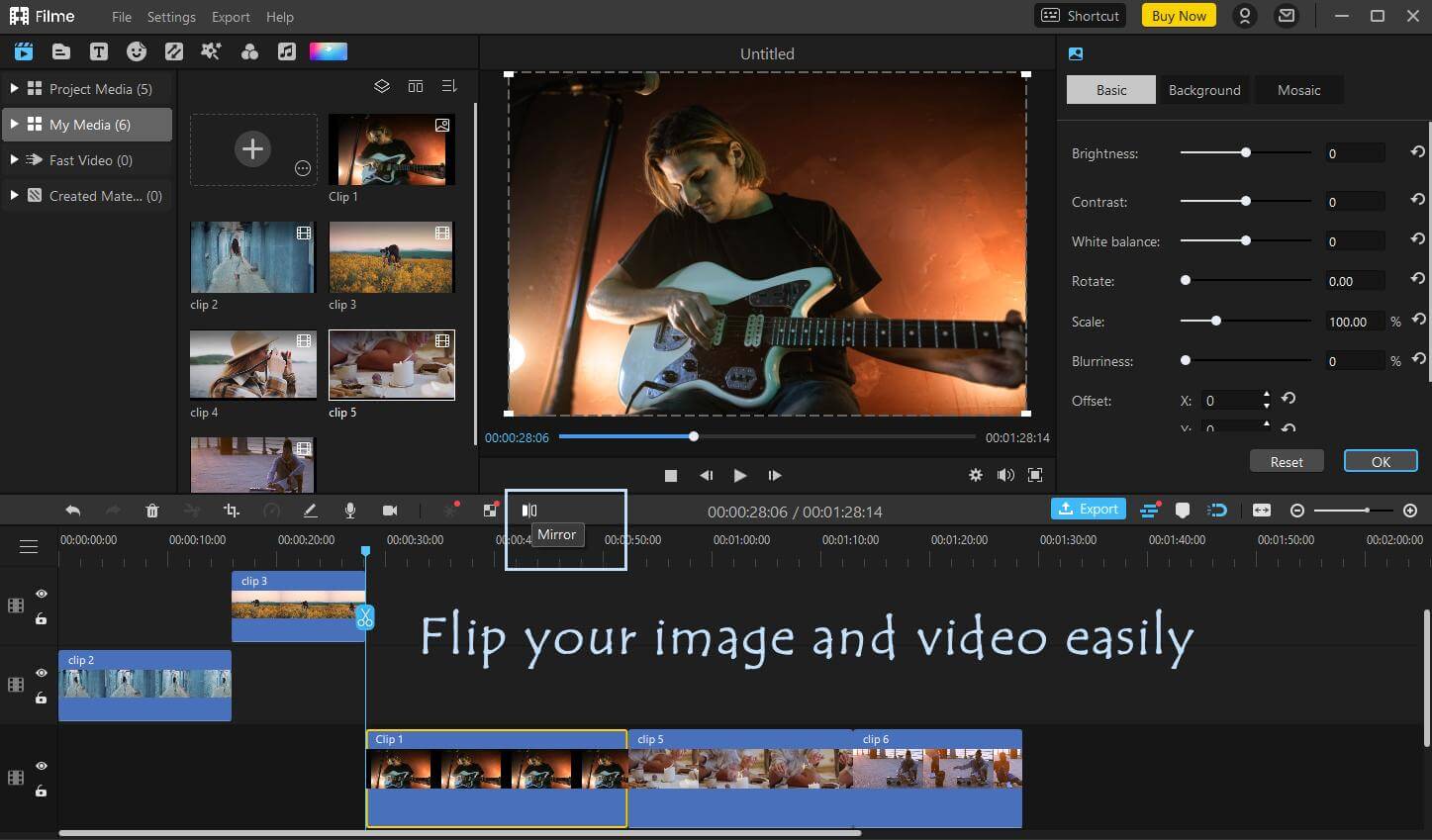 Salient Features:
Filme is a simple, friendly, and time-saving video editor with several built-in themes and slideshows in its Fast Video Mode.

It includes 110 transitions, 170 video effects, 20 quick modes, and 50 audio tracks.

It allows users to divide, merge, trim, rotate, crop, modify, and zoom films.

It allows users to add personalized text to photographs, such as telops, speech bubbles, and captions.
Step 1: Add or Import a Media File.
To add a video, click the "+" tab or just drag the video file into Filme's browser.
Step 2: Send the video to the Timeline.
Drag and drop your YouTube video into the Timeline manually, or use the Timeline's "+" tab to add it there.
Step 3: Use the Editing Window to Flip the Video.
When you right-click on the video or click the "Edit" icon on the toolbar, the editing window will appear.
Now, from the drop-down menu, select "Rotate/Scale." By adjusting the slider, you can rotate the movie to any orientation you like.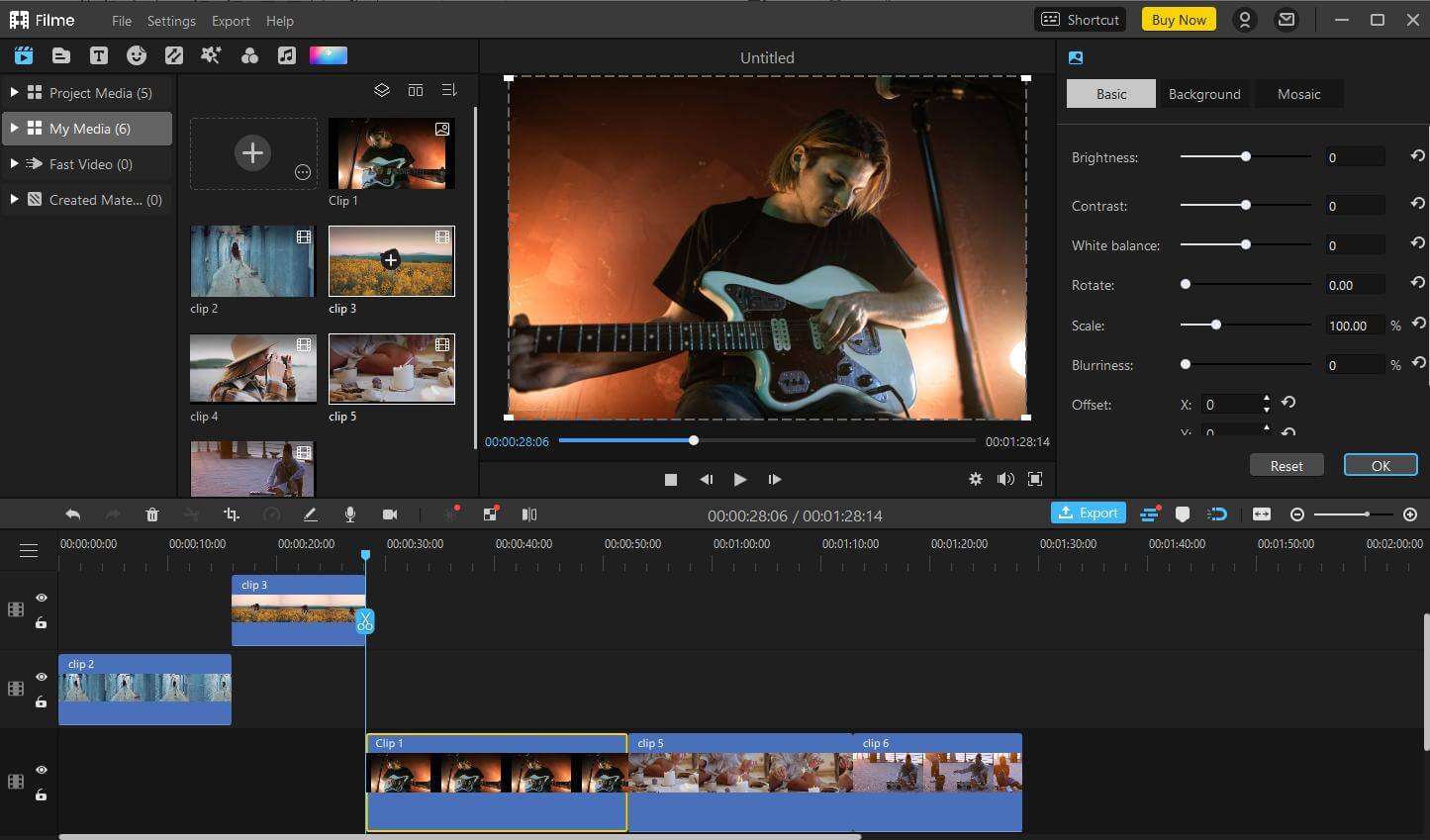 Step 4: Use the Mirror Tool to Flip the Video Sideways:
We can also use the "Mirror" button that is available on the timeline to flip the clip and rotate it sideways.
Step 5: Save the file and adjust the settings.
To configure the details of the edited movie, click the "Export" tab, and then save it to your PC.
People Who Liked this Content Also Liked
Top 5 Video Flippers to Flip a Video and Photo Online Fast in 2021 >>
How to Flip a Selfie Video? [Online/ Win/ Mac/ Android/ iPhone] >>
6 Easy Ways to Rotate Video on iPhone >>
Part 2: OpenShot – Handy Way to Flip Video [Win/ Mac]
Openshot became instantly famous as soon as its stable version hit the market in August 2021. The Application is most compatible with Windows, Mac, and Linux. It is open-source software that is free of any hidden charges.
OpenShot has an intuitive interface with specific but valuable features. On the one hand, it lets you create awesome videos, and on the other hand, it lets you edit your videos without hassle.
Getting a correct view of the video on your laptop lets, you rotate it 90 degrees clockwise or counterclockwise. It also lets you turn videos vertically or horizontally, allowing you to watch them whichever you like.
Let us check out some more excellent characteristics of this online app. Then we will move forward with the tutorial and learn how to rotate the video sideways to make it look perfect.
Salient Features:
Openshot is a beginner-friendly cross-platform application.

It offers a variety of effects, transitions, and 3D animation.

It supports image, audio, and video editing and allows users to easily edit YouTube, Facebook, and other social network videos.
Step 1: Locate and download Openshot Online.
To install the software on your computer, look for it online and download it on your system.
Step 2: Set up a Profile for your Video Project.
Click the film frames in the interface's top program window to set the profile of your video, i.e., size and frames per second.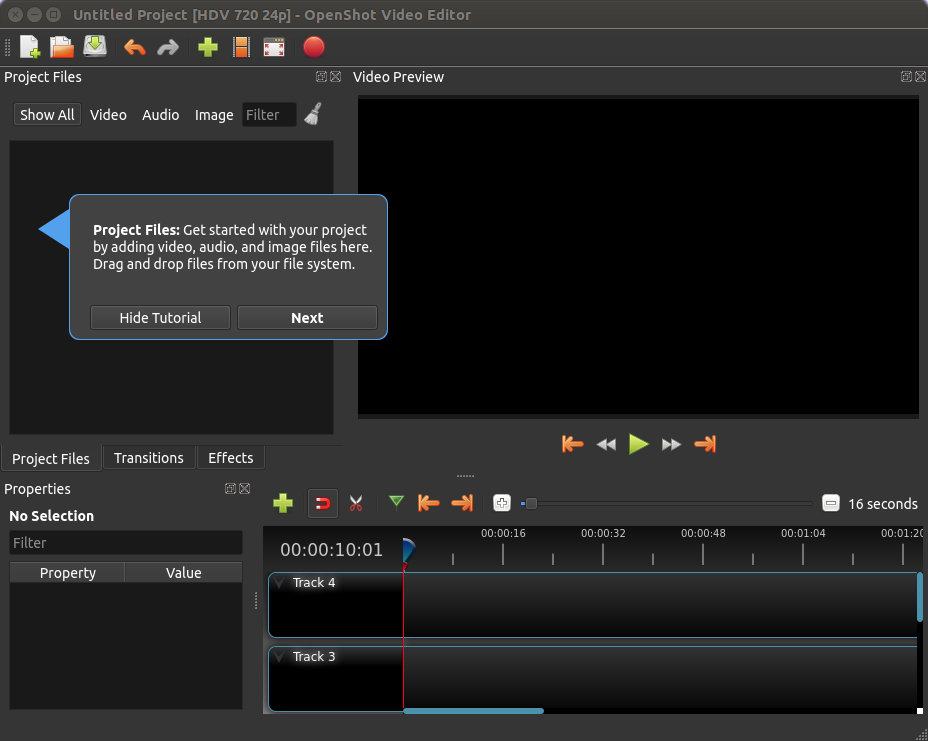 Step 3: Add the Media to the Timeline after Importing it.
To modify a clip or image, click the green Plus sign or drag it right into the Openshot browser. You can now drag the file onto the Timeline.
Step 4: Rotate the video 90 degrees to turn it sideways.
Right-click any clip and select "Rotate" from the right-click menu, then adjust the amount of rotation. That's all there is to it.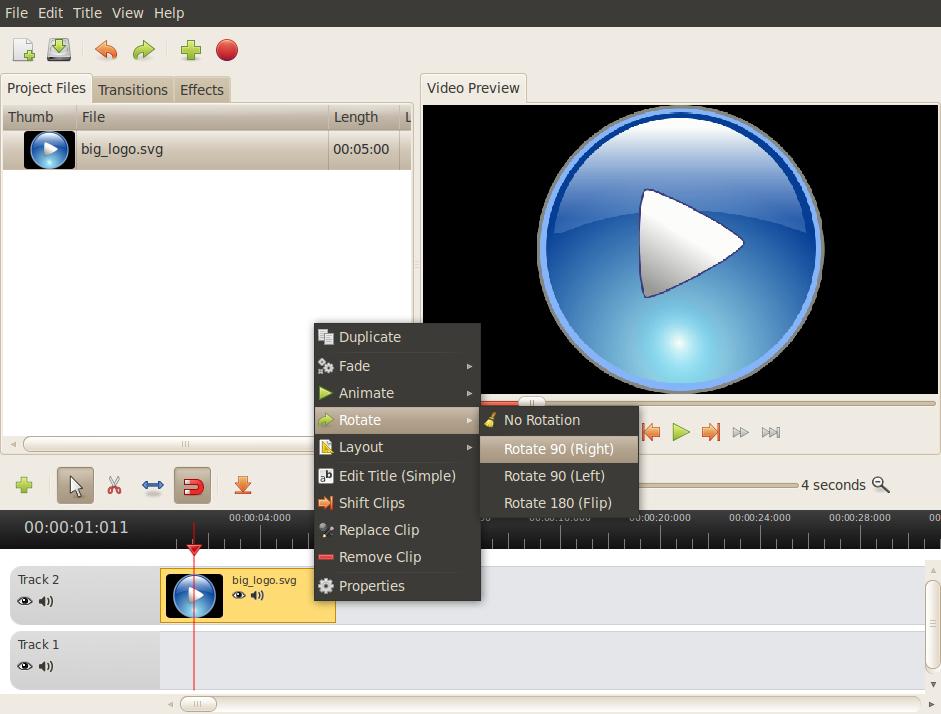 Step 5: Export the File into Desired Mode after Taking a Preview.
When you are through editing, click the red dot to export the file and save it where you want it.
Part 3: VLC Media Player – Traditional Way to Flip Video Sideways [Win/ Mac]
Commonly known as VLC, or the VLC media player is a free, open-source, portable, and cross-platform media player and streaming media server introduced by the VideoLAN project.
VLC is available for a variety of desktop and mobile platforms, including Android, iOS, and iPadOS. VLC can also be found via digital distribution platforms, including Apple's App Store, Google Play, and Microsoft Store.
Salient Features:
VLC media player's desktop version has filters for distorting, rotating, splitting, and mirroring videos, creating display walls, and adding a logo overlay during playback.

VLC provides the most comprehensive set of video, subtitle synchronization, and video and audio filters.

On most platforms, VLC has hardware decoding. It supports 0-copy on the GPU and, if necessary, can fall back to software.
Step 1: Launch the Media Player
Open the VLC media player on your device. Navigate to 'Media' and then 'Open File' to add the video to the timeline.
Step 2: Pause the video and select "Tools" from the menu bar
The video you have chosen will instantly start playing. After pausing the video, go to 'Tools.' You can also use the Ctrl + E key combination to access the tool's drop-down menu.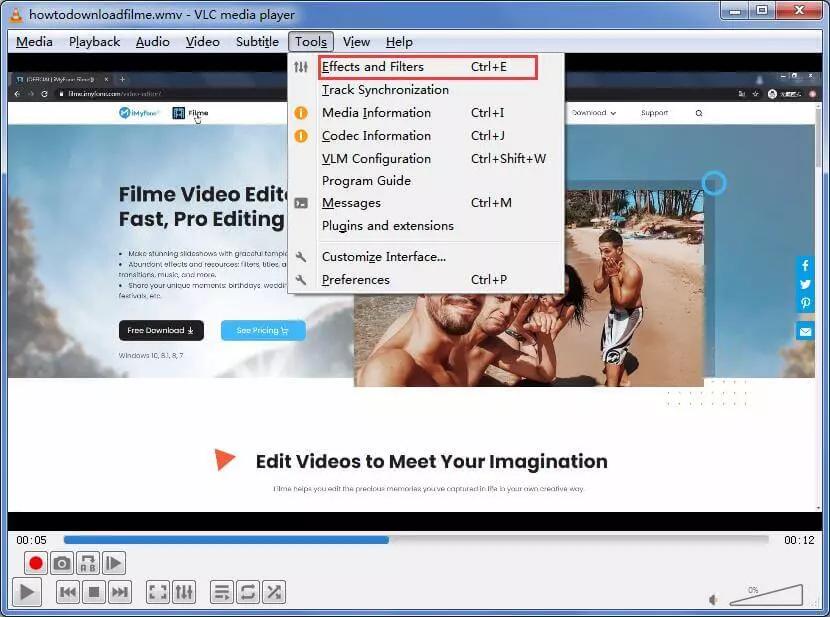 Step 3: From the 'Effects and Filters' menu, choose 'Video Effects
Now go to "Video Effects," In the pop-up box, pick "Geometry Tab." Select the box next to 'transform' and choose the degree of rotation to rotate the video. Click 'Save' to complete the process.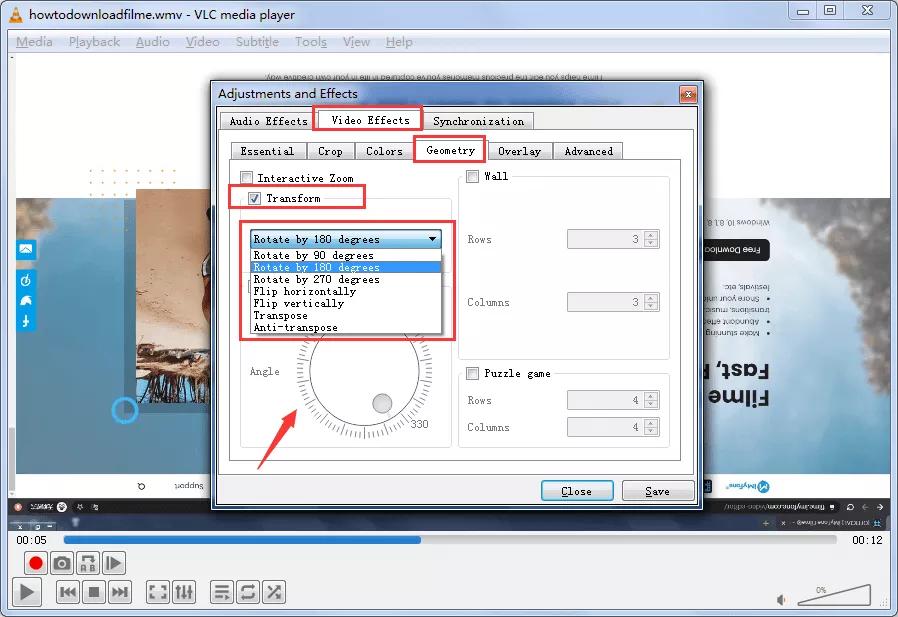 Part 4: FAQs – How to Flip Videos Sideways
1. How can I adjust the direction of a video in Google Photos?
In Google Photos, here's how to rotate your videos.
On your Android phone, open Google Photos and touch the search bar.

Select Videos, then the video you'd like to spin.

Tap the slider bar symbol in the middle of the screen (it's at the bottom of the screen).

Rotate the video until it's aligned the way you want it.

Select Save.
2. Why is my zoom recording videos sideways?
Turn your camera around.
It's most likely because of your current settings that your Zoom camera is upside down or sideways. From the app's settings, you may rapidly adjust the camera orientation. There is a Rotate 90° option on your camera's preview. Click on it until the camera image is correctly shown.
3. What is the Zoom mirror effect?
You can use the mirror effect to see your video as a reflection of yourself. It won't mirror your video to other members, but it will change your perspective so that you're looking at yourself via your own camera. Zoom may automatically mirror your screen, resulting in a flipped virtual background.
4. How do you stop the screen from rotating in Android 10 while making a video?
Open the Settings app on your Android device to access the Accessibility features.

Select Accessibility from the drop-down menu in the Settings app.

Go down to the Interaction controls section and select Auto-rotate screen to turn off the toggle switch.
Conclusion
The videos that are recorded and displayed appropriately look best. However, the Clips that turn sideways or are flipped destroy the whole experience of watching the video. In this article, we have discussed a new application and two suitable alternatives to flip video sideways and make it look better.
Assuming you are using a Windows or Mac computer. You do not have to worry in that circumstance because iMyFone Filme can flip your video sideways within seconds. The software is simple to set up and operate. Furthermore, it excels in changing video orientation. Still, it also has a bevy of other editing features that you will enjoy. As a result, give it a shot, and you will thank us later.